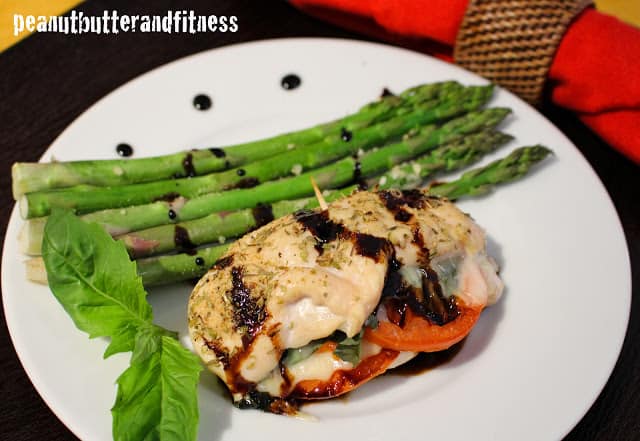 Happy new year everyone! Hopefully it was good for all.  I got to spend mine up in the freezing cold in Boston! It was good to catch up with friends but I nearly didn't make it back to Miami yesterday thanks to the massive snow storm that hit.  I'm pretty sure we were on one of the last flights out before the mass cancellations.  Phew!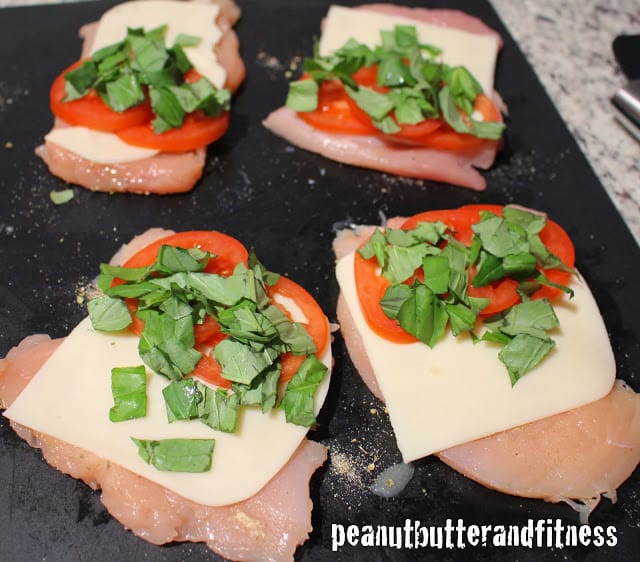 So now I'm back, I've taken down all my Christmas decorations and have all my food prepped for my weekend back to work.  My workout today though…wow. Let's just say that a week off with lots of food and drink didn't do my any favors.  Now it's time for some detox, so instead of going out tonight, here I am making some healthy food.  And avoiding studying for the GRE again 🙂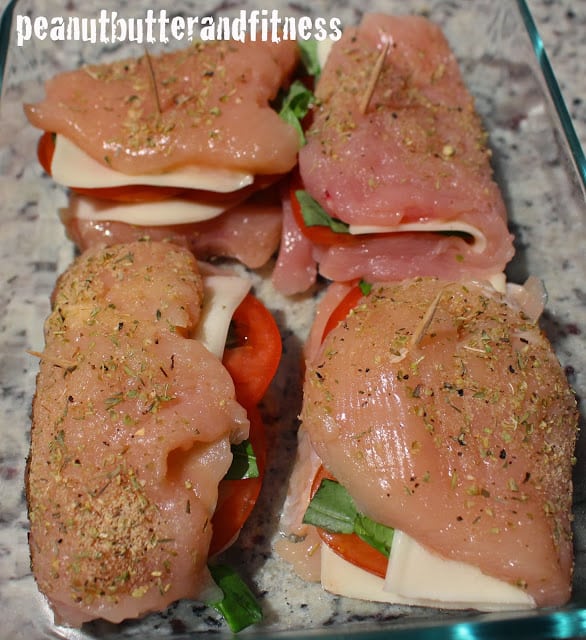 While I was in my post-New Year's Eve haze, I managed to get creative and come up with a few delicious recipes…here's the first of a few!  I gotta say, this one was a home run. The balsamic vinegar reduction really kicks up the flavor without smothering the chicken or weighing it down.  This paired really well with asparagus.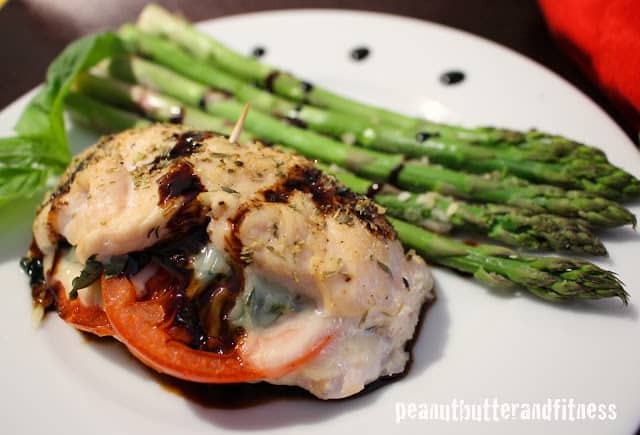 Stuffed Chicken Caprese with Balsamic Reduction
Servings: 4 
• 
Calories: 216 • Fat: 5 g • Protein: 31 g • Carbs: 10 g • Fiber: 0.7 g • Sugar: 5 g 
• 
Sodium: 182 mg
• Cholesterol: 80 mg
4 x 4 oz chicken breasts

4 slices reduced fat mozzarella cheese

1 Roma tomato, thinly sliced

8-10 basil leaves, roughly chopped

1 tsp oregano

1 tsp garlic powder

1/4 cup balsamic vinegar

1 tbsp honey
In a small pan over medium-high heat, bring balsamic vinegar to a boil.  Add honey and reduce heat to simmer.  Allow to reduce to 1/2 to 1/3 of original volume, about 10 minutes.  Set aside.

Pre-heat oven to 375 degrees.

Flatten chicken breasts with kitchen mallet and season with oregano and garlic powder. 

Lay slice of cheese on each flattened chicken breast, then top with sliced tomato and basil.

Roll chicken breasts and secure with toothpick.  Bake at 375 degrees for 18-20 minutes or until cooked through.

Drizzle balsamic reduction over top.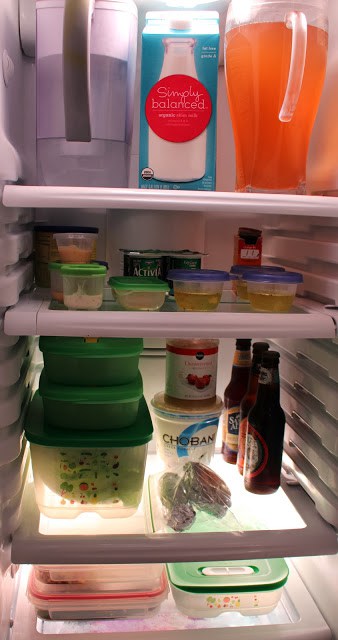 I love the looks of a refrigerator full of prepped food 🙂 I've got 3 more meals of this chicken concoction, a spicy turkey patty lettuce wrap with avocados that I'll post soon and a sweet protein treat that I came up with today to knock out my sweet tooth.  That recipe will be up soon too, I can't wait to show you all.  The little containers on the top right are two raw egg whites with a little bit of fresh ground pepper…all I do is microwave it at work in a bowl for about a minute for a hot little protein snack.  Yum! Happy cooking!