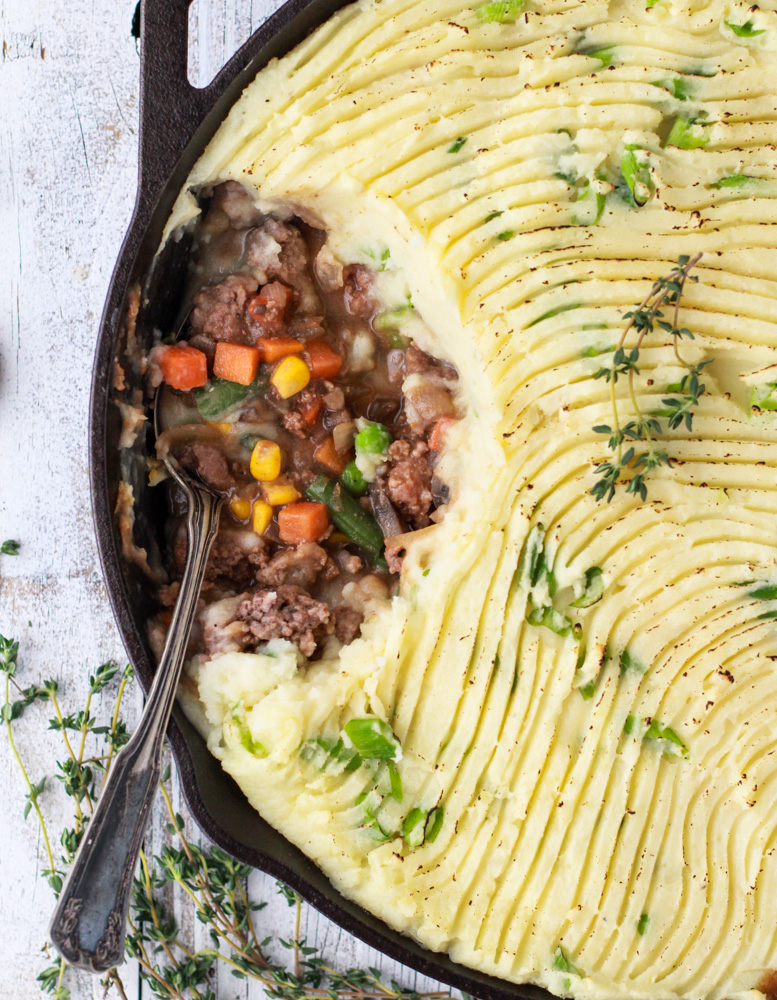 New recipe Wednesday is delayed a day this week, because…life! But hey, this Lighter Shepherd's Pie is sure to please a crowd this winter! I love a saucy, hearty dish this time of year, but I don't always want heaps of potatoes on top.
This recipe is based on Cook's Illustrated's classic Shepherd's Pie recipe, but I swapped out some of the mashed potato topping with mashed cauliflower instead to lighten things up a bit. It's harder to achieve that gorgeous golden brown potato top when you add in cauliflower, but to me it's worth the sacrifice – I can eat more of the meaty filling without filling up on mashed potatoes too quickly! You do you, but I'm here for the filling first, topping second.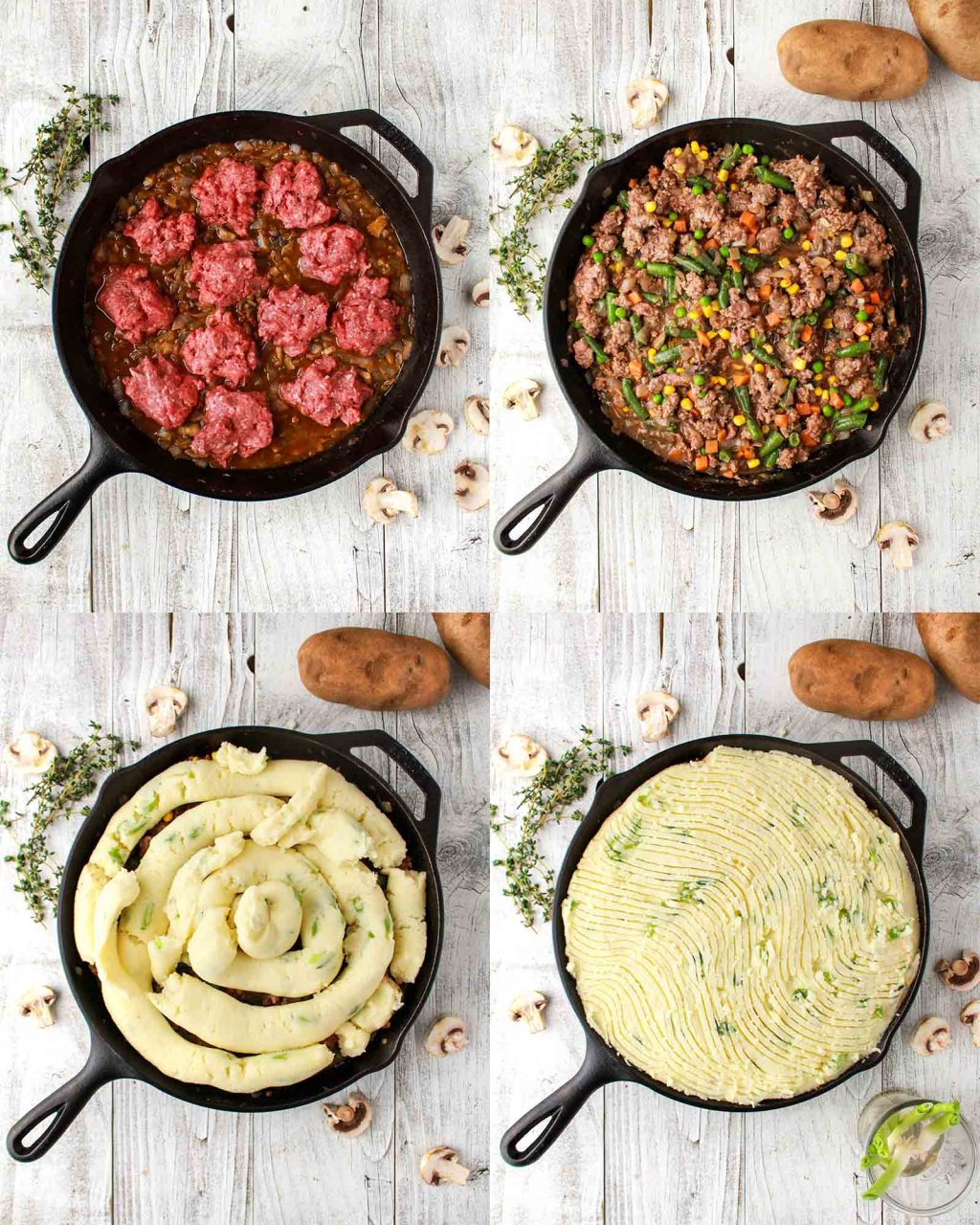 To help achieve an evenly spread potato-cauliflower topping, I recommend scooping it into a plastic bag, cutting off the tip, and piping it right onto the beef filling. Then just use a spatula to smooth it out – you can drag a fork through it to achieve a swirly design on top. Not only does it look pretty, the little ridges create more opportunities for browning!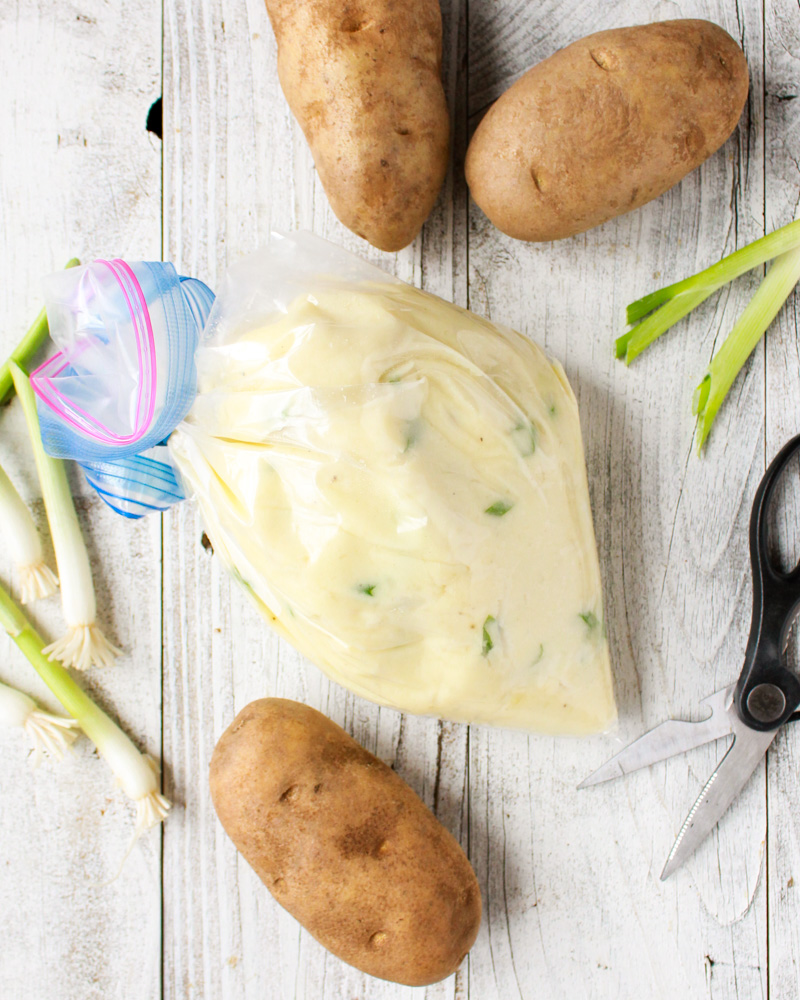 Have I mentioned that this recipe is super freezer-friendly?! Of course you can bake the whole skillet in the oven and then try to scoop out individual portions into 2-cup Souper Cubes. OR once the filling is made, you could just assemble the pie right in the Souper Cubes, then go straight to the freezer with them. When you're ready to pull out an individual (or multiple) portion, you can bake it right in the Souper Cubes tray or use their new square baking dishes!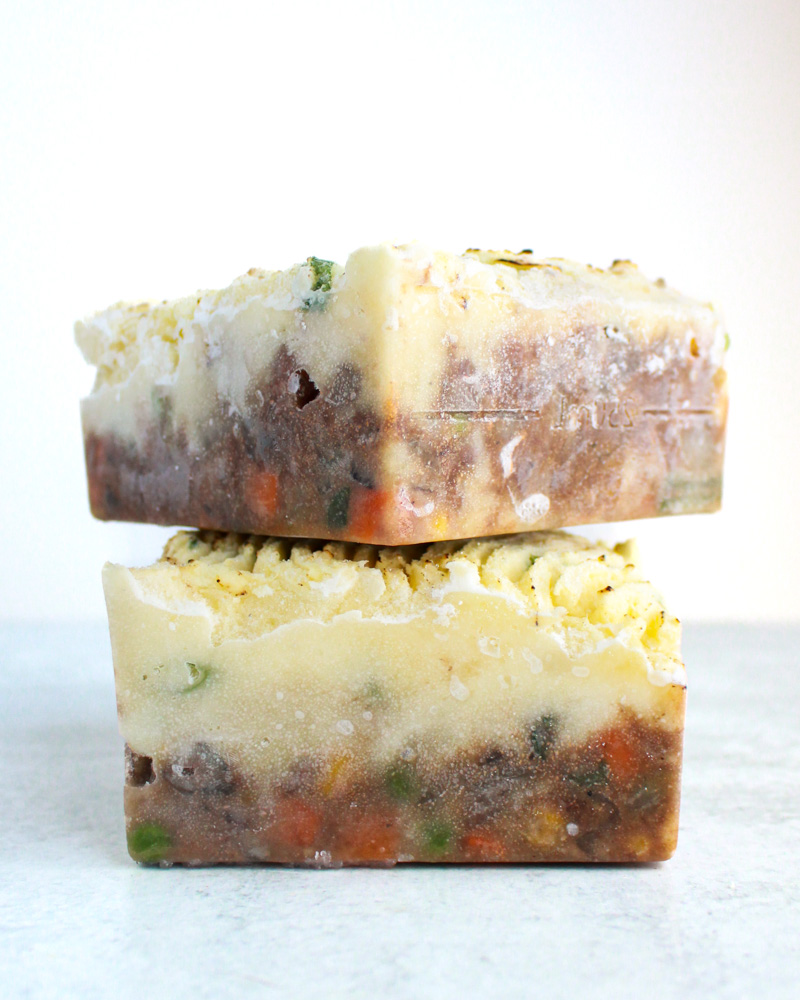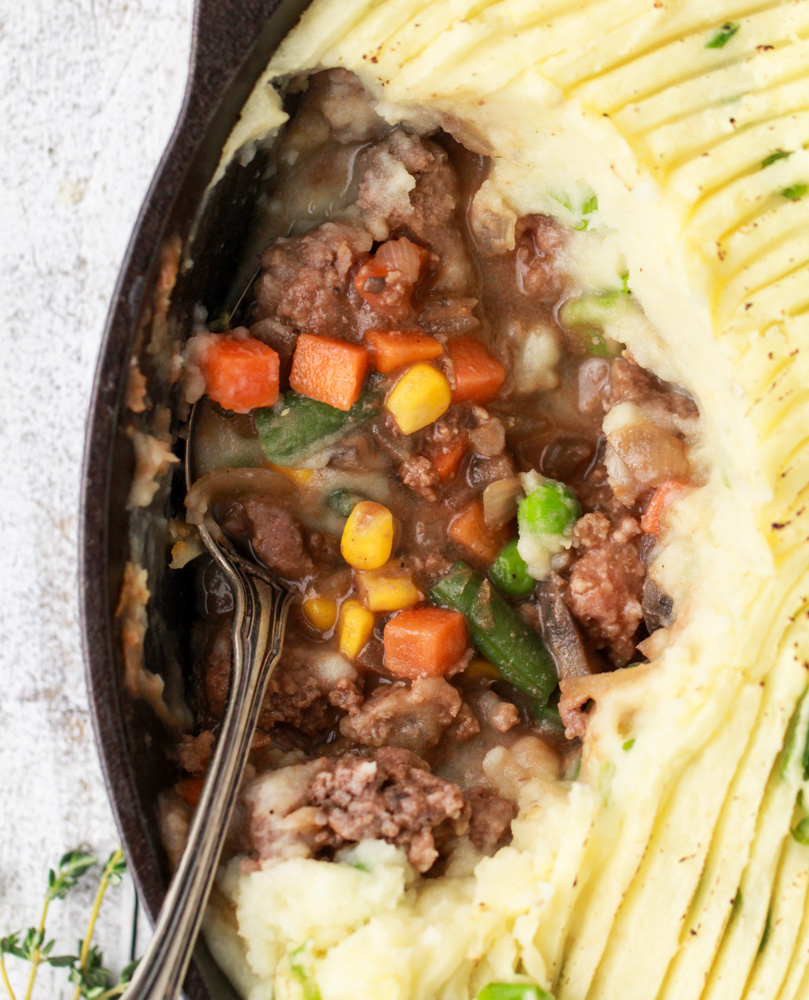 Recipe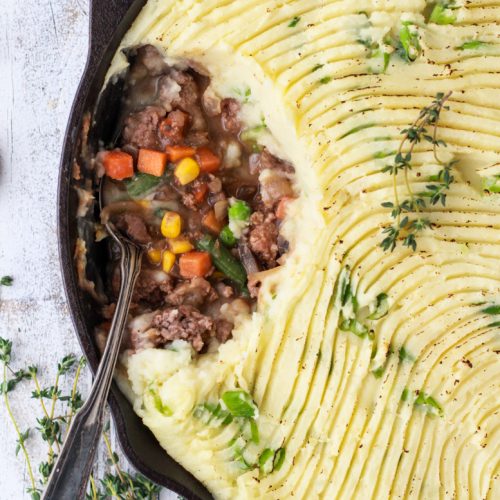 Lighter Shepherd's Pie
Ingredients
Potato Topping
1 1/2

lbs

russet potatoes, peeled and cubed

1

lb

cauliflower florets

4

tbsp

unsalted butter, melted

,

(2 oz)

1/2

cup

half and half

,

(4 fl oz)

1/2

cup

green onions (no whites), chopped

,

(62 grams)

1

egg yolk

1/2

tsp

baking soda

,

(to help with browning)

salt and pepper to taste
Beef
1 1/2

lbs

96/4 ground beef

,

(don't use anything fattier than 93% lean)

2

tbsp

water

1

tsp

salt

1/2

tsp

baking soda

,

(helps tenderize the meat)

1/4

tsp

pepper
Filling
1

16 oz bag

frozen mixed veggies

,

(corn, carrots, peas, green beans)

1 1/2

cups

beef broth

,

(12 fl oz)

1/2

cup

beer, light or dark

,

(4 fl oz)

1

medium onion, chopped

,

(150 grams)

4

oz

white mushrooms, chopped

3

cloves

garlic, minced

,

(12 grams)

2

tbsp

flour

,

(15 grams)

1

tbsp

tomato paste

,

(0.5 fl oz)

1

tbsp

olive oil

,

(0.5 fl oz)

2

tsp

worcestershire sauce

2

tsp

cornstarch

1/2

tsp

paprika

2

sprigs

fresh thyme

1

bay leaf

salt & pepper to taste
Instructions
Prep the beef. Mix beef with water, salt, pepper, and baking soda in bowl until thoroughly combined. Set aside for 15-20 minutes.

Make the potato topping. Add potatoes to a medium pot, then add water to just cover the potatoes and 1/2 tbsp salt. Bring to boil over high heat, then reduce heat to medium-low and simmer until potatoes are soft and fork tender, about 8 to 10 minutes. Remove the potatoes to a strainer, reserving the water in the pot.

Return the pot of water to a boil, then add cauliflower florets. Boil for 10 minutes or until fork tender, then drain the water and return the cauliflower to the pot. Add half of the melted butter, then blend with an immersion blender until smooth. Note: you could use the immersion blender for both the cauliflower and the potatoes, but you risk creating gummy mashed potatoes.

Return potatoes to the pot with the cauliflower and add remaining melted butter and baking soda. In a small bowl, whisk half and half and egg yolk, then mix into potatoes. Stir in green onions and season with salt and pepper to taste. Cover and set aside.

Make the filling. Heat oil in a 10-inch cast iron skillet over medium heat until shimmering. Add onion, mushrooms, 1/2 teaspoon salt, and 1/4 teaspoon pepper. Sauté for 4-6 minutes until onions are softened and dark bits form on bottom of skillet. Add tomato paste and garlic, then continue cooking and stirring about 2 minutes until bottom of skillet is dark brown. Add beer and deglaze, scraping up any browned bits. Stir in flour and cook for 1 minute. Add broth, Worcestershire, thyme, bay leaf, and frozen veggies; scrape up any additional browned bits and mix until broth and veggies are incorporated.

Reduce heat to medium-low, then add beef in 2-inch chunks to filling mixture, and bring to a simmer. Cover and cook until beef is cooked through, about 10 to 12 minutes, stirring and breaking up the chunks of beef halfway through. Create a cornstarch slurry by whisking cornstarch into 2 teaspoons water. Stir cornstarch slurry into filling and continue to simmer for 30 seconds. Remove thyme sprigs and bay leaf. Add salt and pepper to taste.

Add the topping and bake. Adjust oven rack 5 inches from your oven's broiler and set oven to broil. Place mashed potatoes in large Ziploc bag and cut off 1 corner to create a 1-inch opening. Pipe potato topping in even layer over filling. Smooth out the potato topping in an even layer with a spatula. If desired, use tines of fork to make ridges over surface. Place skillet on rimmed baking sheet and broil until potato topping is golden brown and filling is bubbly, 10 to 15 minutes. Let cool for 10 minutes before serving.
Tips & Tricks
Click here or scan the barcode below to log this food in My Fitness Pal.
Nutrition Information
Serving:
2
cups
,
Calories:
432
kcal
(22%)
,
Carbohydrates:
37
g
(12%)
,
Protein:
35
g
(70%)
,
Fat:
17
g
(26%)
,
Cholesterol:
130
mg
(43%)
,
Sodium:
326
mg
(14%)
,
Potassium:
1199
mg
(34%)
,
Fiber:
6
g
(25%)
,
Sugar:
8
g
(9%)