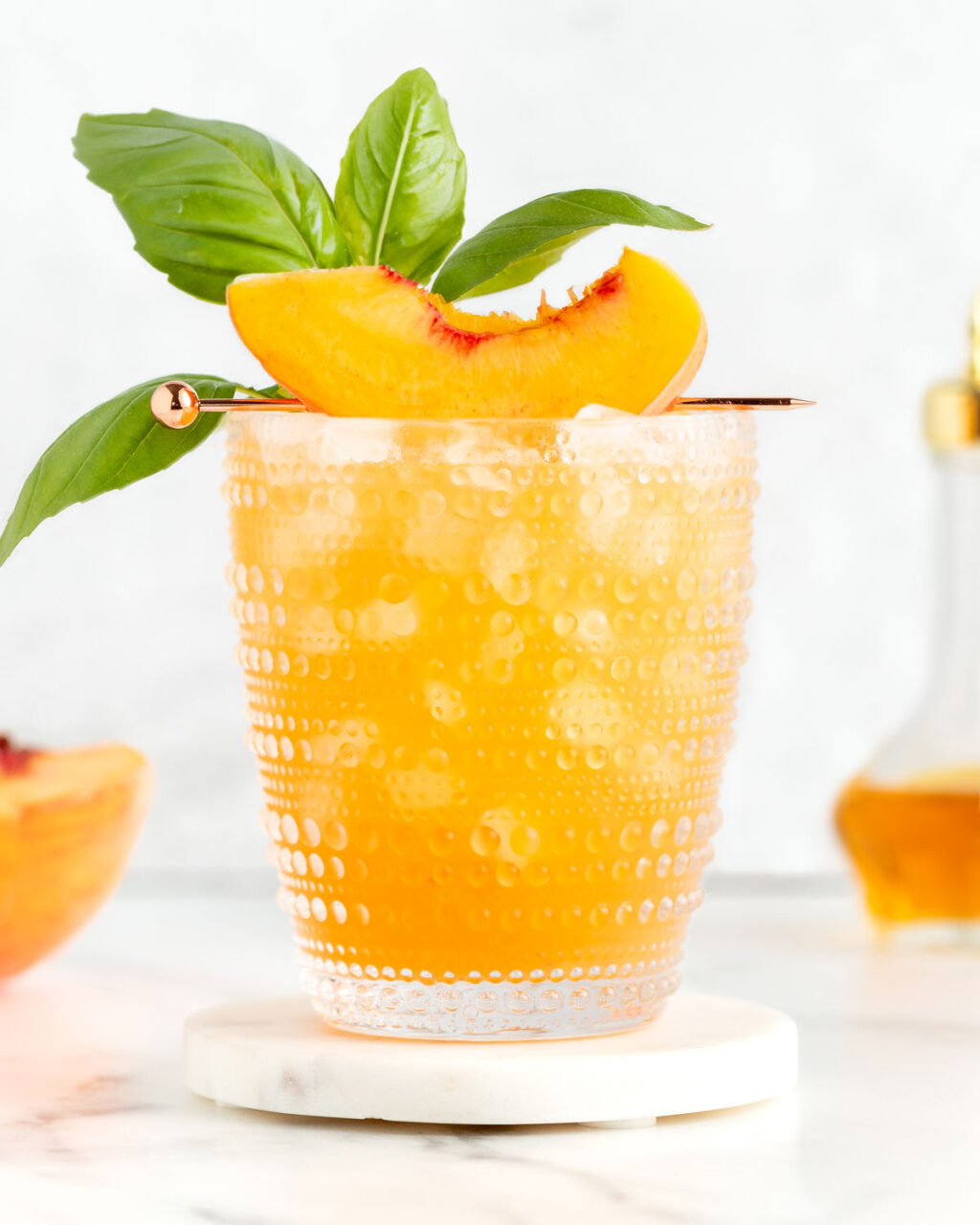 Peaches are starting to make their presence known in farmer's markets and grocery stores, so be sure to bookmark this Kentucky Peach Smash cocktail recipe to try when you find some delicious, juicy ones near you! I love walking through the produce section and smelling ripe peaches – they never fail to inspire a yummy summer recipe.
Want to Make it for a Crowd?
Here are a few tips to turn this Kentucky Peach Smash into a big batch cocktail for the 4th of July weekend, or really any summer occasion with friends or family!
Scale up the servings – use the slider in the recipe card to scale up the recipe to the number of servings you'd like to target. I recommend 8-10 servings.
Muddle the peaches separately – for 8 servings, you'll need about 2 large peaches. Chop or slice them up and you can either muddle them like you would for an individual serving, or you can use an immersion blender to extract the juices quickly. Just be sure to strain out any chunks before adding the juice to the pitcher.
Don't forget about dilution – when you batch a cocktail that's normally shaken or stirred before serving, you have a couple options to achieve that same dilution when you scale the recipe up. First, you could just add some water to the pitcher. This method ensures everyone is getting the same cocktail flavors and level of dilution (ie. no one is accidentally serving themselves a double if they skimp on ice in their glass!). I'd recommend about adding about 1/3 to 1/2 cup (4 fl oz) of water for an 8 serving pitcher. The other options for dilution rely on ice melting either in the serving pitcher or in someone's individual glass. Like I mentioned above, this method can lead to less consistent flavors depending on how long the pitcher sits out and how much ice your guests add to their own glasses.
Ingredients and Substitutions
Here's what you'll need to make this Kentucky Peach Smash at home:
Bourbon – Obviously this is where the drink gets the "Kentucky" name from, but if you really don't like bourbon, rum or gin would probably be tasty too. But if you do want to opt for bourbon (highly recommended), brands like Maker's Mark and Coopers Craft are great for mixing. More expensive bottles like Woodford Reserve or Basil Hayden would be delicious too!
Peaches – The riper and juicer the peaches are, the better! You'll be muddling them up to extract the juice and plenty of flavor.
Lemon juice – If you absolutely can't find lemon juice, you can try to opt for orange juice instead, though I can't guarantee it won't throw off the balance of the drink.
Maple syrup – A little bit of liquid sweetness is a must to help balance out the cocktail and make it more drinkable. If you'd rather not use maple syrup, you could use simple syrup instead.
Orange bitters – Slightly sweet and obviously citrus-y, orange bitters add another layer of flavor complexity to this cocktail that complements the bourbon nicely. I've come to really enjoy orange bitters especially, because they boost the citrus flavor without adding any more acidity to the drink.
Basil – Play up those fresh summer flavors with a nice bunch of basil as garnish. Don't forget to slap it across your hand to activate the oils in the basil and improve fragrance.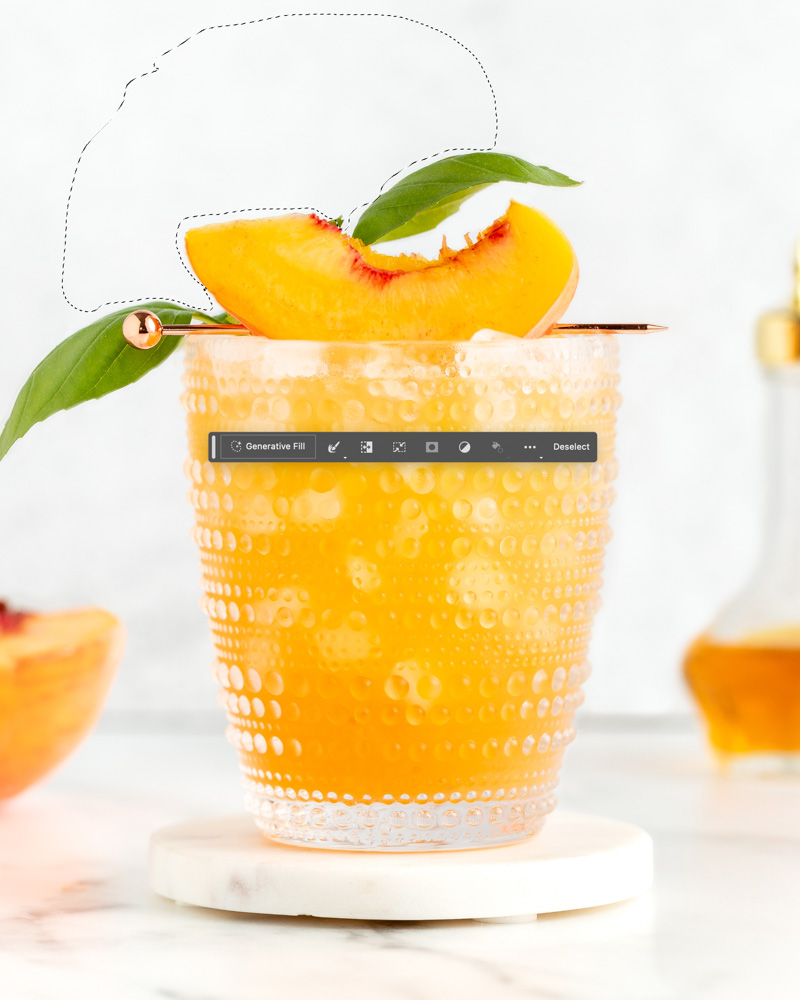 I Have to Share a "Secret" About this Photo…
Okay, so I have a confession…I used AI to help me put the finishing touches on this photo (cue gasps!). Adobe Photoshop recently rolled out a Beta testing program that incorporates an AI "Generative Fill" feature. You basically just select an area of the photo that you want to edit, type in a description of what you want added in that space, and AI fills it in with 3 different options. As a creator, AI definitely scares me a bit, but I figured I might as well see what it can do.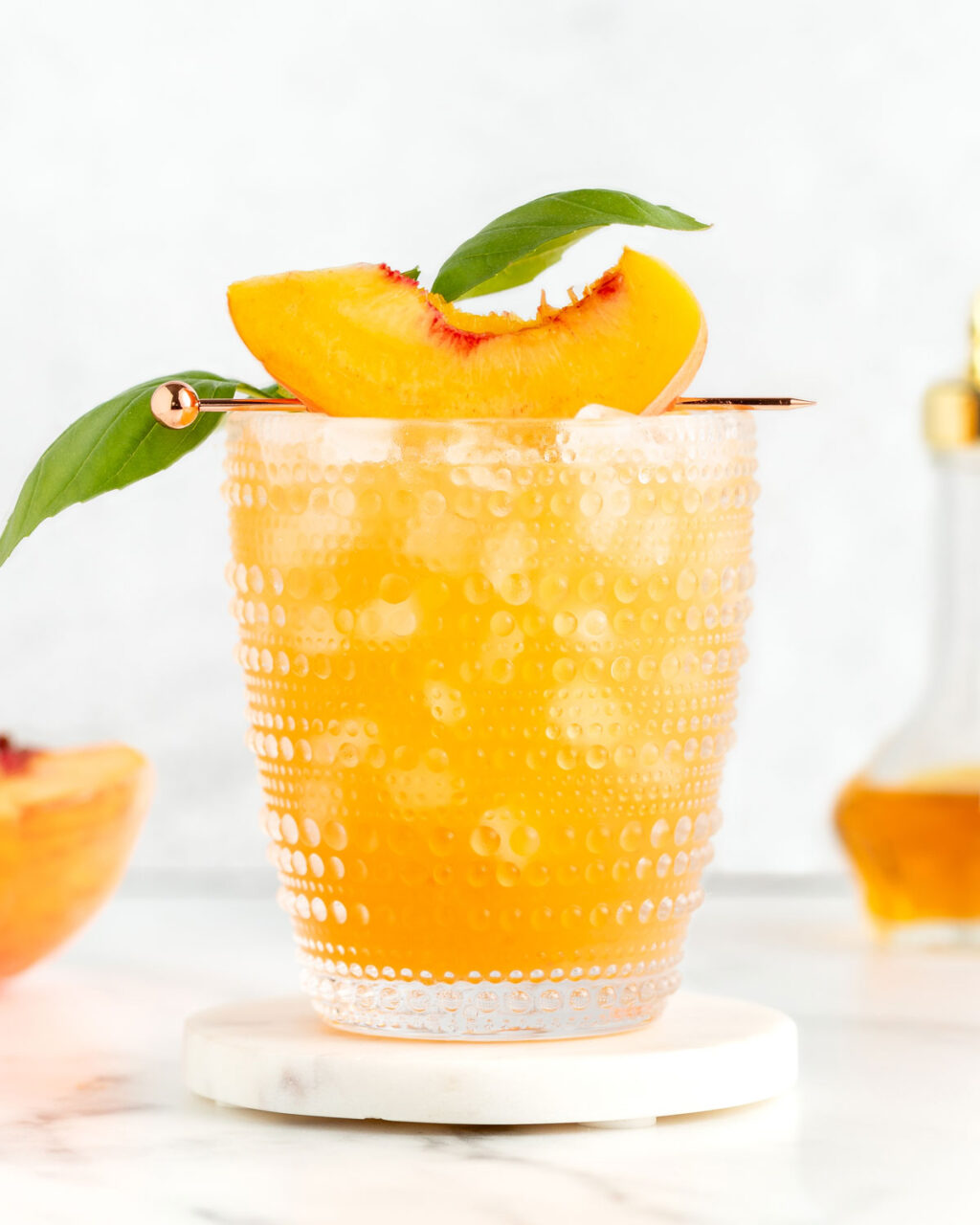 Before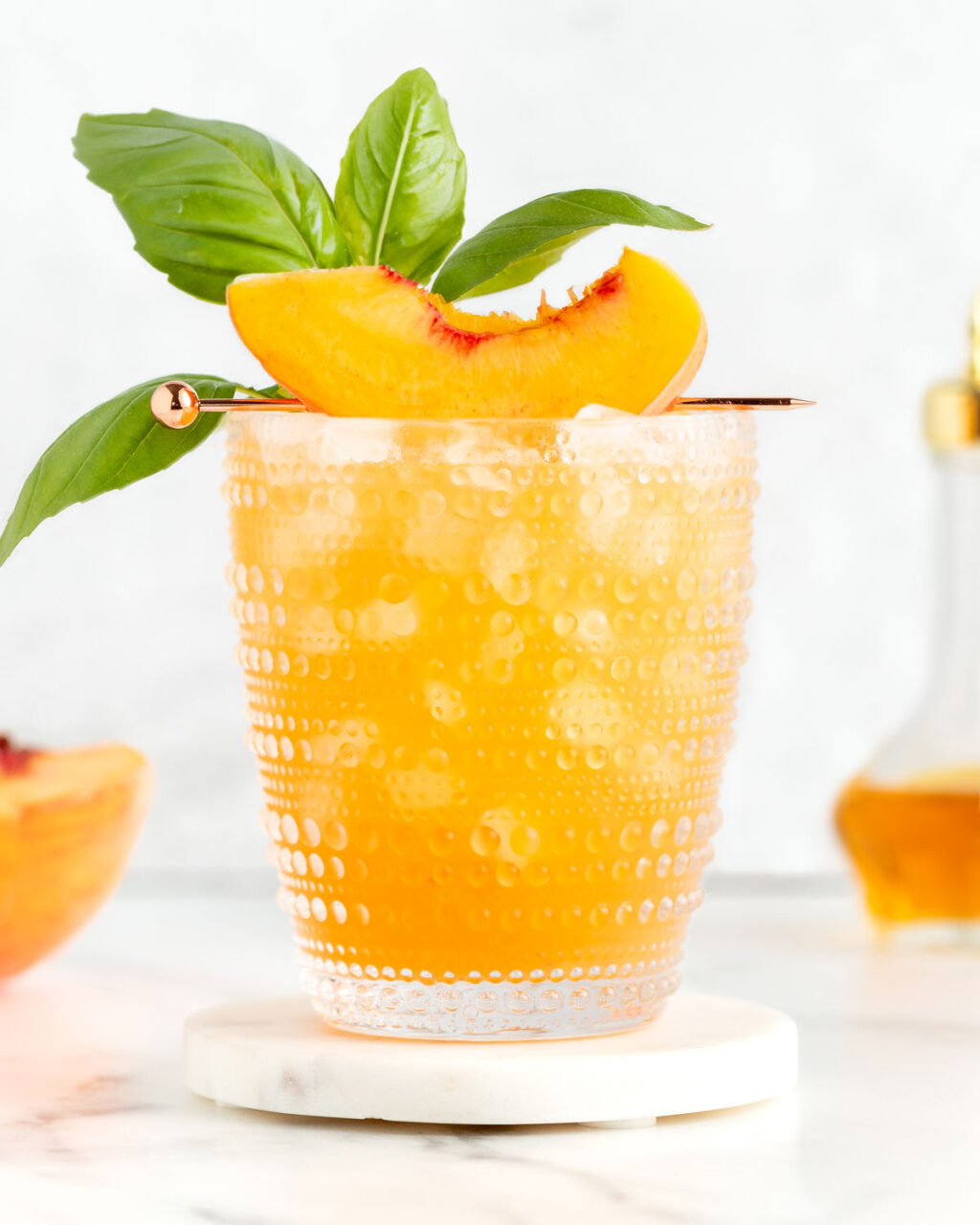 After
The basil leaves I got from my plant at home when I was doing this photo shoot were not quite enough and they needed some extra oomph. So I just created a mask above the peach slice and typed in "small bunch of basil leaves tucked in to a cocktail glass" and this is what it spit out amid a bunch of weird results. It's not perfect, but I think it's pretty good! What do you think?? For fun, here are some of the weird ones…the last one is just perplexing. I think I need to work on my descriptions to prompt better results!
Shop for this Recipe
Here are some items I used to make this Kentucky Peach Smash recipe a success. Note: these are Amazon Affiliate links.
Kentucky Peach Smash Recipe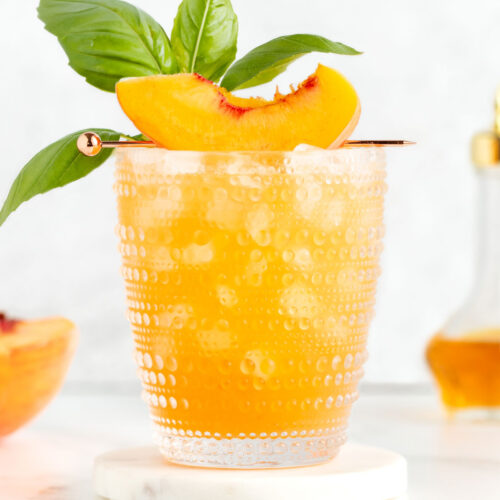 Kentucky Peach Smash
Ingredients
3-4

slices

ripe peach

2

fl oz

bourbon

1/2

fl oz

lemon juice

3/4

fl oz

maple syrup

2-3

dashes

orange bitters

fresh basil for garnish
Instructions
Add peach slices to the bottom of a shaker. Muddle until most of the juice is rendered.

Add ice and all remaining ingredients to the shaker. Cover and shake vigorously until shaker is chilled. Strain into a lowball or double rocks glass over ice.

Garnish with fresh basil and another peach slice before serving.