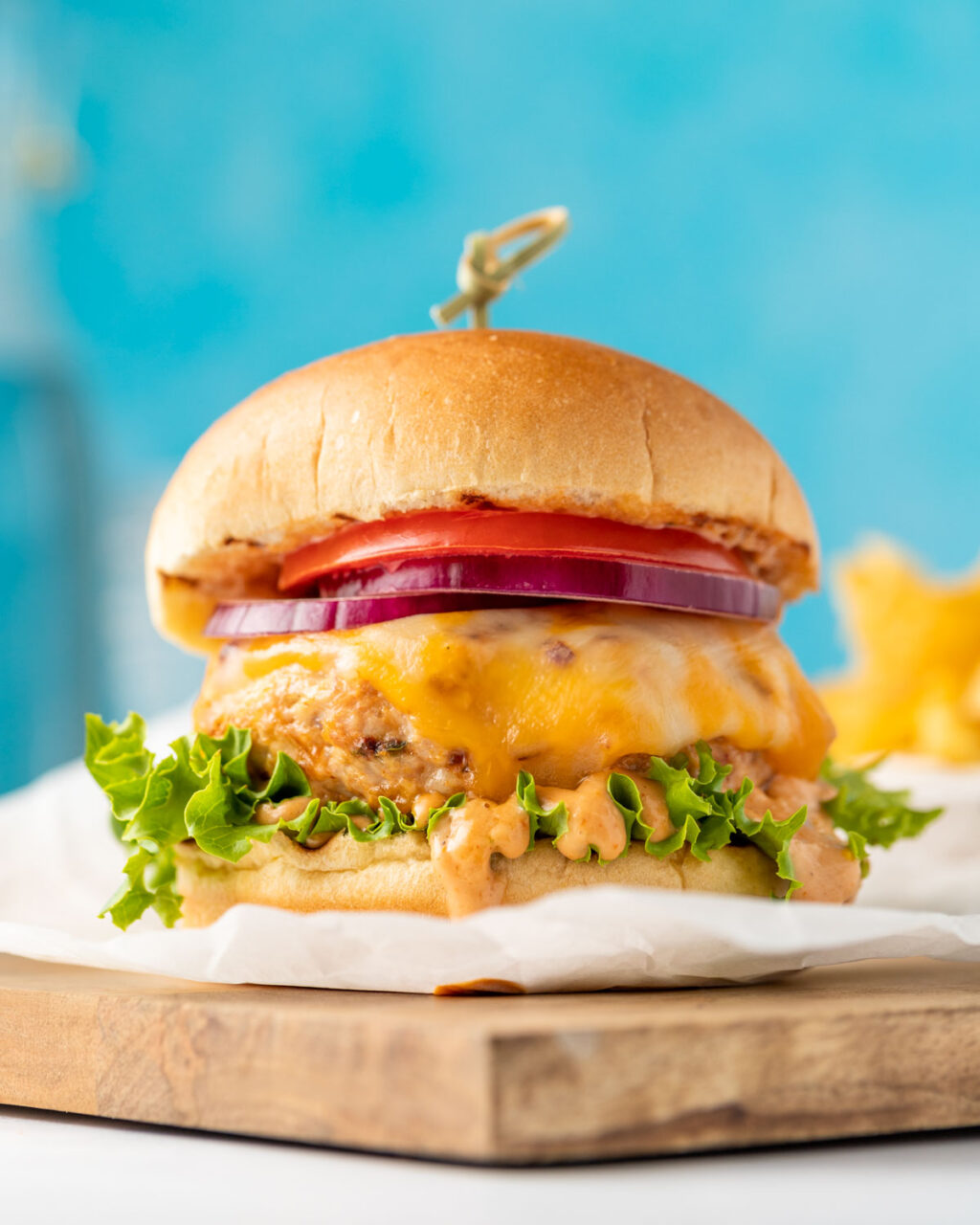 This ultimate Juicy Grilled Chicken Burger recipe will make you forget any pre-conceived notions you might have about chicken burgers being dry and boring! With a few easy tricks, you'll be asking for more chicken burger recipes to throw on the grill all summer long. In terms of flavor, this one is all about classics with some fresh herbs, lemon zest, and smoked paprika added to the party. I topped it all off with an amazing homemade burger sauce – be sure to make extras of that so you can keep it on hand for your next burger venture!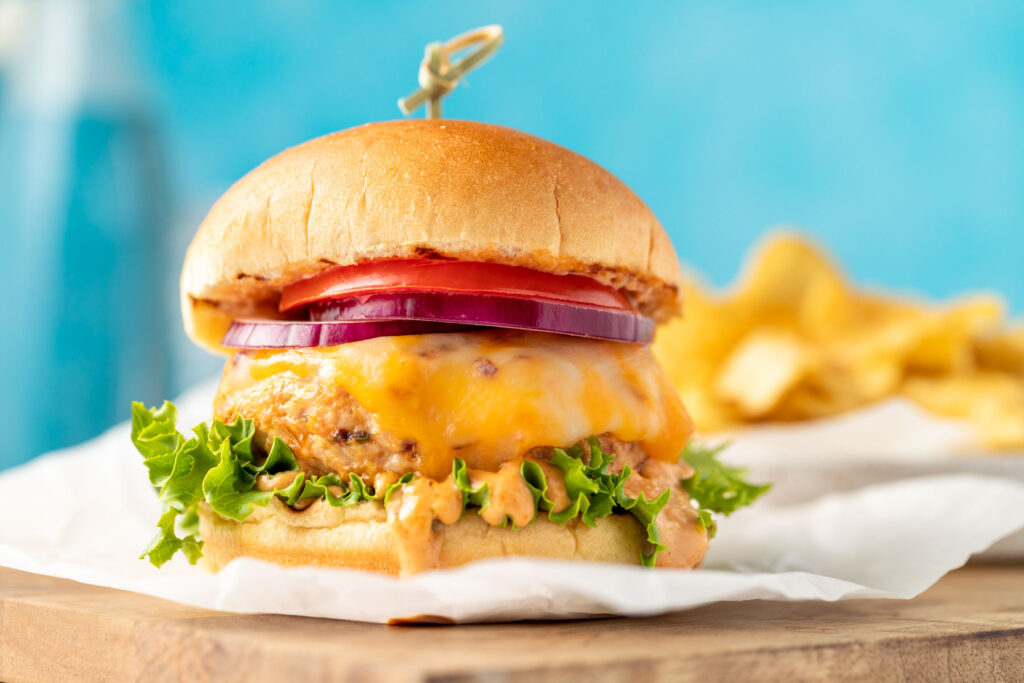 Tips for Making Amazing Chicken Burgers
Here are a few tips to make sure your chicken burgers are juicy and delicious!
Add fat – For my healthy eaters out there, this one might make you a little uncomfortable, but stay with me. Because chicken is naturally leaner than most of the ground beef you'll find in the store or at the farmer's market, it's really easy for chicken burgers to dry out when you grill them. What little fat they do have tends to melt out and drip down your grill grates instead of sticking around to make a flavorful, juicy burger. I added fat here in the form of shredded cheese right inside the burger mix, though I've seen others who swear by frozen grated butter or a bit of mayo. Don't skip it!
Fresh herbs and spices are your friend! Unlike ground beef, the flavor of ground chicken is pretty mild on its own. This means that fresh herbs and spices really shine through in the burger, and you don't want to miss that opportunity for flavor! I used fresh thyme, lemon zest, and smoked paprika, but feel free to play with the flavors. Fresh dill, rosemary, or basil could be awesome herby additions (though maybe not all at once).
Finely dice any added veggies – Or even better yet, use a box grater to grate your onion and garlic into tiny bits that will incorporate evenly into the burgers. A fine dice or grate (especially with the onion) is critical to making sure the burger patties stick together don't fall apart on the grill!
Don't overmix – Similar to a lot of doughs, overworking the burger mixture can result in a tough final product that's dense and rubbery. So be gentle with it 🙂
Skip the egg and breadcrumbs – Look, I'm sure eggs and breadcrumbs have their place in certain burger and meatball recipes, but this one ain't it. All they'll do here is lead to a dried out burger. That said, this mixture will be super sticky when you form the burger patties, and you'll be questioning how they'll possibly stay together, but don't fret. I promise they actually hold together on the grill, as long as you used finely diced or grated onion and follow the next 2 steps…
REFRIGERATE. BEFORE. GRILLING. – Sorry for yelling. But please, please don't skip this step and then get mad at me because your burgers fell apart on the grill. Allowing them to rest in the refrigerator (or even freezer) for 20-30 minutes before grilling helps ensure that the burgers hold their shape once they get on a hot grill. It also gives the flavors a chance to meld together.
Use a grill topper and oil it well before grilling – Okay, so the grill topper is not as essential as oiling the grill grates/topper before adding the burger patties, but I personally find that the grill topper helps ensure I can easily get a grill spatula under the patties for flipping. As for the oil, be sure your grill topper or grates are scrubbed clean of any residue. Then, once you've pre-heated the grill and things are nice and hot, oil them up: bunch up a paper towel with a pair of grill tongs; dip it in a bowl of vegetable oil (you need the higher smoke point of vegetable oil as opposed to olive oil); and then run it over the hot, clean grate or grill topper to create a nonstick surface.
Ingredients and Substitutions
Here's what you'll need to make these Juicy Grilled Chicken Burgers at home:
Ground chicken – I used a 90/10 ground chicken, but to be honest, it can be a little hard to find a ground chicken in the store that's labeled 90% lean or 10% fat. Most of the name brands offer something in the range of 98-94% lean. If that's all you can find, then opt for the one with the fat content closest to 10%. I've found that the store ground chicken is usually higher in fat that the branded stuff. You could also opt for asking a butcher to make you a ground chicken on the spot – ask for 30-50% dark meat.
Shredded cheddar cheese – Yep, we're putting cheese right in the burger patty to add a little extra fat and flavor! You could also use frozen grated butter in it's place if you'd prefer.
Onion – I used red onion here because it's what I had on hand, but a sweet Vidalia onion would be even better! The key here is to dice it into really fine bits, or even use a box grater to grate it instead. This will ensure it can be spread throughout the chicken mixture evenly and won't cause the burger to fall apart the way that big chunks of onion would.
Garlic – Not too much, just enough to add some spice. Just like the onion, you'll need to mince or grate the garlic to avoid any large chunks.
Fresh thyme – Fresh is best when it comes to the thyme in this burger. The flavor is bright and zingy, without being too concentrated the way that dried thyme might be. If you absolutely have to use dried thyme instead, cut the amount down to 1/2 tsp.
Dijon mustard – I really love the coarse grind of Grey Poupon's Country Dijon. I always have dijon mustard on hand, but I personally think the flavor of the course ground variety is better than the smooth. Other complex mustards like spicy brown would work in this recipe as well. I would stay away from whole grain though.
Lemon zest – The zest of a lemon gives you the most bang for your buck to add some of that bright lemon flavor without watering down the mixture.
Smoked paprika – A whole teaspoon of smoked paprika might seem like a lot for this recipe, but I promise it's not! I love the smoky flavor of it, especially in a recipe like this where you want to play up those yummy grilled char marks.
Salt and pepper – Don't forget these (especially the salt), or your burger will certainly have less flavor.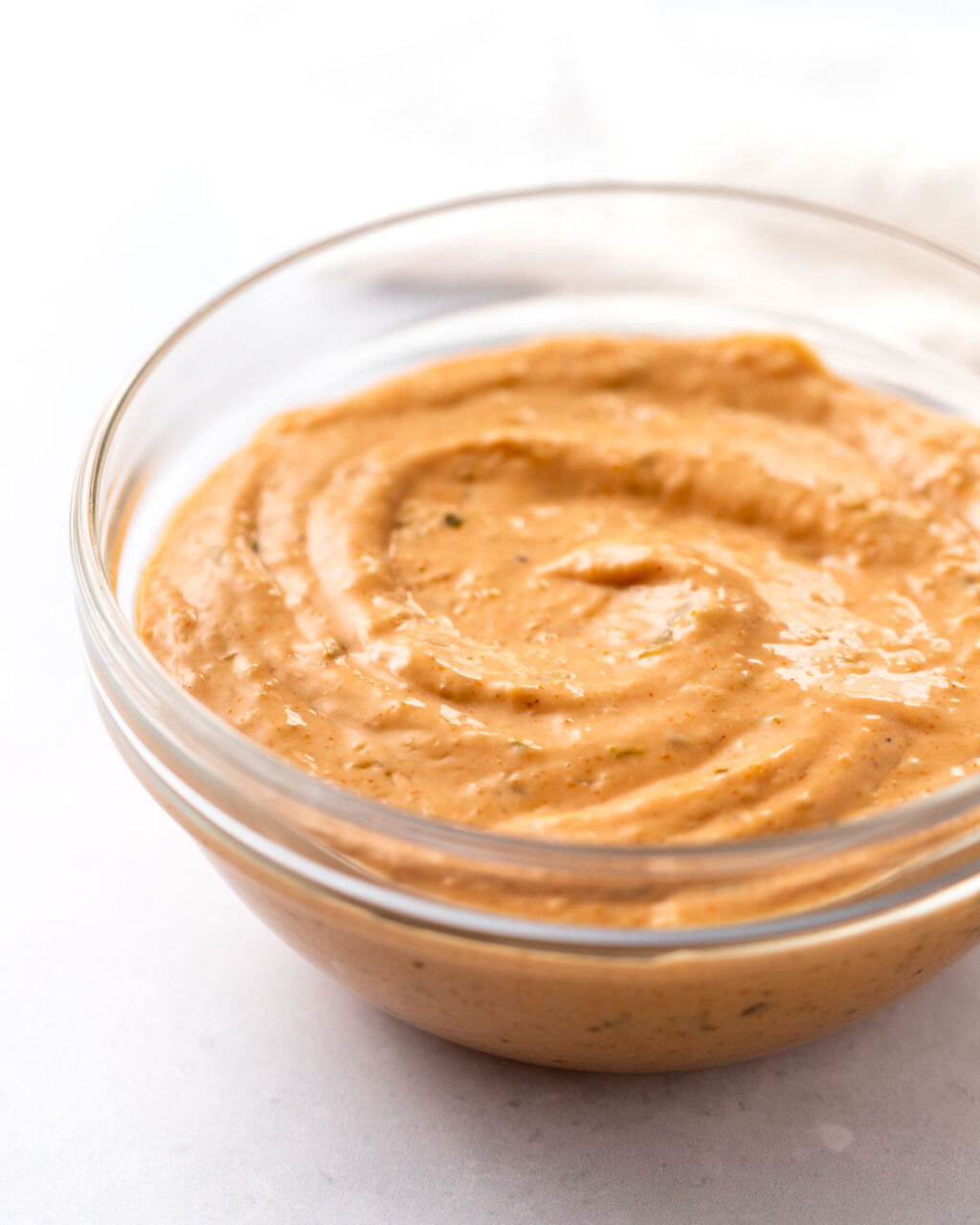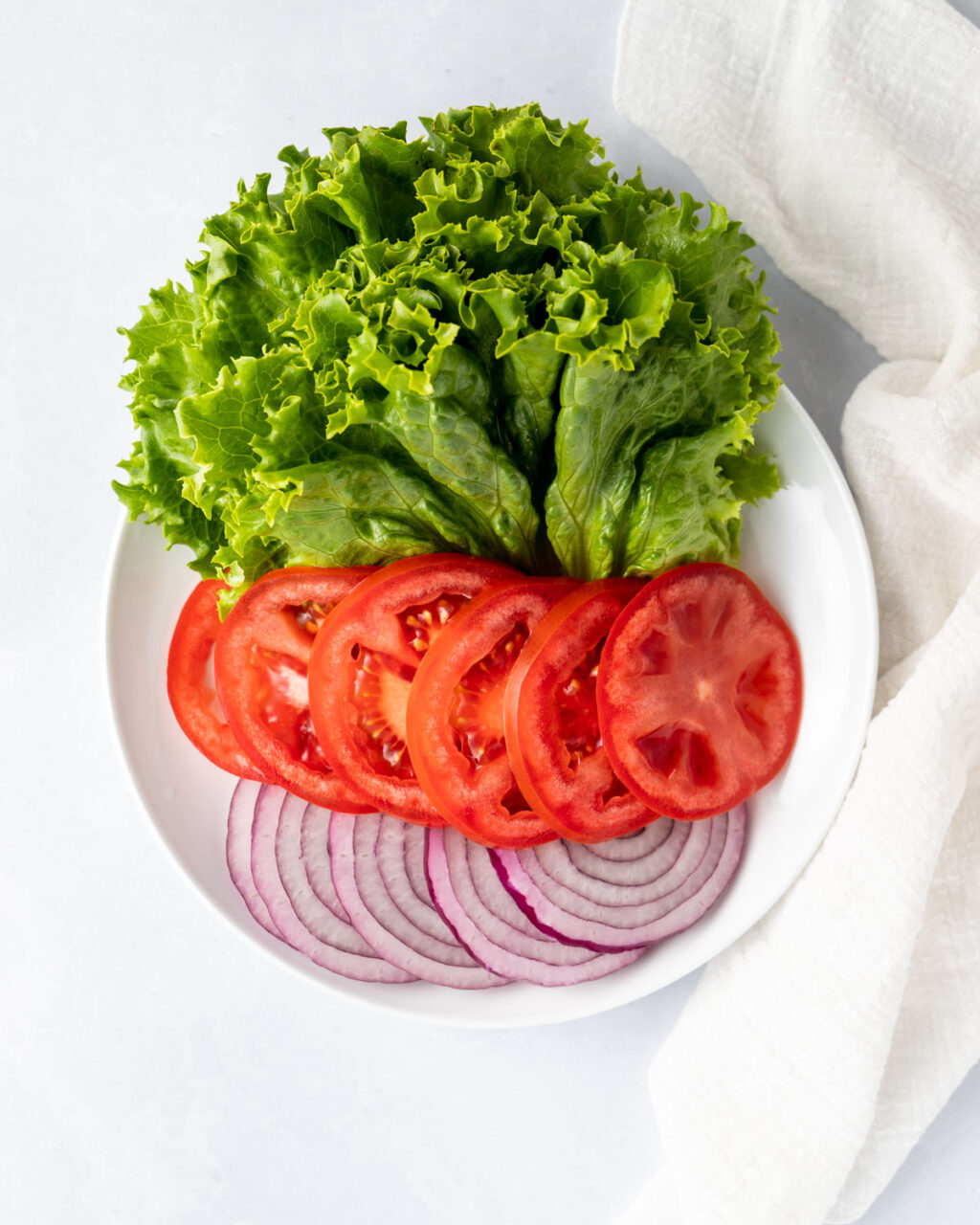 Chicken Burger Toppings
I know everyone has their go-to burger toppings, but for this burger, I went with the classics and didn't complicate things (too much). Lettuce, tomatoes, and thinly sliced red onions a perfect accoutrements to this particular grilled chicken burger. But the topping that will really have you saying "omg YUM" is the homemade burger sauce! It's pretty simple, but well worth having a mason jar of it on standby in your fridge throughout the summer.
Here's what you'll need to make it yourself:
Light mayonnaise – I used Duke's Light Mayonnaise because I like the flavor, but you can go with an even lower fat option like Miracle Whip to cut down on calories and add more "zing"!
Ketchup – Use whatever brand is your favorite!
Sweet relish – I guess it doesn't really matter if you use sweet relish or dill relish, but I prefer something closer to my favorite bread and butter pickle flavor. If you don't have relish on hand, just use pickles instead! Toss them in a food processor along with all the other ingredients and buzz it up until the pickles are chopped up finely.
Lemon juice – The acidity in the lemon juice helps brighten things up and balances the flavors nicely.
Worcestershire sauce – I love the smokey flavor that Worcestershire sauce brings to the party – it complements the smoked paprika in both the burger and the sauce too! If you don't have any on hand, you might want to use some of your favorite hot sauce (like Frank's Red Hot) instead.
Smoked paprika – I'm a huge fan of smoked paprika, especially in this burger and sauce!
Salt and pepper – A little extra seasoning to round out the flavors.
Shop for this Recipe
Here are some items I used to make this recipe a success. Note: these are Amazon Affiliate links.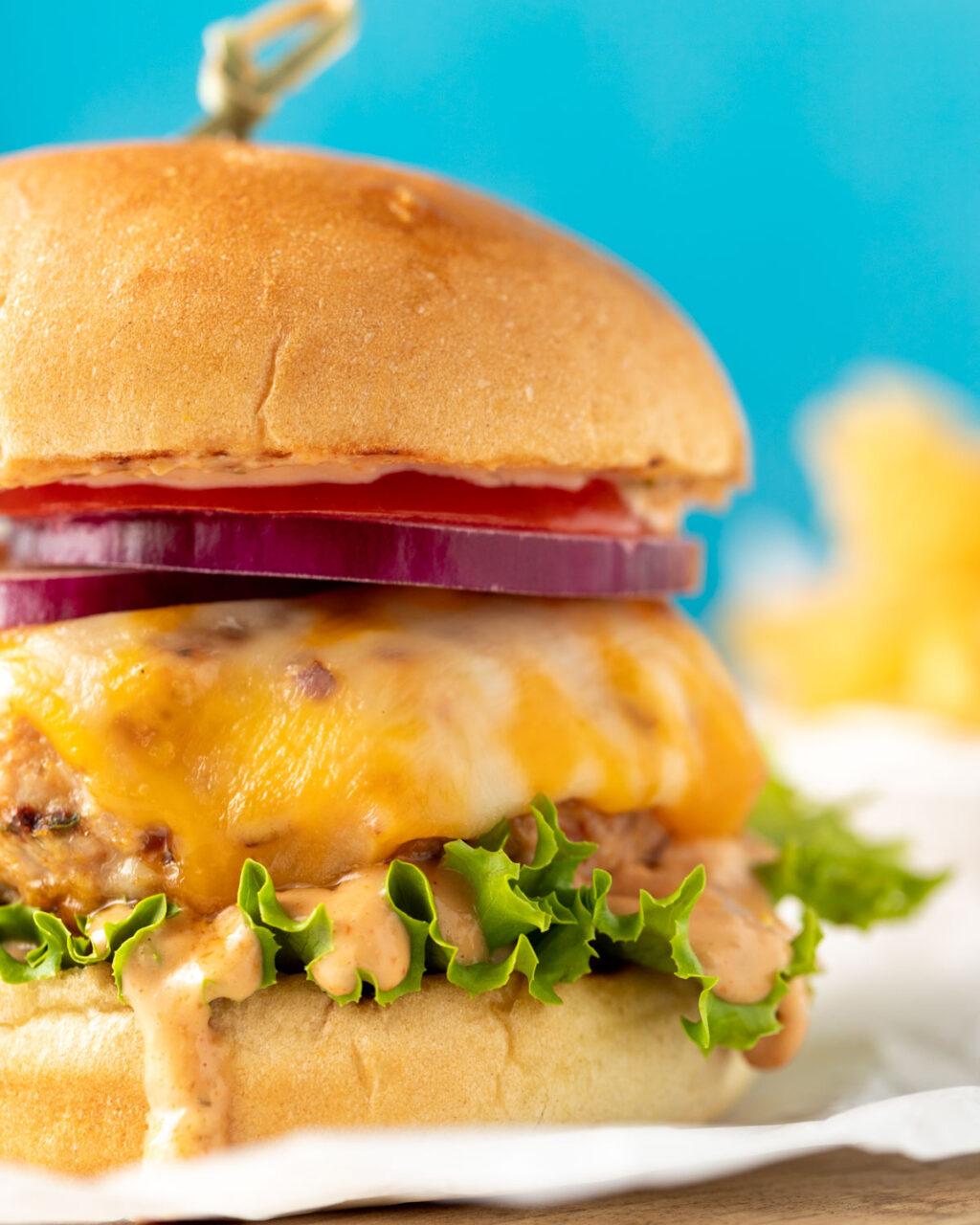 Juicy Grilled Chicken Burgers Recipe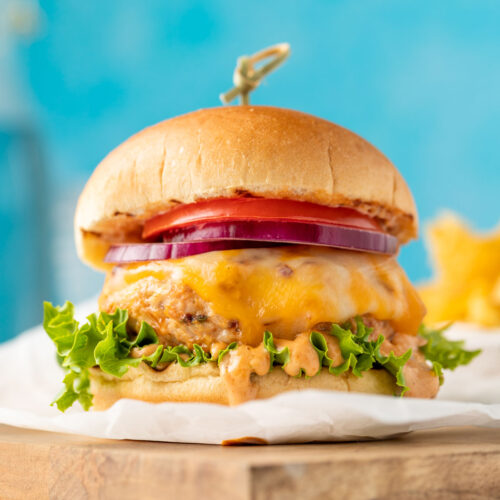 Juicy Grilled Chicken Burgers
Ingredients
Chicken Burgers
1

lb

90/10 ground chicken

1/2

cup

Cabot Classic Cut Shredded Cheddar Cheese

,

(56 grams)

1/4

cup

finely diced onion

,

(40 grams)

3

cloves

garlic, minced

,

(12 grams)

1 1/2

tbsp

fresh thyme, chopped

1 1/2

tbsp

Grey Poupon Country Dijon Mustard

,

(23 grams)

1

tbsp

lemon zest

1

tsp

smoked paprika

1/2

tsp

salt

1/2

tsp

black pepper
Toppings
4

Wegmans Brioche Rolls

,

(296 grams)

4

slices

Wegmans Thin Sliced Colby Jack Cheese

,

(92 grams)

4

leaves

green leaf lettuce, washed and trimmed

,

(80 grams)

1

medium tomato, sliced

,

(120 grams)

4

slices

red onion

,

(56 grams)

1/2

cup

homemade burger sauce

,

recipe follows
Instructions
Add all burger ingredients to a bowl and mix with hands just until ingredients are incorporated evenly into the chicken. Form 4 burger patties and place on a parchment lined baking sheet, then refrigerate for 20-30 minutes.

Place a cleaned grill topper on top of the grill grates, then pre-heat grill to about 430°F.

Once grill is pre-heated, bunch up a paper towel with a pair of grill tongs; dip it in a bowl of vegetable oil (you need the higher smoke point of vegetable oil as opposed to olive oil); and then run it over the hot, clean grates or grill topper to create a nonstick surface. 

Once the burger patties have rested in the refrigerator, flip them onto the oiled grill topper. Grill 6 minutes on one side, then flip and grill for an additional 4-5 minutes or until cooked through.

Top burgers with cheese during last 1 to 2 minutes of cooking to melt cheese. Serve with lettuce, tomato, red onion, and burger sauce on a brioche bun.
Tips & Tricks
The burger mixture will be very sticky, so don't skip refrigerating the patties before grilling. Be sure to check out all my tips in the post for how to make amazing chicken burgers!
Nutrition Information
Serving:
1
burger
,
Calories:
600
kcal
(30%)
,
Carbohydrates:
47
g
(16%)
,
Protein:
36
g
(72%)
,
Fat:
30
g
(46%)
,
Cholesterol:
163
mg
(54%)
,
Sodium:
1177
mg
(51%)
,
Potassium:
765
mg
(22%)
,
Fiber:
1
g
(4%)
,
Sugar:
8
g
(9%)
BURGER ONLY

BURGER WITH BUN & TOPPINGS

Homemade Burger Sauce
Servings:
servings (2 tbsp per serving)
Ingredients
1/2

cup

Duke's Light Mayonnaise

,

(4 fl oz)

1/4

cup

Heinz No Sugar Added Ketchup

,

(2 fl oz)

2

tbsp

sweet relish

2

tbsp

fresh squeezed lemon juice

1

tsp

worcestershire sauce

1/4

tsp

smoked paprika

1/8

tsp

each: salt and pepper
Instructions
Whisk all ingredients together until well-combined.
Tips & Tricks
Click here or scan the barcode below to log this food in My Fitness Pal.
Nutrition Information
Serving:
2
tbsp
,
Calories:
60
kcal
(3%)
,
Carbohydrates:
3
g
(1%)
,
Fat:
5
g
(8%)
,
Cholesterol:
10
mg
(3%)
,
Sodium:
280
mg
(12%)
,
Potassium:
9
mg
,
Sugar:
1
g
(1%)