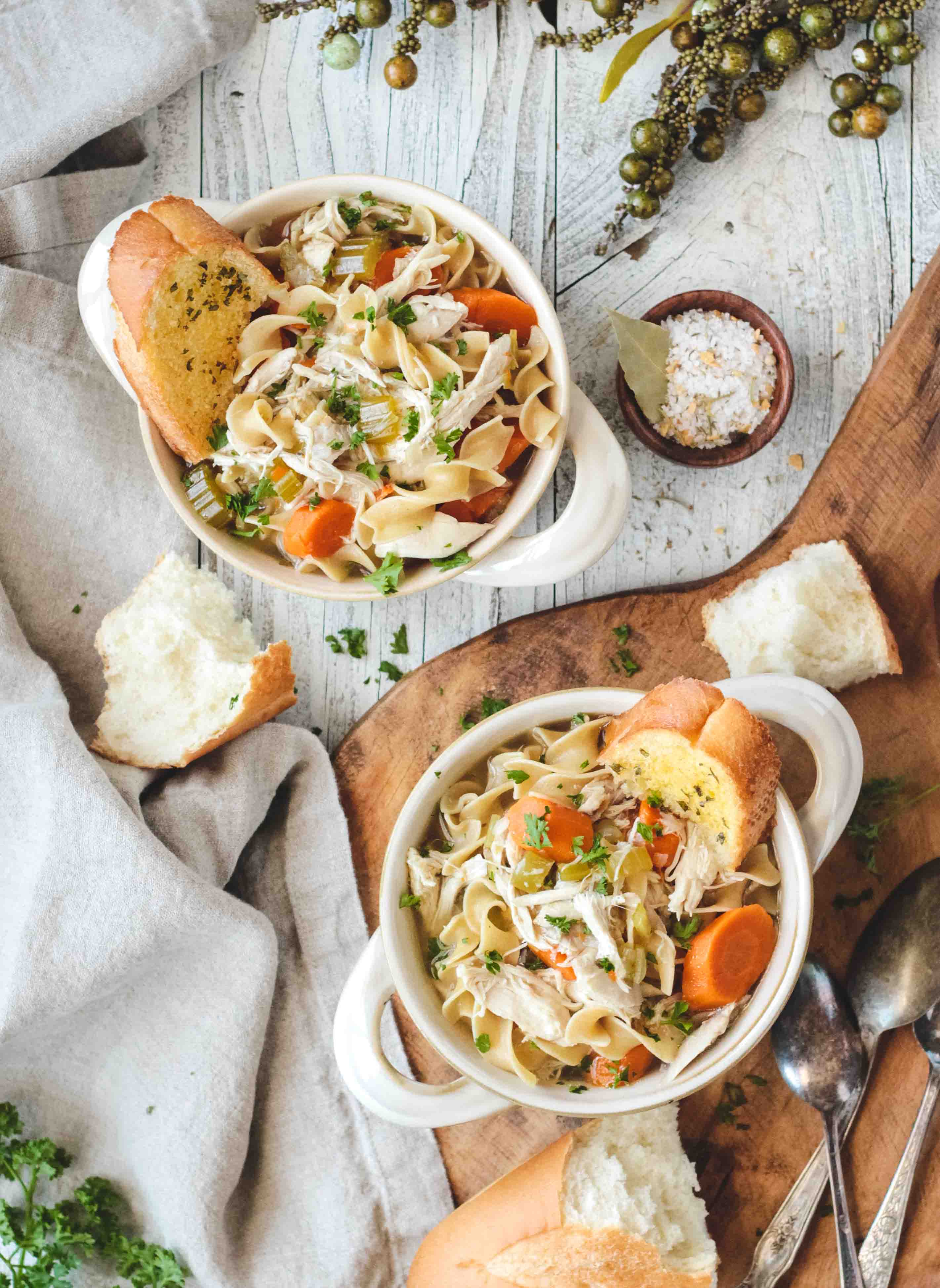 Time for another Wednesday recipe, and this Instant Pot Chicken Noodle Soup couldn't come at a better time! Last night in San Antonio the wind chill got down to 34 degrees, which is especially crazy since it was 84 degrees on Monday afternoon. Talk about weather whiplash. A warm and cozy soup is just what the doctor ordered!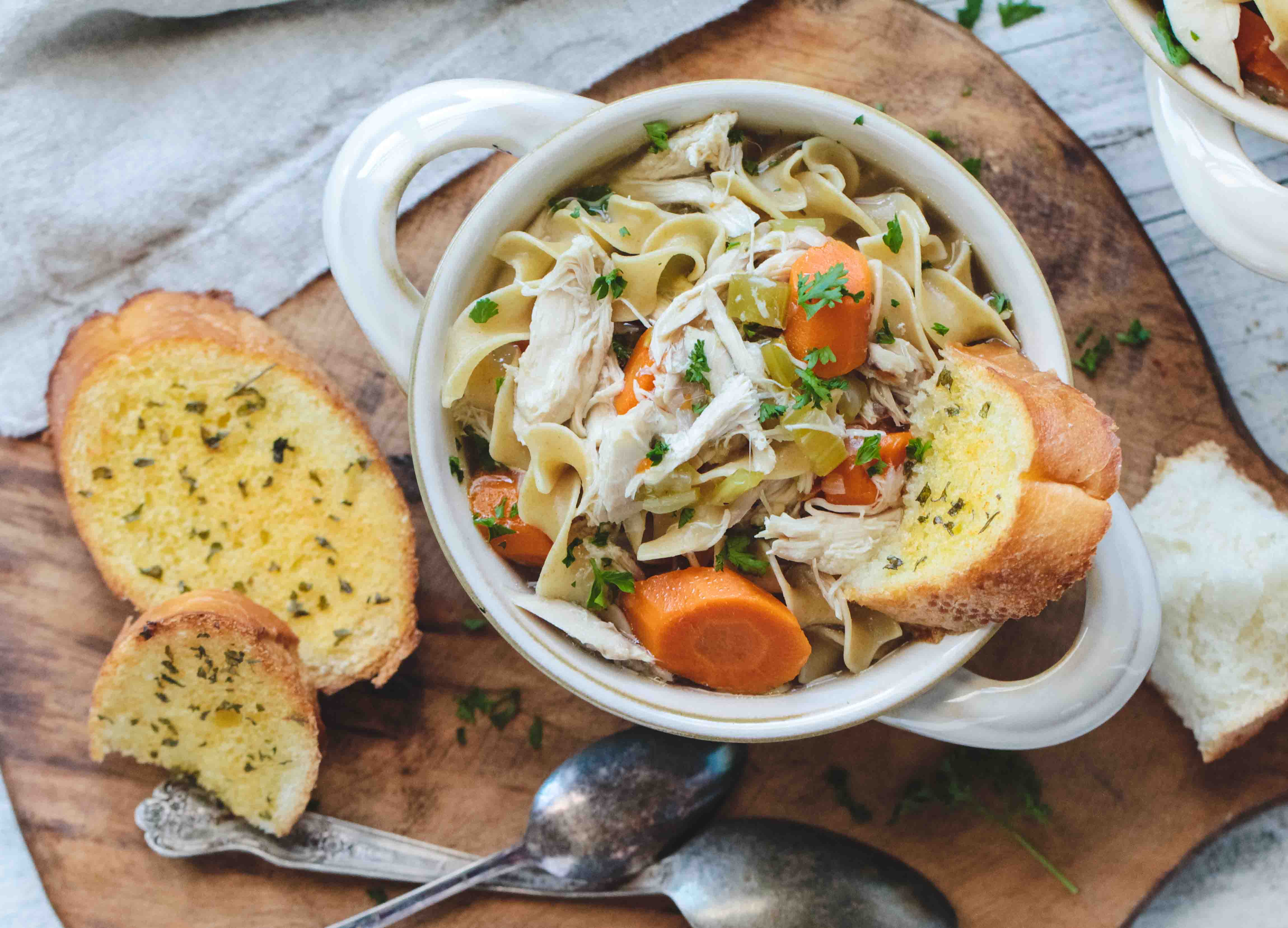 The great thing about this recipe is that it uses a whole chicken, which brings a ton of flavor (and lots of chicken) to this soup! I got the inspiration from a recipe over on America's Test Kitchen, but instead of using a regular stovetop pressure cooker, I fired up my Instant Pot to create the ultimate flavorful broth and fall apart tender chicken in no time.
I will say that one of the limitations of using an Instant Pot for this recipe is that you may not get quite as much broth as you like (my IP is a 6 qt capacity). I personally like a thick chicken noodle soup, but if you'd like more liquid, you can use a smaller chicken (maybe 3 lbs) or add some extra chicken stock at the end.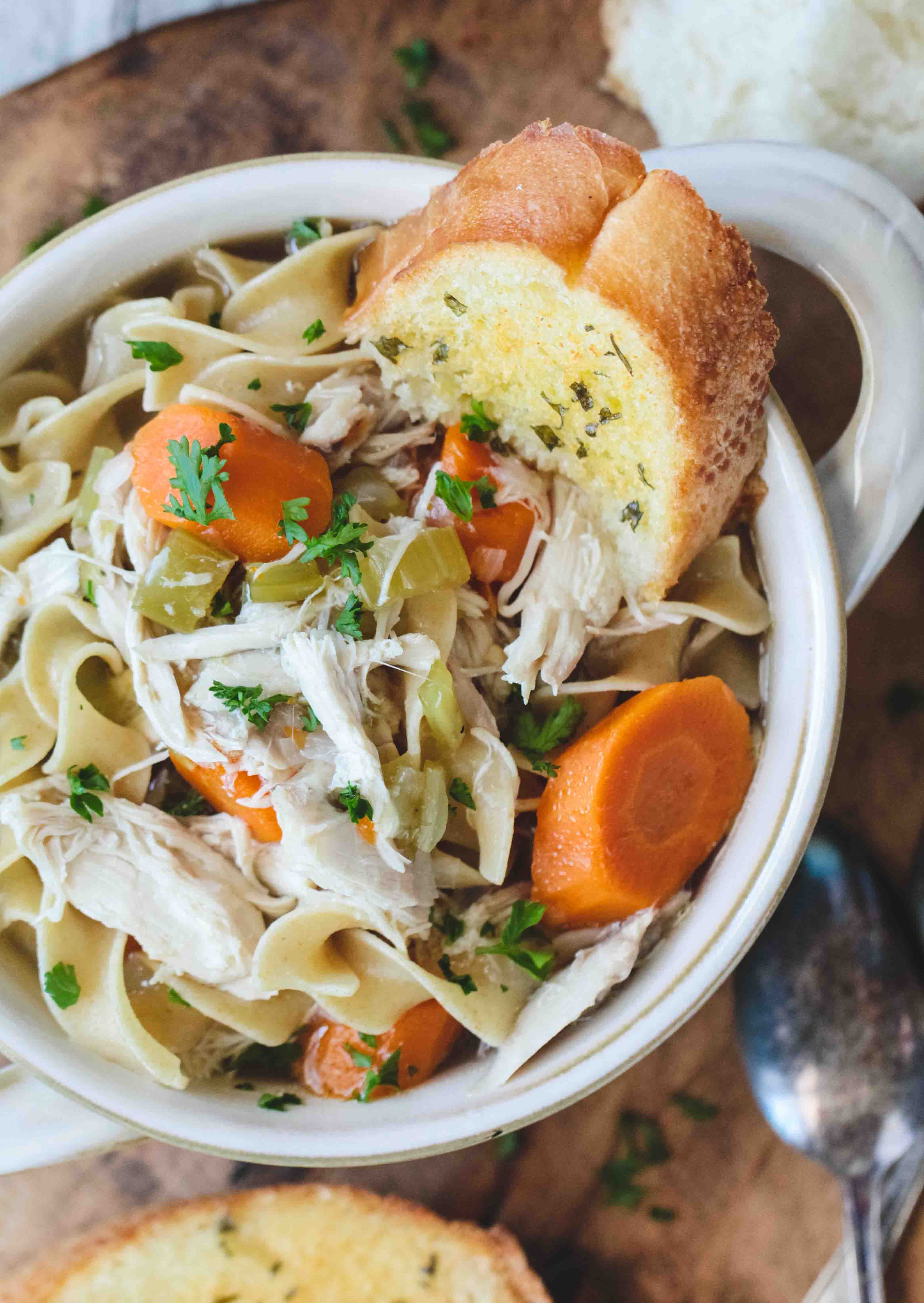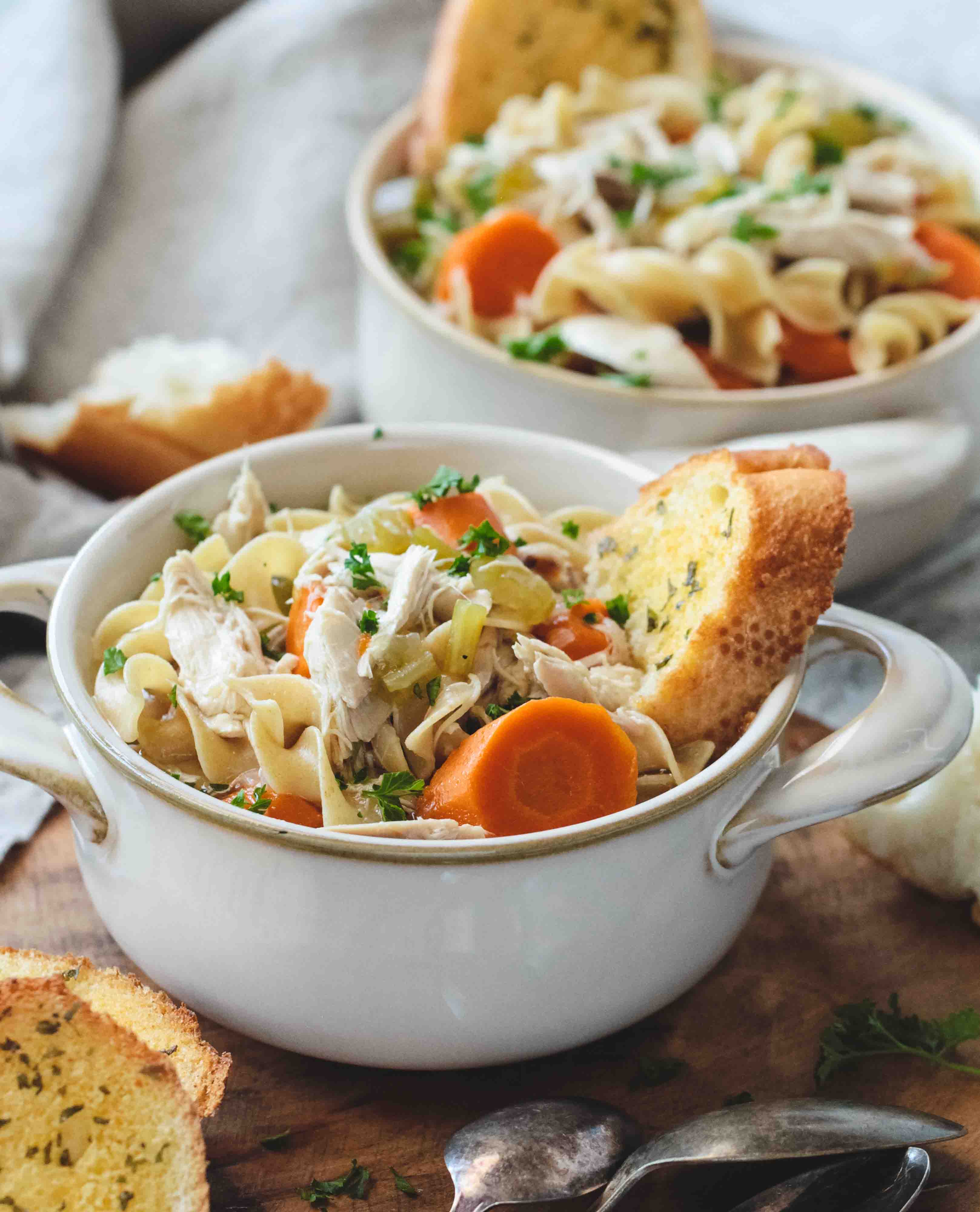 If you don't have an Instant Pot yet, here's the one I recommend. I have an older model that doesn't do as well with the slow cooking function, but America's Test Kitchen tested the heck out of this model and found that it did just as well as a dedicated slow cooker. If you already have a slow cooker and JUST want the pressure cooker function, go for this less expensive model. Note: these are Amazon affiliate links.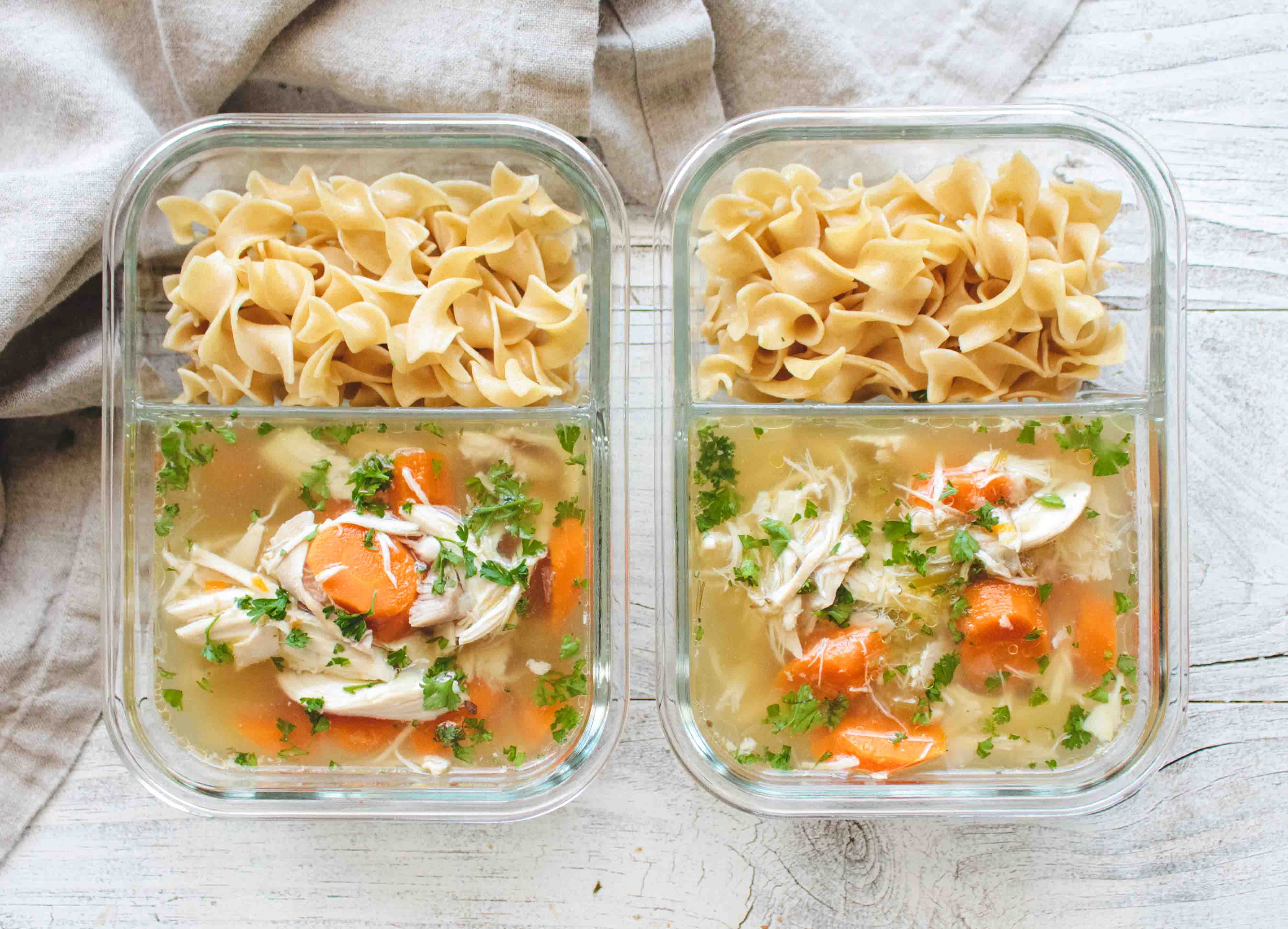 If you're going to be using this soup for meal prep, store the egg noodles separately from the liquid for best results. I cooked my noodles in a separate pot according to package directions and then drained them and tossed them with a bit of olive oil to keep them from sticking. Worked like a charm!
These egg noodles will soak up excess liquid and turn mushy faster than regular pasta or rice if you let them sit in the soup for too long. I tried this recipe out with noodles in the soup and noodles out of the soup – you can safely keep the noodles in the soup for about 2 days after making it without having overly mushy noodles. Anything beyond that and you definitely need to leave them out to the side.
Recipe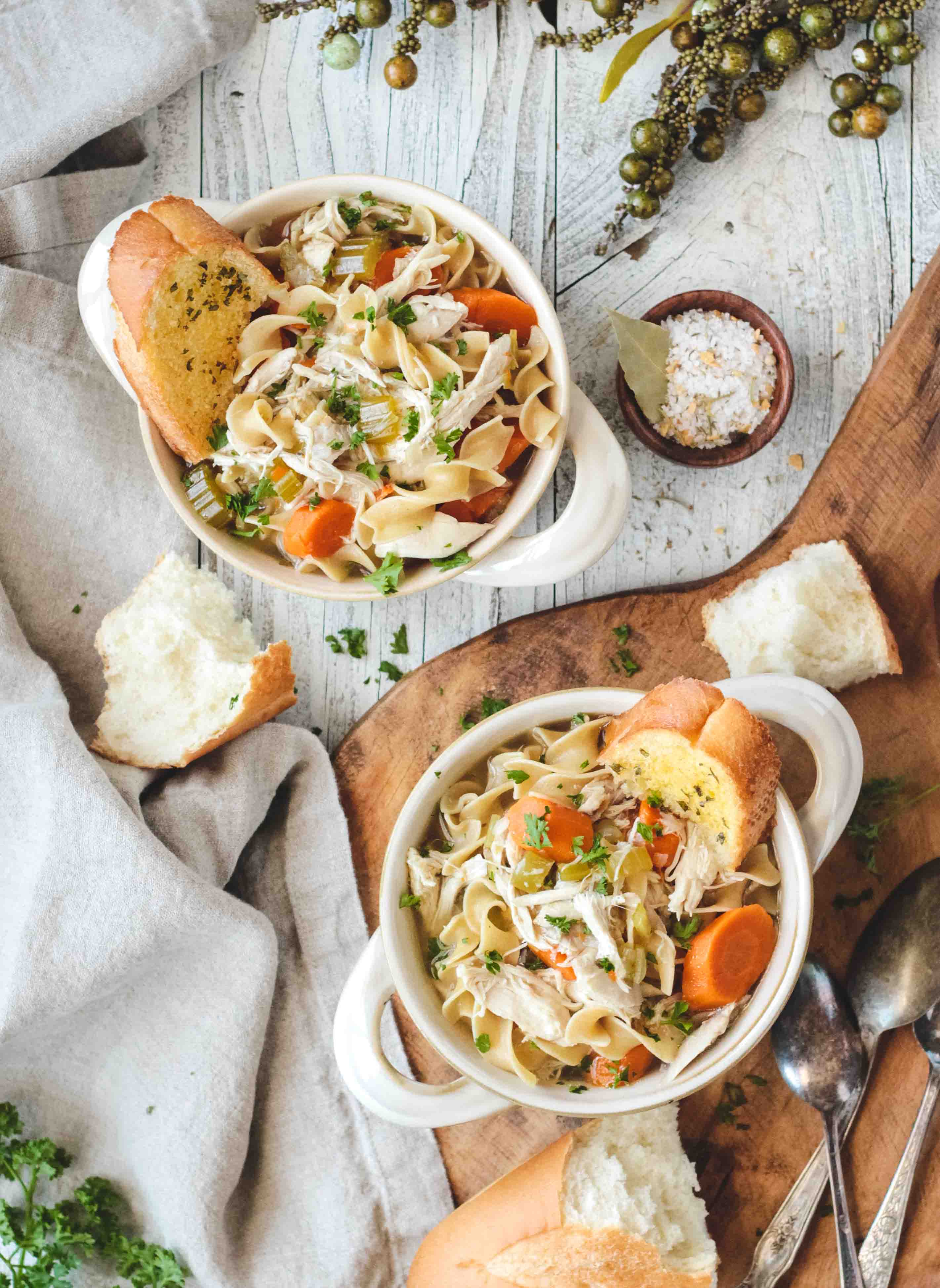 Instant Pot Chicken Noodle Soup
Servings:
servings (generous 1 1/2 cups per serving)
Ingredients
4

lb

whole chicken, giblets removed

6

cups

low sodium chicken stock

2

cups

water

6

medium carrots, peeled and sliced

,

(370 grams)

6

large celery ribs, sliced

,

(200 grams)

1

medium yellow onion, chopped

,

(110 grams)

4

cloves

garlic, minced

1

inch knob

ginger, peeled

2

bay leaves

1 1/2

tbsp

homemade brine mix,

(see note below)

1/2

tbsp

olive oil

1

tsp

dried thyme

8

oz

your favorite egg noodles for serving

,

(not included in nutriton info)

Salt and pepper to taste
Instructions
Pat the chicken dry with paper towels, then season generously with brine mix inside and out. Add the peeled knob of ginger into the cavity of the chicken and set aside.

Set Instant Pot to sauté, then add olive oil. Once oil is hot, add the onion and sauté until softened, about 5 minutes. Then add garlic and thyme and continue to sauté for another 30 seconds or so.

Add the celery and carrots to the Instant Pot and stir, then add the chicken, breast side up.

Pour the chicken stock and water into the Instant Pot, being careful to add it around the sides of the pot so you don't wash all the salt off the chicken. Add the bay leaves to the liquid. (Ensure you don't exceed the maximum fill line in the pot – you may have to add some liquid after cooking if your chicken is more than 4 lbs.)

Set Instant Pot to high pressure for 18 minutes followed by 10 minutes natural release before quick releasing any remaining pressure.

Remove the chicken to a cutting board and allow to cool for 5-10 minutes. Clean the chicken, removing any skin and bones. Chop or pull any large chunks of chicken into bite size pieces.

Skim any fat off the top of the soup using a large spoon, then return chicken to pot. (Note: you can also do this more easily after allowing the soup to cool in the fridge overnight, which will help the fat solidify on top of the liquid. Just add the cleaned chicken back to the hot soup before sticking the whole pot in the fridge.)

Cook egg noodles according to package directions, drain, and mix into soup before serving. (Note: If meal prepping this recipe, toss the cooked and drained noodles with a bit of olive oil and store separately from the soup to avoid mushy noodles.)
Tips & Tricks
Brine: My homemade brine mix uses kosher salt, herbs (including thyme and rosemary), peppercorns, etc. You can use regular salt and any combination of herbs you like, but be sure to season the chicken generously with the salt and herbs to maximize flavor!
Nutrition: Since we're using a whole chicken in this recipe, the nutrition info is approximate.  The actual nutrition will depend on how lean your chicken is, how much fat you're able to remove from the broth, how well you pick the chicken clean, etc.  My chicken yielded 725 grams of meat after being cooked and cleaned.
I also didn't include the egg noodles in the nutrition info since it will vary widely depending on what noodles you buy.  Click here or scan the barcode below to log this food (minus the noodles) in My Fitness Pal.
Nutrition Information
Calories:
261
kcal
(13%)
,
Carbohydrates:
10
g
(3%)
,
Protein:
33
g
(66%)
,
Fat:
9
g
(14%)
,
Cholesterol:
94
mg
(31%)
,
Sodium:
815
mg
(35%)
,
Potassium:
575
mg
(16%)
,
Fiber:
3
g
(13%)
,
Sugar:
4
g
(4%)