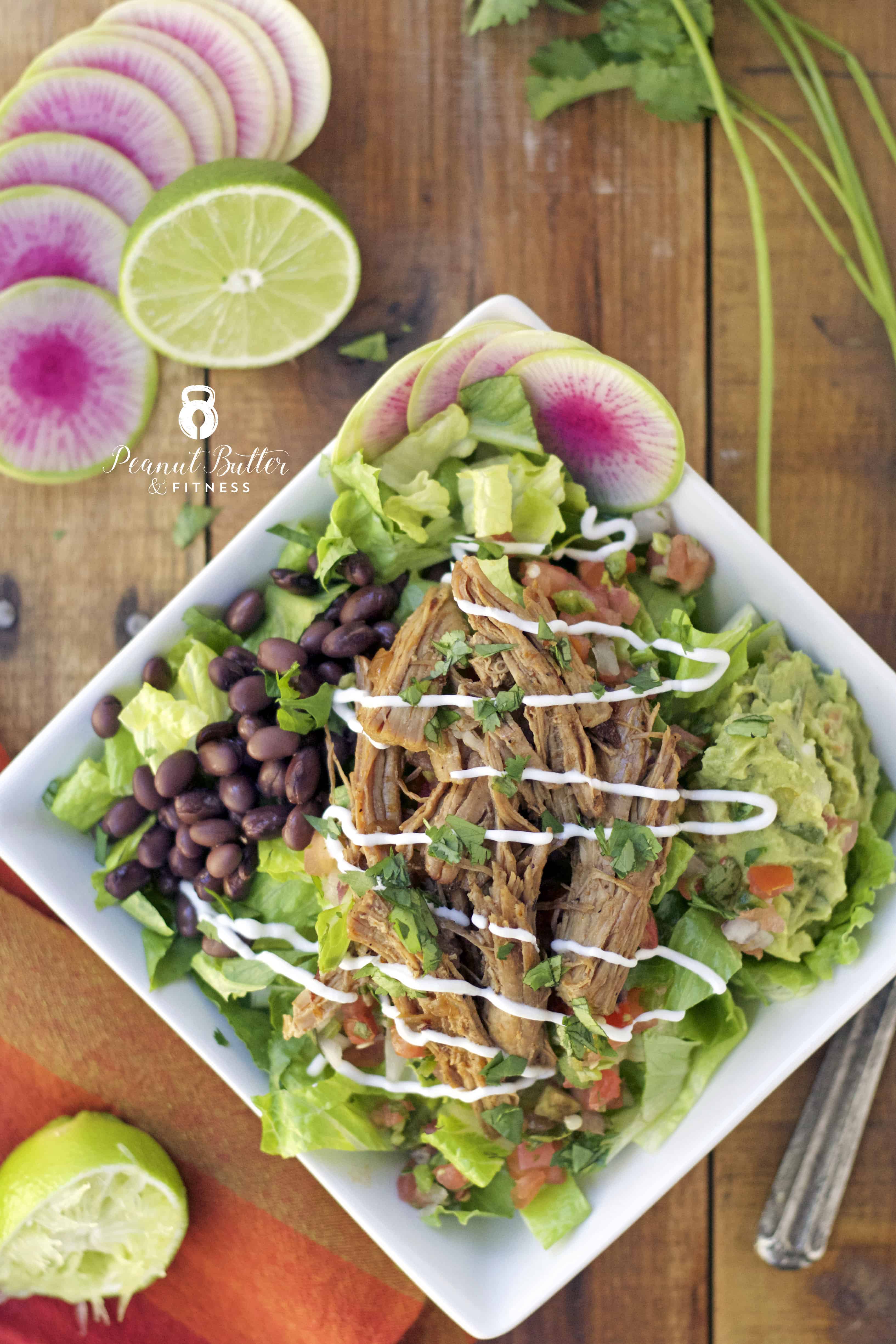 Who else got an Instant Pot for Christmas?! This is the second recipe that I've made with mine so far and I gotta say…I LOVE IT.  The first thing I made was some chicken breast for soup and in just 8 minutes it was fall apart tender and juicy. And now this recipe…I stuck a pork butt in there for 50 minutes and this fall apart, amazing, juicy, delicious, can't-stop-eating-it pulled pork.  I will definitely be making pulled pork in there again soon.  And the best part?  I didn't have to torture myself all day with delicious smelling pork while it slow cooked away in my Crock Pot.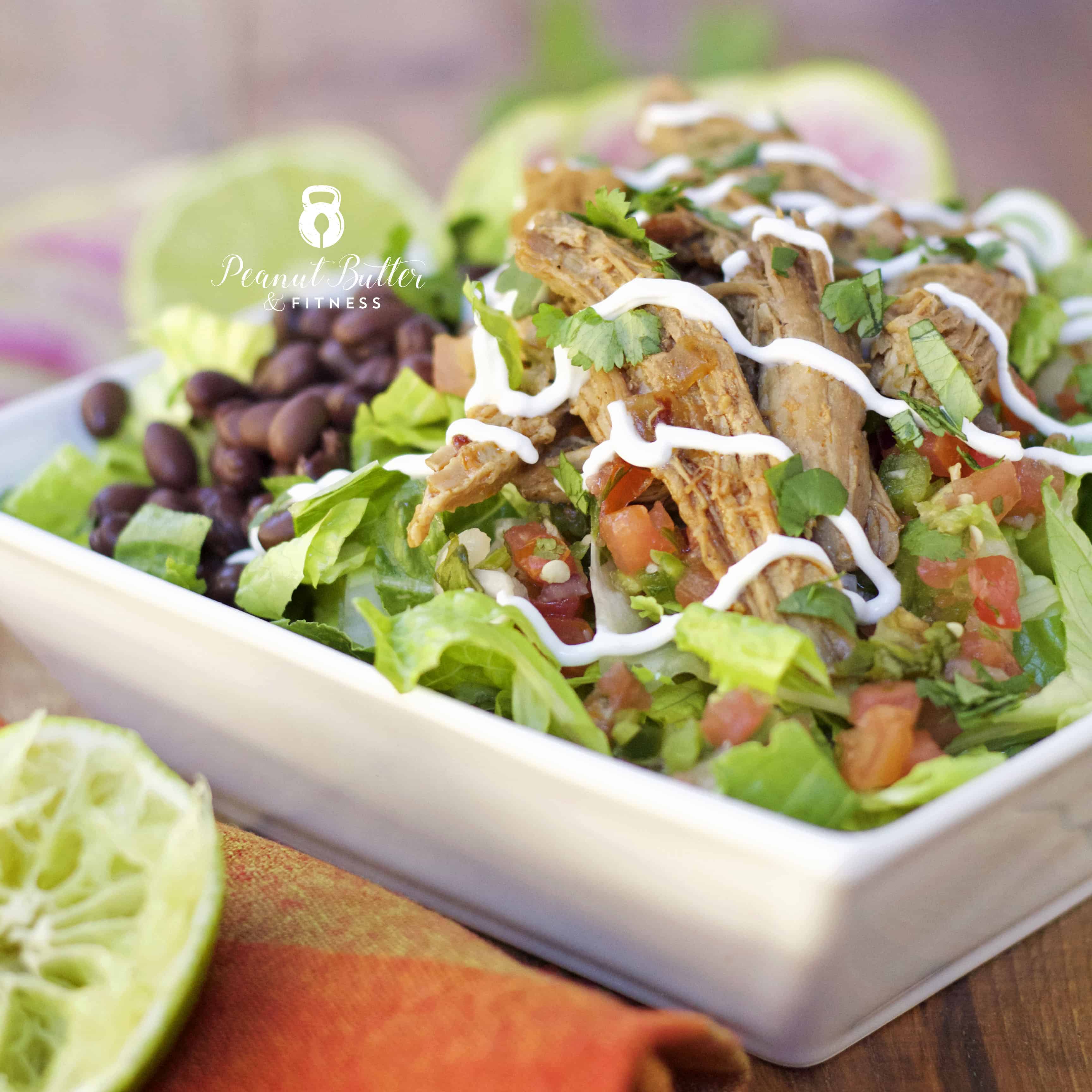 I had a Chipotle Burrito Bowl over the holidays and as always, I was inspired after scarfing it down.  So this is a lightened up version of a Burrito Bowl sans rice (although you can add rice if you'd like).  And I didn't go full carnitas on the pork just for ease of recipe making.  Trust me, you won't want the carnitas after trying this pork.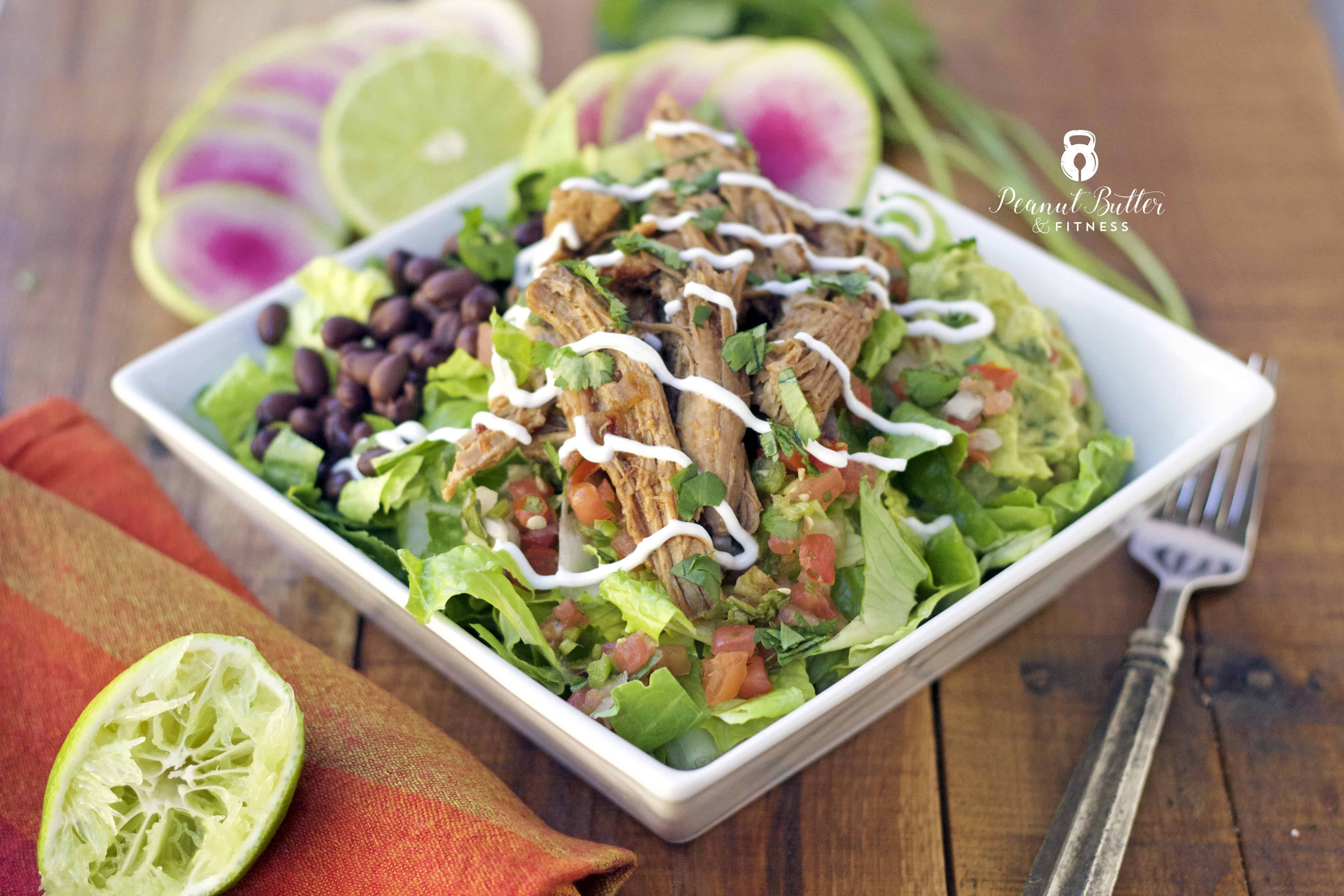 Oh, I also added some watermelon radishes to my bowl because 1) I finally found watermelon radishes and they're freaking beautiful; and 2) I felt like this salad could benefit from a few radishes.  I actually considered doing a solo watermelon radish photo shoot because I'm obsessed with how pretty they are.
Real recipe talk for a sec – you can totally use a slow cooker instead of an Instant Pot if that's all you've got.  Just brown the pork on the stovetop and then stick it in the slow cooker for 6-8 hours until it's cooked through and pulls apart easily.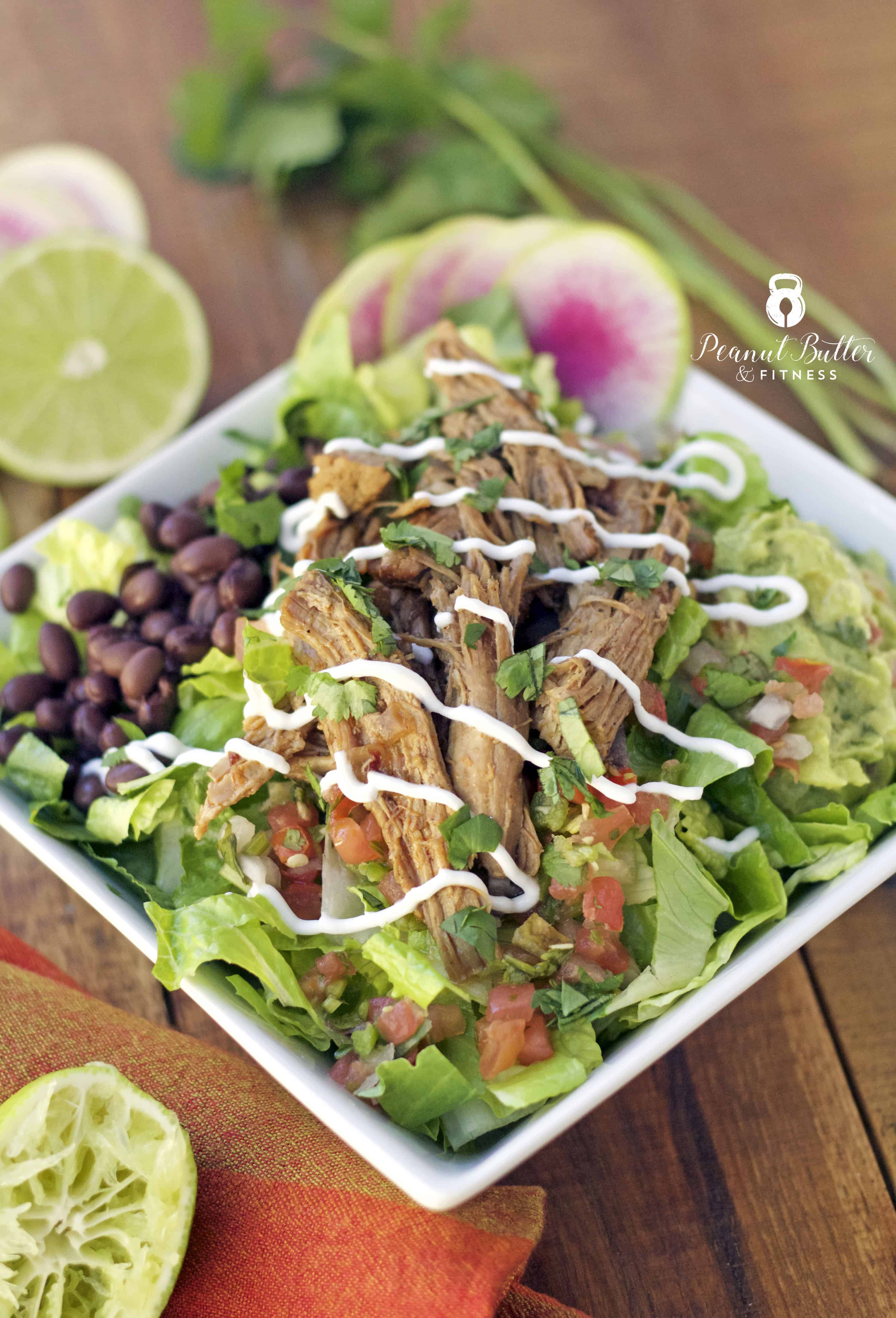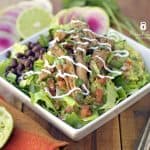 Instant Pot Chipotle Pulled Pork Salad Bowl
Prep Time 30 minutes
Cook Time 50 minutes
Total Time 1 hour 20 minutes
Servings 4
Calories per serving 388 kcal
Ingredients
1 1/2 lb pork butt
3/4 cup low sodium chicken broth
3 chipotle peppers in adobo , plus 1 tbsp sauce
1/2 medium onion , diced
3 cloves garlic , sliced
1/2 tbsp olive oil
1/2 tsp salt
1/2 tsp pepper
1/2 tsp cumin
1/2 tsp garlic powder
1/4 tsp oregano
Bowl Ingredients
3 romaine lettuce hearts, sliced
1 cup low sodium black beans, rinsed and drained
1 cup pico de gallo (I used Whole Foods)
1/2 cup guacamole (I used Whole Foods)
1/2 cup plain non-fat Greek yogurt
4 small radishes, thinly sliced or julienned
Cilantro and quartered limes for garnish
Instructions
(Optional) Brine pork butt overnight in a 1-2 quarts of water with 1/2 cup kosher salt dissolved into the water. Replace some of the water with apple juice for added sweetness (don't worry about exact measurements). Remove pork but from brine, rinse and pat dry.

Rub the pork butt with Flavor God, sea salt, pepper, cumin, garlic powder and oregano on all sides.

Heat Instant Pot to saute. Add olive oil, then sauté onion and garlic until fragrant. Add pork butt and brown on all sides. Turn off Instant Pot and remove pork butt to a plate.

Add chicken broth, chipotles and adobo sauce and mix. Return pork butt to the Instant Pot, close the lid and pressure cook on high the Meat/Stew setting for 50 minutes, followed by natural release. (You can also do this for 6-8 hours in a regular slow cooker.)

Remove pork and shred with two forks. Return to Instant Pot to mix with juices before serving.

Arrange salad bowls with lettuce, pulled pork, black beans, pico de gallo, guacamole, Greek yogurt and garnishes before serving.
Nutrition Facts
Instant Pot Chipotle Pulled Pork Salad Bowl
Amount Per Serving
Calories 388 Calories from Fat 144
% Daily Value*
Fat 16g25%
Cholesterol 103mg34%
Sodium 511mg22%
Carbohydrates 20g7%
Fiber 5g21%
Sugar 4g4%
Protein 43g86%
* Percent Daily Values are based on a 2000 calorie diet.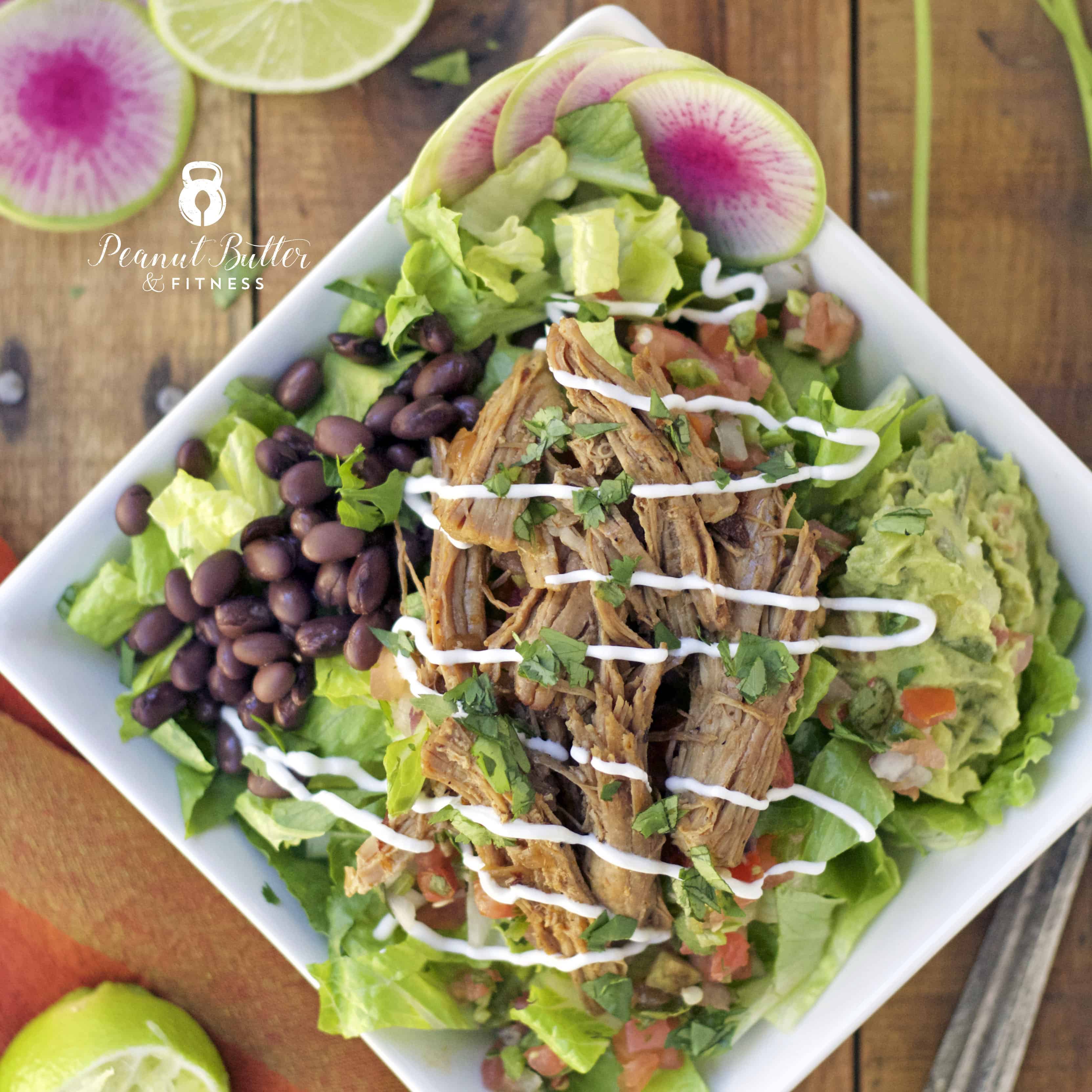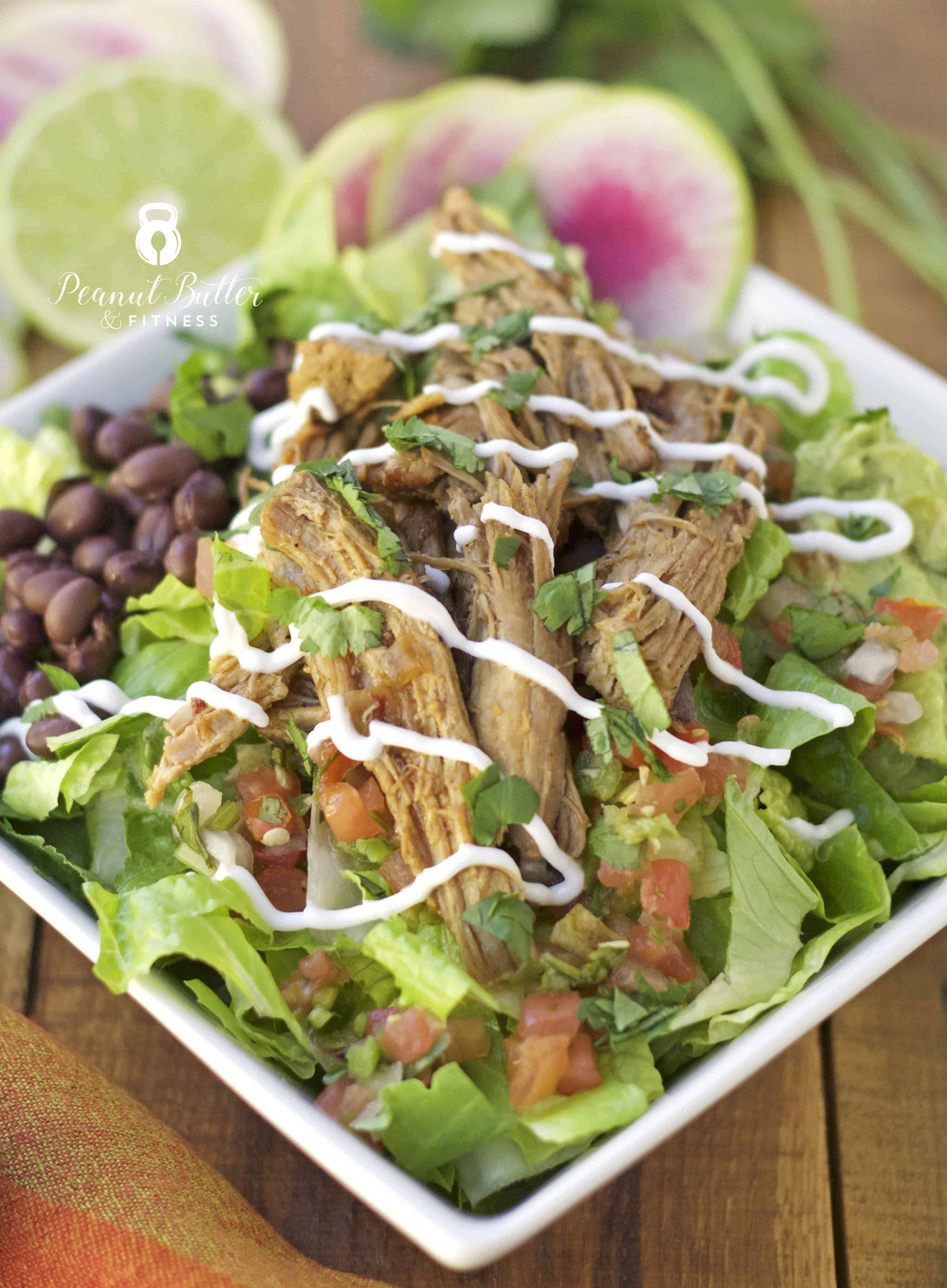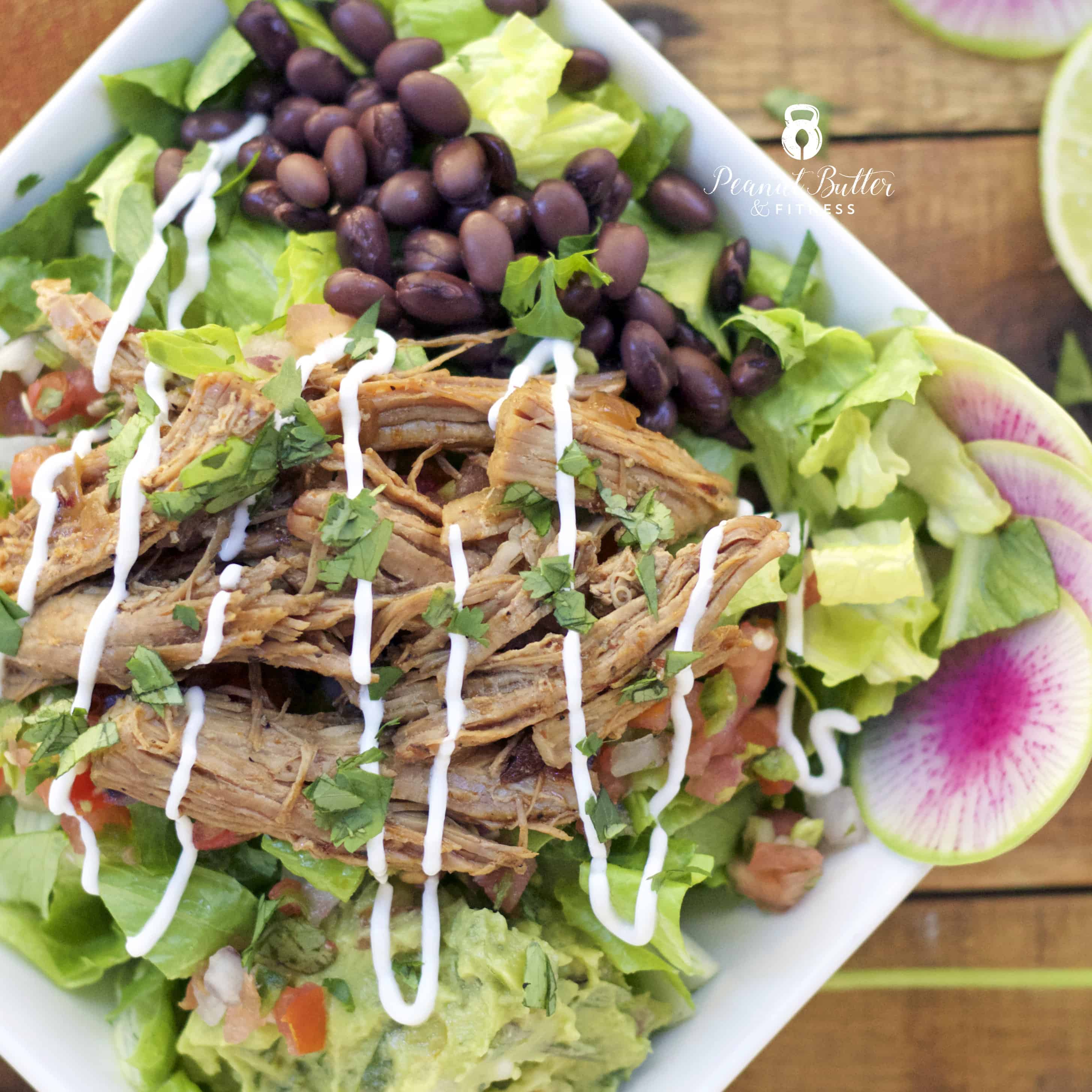 SaveSave