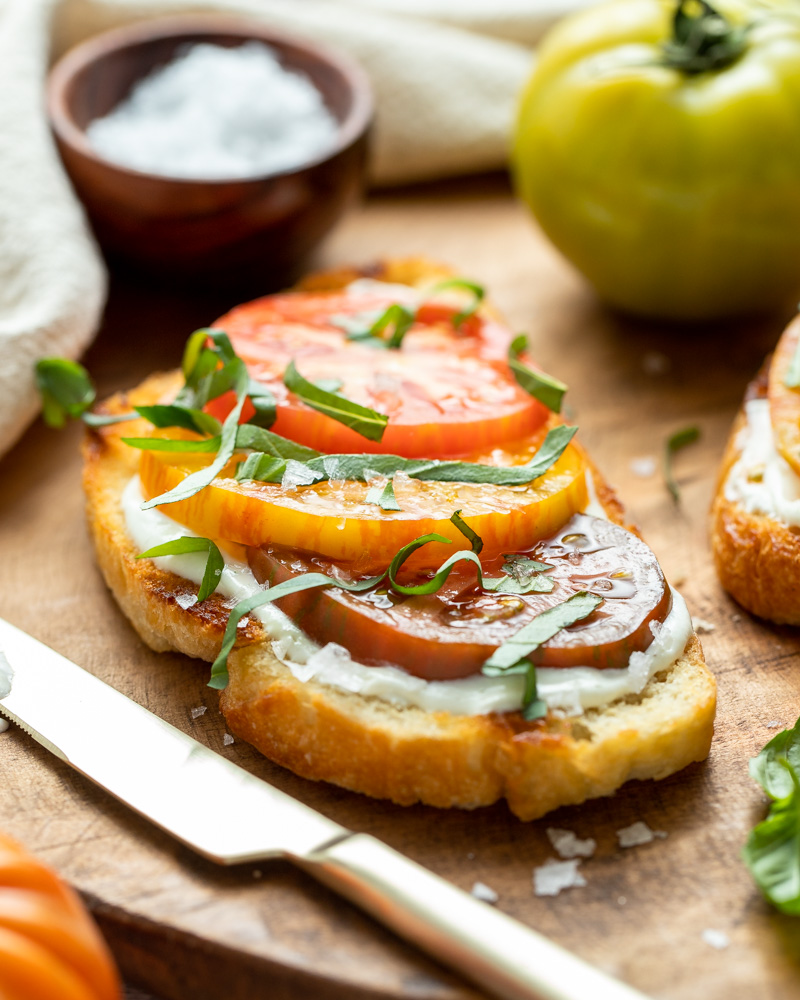 This Heirloom Tomato & Whipped Feta Toast is 100% a late summer produce appreciation recipe! I don't know about you guys, but my basil plant is currently going absolutely bonkers and I can't bring myself to pass up the gorgeous heirloom tomatoes that I see at the store and farmers markets. They're just so enticing with all the pretty colors and shapes, ya know?! Well anyway, I had to figure out something delicious to do with those gorgeous little masterpieces. I knew toast was the answer, but today we're taking these tomatoes to the next level with a creamy, dreamy partner: whipped feta.
Now, when it comes to whipped feta, you can go as simple or as complicated as you want. If you want a really strong flavor, go for straight feta and maybe a little touch of oil to help things get smooth. I personally opted for a cottage cheese and feta blend to up the protein content while keeping things super thick and creamy. Greek yogurt would work too, but you just have to be careful about using low fat versions since things can get a little runny if you're not careful.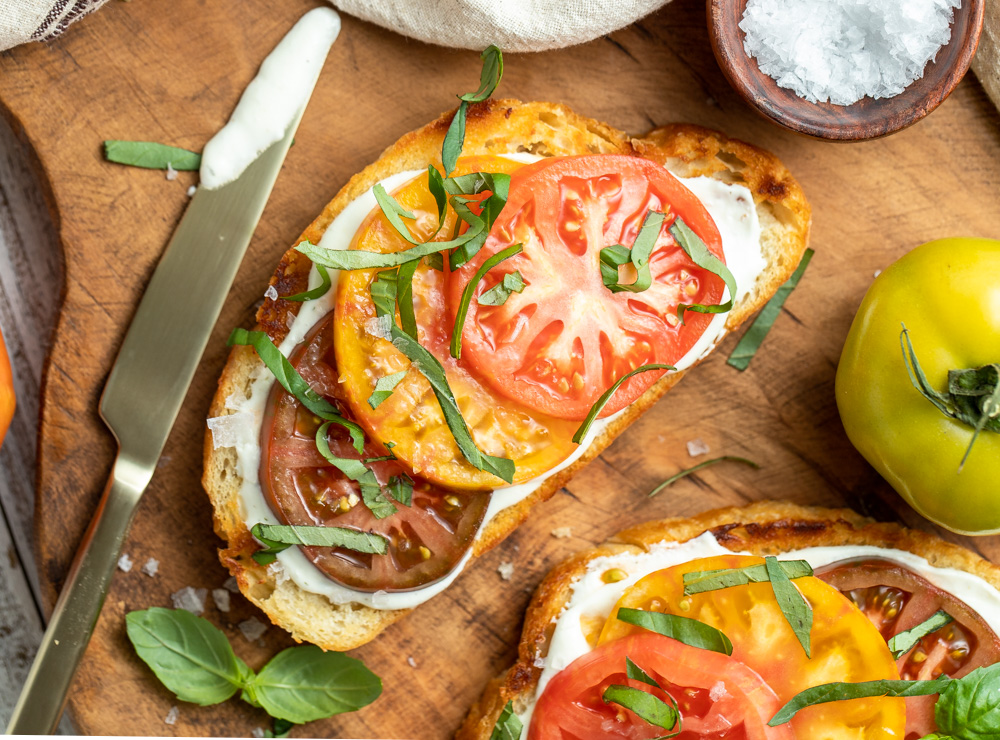 Ingredients and Substitutions
Here's what you'll need to make this Heirloom Tomato & Whipped Feta Toast at home:
Sourdough bread – I love the tangy, rich flavor of sourdough bread, especially when making fancy toast at home! It also holds up really well when toasted and toppings are piled on. Perfect for the weight of the tomatoes in this recipe. You can of course use whatever bread you like though!
Heirloom tomatoes – Their vibrant hues and sweet, juicy flesh make heirloom tomatoes a true superstar of the late summer kitchen! I love getting a variety of colors for maximum visual interest.
Fresh basil – Raid the garden for fresh basil to help brighten up this toast and add a really vibrant herby flavor. I don't recommend substituting or skipping this ingredient.
Feta cheese – Buy yourself a nice feta in brine for this recipe – I really like the Mt. Vikos brand because it doesn't have a ton of brine that you really have to be careful not to spill everywhere. You really don't want the pre-crumbled kind here. If you want a strong feta flavor, double up the amount of feta that I call for in the recipe. The whip will get pretty thick, but you'll get more of that tangy feta flavor. If you don't like feta, you might want to try goat cheese or ricotta instead, but because they're already so soft, you could skip the cottage cheese in the recipe.
Cottage cheese – Cottage cheese does a couple things for this recipe. First, it stretches out the feta so it doesn't overpower the gorgeous tomatoes and allows it to whip up super smooth. Second, it adds a bunch of protein to the recipe! And you know I'm here for that. You could also use Greek yogurt to do this, just cut it down to about 5-8 oz instead of the full 16 oz of cottage cheese the recipe calls for so things don't get runny.
Olive oil – This is totally optional, but I like the way the olive oil helps things emulsify when the blender or food processor are getting started on making that smooth whip.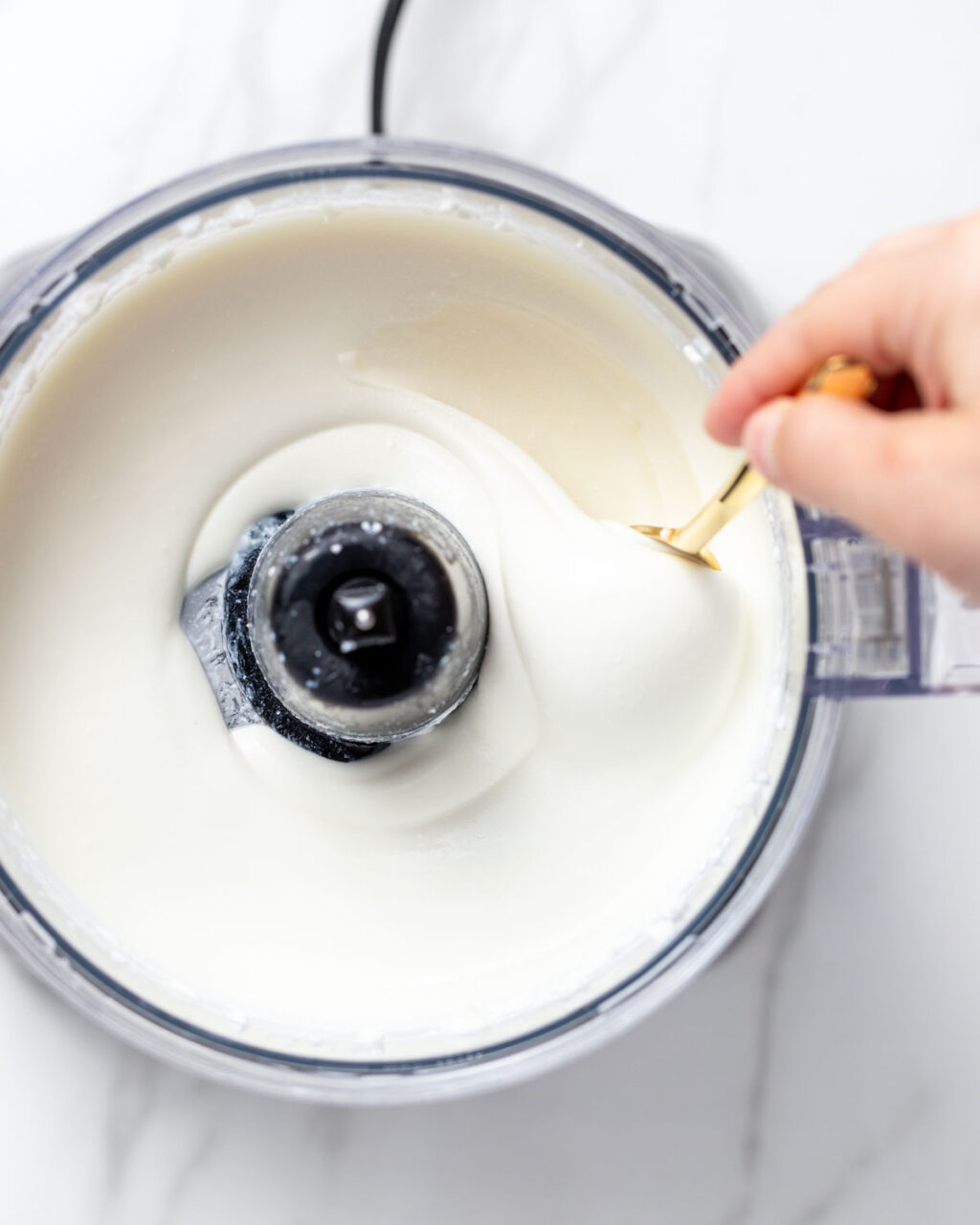 Shop for this Recipe
Here are some items I used to help make this recipe a success. Note: these are Amazon Affiliate links.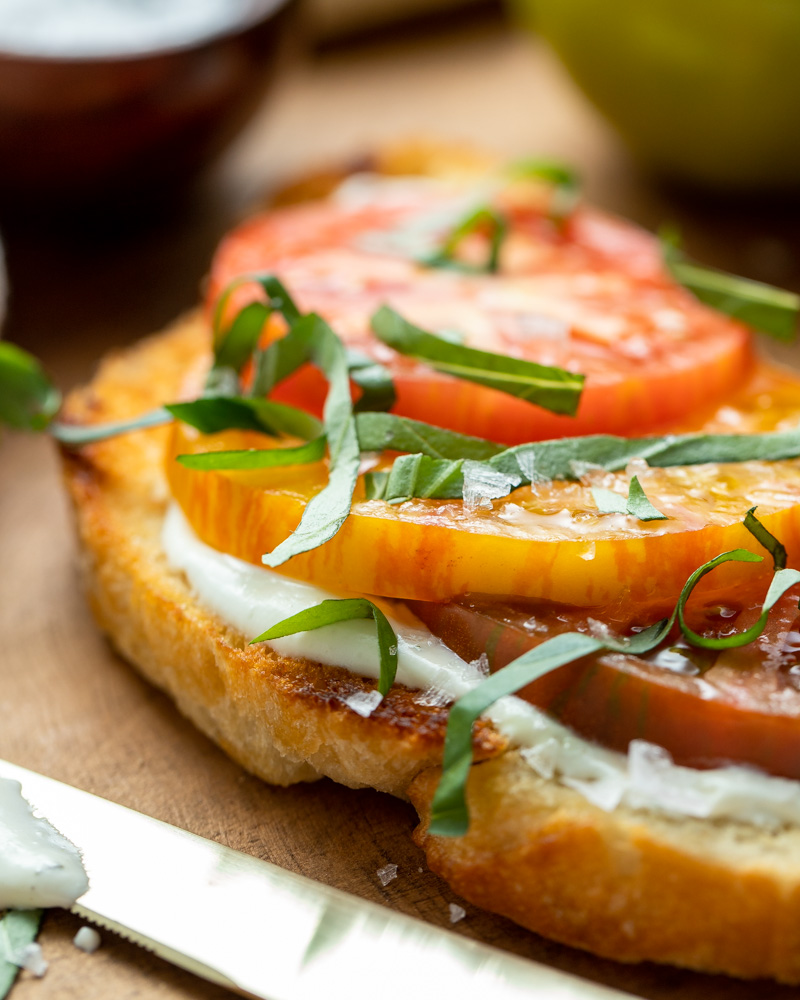 Heirloom Tomato & Whipped Feta Toast Recipe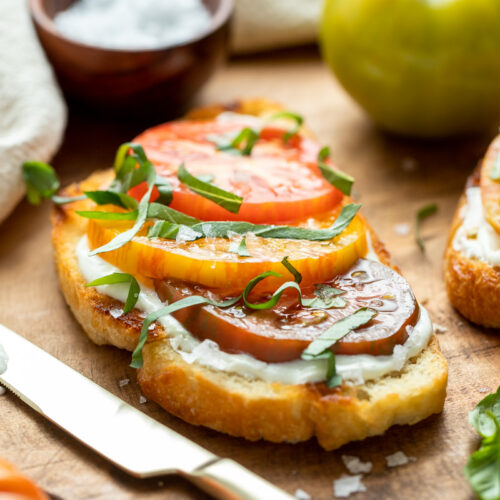 Heirloom Tomato & Whipped Feta Toast
Ingredients
2

3/4" slices

sourdough bread

,

(108 grams)

1

medium heirloom tomato, sliced

,

(120 grams)

1/2

cup

whipped feta and cottage cheese, recipe follows

,

(120 grams)

2

tbsp

fresh sliced basil

1

tbsp

unsalted butter

,

(14 grams)

flakey sea salt to taste
Instructions
Melt butter over medium heat in a skillet. Add slices of sourdough bread in a single layer, swirling in the skillet to catch the butter. Toast for 1-2 minutes until golden brown, then flip and toast for an additional 1-2 minutes until golden on the second side. Remove toast to 2 plates.

Divide the whipped feta and cottage cheese between the slices of toast, then layer with sliced basil and heirloom tomatoes. Finish with flakey sea salt to taste. Serve immediately.
Tips & Tricks
Click here or scan the barcode below to log this food in My Fitness Pal.
Nutrition Information
Serving:
1
slice
,
Calories:
293
kcal
(15%)
,
Carbohydrates:
32
g
(11%)
,
Protein:
12
g
(24%)
,
Fat:
13
g
(20%)
,
Cholesterol:
33
mg
(11%)
,
Sodium:
645
mg
(28%)
,
Potassium:
264
mg
(8%)
,
Fiber:
2
g
(8%)
,
Sugar:
4
g
(4%)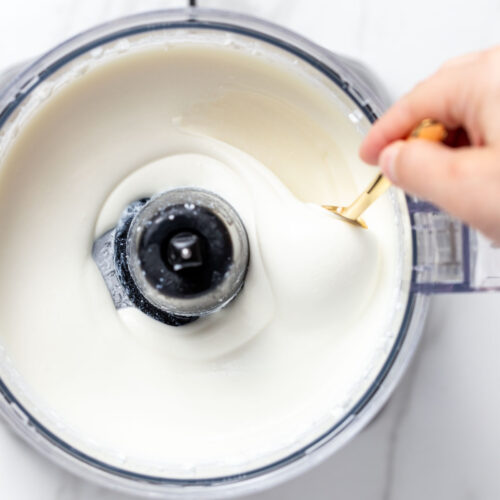 High Protein Whipped Feta and Cottage Cheese
Servings:
servings (1/2 cup per serving)
Ingredients
16

oz

fat free cottage cheese

7

oz

Mt Vikos feta cheese in brine, drained

1

tbsp

olive oil

1/2

tsp

sea salt
Instructions
Add all ingredients to a food processor or blender. Blend until smooth.
Tips & Tricks
Click here or scan the barcode below to log this food in My Fitness Pal.
Nutrition Information
Serving:
120
grams
,
Calories:
200
kcal
(10%)
,
Carbohydrates:
5
g
(2%)
,
Protein:
16
g
(32%)
,
Fat:
13
g
(20%)
,
Cholesterol:
36
mg
(12%)
,
Sodium:
965
mg
(42%)
,
Potassium:
169
mg
(5%)
,
Sugar:
4
g
(4%)