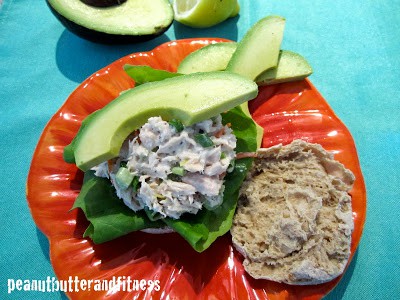 Today I had every intention of getting an early-ish start and being super productive…and then when I went to drive to the grocery store I found that I had a flat tire >:(  So that added at least another hour and a half to my planned grocery store trip which set back my lunch by more than I would have liked to.  The plus side is that this is a pretty quick and easy lunch to make, plus it's packed with protein.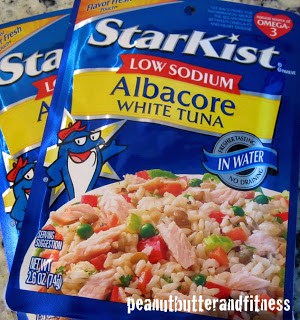 I adapted the P90X tuna salad recipe for this.  I like to use these packets of tuna instead of the cans.  It's more expensive, but who really wants to stand there and drain a can of tuna? I certainly don't, especially today while I was super hungry and ready to start gnawing on my shoulder since I had no snacks with me on my grocery trip.
The recipe calls for shredded carrots, but I think the ones you buy in the store pre-shredded are too chunky for a tuna salad, plus I need the carrots for another recipe.  I just used my julienne peeler (which I love a lot) and then cut up the julienned pieces.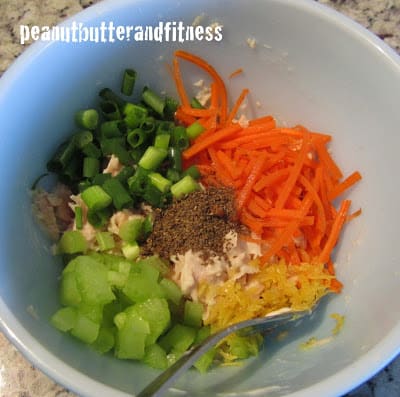 Healthy Tuna Salad on English Muffin


Ingredients:
2 tuna packets (about 6 oz)
1 1/2 tbsp low-fat mayo or plain non-fat Greek yogurt
1/2 tsp lemon zest
1 squeeze of fresh lemon juice (be careful with this one, it can overpower the tuna salad pretty quickly)
1 tbsp shredded carrots
1 tbsp chopped celery
1 tbsp chopped green or red onion
1/2 tsp celery seeds
1 whole wheat English muffin
Half of a small avocado, sliced
Butter lettuce (or whatever green leafy stuff you like)
Place the tuna packets in a small bowl.  Add mayo/Greek yogurt and mix thoroughly.  Then add lemon zest, lemon juice, carrots, celery, green onions, and celery seeds.  Mix well.
Cut the English muffin in half and toast.
Place a couple pieces of butter lettuce on the bottom piece of English muffin, followed by about half of the tuna salad.
Add avocado slices and top of English muffin.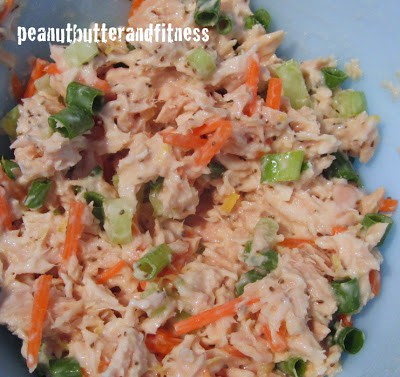 Normally I would have stuck the bottom half of the sandwich in the microwave with a big slice of cheese.  I love cheese a lot, but I'm trying to cut back on it a lot since it's so high in empty calories, fat and sodium.  I don't even keep any in my apartment anymore since I know I'll eat it all 🙁 On this sandwich, to keep myself from missing the creaminess of the cheese, I just added a few slices of yummy and healthy avocado.  Tada!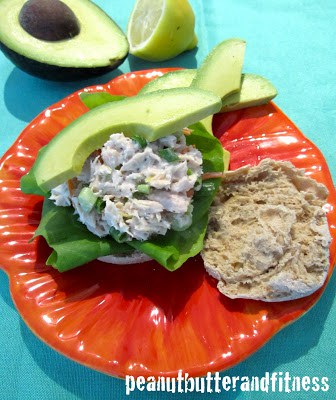 Reader Interactions