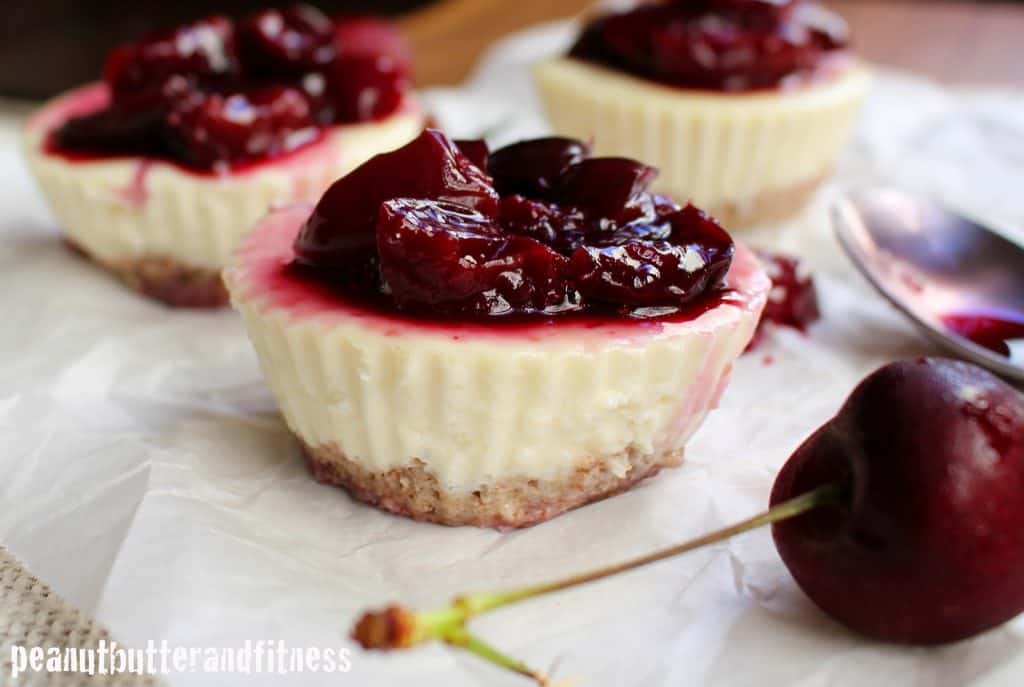 Oh wowzas…I think I'm in love! I can honestly say that it took me a significant amount of will power to stop myself from devouring all of these cheesecake cups while I was taking pictures.  I've been staring at a bunch of cherries in my refrigerator since that time I made Black Forest Protein Pancakes, so of course I had to go the cheesecake route to use them up 🙂 (Honestly, I made a recipe with some of them already and although it was good, I think the recipe needs some tweaks before I can share it :/ Think baked breakfast item!)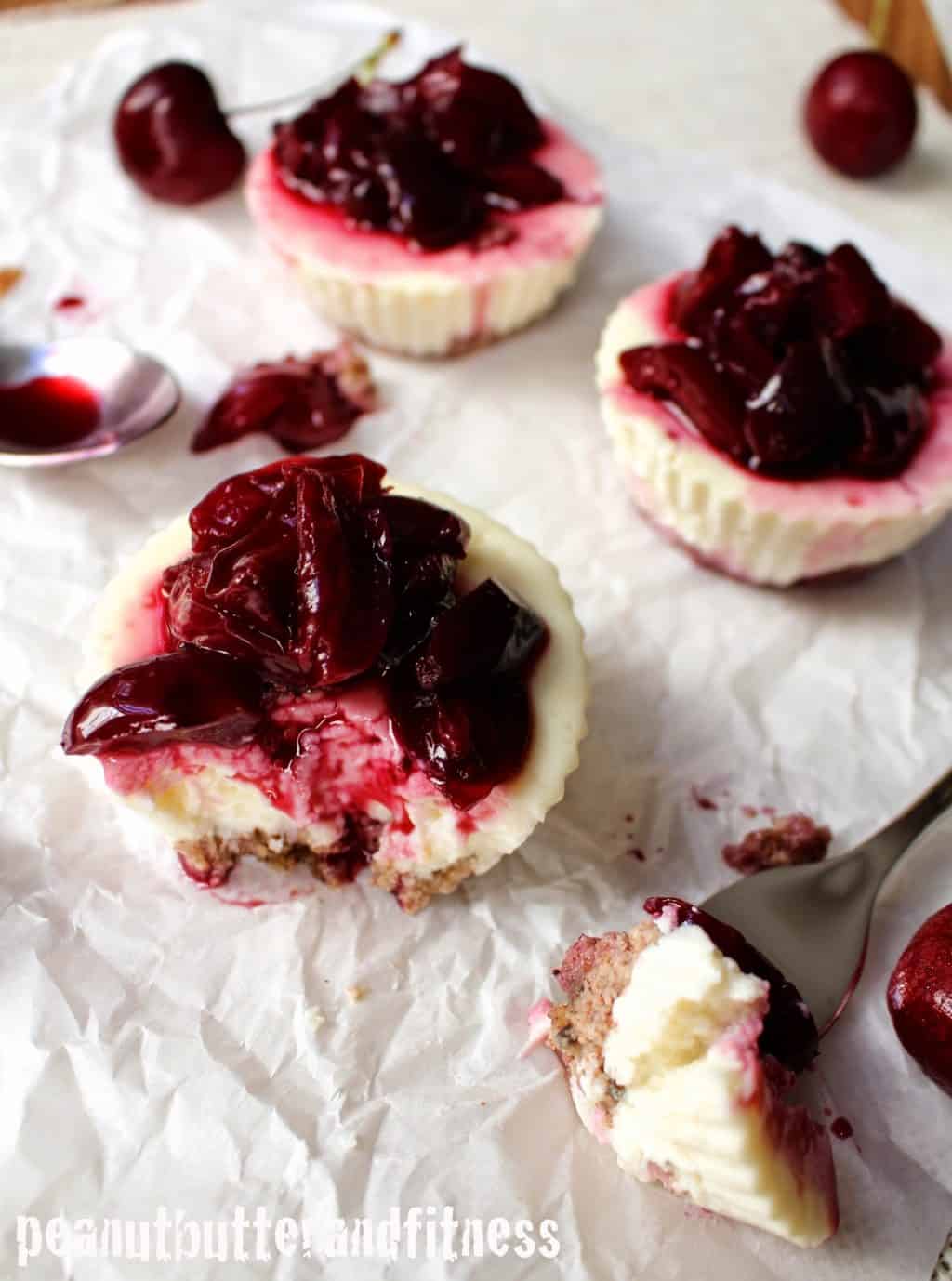 Anywhoooooo…who wants some of these guiltless cherry cheesecake cups??  I'm a big fan of cheesecake and have desperately been wanting to make some sort of health-ified, protein-ified version of it for a while now.  Plus, it's sooooo easy to just swap out the cherries with whatever other fruity cheesecake topping you like! Blueberries, strawberries, raspberries, blackberries…you name it!  And at only 81 calories each with 9 grams of protein, you don't have to feel bad about eating it.
As for the texture of this healthy cheesecake – it's still creamy and luxurious like a real cheesecake! The cottage cheese helps give it that cheesecake flavor and the vanilla protein and vanilla Greek yogurt make it perfectly sweet without all the fat.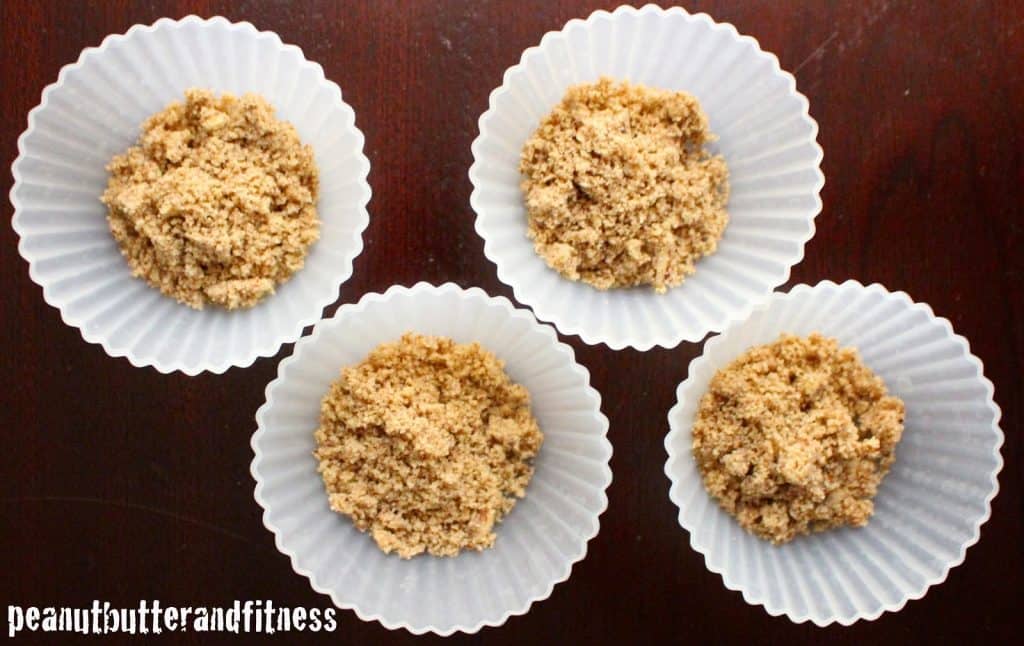 This is the crust before pressing it down into the silicone baking cups.  I got my baking cups at Crate and Barrel.  Lots to choose from on Amazon though – check these ones out!
Here's the trick to getting your cheesecake to stay pretty on top and not crack like the desert: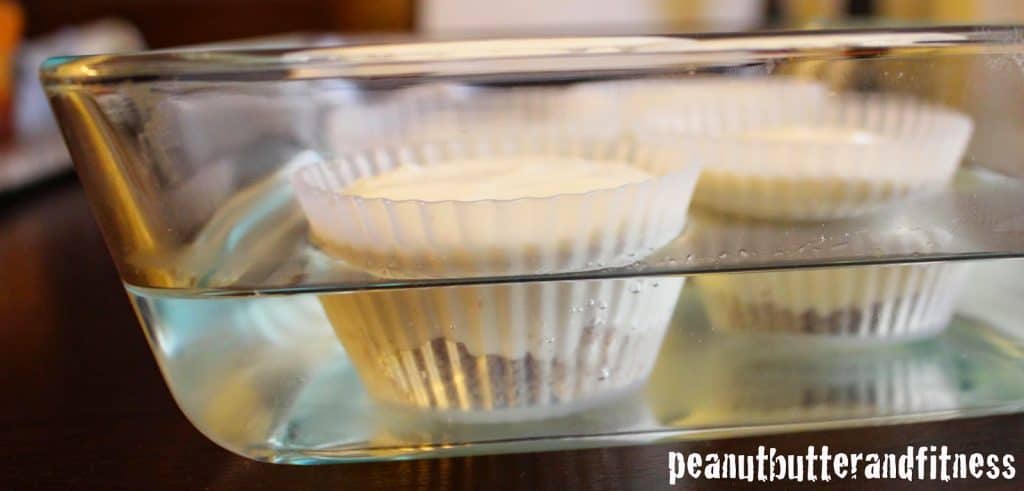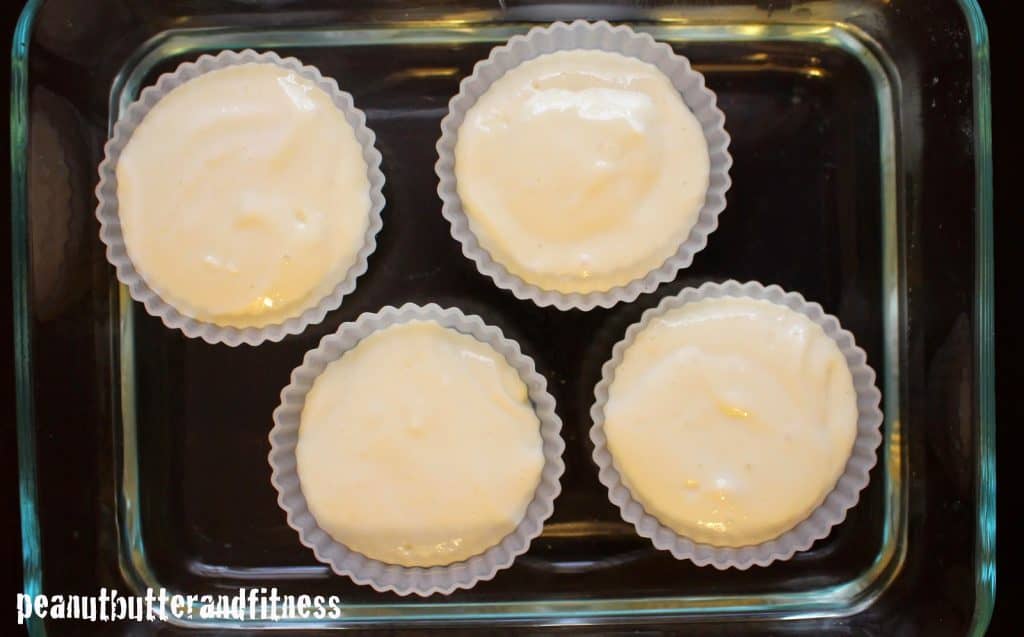 Stick your baking cups into a water bath almost up to the top of the cheesecake filling.  (Just be careful not to let the water lap over top of the baking cups and into your cheesecake.)  This keeps your oven moist and helps your cheesecakes bake evenly.  The outside doesn't bake faster than the inside, meaning the center won't sink and crack the top.  See? You learn something new everyday! Or at least I did 🙂  I let my cheesecakes cool in the water bath too…same idea as when they're baking – it cools down slowly and evenly.  I didn't stick them in the refrigerator until after the water was room temperature.  The once jiggly middles will firm up nicely in the refrigerator.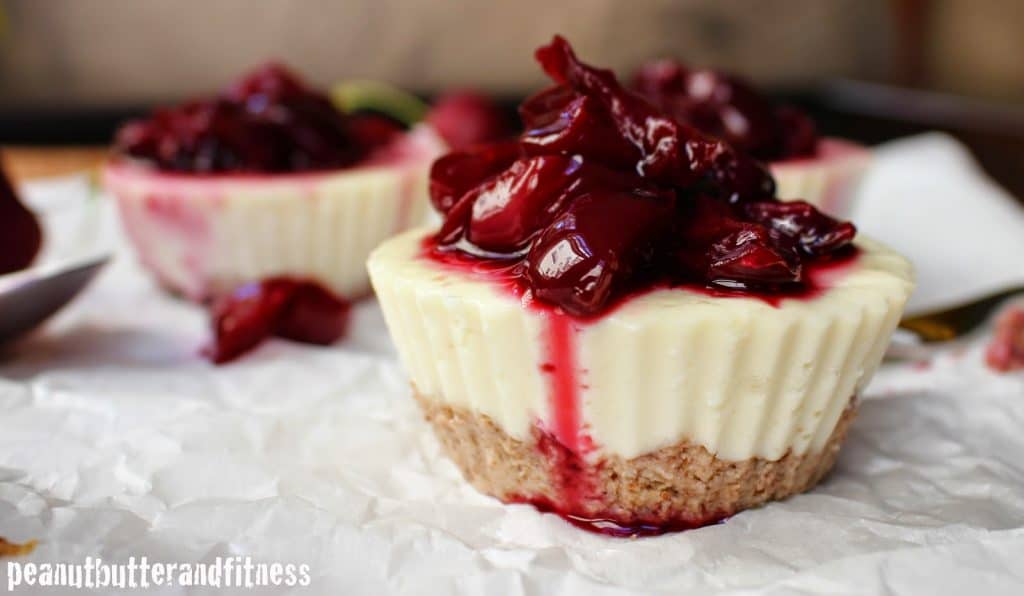 I'd recommend making the fruit topping the night before and keeping it in the refrigerator so it doesn't melt the cheesecake when you top it.  But as long as it's not hot when you put in on the cheesecake, you should be good 🙂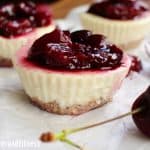 Cherry Protein Cheesecake Cups
Prep Time 20 minutes
Cook Time 40 minutes
Total Time 1 hour
Servings 6 cheesecakes
Calories per serving 81 kcal
Ingredients
1/3 cup fat free cottage cheese
2/3 cup Dannon Light and Fit non-fat vanilla Greek yogurt
1 egg white
3 tbsp pecan halves
2 tsp coconut flour
2 tsp unsweetened vanilla almond milk
1/4 tsp vanilla extract
1/2 cup cherries pitted and chopped
3 packets Truvia
1/2 tbsp water
Instructions
Preheat oven to 325 degrees.

In a food processor or NutriBullet, mill the pecan halves with the coconut flour. Mix in vanilla extract and almond milk. Divide into 6 silicone baking cups and press into bottom to form crust. Set aside.

In a food processor or Nutribullet, blend cottage cheese and egg white until smooth. Mix in Greek yogurt, protein powder and 2 packets of Truvia until smooth. Pour evenly into baking cups, leaving about 1/4 inch space at the top of the cups.

Place cheesecake cups into larger baking dish and fill dish with water until almost even with the top of the cheesecake filling. Bake at 325 degrees for 20-23 minutes or until centers of cheesecake are still a little jiggly (like Jello).

Allow cheesecakes to cool in the water bath until water is room temperature, then remove cheesecakes from water bath and refrigerate, uncovered for at least an hour before serving.

In a small saucepan, bring cherries, water and 1 packet Truvia to a boil over medium-high heat. Lower heat and continue to simmer for 15-20 minutes, or until the cherries are tender and the liquid has thickened. Allow to cool and add on top of cheesecakes before serving.
Nutrition Facts
Cherry Protein Cheesecake Cups
Amount Per Serving
Calories 81 Calories from Fat 27
% Daily Value*
Fat 3g5%
Cholesterol 8mg3%
Sodium 76mg3%
Carbohydrates 5g2%
Fiber 1g4%
Sugar 4g4%
Protein 9g18%
* Percent Daily Values are based on a 2000 calorie diet.