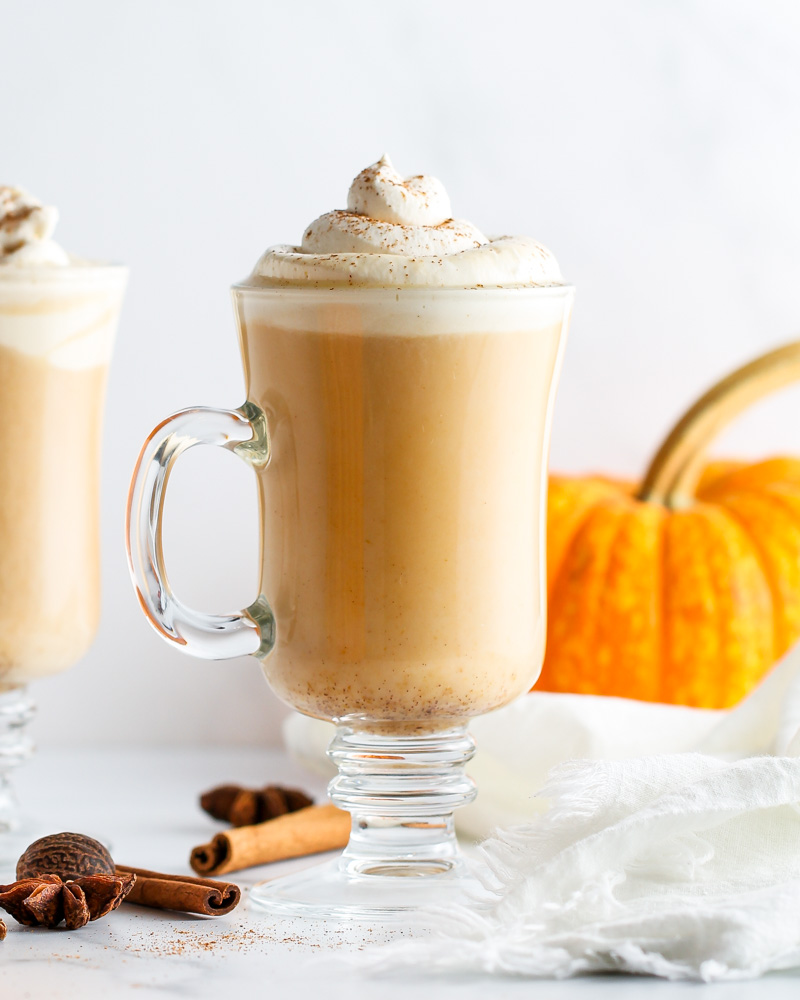 You know what I love? Simple recipes that are macro friendly. And this Dairy Free Pumpkin Chai Latte fits the bill, plus hello??? It's still pumpkin spice season and you know I'm basic like that. I love a chai latte even more than a standard PSL, so excuse me while I enjoy my tea drinks. If you are a PSL lover through and through, swap out the chai with espresso and you'll have your PSL in no time!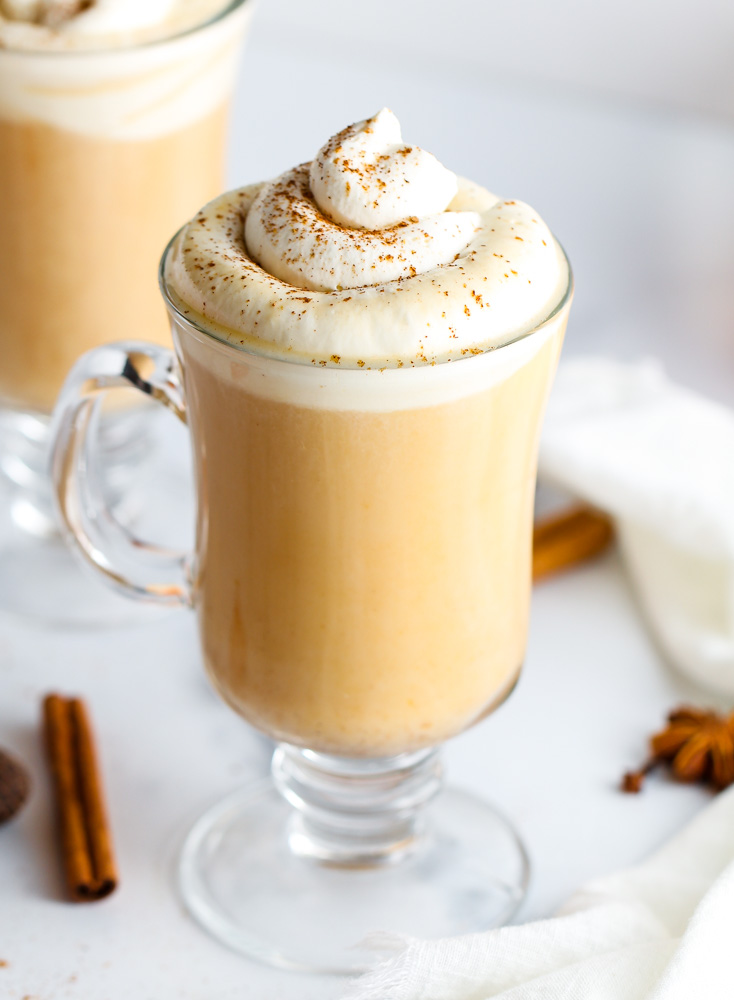 Believe it or not, even the whipped cream on top of this latte is dairy free. Silk makes a Dairy Free Heavy Whipping Cream that does a pretty good job of imitating the real thing. If you don't eat it right away, it does tend to fall flat after some time (unlike the real thing), but it's a great substitute for this recipe! I didn't include it in the nutrition info in case you decide to skip it. But if you do include it (highly recommended), here's how to whip it up – pun intended…
Add 1/2 tbsp sugar (or 90 mg Stevia) and 1/2 tsp vanilla extract to 1/2 cup of the Dairy Free Whipping Cream. The same recipe works for regular dairy whipping cream too! Using a hand mixer, stand mixer, or strong milk frother, whip until the cream reaches desired consistency. I usually whip mine for about 2 1/2 to 3 minutes – that gives a whipped cream that is stiff enough to be piped, but still soft enough to be easy sipped. I'd recommend going for a whip on the soft side for topping a drink!
Here are some items I used to help make this recipe a success. Note: these are Amazon Affiliate links.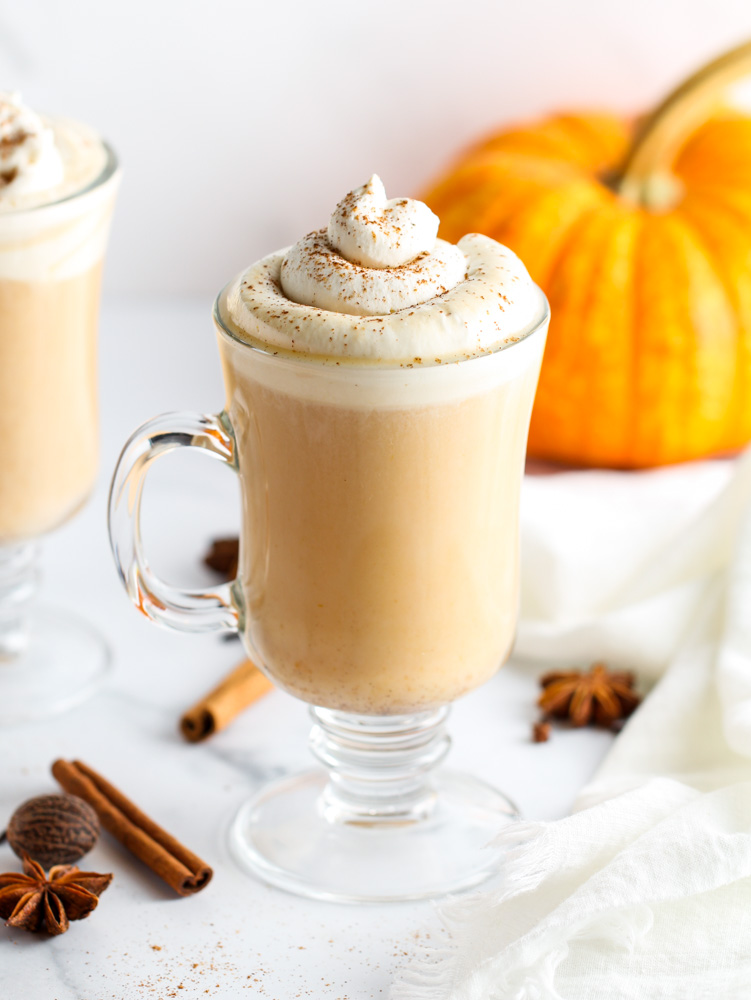 Recipe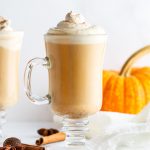 Dairy Free Pumpkin Chai Latte
Prep Time 10 minutes
Total Time 10 minutes
Servings 2 servings
Calories per serving 68 kcal
Instructions
Heat water in tea kettle or microwave until it is on the verge of boiling (about 1 1/2 to 2 minutes in the microwave). Add tea bags. Steep for 4 minutes before straining out tea bags. Pour brewed tea into 2 serving glasses. Set aside.

Heat almond milk, pumpkin puree, pumpkin spice, and Stevia in a small pot over the stove or in a microwave safe dish until hot, but not boiling (about 1 to 1 1/2 minutes in the microwave). A 2 or 3 cup measuring cup works well for the next step!

Add collagen to the hot milk. Using a milk frother or electric whisk, froth the mixture until well combined and a frothy head has formed on top of the milk.

Divide the milk mixture between the two serving glasses.

If desired, top with whipped Silk Dairy Free Heavy Whipping Cream and sprinkle with extra pumpkin spice before serving.
Recipe Notes
Click here or scan the barcode below to log this food in My Fitness Pal.
Nutrition Facts
Dairy Free Pumpkin Chai Latte
Amount Per Serving (10 fl oz)
Calories 68 Calories from Fat 18
% Daily Value*
Fat 2g3%
Sodium 178mg8%
Potassium 26mg1%
Carbohydrates 2g1%
Fiber 1g4%
Sugar 1g1%
Protein 10g20%
* Percent Daily Values are based on a 2000 calorie diet.