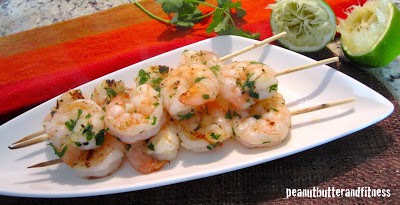 Another phenom.com Skinny Taste recipe! I used to make her other cilantro lime shrimp recipe in the pan, but busting out the George Foreman for this is completely worth it.  The skewers make it a really easy meal prep option, since I can eat it while I'm at work without having to cut it up (I don't get lunch breaks :'(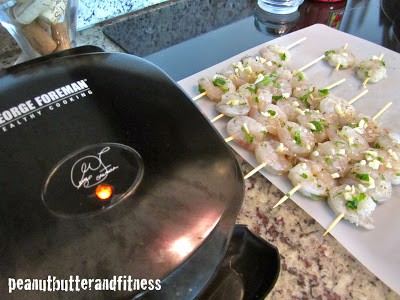 I really didn't follow the portions in this recipe since it was just me and my meal prep!  I cut it down to 1lb of shrimp, a little less cilantro/cumin/salt and I had to cut out the limes from the skewers because I got a funk-a-licious lime that I couldn't use.  Oh well, this makes it easier to eat!  I used as much garlic as the original recipe called for, I love garlic.  It took about 2 mins each side on the George Foreman and I had to wiggle them around a bit to cook 3 skewers at a time evenly.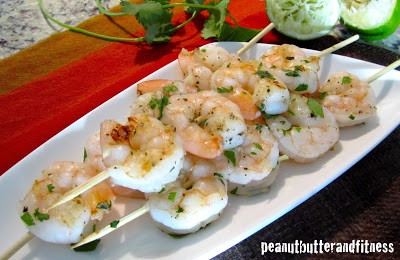 Here's the original from Skinny Taste:

Grilled Cilantro Lime Shrimp Kebabs
Skinnytaste.com
Servings: 8  • Size: 1 kebab  • Old Points: 1 pts • Weight Watcher Points+: 2 pt
Calories: 74 • Fat: 1 g • Carb: 3 g • Fiber: 1 g • Protein: 13 g • Sugar: 0 g
Sodium: 384 mg (with salt) • Cholest:94 mg
Ingredients:
32 jumbo raw shrimp, peeled and deveined (17.5 oz after peeled)
3 cloves garlic, crushed
24 slices (about 3) large limes, very thinly sliced into rounds (optional)
olive oil cooking spray (I use my mister)
1 tsp kosher salt
1 1/2 tsp ground cumin
1/4 cup chopped fresh cilantro, divided
16 bamboo skewers soaked in water 1 hour
1 lime cut into 8 wedges
Directions:
Heat the grill on medium heat and spray the grates with oil. Season the shrimp with garlic, cumin, salt and half of the cilantro in a medium bowl.
Beginning and ending with shrimp, thread the shrimp and folded lime slices onto 8 pairs of parallel skewers to make 8 kebabs total.