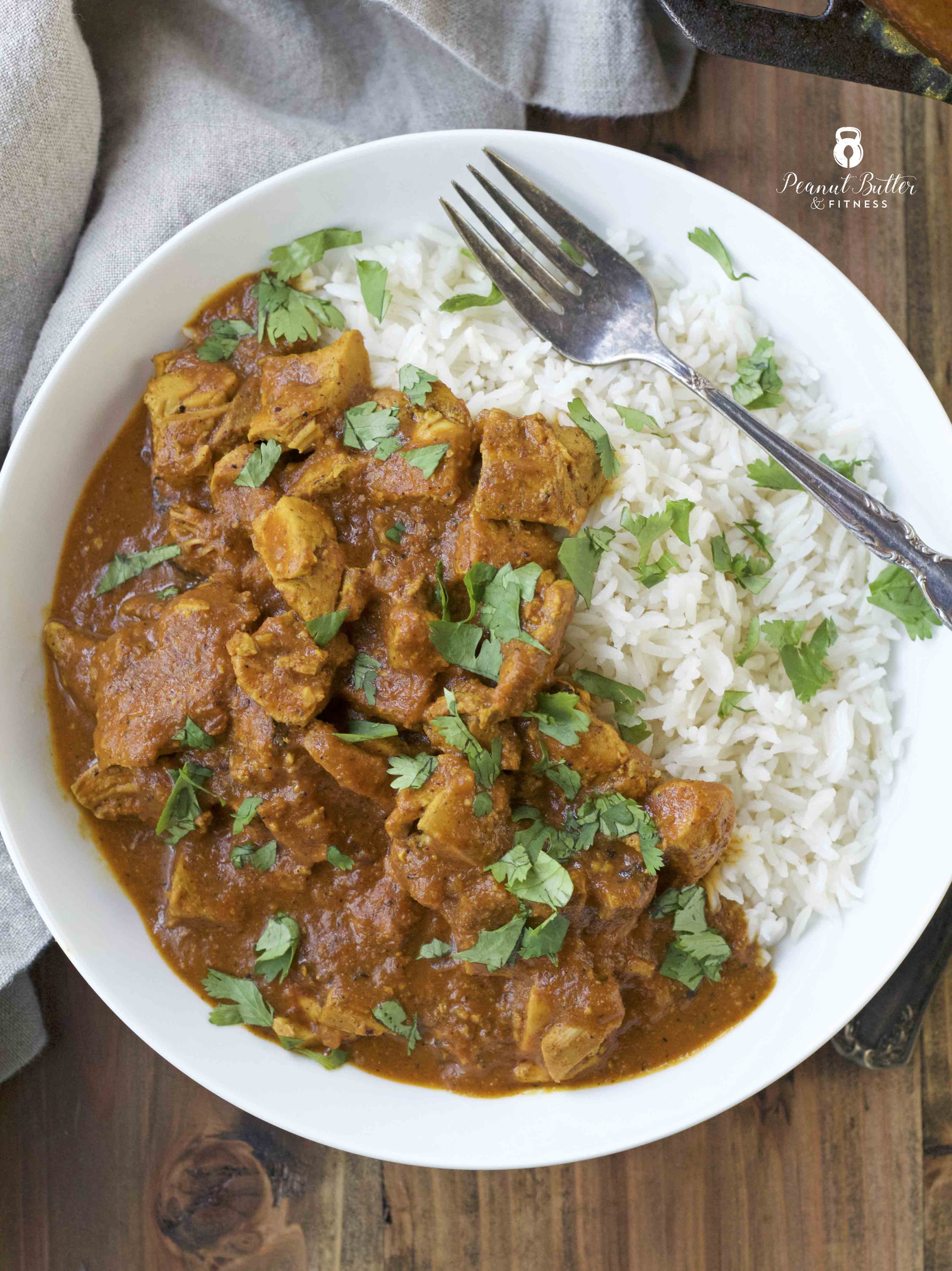 You guys, I finally decided to make a foray into Indian food! I'm usually not the biggest fan of Indian food because I think the spices can sometimes be overpowering (especially the cumin!). But there are a few dishes that I've found myself really enjoying, and Tikka Masala is one of them. I tried to create a Chicken Tikka Masala recipe a while back, but I used chicken breast that got dried out and I didn't quite get the balance of spices right. But alas, I've figured it out!
Most importantly – don't use chicken breast – use thighs instead. They can hold up to the longer cooking time required to bring out all the flavors while still staying moist.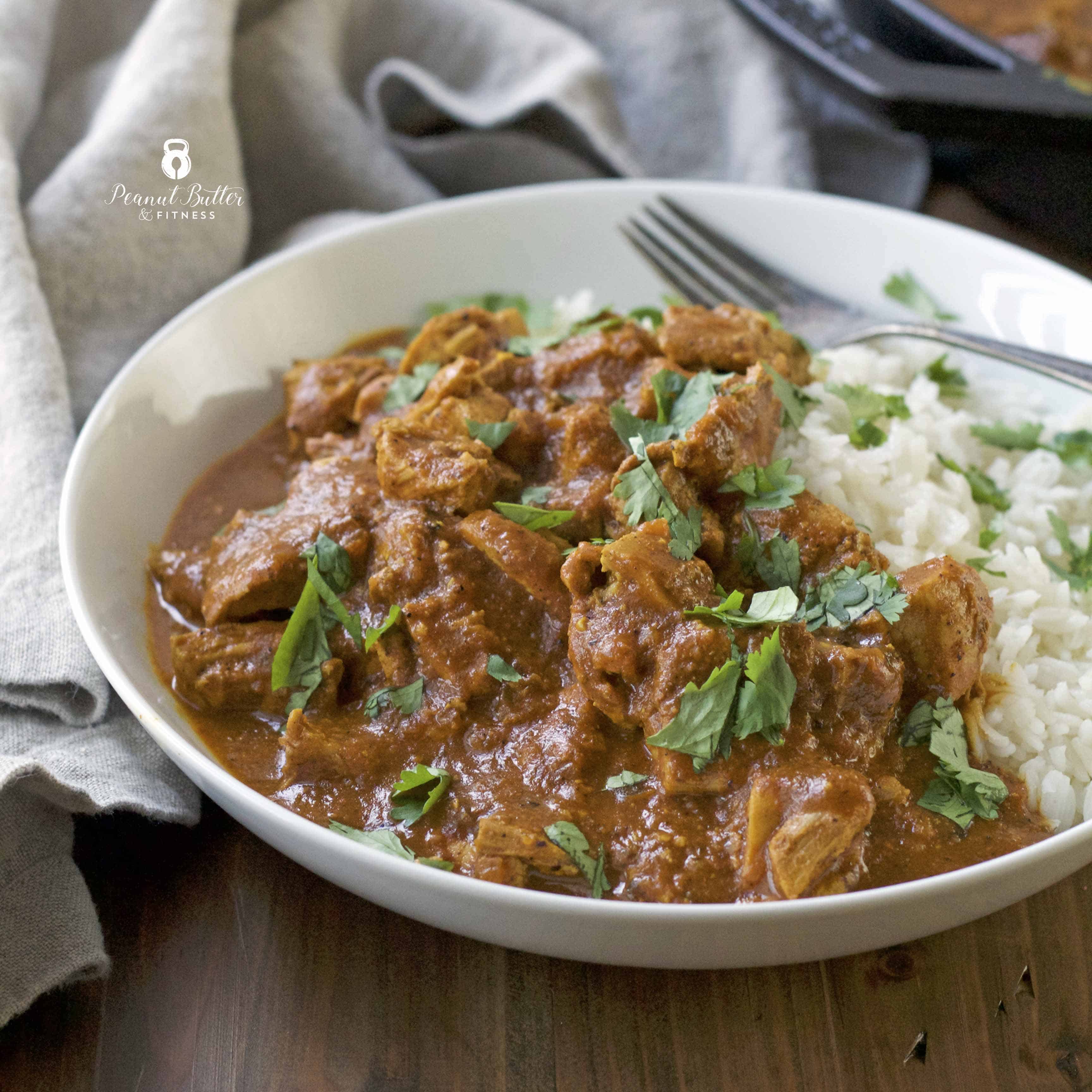 If you're not familiar with Indian food or are apprehensive about all the rich spices in it, Tikka Masala is a good place to start – so is butter chicken, although I decided to go for the more macro friendly option. Although there are a lot of spices listed in the ingredients, it's not actually spicy. Plus, the yogurt marinade, coconut milk, and tomato puree do a good job of taming and balancing them all out.
Traditionally, chicken tikka masala is made in a tandoor oven, but of course I don't have one of those, so cast iron skillet it was! I served mine with basmati rice, though naan bread might be a more fun way to eat it.
A quick note on substitutions – if you don't mind some extra fat in your Tikka Masala, use full fat coconut milk and/or cream instead of light coconut milk for a creamier, thicker sauce. If you want less fat, cut the olive oil and/or ghee in half and stick with the light coconut milk.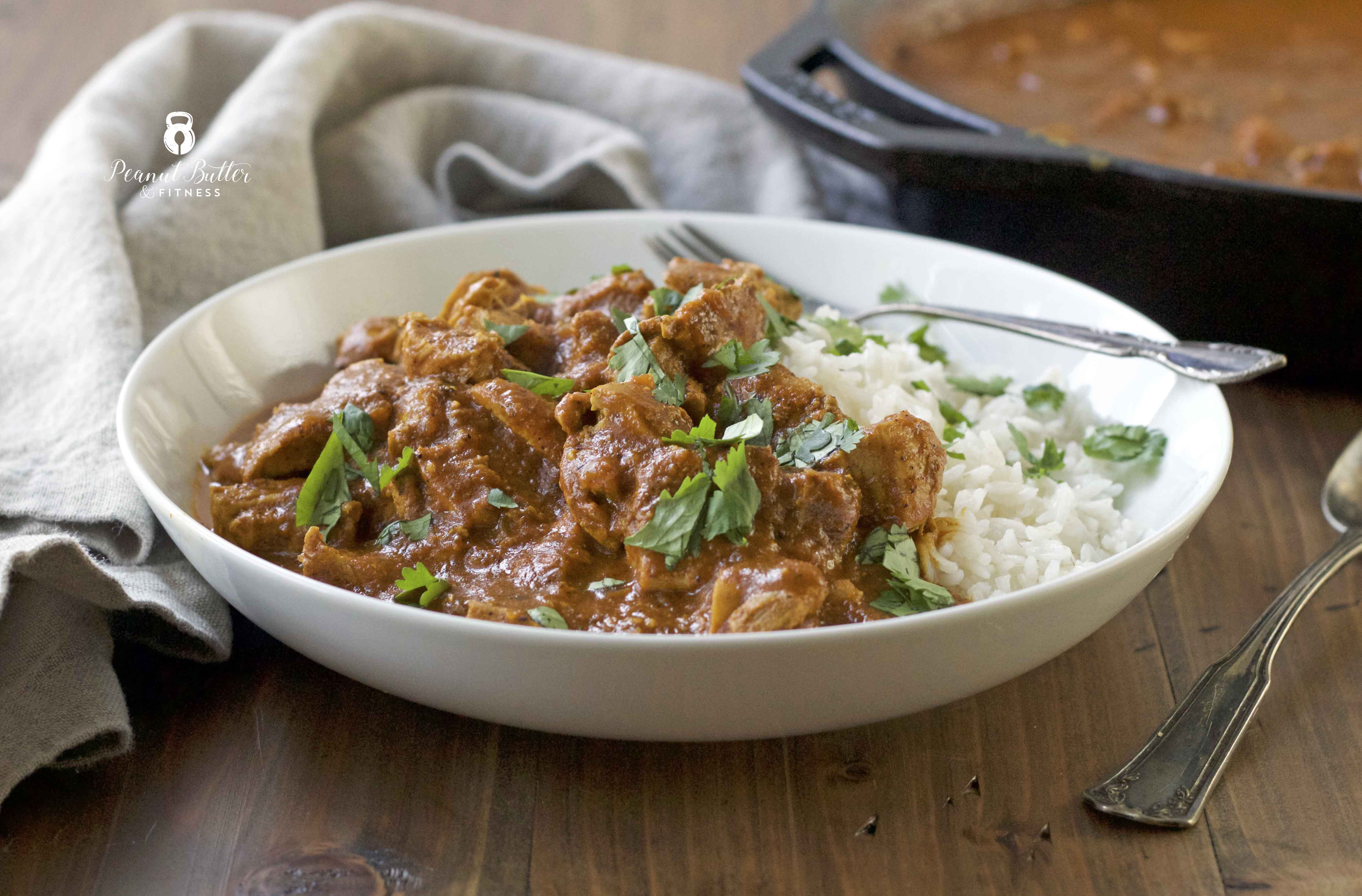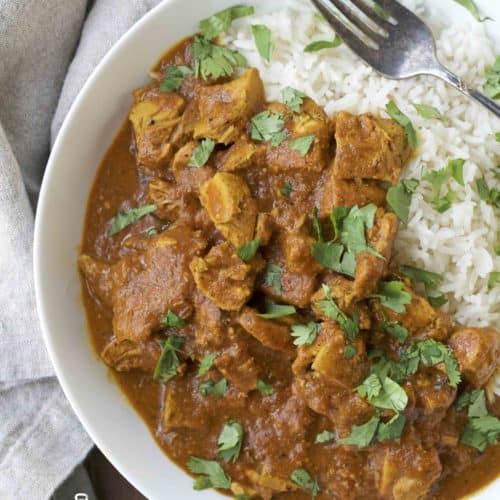 Chicken Tikka Masala
Ingredients
Chicken and Marinade
2

lb

boneless, skinless chicken thighs

,

excess fat trimmed

1/2

cup

Chobani plain, non-fat Greek yogurt

5

cloves

garlic

,

minced

1

tbsp

ginger paste

1

tsp

each: garam masala, cumin, turmeric, red chili powder, salt
Curry Sauce
13.5

oz

can light coconut milk

13.5

oz

can no salt added tomato puree

1

large onion, finely chopped

,

(280 grams)

4

cloves

garlic

,

minced

2

tbsp

ghee,

(1 oz)

1

tbsp

olive oil or vegetable oil

,

(1/2 oz)

1

tbsp

ginger paste

2

tsp

arrowroot flour

1/2

tbsp

each: garam masala, cumin, red chili powder

1

tsp

each: turmeric, coriander, salt
Instructions
Whisk together marinade ingredients and massage into chicken. Marinate in airtight container for at least 3 hours or overnight.

Heat olive oil in a large cast iron skillet over high heat (I turned the knob on my stove just above medium high). Add chicken and pan fry on each side until browned/charred, then set aside. The chicken should not be cooked through at this point.

Turn heat down to medium high. Add ghee to cast iron skillet, then sauté onion until fragrant, scraping browned bits from the bottom of the skillet. Add ginger, garlic, arrowroot flour, and all spices except salt. Continue to sauté for another minute.

Add tomato puree and salt to the skillet, continuing to scrape any browned bits from the bottom. Lower heat to medium-low and simmer for 5-10 minutes.

Add coconut milk to skillet and puree sauce using a hand blender, if desired. Return chicken to the skillet, cover in sauce, and continue to simmer for 10-15 minutes or until chicken is cooked through.

Remove chicken and cut it into bite sized chunks before serving.

Serve over basmati rice, cauliflower rice, or with naan bread. Garnish with fresh cilantro.