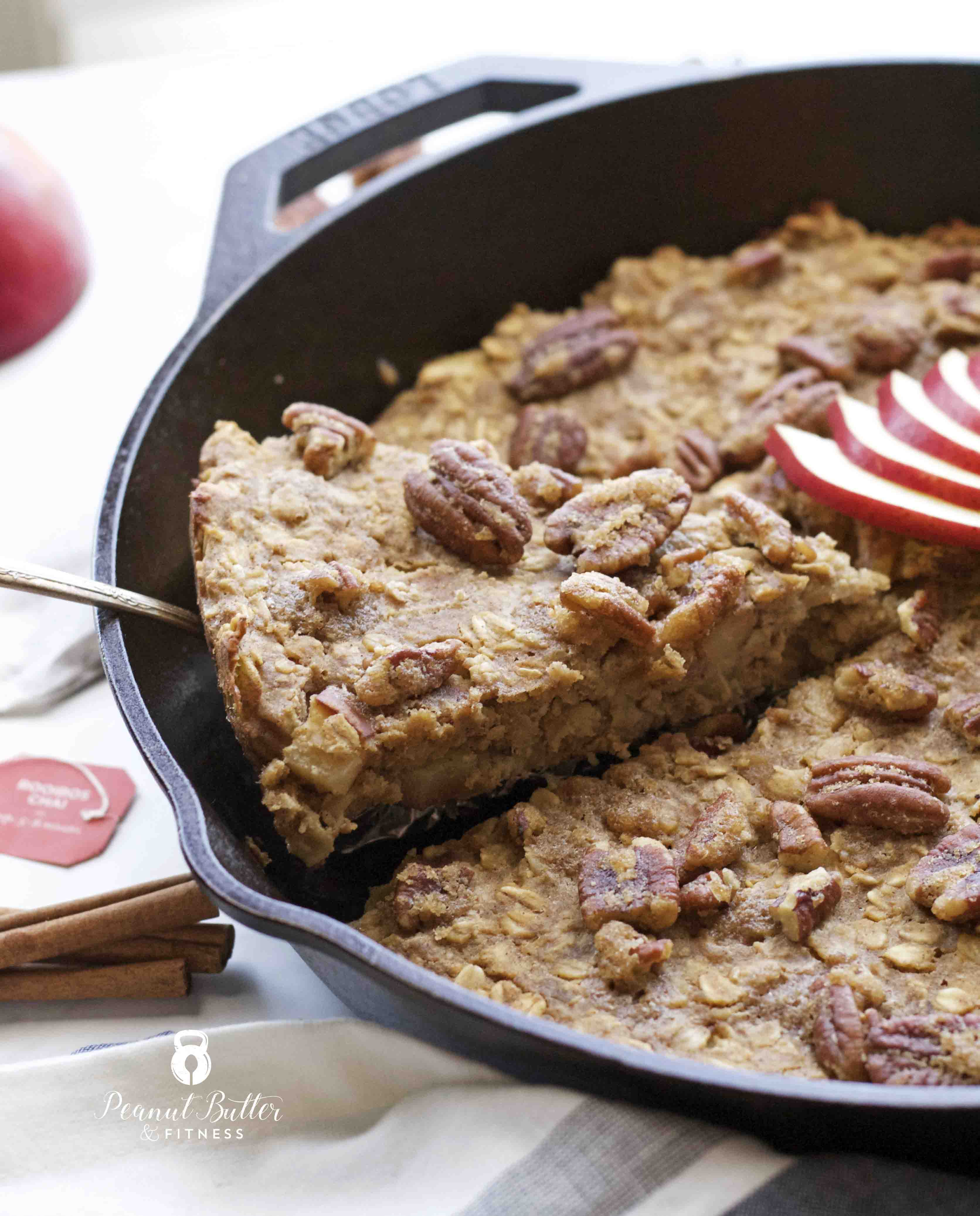 Happy Sunday everyone! Today I'm sharing this Chai + Pear Protein Oatmeal Bake, a perfectly meal-preppable breakfast for the week. I love chai spices and they just scream holidays to me. They bring such a great warmth in this cooler weather, plus they pair so well with the pears in this baked, sliceable oatmeal.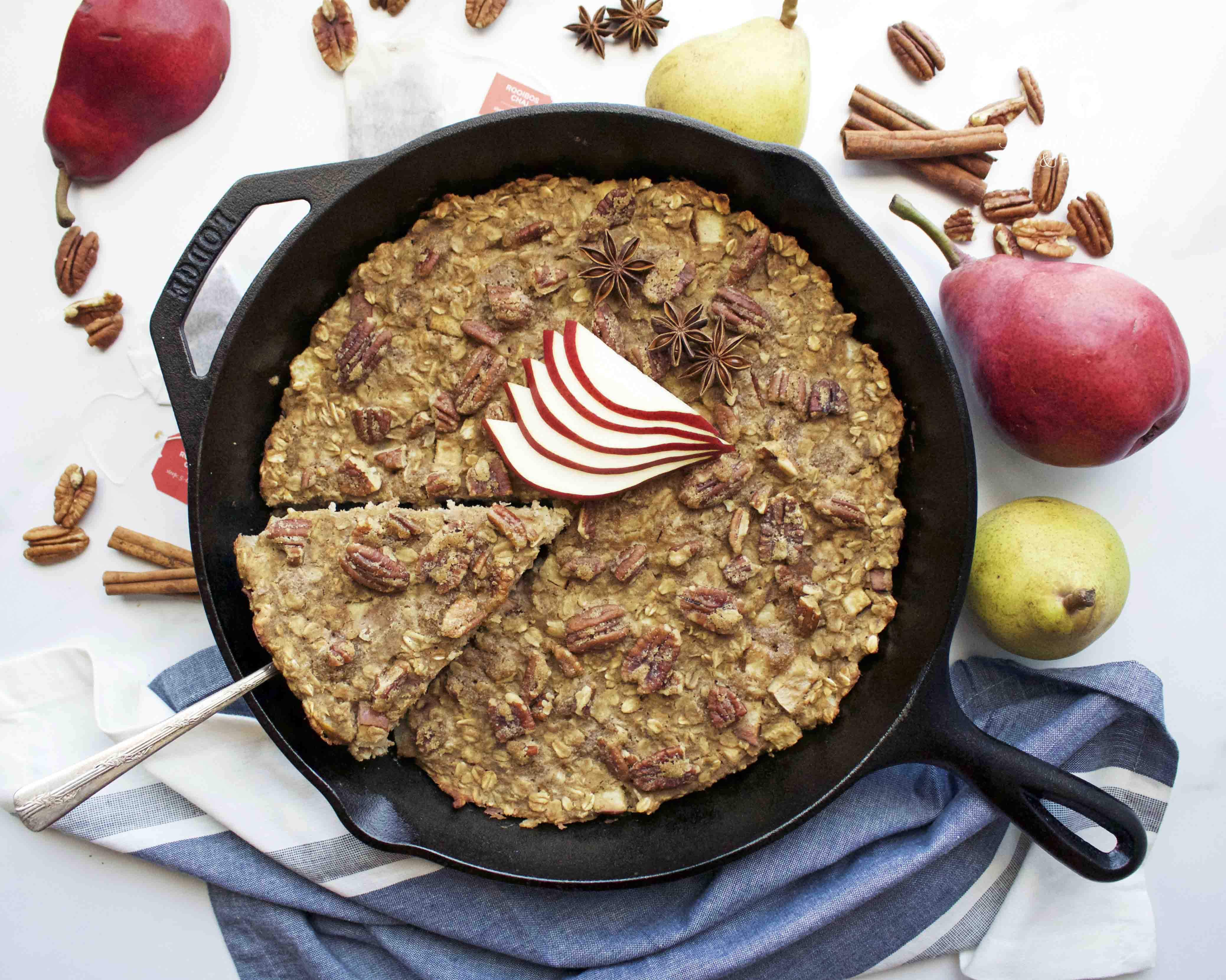 I used two different types of pears when I made this, but I'll be honest…I don't even remember what kind they were. One was red and one was green and they were both delicious! If you're not into pears, you could always give it a try with apples. But let's be real – you should try it with pears because again…delicious.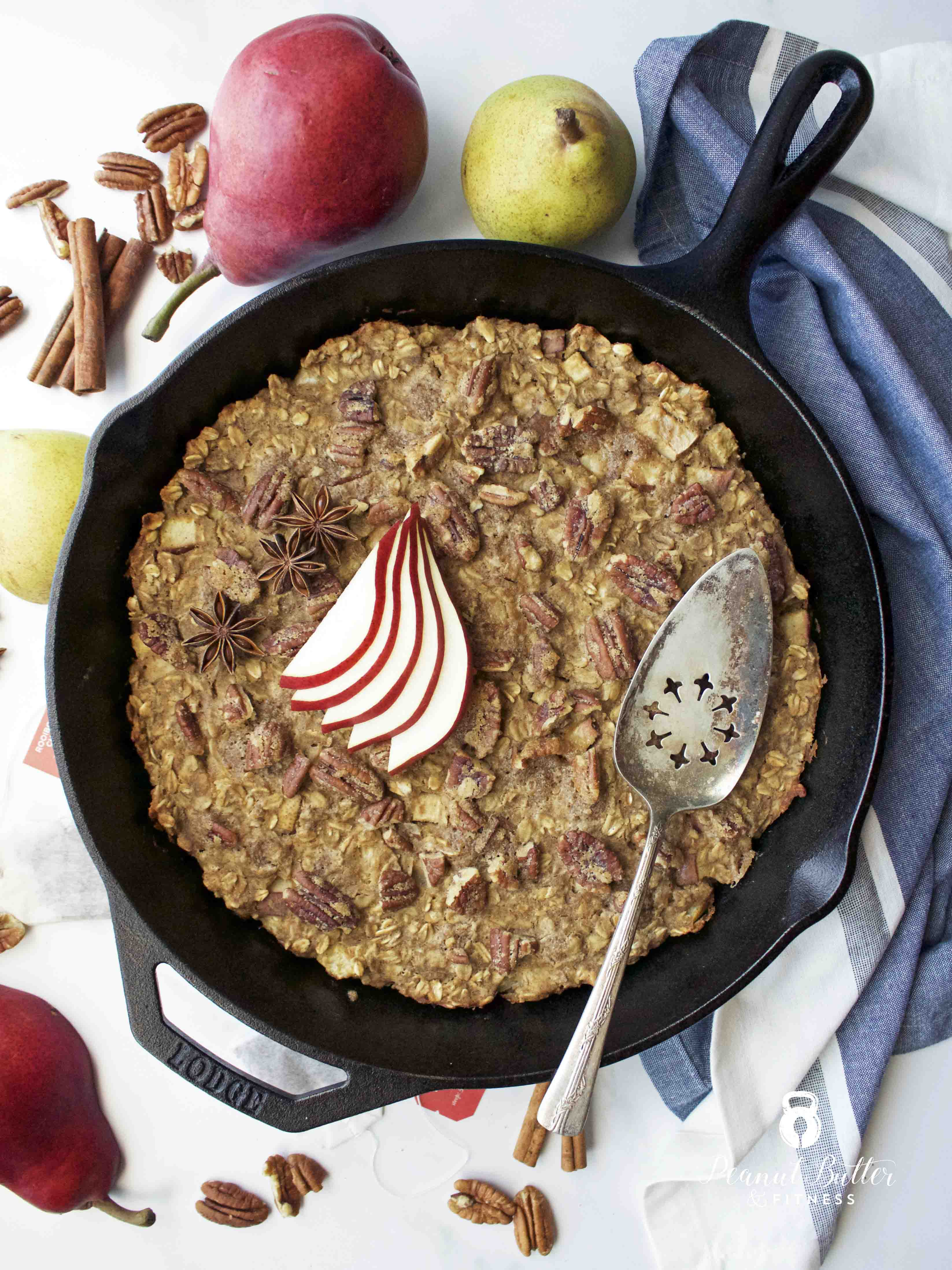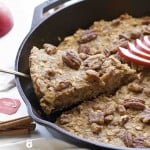 Chai + Pear Protein Oatmeal Bake
Prep Time 20 minutes
Cook Time 30 minutes
Servings 6 servings
Calories per serving 282 kcal
Ingredients
2 cups rolled oats (192 grams)
2 scoops Optimum Nutrition Vanilla Plant Based Protein Powder (76 grams)
3 chai tea bags
1/2 tsp each: baking powder, cinnamon, ground ginger
1/4 tsp each: cardamom, nutmeg, all spice
1 cup unsweetened vanilla almond milk (8 oz)
2/3 cup unsweetened applesauce (165 grams)
1 1/2 cups pear, cubed (240 grams)
3 tbsp maple syrup (1 1/2 oz)
2 tbsp Skippy Natural Creamy Peanut Butter (32 grams)
1 egg
1 egg white
Optional Pecan Topping
1/2 cup pecans, roughly chopped
1 tbsp brown sugar
1 tbsp oat flour
1 tbsp unsalted butter
Instructions
Pre-heat oven to 350 degrees. Grease a 10" cast iron skillet with butter or coconut oil and set aside.

Heat almond milk to the point of almost boiling, then add tea bags and steep for 5 minutes. Remove bags and allow almond milk to cool.

Combine dry ingredients in a bowl, then add wet ingredients and mix until combined. Pour into greased skillet and spread evenly.

If using pecan crumble topping, melt butter in the microwave and toss with pecans, brown sugar, and oat flour. Crumble on top of oatmeal.

Bake at 350 degrees for 25-30 minutes or until no longer very soft to the touch in the center. (It may take up to 40 minutes depending on the thickness of the oatmeal if you use a smaller baking dish or skillet.)
Nutrition Facts
Chai + Pear Protein Oatmeal Bake
Amount Per Serving
Calories 282 Calories from Fat 63
% Daily Value*
Fat 7g11%
Cholesterol 31mg10%
Sodium 152mg7%
Potassium 203mg6%
Carbohydrates 41g14%
Fiber 6g25%
Sugar 14g16%
Protein 15g30%
* Percent Daily Values are based on a 2000 calorie diet.