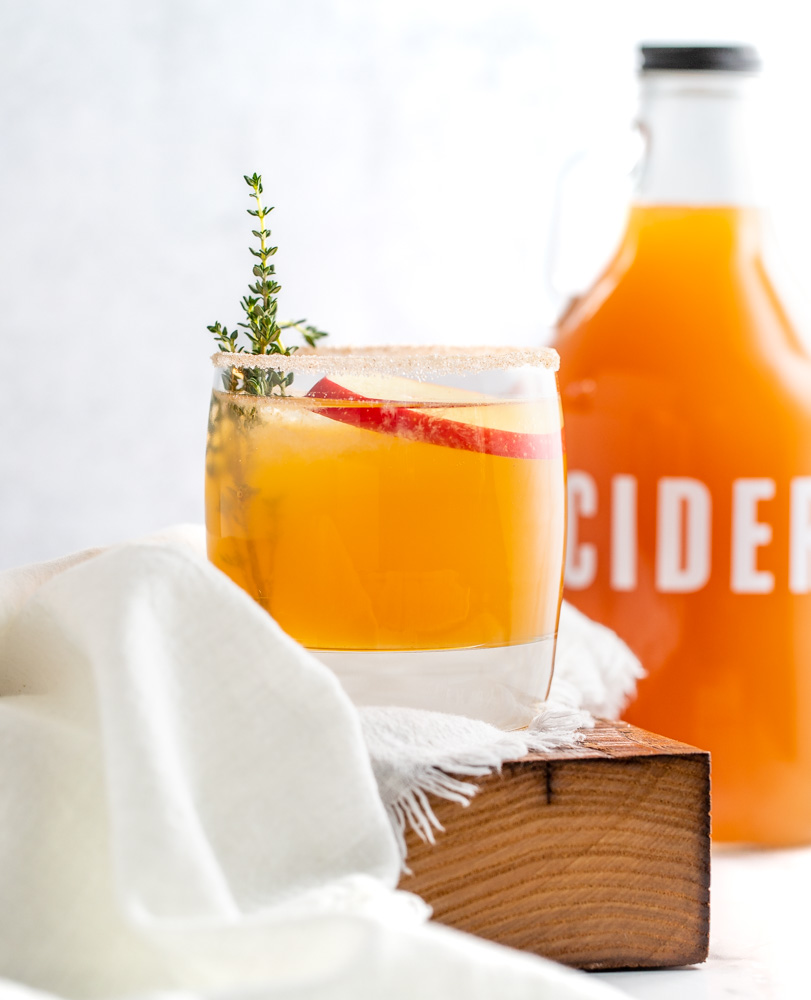 ***Photos updated October 2022***
Have you ever wondered what fall would taste like as a cocktail? Well, here it is, folks. I present to you my latest Cocktail Friday concoction – the Bourbon Apple Cider Cocktail. The apple cider totally transports me to the time I visited a little cider shack in Michigan that served the most amazing cider and fresh little apple cider donuts. As my first and only visit to Michigan, I was pretty happy with the little fall wonderland I found there.
As far as flavor goes with this cocktail, obviously the apple cider is the focus, but it's really brought to life with a bit of spicy ginger beer. Then the tanginess of the lemon comes in to cut the sweetness of the cider. The bourbon base grounds the drink with a rich depth that brings notes of vanilla and oak…perfect for fall! I added a cinnamon sugar rim to add a little pop of sweetness and let's be honest here, cinnamon is basically the essence of fall, so how could I not? Cheers!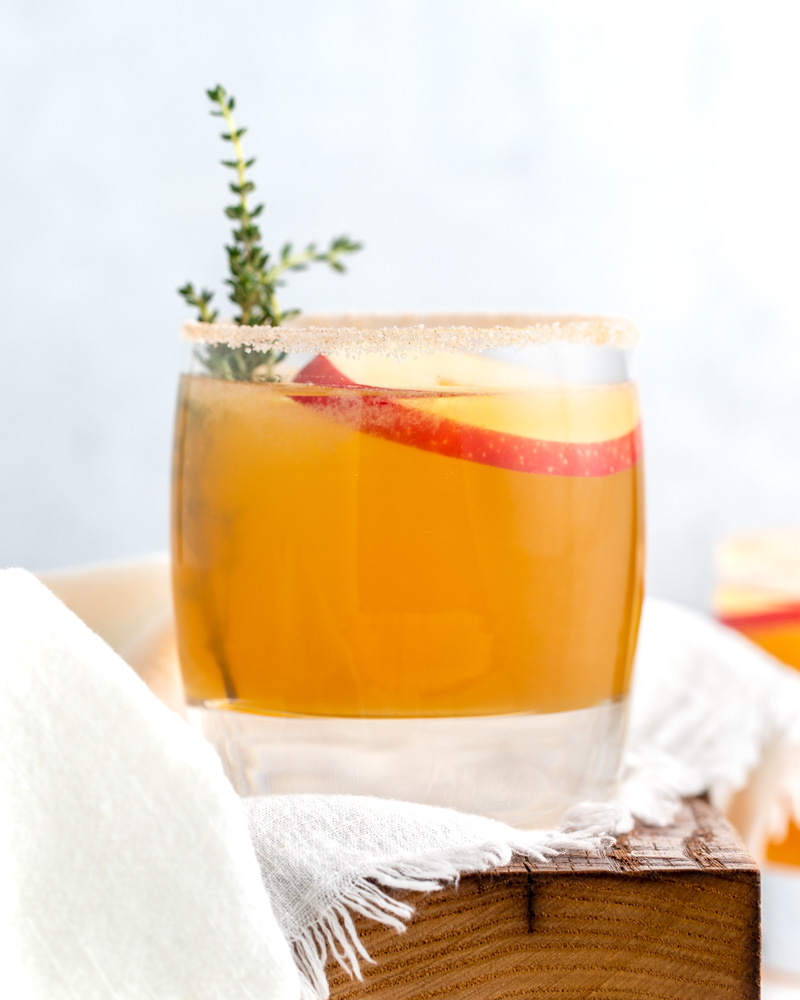 Ingredients
Here's what you'll need to make this recipe:
Bourbon – The bourbon you use here will change the flavor slightly, but any of your standard bottles of bourbon around the $30 mark will mix nicely here. Think Bulleit, Maker's Mark, Coopers Craft, etc.
Apple cider – Nectar of the fall! I can't get enough apple cider, but if you wanted to really concentrate the apple cider flavor, you could boil it down until it's reduced by half and use that instead. That will also concentrate the sweetness a bit, so you may need a little more lemon juice to balance things out.
Lemon juice – A touch of lemon juice helps brighten up this cocktail so that it's not too heavy or sweet.
Ginger beer – I love using ginger beer in cocktails! Not only does it add a nice effervescent touch, but the flavor complements the apple cider and also helps brighten up the bourbon.
Shop for this Recipe
Here are some items I used to make this recipe a success. Note: these are Amazon Affiliate links.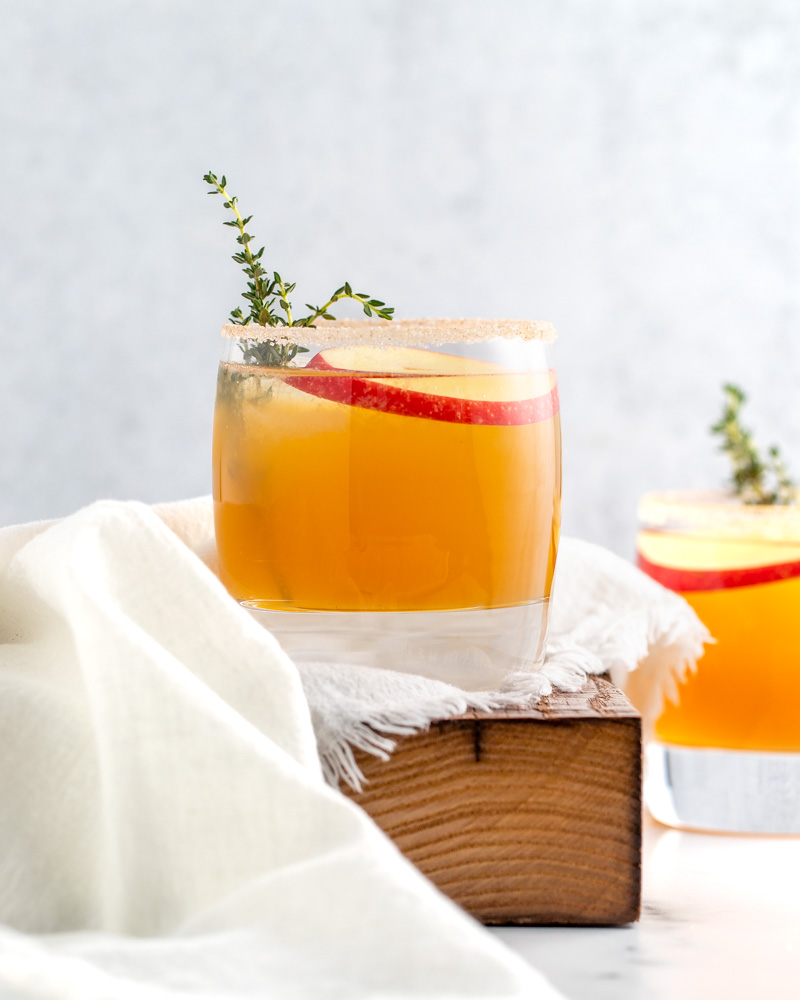 Recipe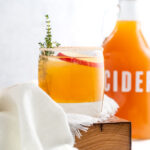 Bourbon Apple Cider Cocktail
Prep Time 5 minutes
Total Time 5 minutes
Servings 2 servings
Calories per serving 156 kcal
Ingredients
6 oz apple cider
3 oz bourbon
2 oz Zevia Ginger Beer (add more if desired to top off)
1 oz lemon juice
4 sprigs thyme
Optional: Cinnamon & sugar for rim, apple slices and thyme sprigs for garnish
Instructions
If desired, rub the rim of the serving glasses with lemon or water. Dip into a mixture of cinnamon and sugar. Set aside.

Add thyme and lemon juice to a cocktail shaker, then muddle lightly. Add cider and bourbon, then shake vigorously.

Strain out the thyme and pour cocktail into serving glasses over ice.

Nutrition Facts
Bourbon Apple Cider Cocktail
Amount Per Serving
Calories 156
% Daily Value*
Sodium 2mg0%
Carbohydrates 12g4%
Sugar 11g12%
* Percent Daily Values are based on a 2000 calorie diet.
For my macro trackers out there, I wasn't able to create a My Fitness Pal barcode for this recipe since I would have had to decide for you whether to put the alcohol calories in as carbs or fats – that's up to you! The 12 carbs listed here are just for the apple cider and lemon juice. For my non-macro trackers, here's more info on what I'm talking about.