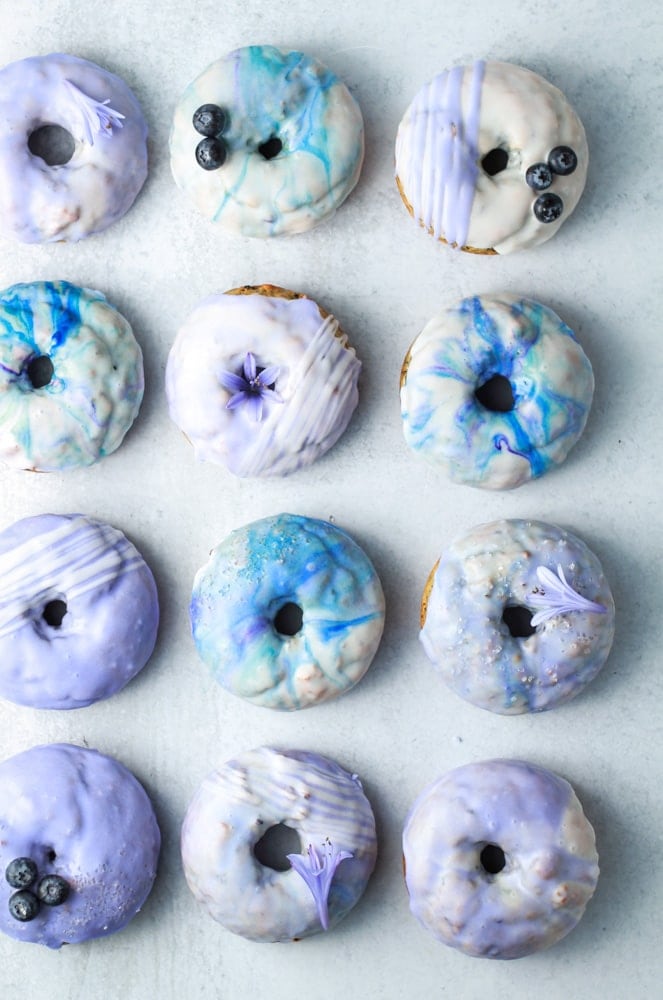 You all know what's coming next week…Easter! And these Blueberry Protein Donuts are the perfect accompaniment to your Easter brunch menu, especially if you're trying to eat a little healthier but still want to enjoy some yummy treats. I topped my donuts off with some pretty purple and blue pastel colored frosting, making them look surprisingly like Easter eggs. Have you ever done swirled or marbled frosting on homemade donuts?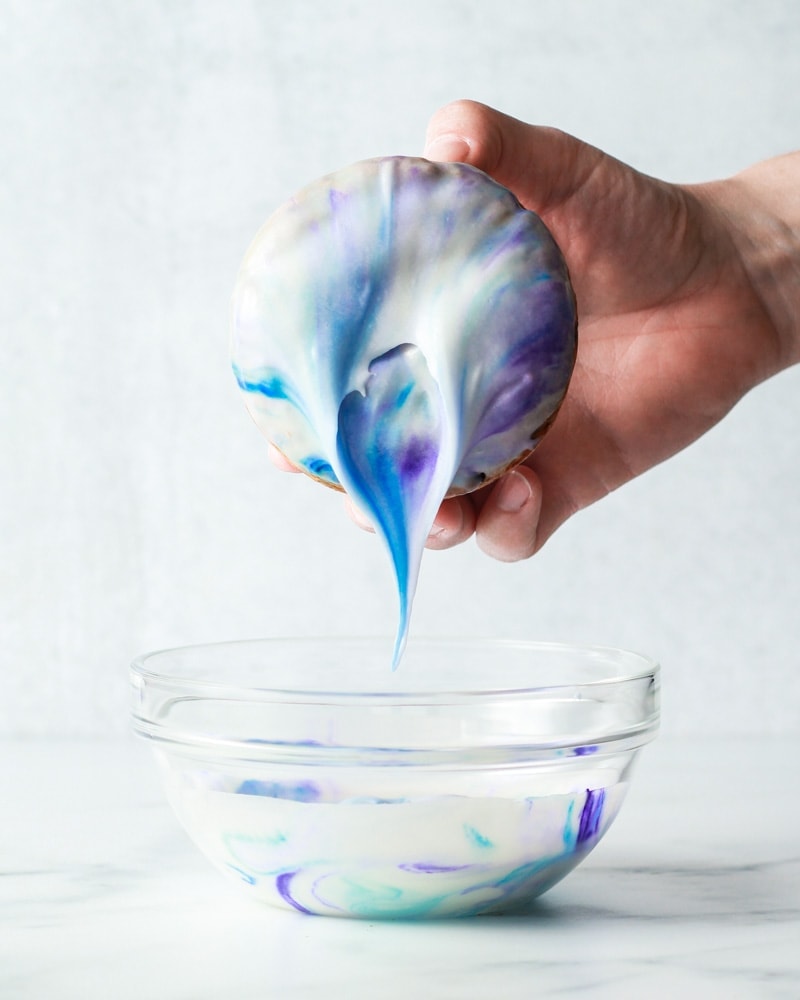 Here's the trick to the swirl: just add a bit of gel food coloring to the top 1/2″ of a toothpick. Swirl it into the frosting, but don't try to mix it. You can add a second color using the same method. Mix it the tiniest bit with a spoon if you really want good color spread (I did that with mine). Then when you dip the donuts into the frosting, twist them slightly before pulling them out and letting the excess drip off. Super easy, but makes for stunning donuts!!
Now, there are donut baking trays that are metal or there are ones that are silicone. I highly recommend the silicone version so you don't ever have to worry about sticking. I scoop the batter into a Ziplock bag, cut off the tip, and pipe the batter right into the silicone tray. I sprayed mine since I've used it quite a lot during its lifetime, but you probably won't need to do that.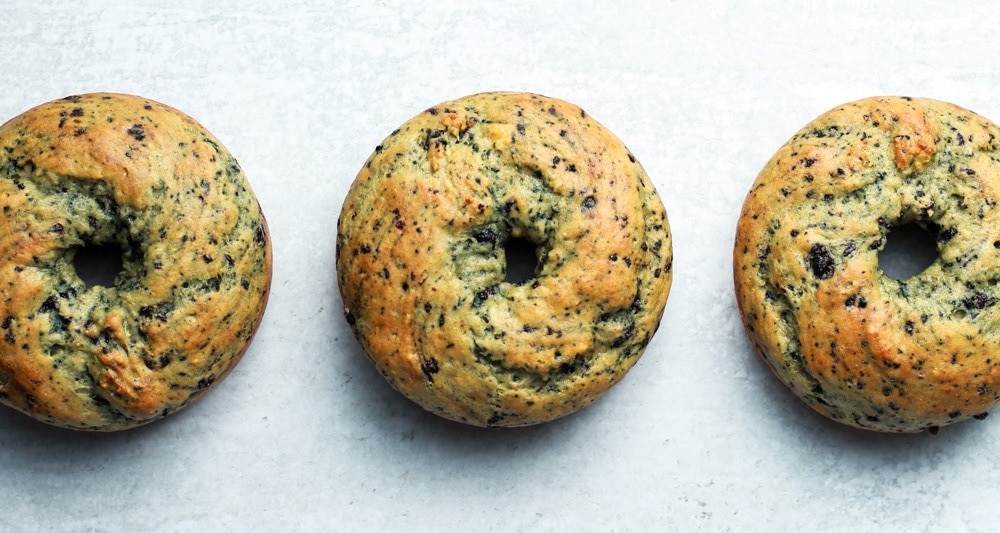 They look a little like bagels when they first come out of the oven, but check out how airy and tender they are inside! That's thanks to the buttermilk, primarily. Buttermilk is my new best friend and it can be yours too 😉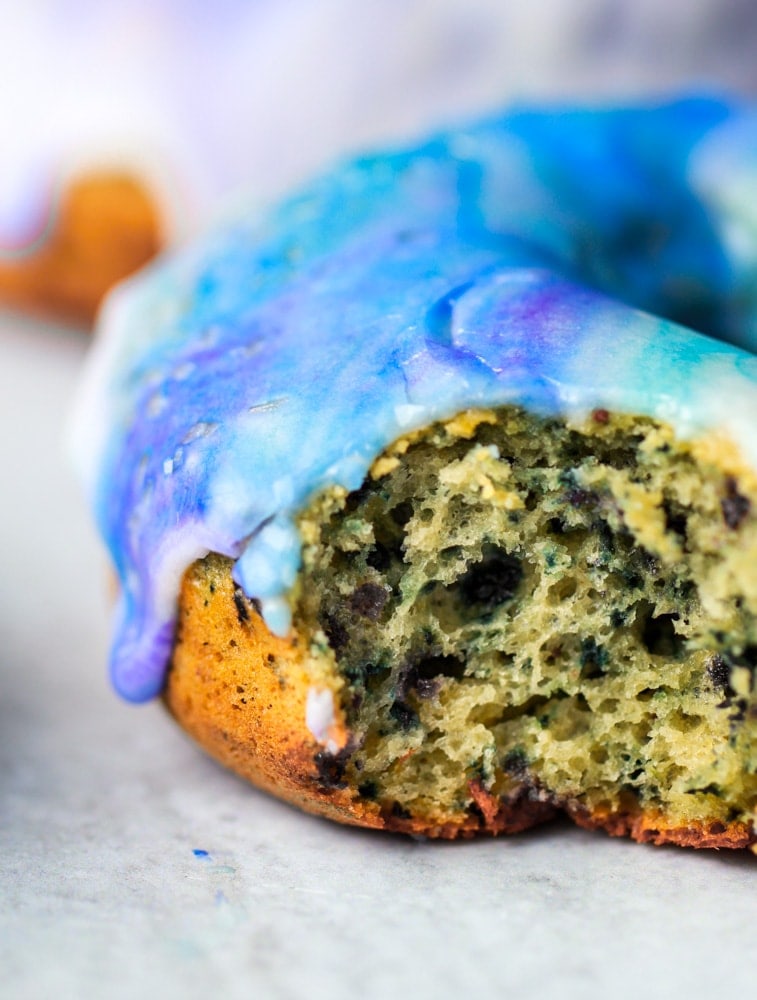 Happy (early) Easter!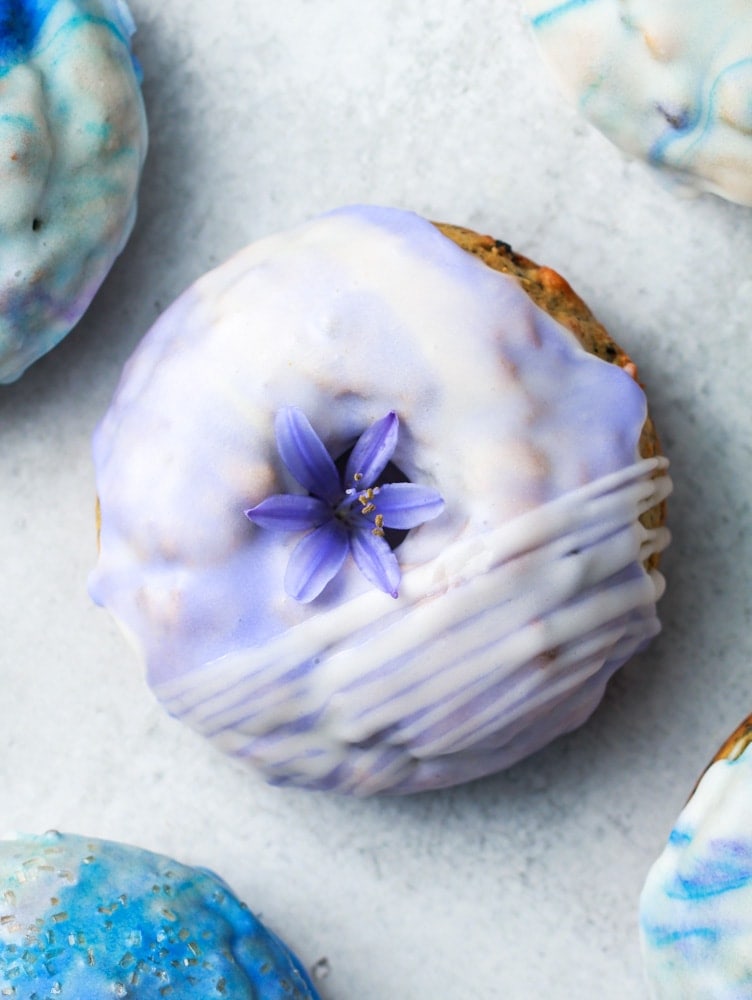 Here are some goodies I used to make this recipe. Note: these are Amazon Affiliate links.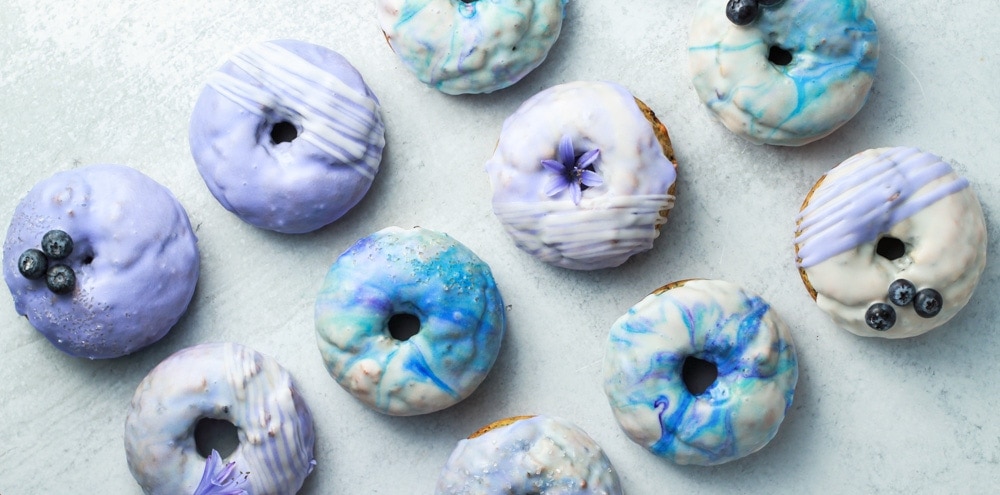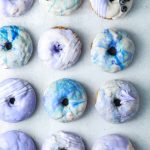 Blueberry Protein Donuts
Prep Time 15 minutes
Cook Time 16 minutes
Total Time 31 minutes
Servings 6 donuts
Calories per serving 262 kcal
Ingredients
Donuts
3/4 cup all purpose flour (90 grams)
1/3 cup unsweetened dried blueberries (53 grams)
1/3 cup freeze dried blueberries (11 grams)
1 scoop Dymatize Elite Vanilla Casein Protein (33 grams)
1/2 scoop Cellucor Whipped Vanilla Whey Protein (17 grams)
1/4 cup light brown sugar (48 grams)
1/2 tsp baking powder
1/2 tsp baking soda
1/2 tsp salt
1/2 cup low fat 1% buttermilk (4 fl oz)
1/4 cup plain, non-fat Greek yogurt (2 fl oz)
1 large egg
3 tbsp unsalted butter, melted (1 1/2 oz)
Frosting
3/4 cup powdered sugar (90 grams)
1 tbsp unsweetened vanilla almond milk
Instructions
Mix all dry donut ingredients, then add wet ingredients and mix until just combined.

Scoop donut batter into a piping bag or Ziploc bag and cut off the tip of the bag so you get about a 3/4" opening. Pipe the batter into a silicone 6-donut mold, filling the molds about 3/4 of the way to the top.

Bake at 350° for 14-16 minutes or until a toothpick inserted into the thickest part of the donut comes out clean. Remove donuts from the silicone mold and place on a cooling rack.

While the donuts bake, prepare the frosting. Whisk powdered sugar and almond milk until smooth. Add more almond milk or powdered sugar as needed to get the right consistency. You don't want the glaze to be too runny – it should still hold a bit of it's form as you pull a fork or spoon out of it. To get the swirl effect, add a small amount of gel food coloring to the end of a toothpick and gently swirl it into the frosting. Do the same with a 2nd color, if desired.

After the donuts have cooled, dip them into the frosting. Allow the frosting to set up for 30 minutes to an hour – you can speed it up by putting the donuts in the refrigerator.

For best results, eat these donuts on the same day you make them. If you plan to eat them the following day, store them unfrosted in a loosely covered container on the counter, then frost them before eating.
Recipe Notes
Click here or scan the barcode below to log this food in My Fitness Pal.
Nutrition Facts
Blueberry Protein Donuts
Amount Per Serving (1 donut)
Calories 262 Calories from Fat 63
% Daily Value*
Fat 7g11%
Cholesterol 54mg18%
Sodium 181mg8%
Potassium 79mg2%
Carbohydrates 41g14%
Fiber 1g4%
Sugar 28g31%
Protein 11g22%
* Percent Daily Values are based on a 2000 calorie diet.