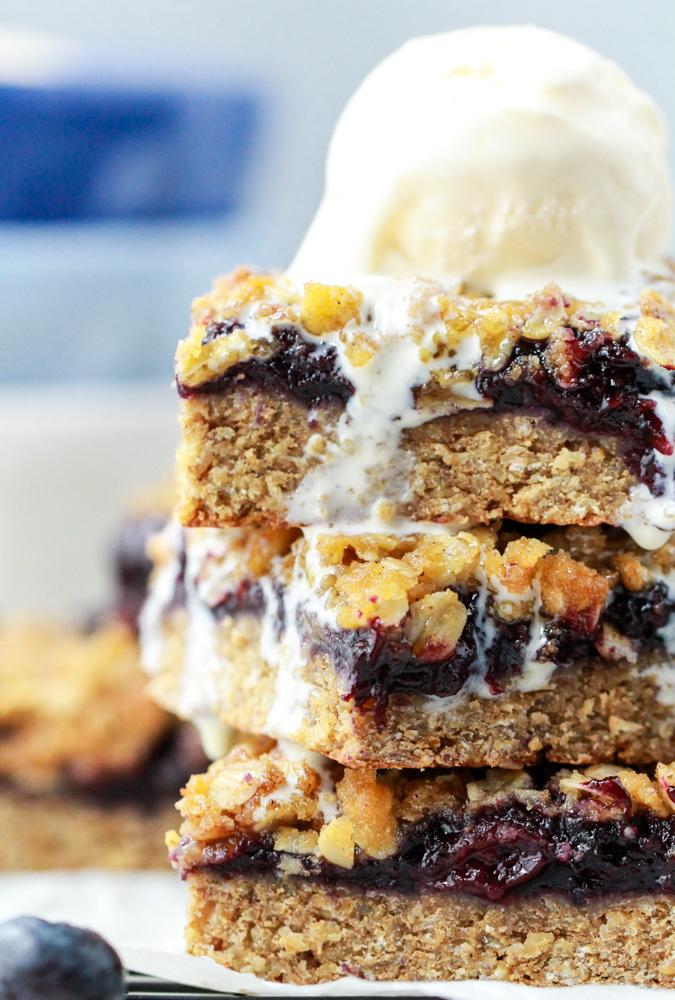 Jump to Recipe
Another Wednesday, another recipe! This one is a delicious summer dessert (or breakfast!) featuring my favorite berry – blueberries! These Blueberry Crumble Oat Bars are a little healthier than your average dessert bar thanks to the use of a few healthier options like apple sauce, white whole wheat flour, and even a kick of plant protein.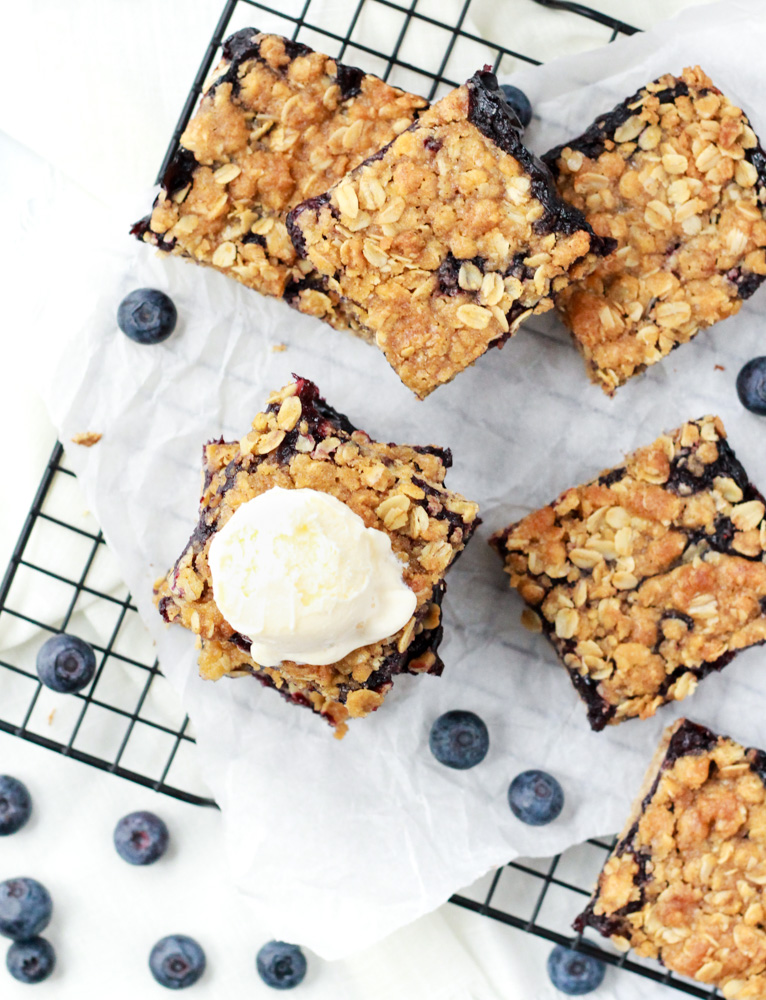 It took me a few tries to get the dough just right – sturdy enough to hold up to the gooey blueberries on top but delicate enough that you don't even NEED to eat it with ice cream to love it. Though I'm not sure why you'd WANT to skip the ice cream…
I used the same base recipe as these Strawberry Rhubarb Oat Crumble Bars because once I got it right, I wanted to try ALL. THE. SUMMER. FLAVORS. You might want to as well, so don't say you weren't warned.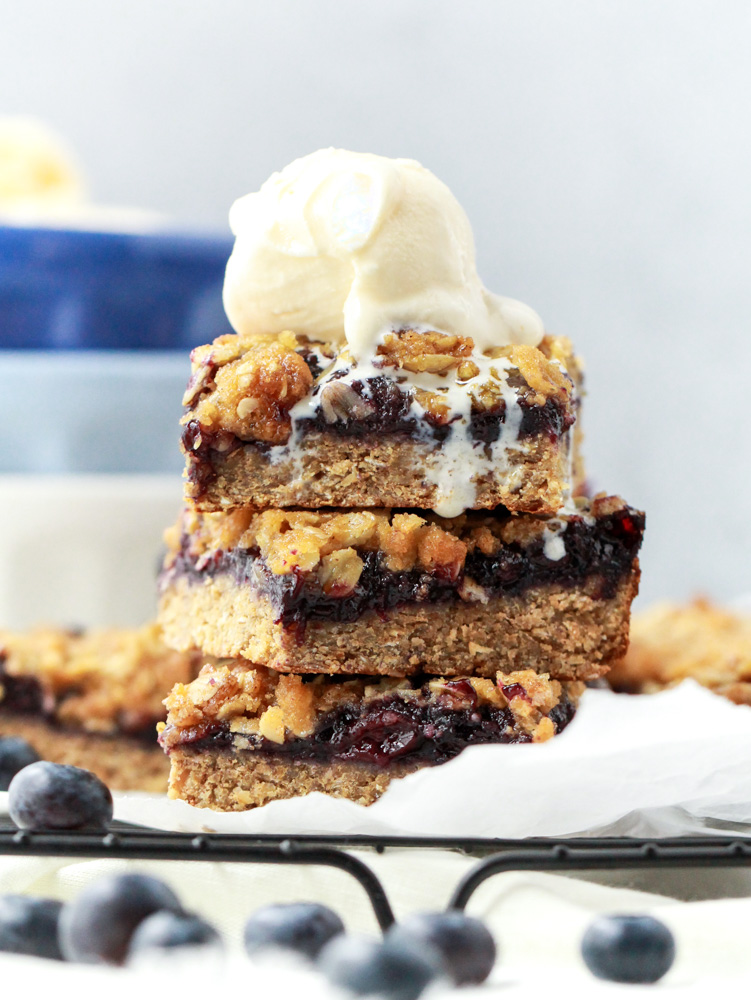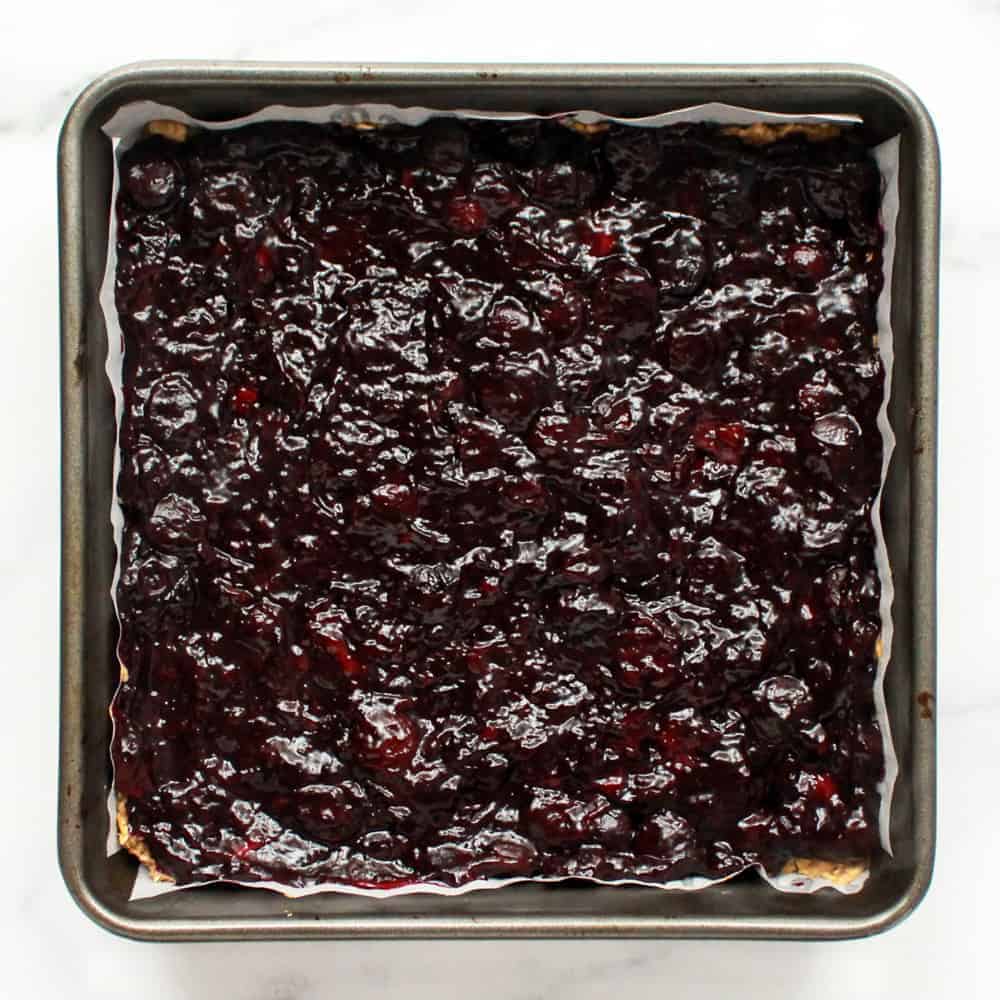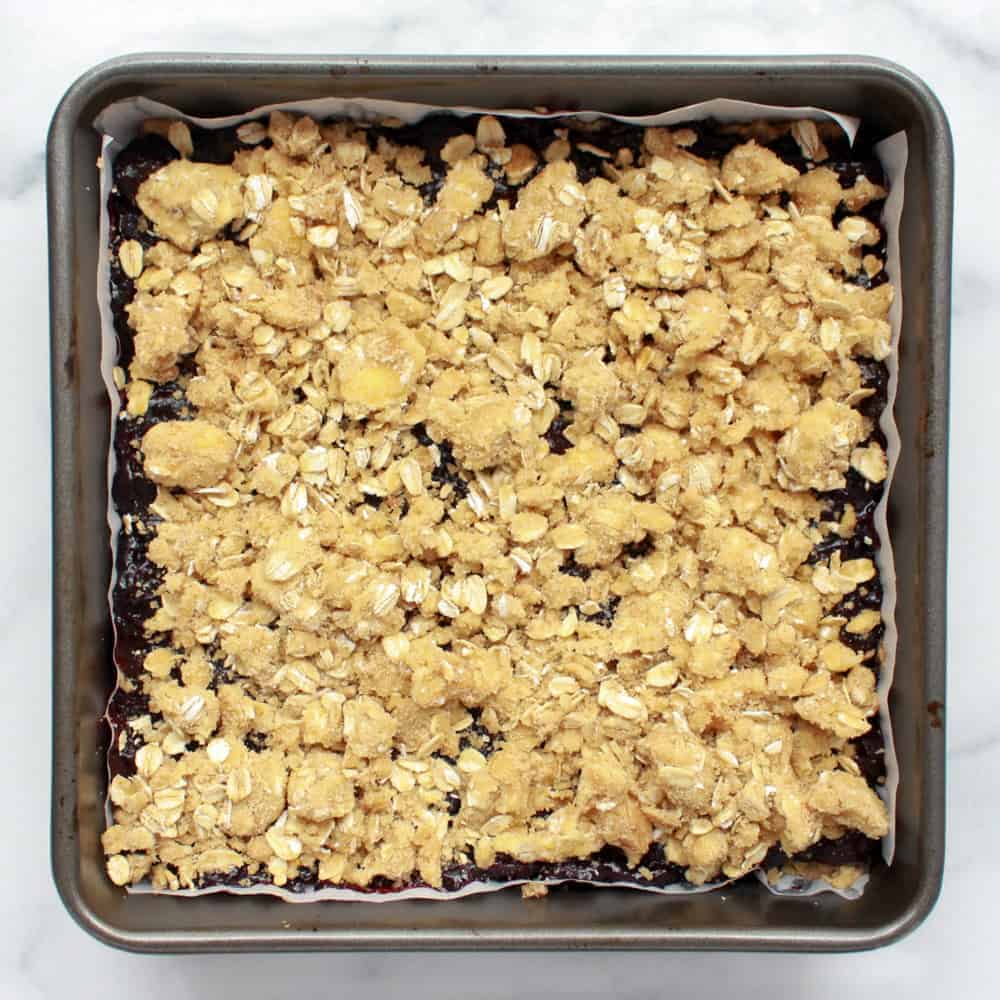 Look how gorgeous and golden brown delicious that crumble topping gets in the oven! I hope you enjoy these bars as much as I did.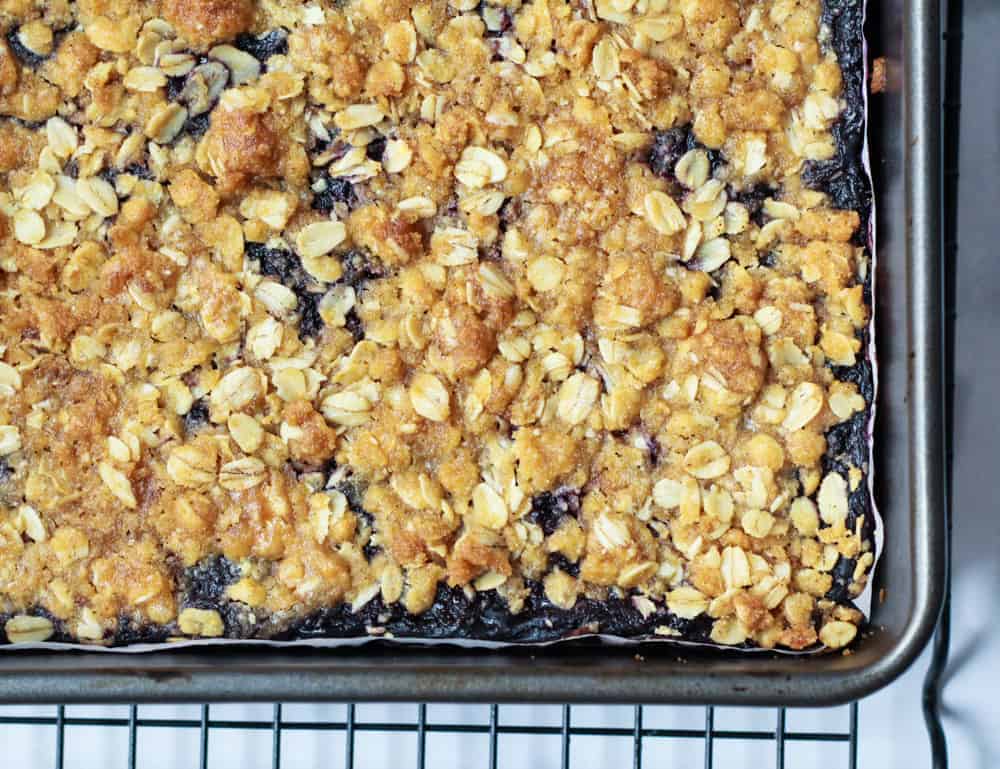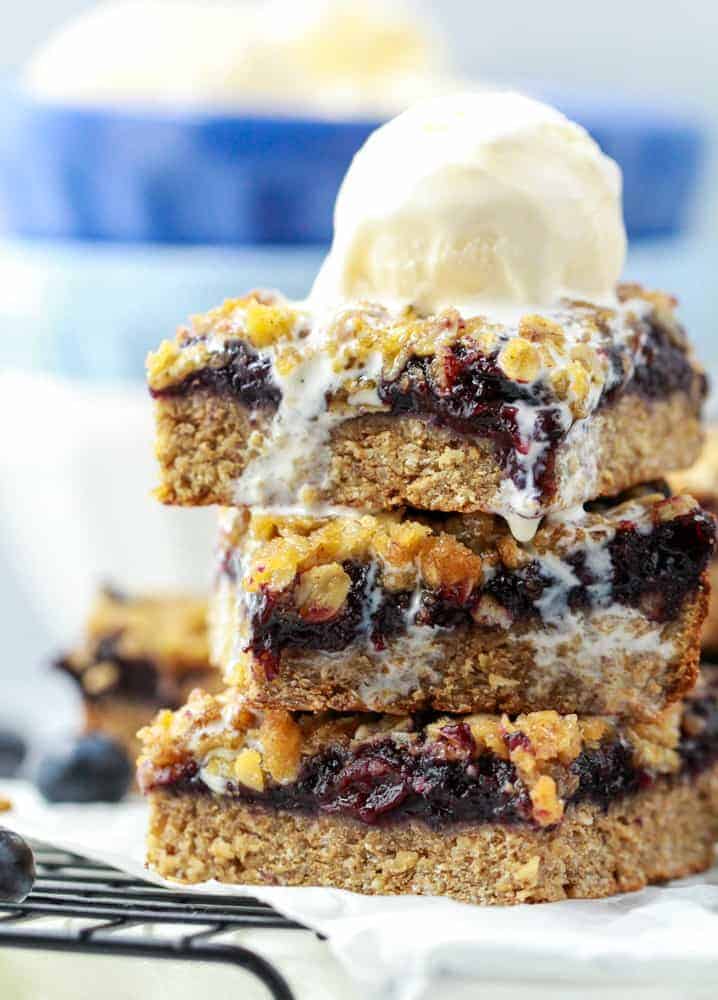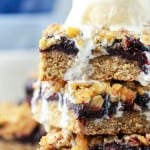 Blueberry Oat Crumble Bars
Servings 9 bars
Calories per serving 277 kcal
Ingredients
1 3/4 cup rolled oats (140 grams)
1 1/2 scoops PE Science vanilla plant protein (42 grams)
2/3 cup unsweetened applesauce (163 grams)
1/4 cup light brown sugar (48 grams)
1/4 cup Skippy Natural Peanut Butter, melted (64 grams)
1 egg, beaten
1 egg yolk, beaten
1 tsp cinnamon
1 tsp vanilla extract
1/4 tsp salt
Blueberries
2 cups blueberries (297 grams)
2 tbsp sugar (24 grams)
1 1/2 tbsp cornstarch (15 grams)
1 1/2 tbsp warm water
1/2 tbsp lemon zest
Crumble Topping
1/2 cup rolled oats (40 grams)
1/4 cup light brown sugar (48 grams)
1/4 cup white whole wheat flour (32 grams)
3 tbsp unsalted butter, cold and cubed (43 grams)
1/4 tsp cinnamon
Instructions
Pre-heat oven to 350 degrees. Line an 8×8 inch baking dish with parchment paper and set aside.

Whisk cornstarch into warm water and set aside.

Make the blueberry filling: Add blueberries, sugar, and lemon zest to a pot and bring to a simmer over medium heat. Once blueberries have begun to burst, bring to a quick boil for 1 minute and remove from heat. Whisk in cornstarch slurry and set aside to cool and thicken.

Make the crust: Stir applesauce, melted peanut butter, 1/4 cup light brown sugar, beaten egg, vanilla, and salt together in a medium bowl. Add rolled oats, protein powder, and cinnamon and stir until everything is combined. Press the mixture evenly into the prepared baking pan.

Pour blueberry mixture over the crust and spread evenly. Set aside.

Make the topping: Cut in the chilled butter into the flour with a pastry cutter or food processor (or even with your hands) until the mixture resembles coarse crumbs. Mix in the oats, brown sugar, and cinnamon.  Sprinkle the crumble over the filling.

Bake for 35-40 minutes or until the top is golden brown.
Nutrition Facts
Blueberry Oat Crumble Bars
Amount Per Serving
Calories 277 Calories from Fat 90
% Daily Value*
Fat 10g15%
Cholesterol 51mg17%
Sodium 98mg4%
Potassium 149mg4%
Carbohydrates 39g13%
Fiber 4g17%
Sugar 19g21%
Protein 9g18%
* Percent Daily Values are based on a 2000 calorie diet.