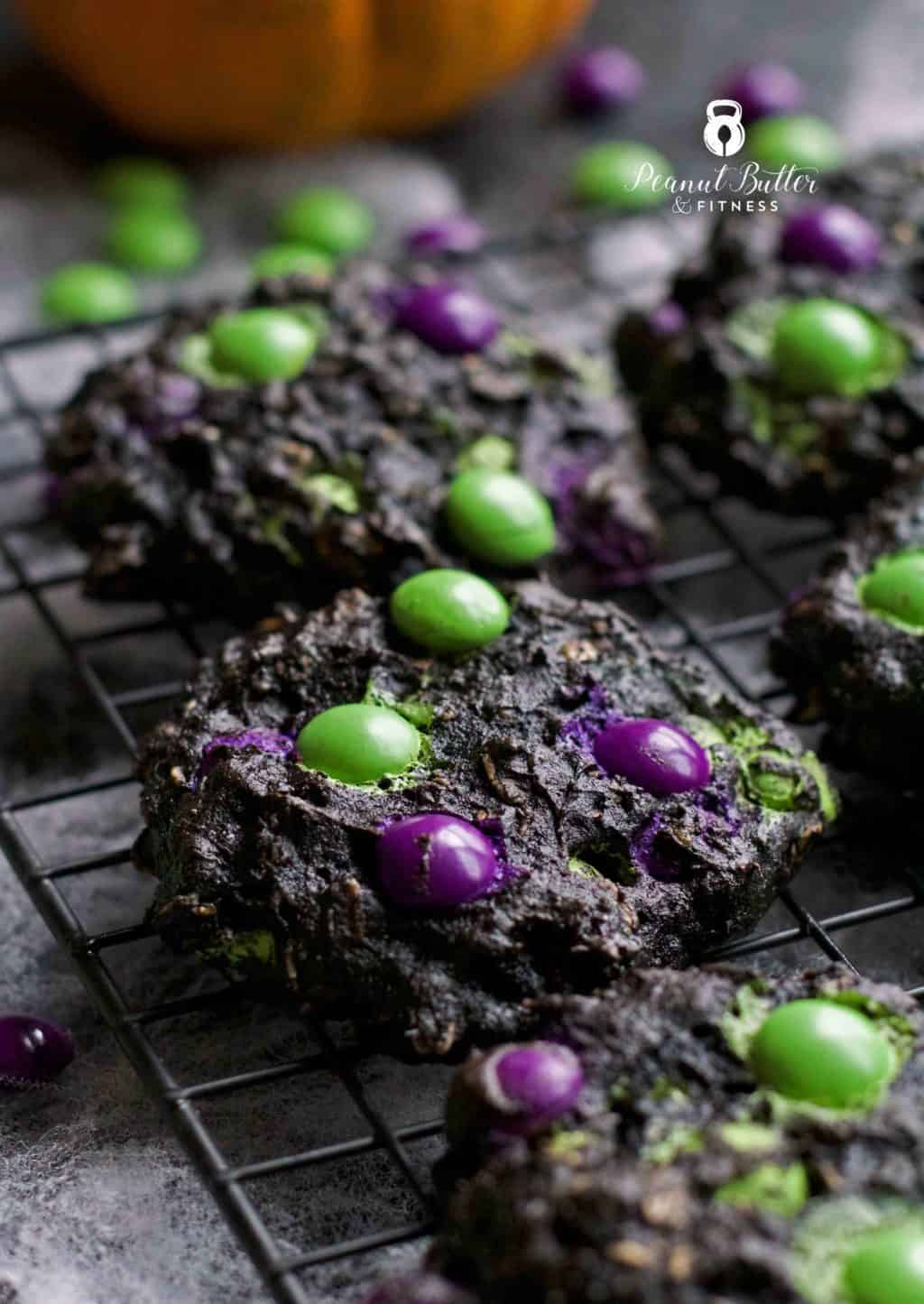 Halloween season is in full swing, so I hope you have your witches hat and fake spiders ready! Just be sure to grab the ingredients for these Black Pumpkin Cookies too.  These cookies will have your Halloween guests spooked and intrigued at the same time about their black color.  And no, it's not activated charcoal.  I used just a bit of black dutched cocoa to make them this color!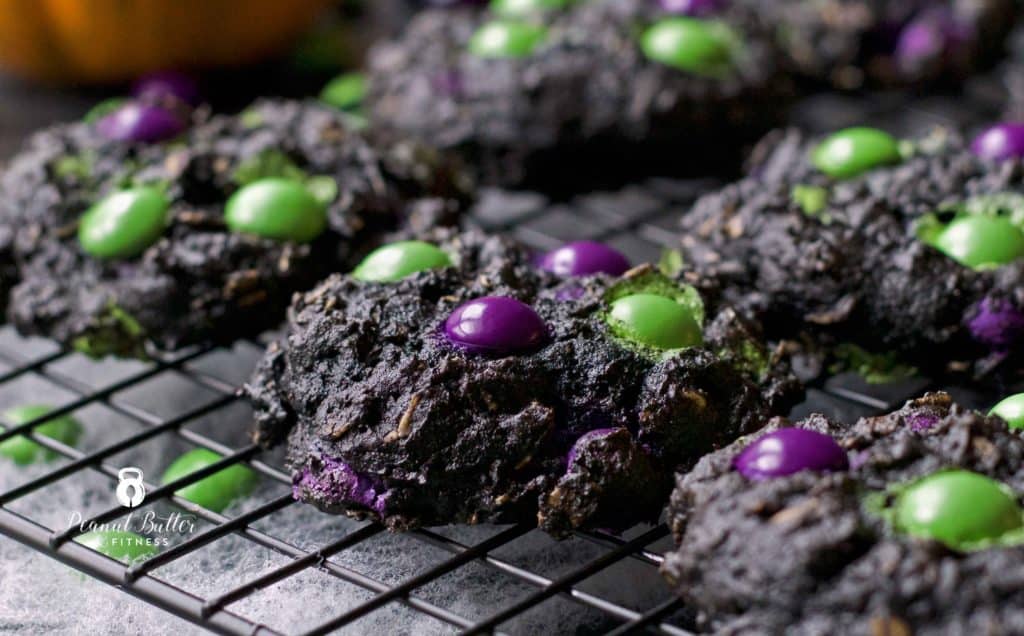 These cookies also have some healthy secrets – they have rolled oats and protein powder inside!  The pumpkin keeps the cookies nice and moist.  And if you blot the moisture out of the pumpkin before adding it, you'll also find that it gives the cookies a nice chew.  Not blotting out the moisture is likely to give you a more cakey/puffy cookie.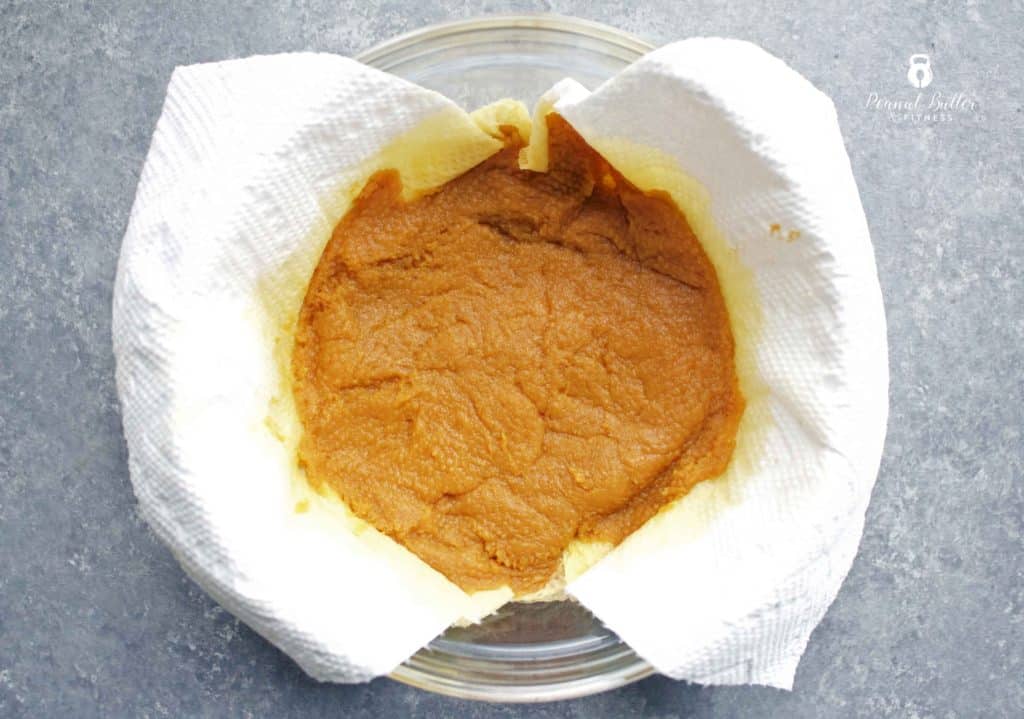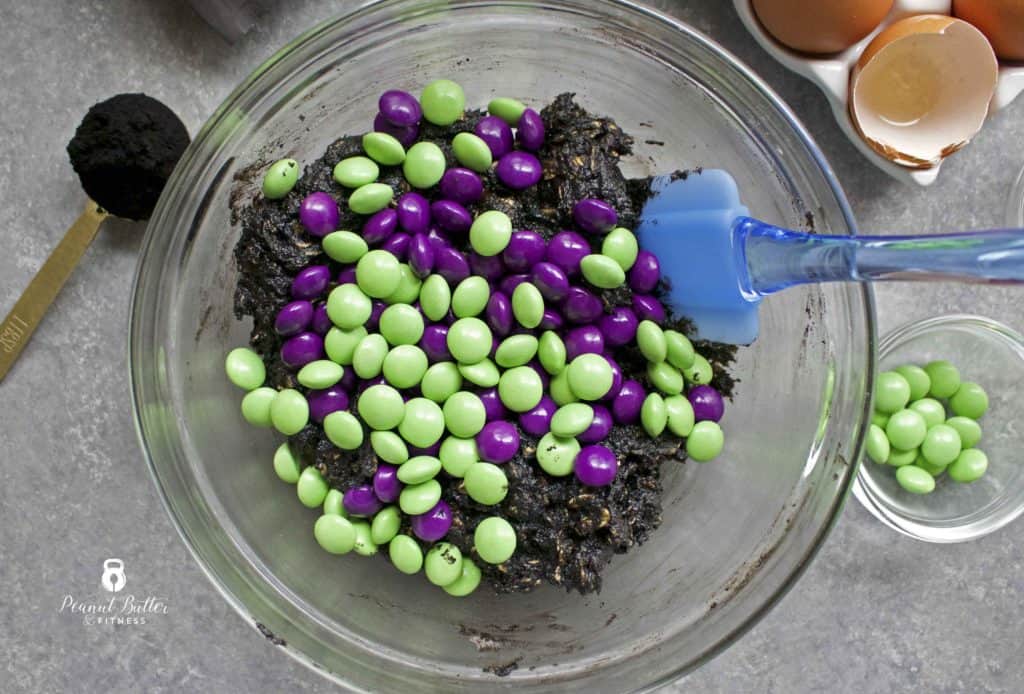 The recipe calls for M&Ms because they are obviously the superior candy-coated chocolate drops, but if you want the green and purple color scheme and don't have an M&M store nearby where you can pick your own colors, you can get these colors at your local Party City.  You could also order the real deal from the M&M website, but you'll end up paying more money for them.  You'll notice that because I used the Party City brand, the colors ran quite a bit once they baked into the cookies.  You can prevent that by not adding them until halfway through the baking process (just press them into the tops of the cookies) or just use M&Ms instead.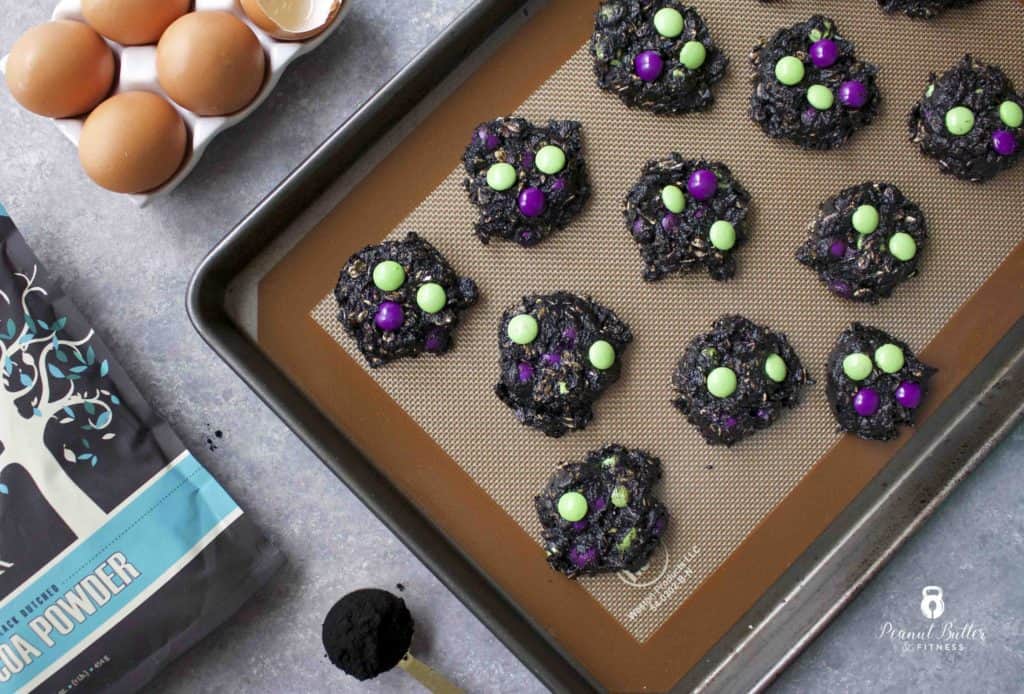 These cookies should last about 3 days on your counter-top loosely covered with plastic wrap or 5-7 days in the refrigerator in a non-air tight container.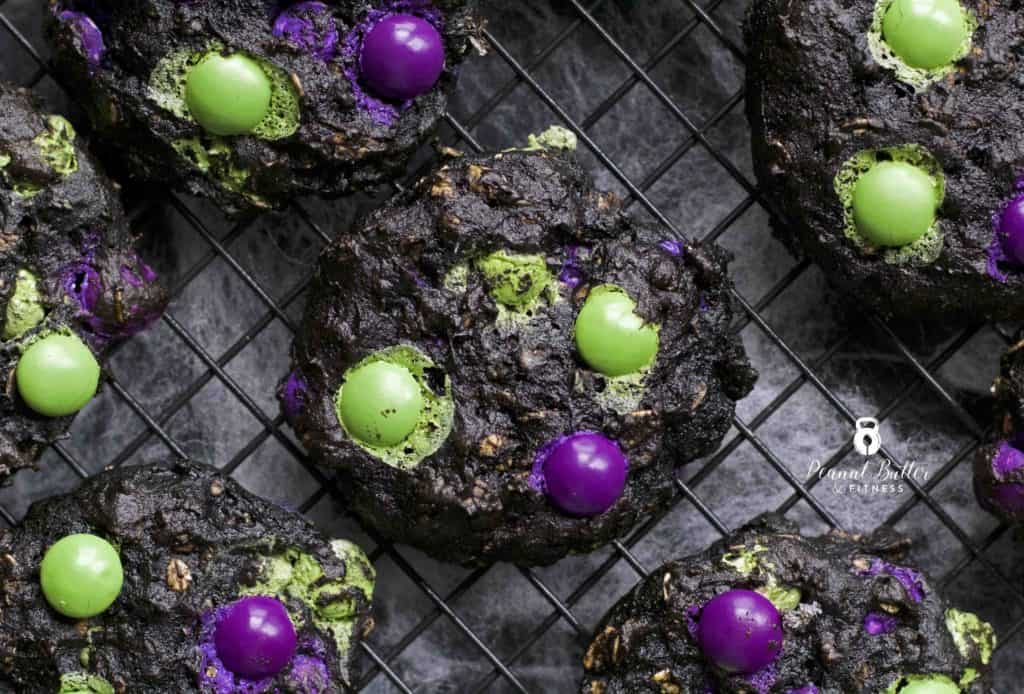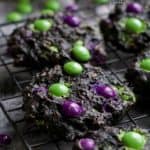 Black Pumpkin Protein Cookies
Prep Time 15 minutes
Cook Time 15 minutes
Total Time 30 minutes
Servings 14 cookies
Calories per serving 122 kcal
Ingredients
1 cup rolled oats (105 grams)
1/2 cup M&Ms
1/3 cup whole wheat flour (45 grams)
1/3 cup light brown sugar (65 grams)
1 scoop Lean Body For Her Chocolate Whey Isolate (42 grams)
1 1/2 tbsp black dutched cocoa (15 grams)
1/2 tsp instant espresso
1/2 tsp baking soda
1/4 tsp salt
2/3 cup pumpkin puree (157 grams)
2 tbsp unsalted butter (1 oz)
1 egg yolk room temperature
Instructions
Pre-heat oven to 350 degrees. Line a baking sheet with SILPAT and set aside.

In a medium bowl, mix all dry ingredients except M&Ms and set aside.

Line a small bowl with paper towels, then add pumpkin on top. Blot the pumpkin dry with another paper towel. Continue blotting dry until pumpkin no longer quickly soaks through the paper towel with moisture.

Add all wet ingredients to dry mixture and stir until combined. Fold in M&Ms, then scoop cookie dough onto lined baking sheet using a 1 1/2 tbsp scoop (the dough will be sticky, so it's best to use a cookie scoop for this step).

Flatten cookie dough scoops slightly before baking - they will spread slightly on their own but need a bit of help. If desired, press a few additional M&Ms into the tops of the cookies before baking.

Bake cookies at 350 degrees for 13-15 minutes. They will be slightly soft to the touch when they come out of the oven. Allow them to cool for at least 10 minutes before removing from the baking sheet.
Nutrition Facts
Black Pumpkin Protein Cookies
Amount Per Serving
Calories 122 Calories from Fat 36
% Daily Value*
Fat 4g6%
Cholesterol 20mg7%
Sodium 96mg4%
Potassium 36mg1%
Carbohydrates 18g6%
Fiber 2g8%
Sugar 9g10%
Protein 4g8%
* Percent Daily Values are based on a 2000 calorie diet.


Here are some items I used to make this recipe:

Note: The Amazon links contained in this post are affiliate links, meaning that if you buy anything from Amazon after clicking through these links, I'll earn a small commission (usually just a few pennies) from your purchase.  Your purchase price will be the same whether you use my affiliate links or navigate to Amazon independently.