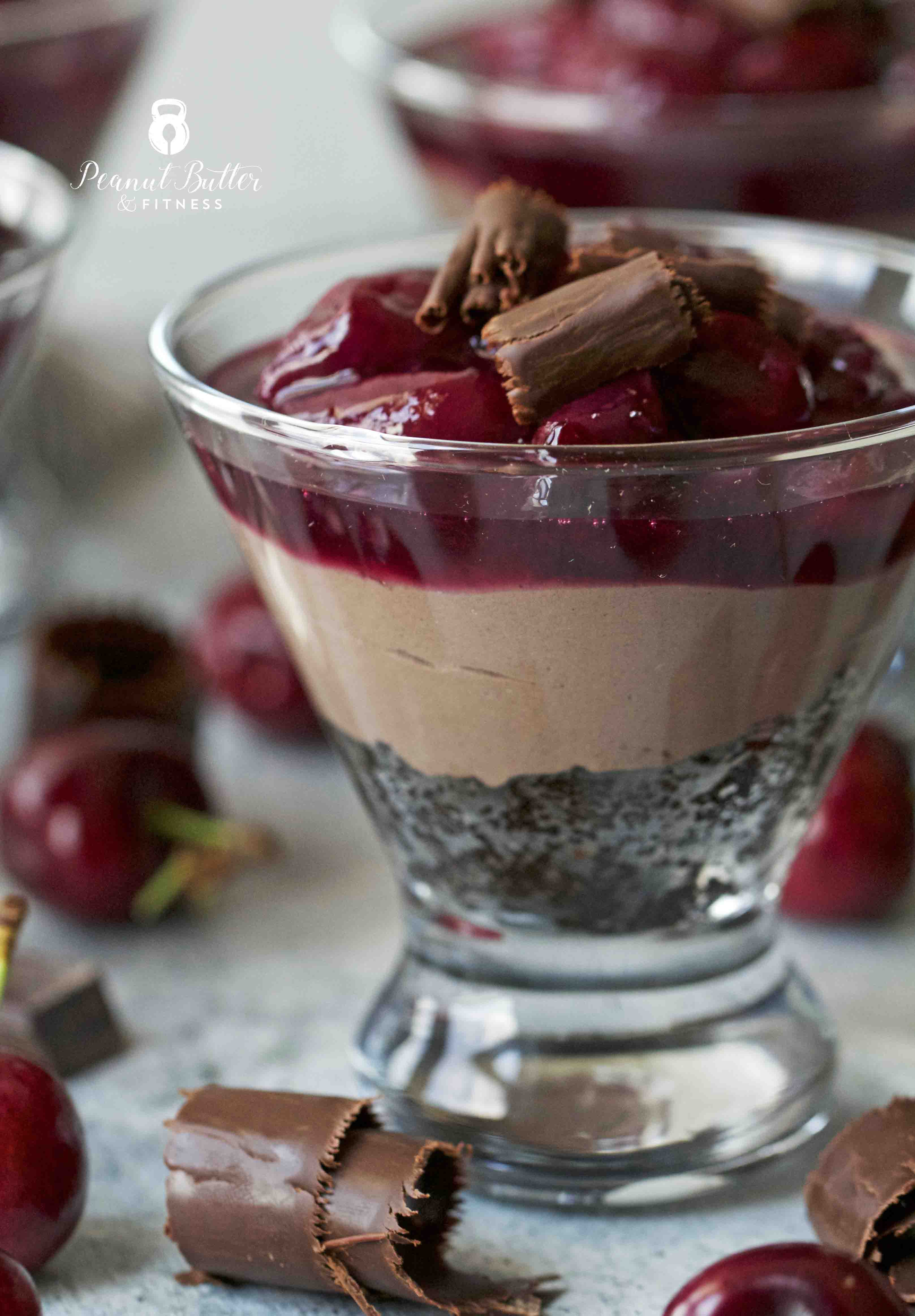 Happy National Cheesecake Day! I love a good cheesecake, especially one that is both decadent and protein-packed like these Black Forest Protein Cheesecake Cups. Do you prefer a deconstructed, no-bake cheesecake like these ones or a classic baked cheesecake like these ones? If chocolate and cherry doesn't fit your fancy, I've got you covered with some other delicious flavor combos.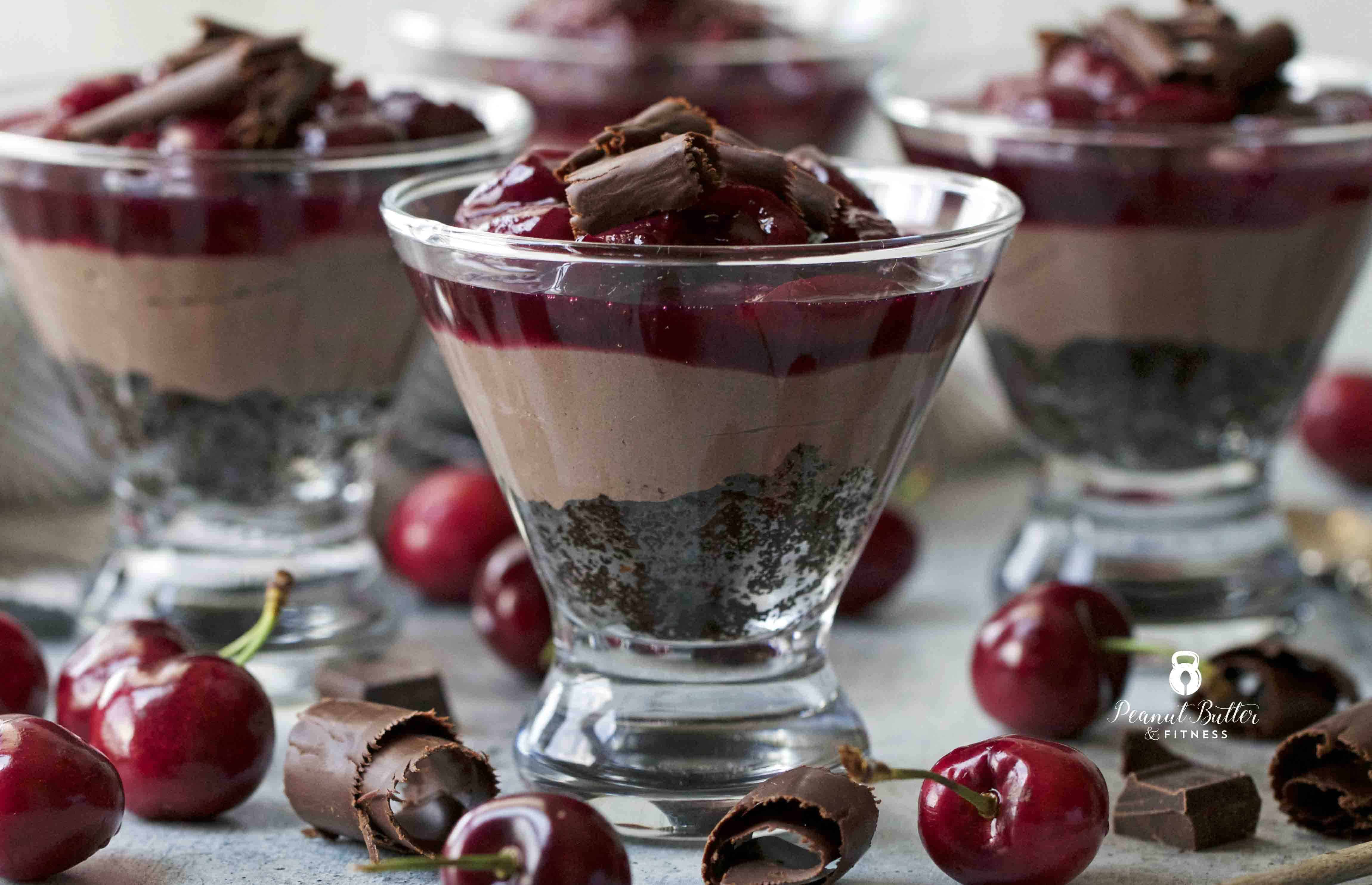 I use casein protein powder in these cheesecake cups to achieve the thick creaminess that you expect in a cheesecake (plus lower fat cream cheese for the flavor, of course). If you really feel like you can just substitute the casein with whey…just don't expect it to have that amazing cheesecake creaminess. Oh, and the chocolate curls…don't forget the chocolate curls 🙂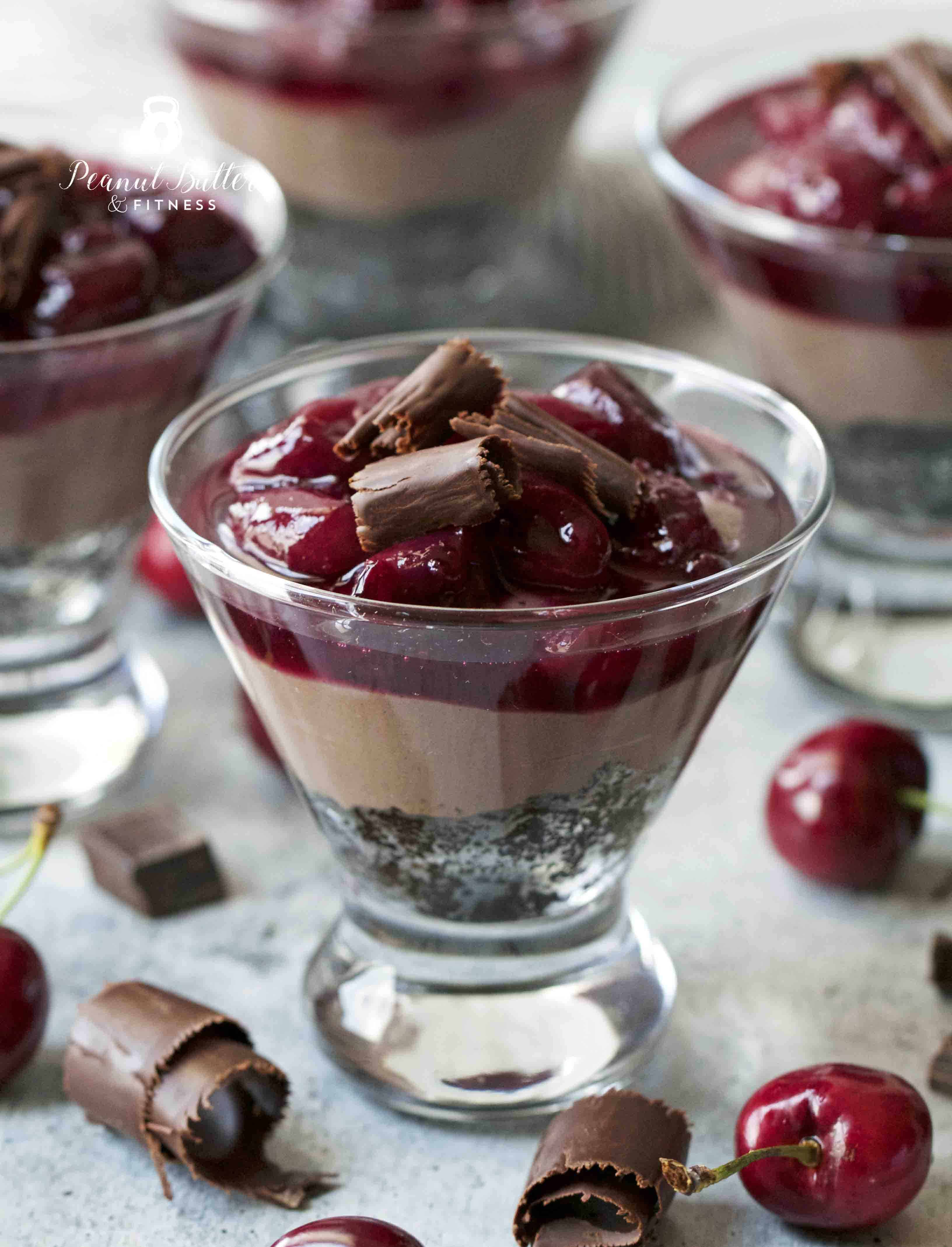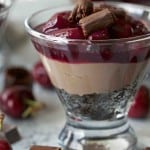 Black Forest Protein Cheesecake Cups
Prep Time 30 minutes
Cook Time 10 minutes
Servings 4 servings
Calories per serving 317 kcal
Ingredients
Cheesecake
1 cup Dannon Light and Fit Vanilla Greek Yogurt (8 oz)
1/2 cup plain non-fat Greek yogurt (4 oz)
1/2 cup Philadelphia 1/3 Less Fat Cream Cheese (4 oz)
1 35 g scoop Cellucor Chocolate Casein
2 tbsp dutch cocoa (12 g)
1/2 tbsp black cocoa (3 g)
1 tsp vanilla extract
Cherry Topping
1 cup cherries, halved and pitted (150 grams)
1 tbsp honey (1/2 oz)
1 tsp cold water
1/4 tsp arrowroot flour
Crust
1/3 cup pecan halves (37 g)
1/4 cup unsweetened coconut flakes (20 g)
1 1/2 tbsp dutch cocoa (9 g)
1/2 tbsp black cocoa (3 g)
Instructions
Add cherries and honey to a small sauce pan and bring to a boil over medium heat. Continue to boil for 10-15 minutes or until cherries are softened. Mix arrowroot flour into cold water until dissolved, then stir into boiling cherry mixture. Set aside to cool in refrigerator.

Add crust ingredients to a Nutribullet with milling blade (or food processor) and pulse until pecans are finely ground and the crust can be pressed together easily. Divide evenly into 4 serving glasses and press down into the glass. Set aside.

Add cheesecake ingredients to a large bowl and combine using a hand mixer. Scoop into a piping bag and pipe cheesecake mixture into the 4 serving glasses.

Add cherry topping over the cheesecake mixture and top with chocolate curls and whipped cream, if desired.
Recipe Notes
For a lighter version of this recipe, skip the crust and you'll avoid 100 calories and 9 grams of fat per serving.  Or you could stretch the recipe into more servings!
Nutrition Facts
Black Forest Protein Cheesecake Cups
Amount Per Serving
Calories 317 Calories from Fat 153
% Daily Value*
Fat 17g26%
Cholesterol 33mg11%
Sodium 216mg9%
Potassium 249mg7%
Carbohydrates 24g8%
Fiber 4g17%
Sugar 16g18%
Protein 18g36%
* Percent Daily Values are based on a 2000 calorie diet.