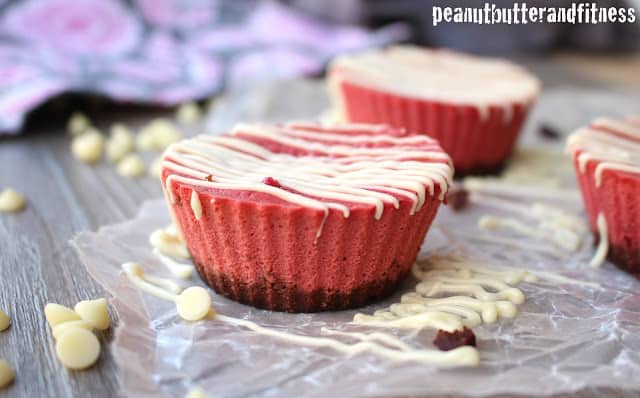 Valentine's Day is right around the corner.  If you're a V-day love bird, make these cheesecakes to celebrate.  And if you're not a V-day love bird, make these cheesecakes because they taste really good and won't break the bank.  Guiltless cheesecakes mean only 80 calories each, including 7 grams of protein!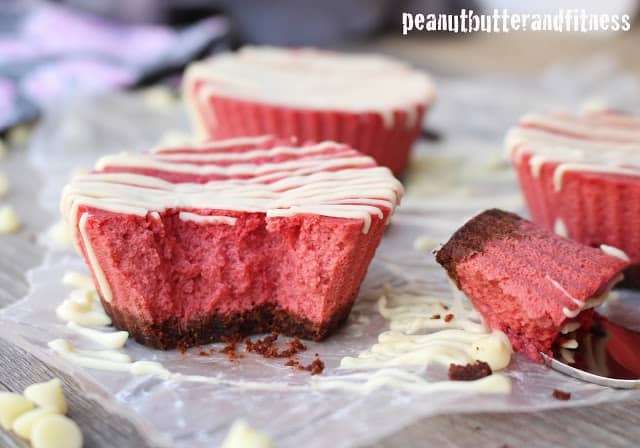 I was too impatient to wait around for these little cheesecakes to set up in the refrigerator completely…so if they look a little soft in the middle, it's because the Super Bowl wouldn't wait for them to be perfect.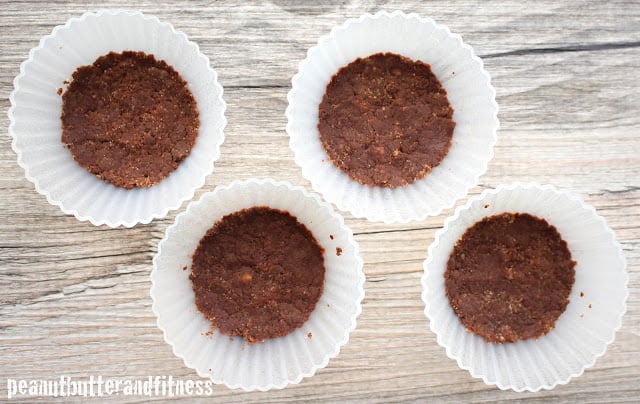 These little silicone baking cups are the only way to go to make these cheesecakes right! Get yours
here on Amazon
.  And if you have Amazon Prime, you'll have them in plenty of time to make for your Valentine!  Or yourself.  Either way, they will still taste amazing 🙂  Don't forget to order your
sampler pack of Cellucor Red Velvet Cake Batter whey protein
while you're there!  Unless you want to drink red velvet protein shakes for the next month, that is.  Then get yo self a 2 pound tub.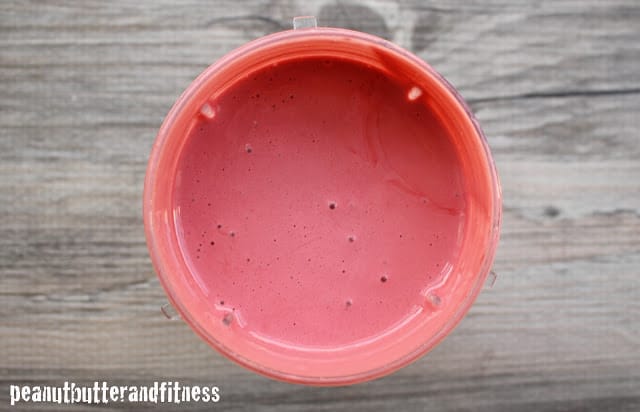 I always use a NutriBullet to get the right consistency in my cheesecake batter.  It just does such a good job of annihilating the cottage cheese curds and making them smooth and dreamy.  Just make sure you tap the cup against the counter to get most of the air bubbles out.  Don't be fooled, the raw batter is gross.  This is one case where you should listen to your mom and don't eat it until it's cooked.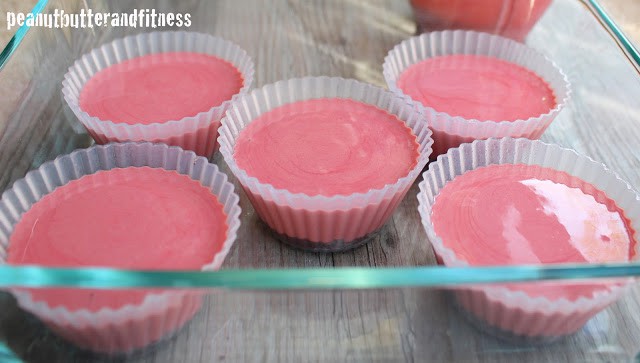 Don't forget to bake the cheesecake in a water bath!  Fill up your larger baking dish until the water is almost even with the top of the cheesecakes.  This is how you avoid big cracks in the top of the cheesecake.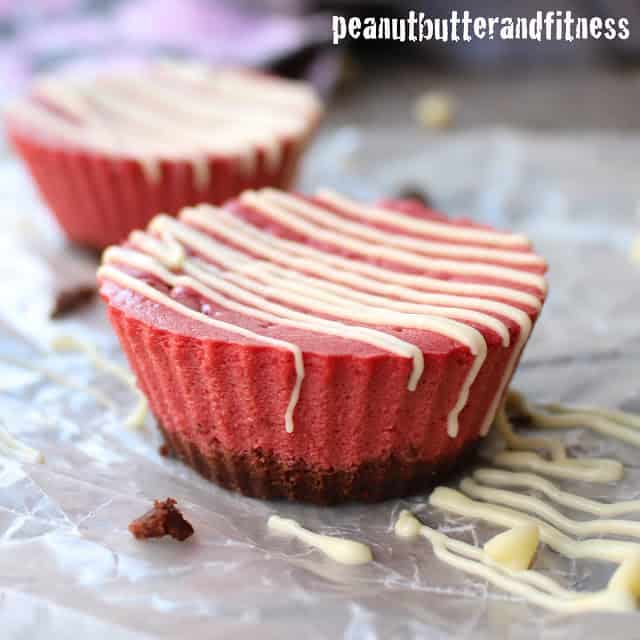 Guiltless Red Velvet Mini-Cheesecakes
Yield: 9 cheesecakes • Serving Size: 1 cheesecake • Calories per serving: 80 • Fat: 3 g • Protein: 7 g • Carbs: 7 g • Fiber: 1 g • Sugar: 5 g • Sodium: 71 mg • Cholesterol: 5 mgIngredients:
1/3 cup fat free cottage cheese
2/3 cup Dannon Light & Fit Vanilla Greek Yogurt
1 1/2 egg whites
3 packets Truvia
2 tsp beet root powder (or 8-10 drops of red food coloring)
1/4 cup pecan halves
1 tbsp coconut flour
1 tbsp unsweetened cocoa powder
1/4 tsp vanilla extract
2 tbsp white chocolate chips
Directions:
In a food processor or NutriBullet, process pecans, coconut flour, 1 packet Truvia and cocoa powder.  Then mix in almond milk and vanilla extract.  Divide evenly among 9 silicone baking cups and press into cups to form crust.
Pre-heat oven to 325 degrees.
In a food processor or NutriBullet, combine cottage cheese, Greek yogurt, egg whites, and remaining Truvia until smooth.  Add in protein powder and beet root powder and continue to combine until smooth.
Add cheesecake mixture on top of crusts, leaving about 1/4″ from the top of the cheesecake to the top of the baking cup.
Place cheesecake cups into larger baking dish and fill dish with water until almost even with the top of the cheesecake filling.  Bake at 325 degrees for 20-23 minutes or until centers of cheesecake are still a little jiggly (like Jello).
Allow cheesecakes to cool in the water bath until water is room temperature, then remove cheesecakes from water bath and refrigerate, uncovered for at least an hour before serving (best if refrigerated overnight before serving).
Before serving, drizzle cheesecakes with melted white chocolate.
They taste like a Slim Jim but less greasy and I feel way better about eating grass-fed, nitrate/nitrite free meat than I do about eating any number of jerky brands you can find in the grocery store.  After seeing the movie Food, Inc., I've been on the hunt for a good, affordable grass fed jerky or beef stick.  Check it out on Netflix, it'll make you think twice about what you're putting on your plate.