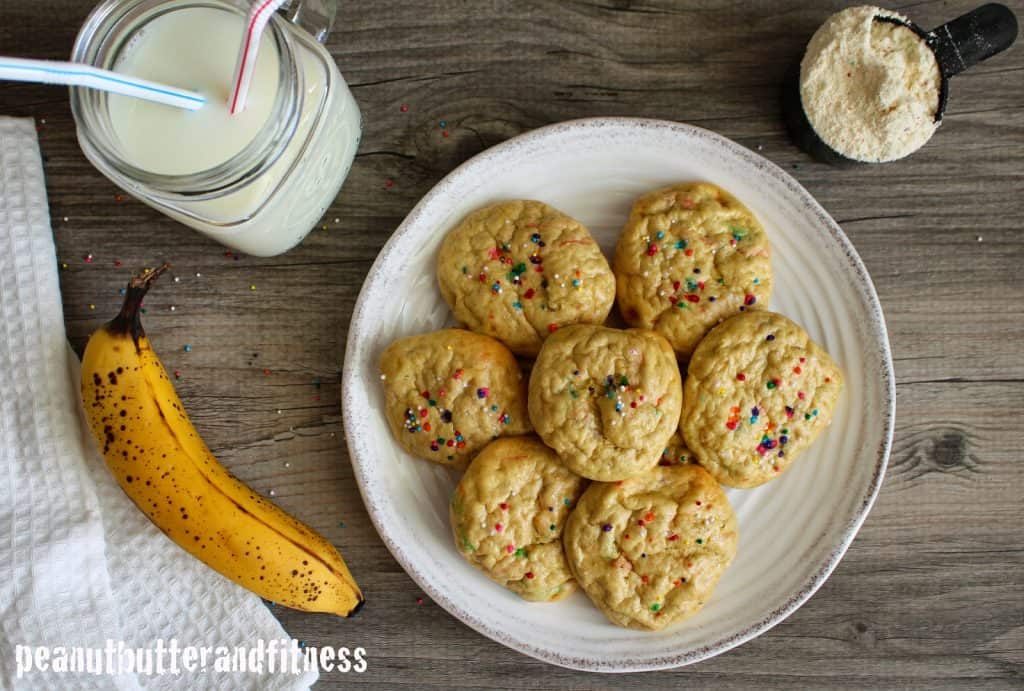 So I'm really excited about this new protein powder that I got last week with an awesome Groupon deal…it's tastes amazing!  Cellucor does it right with their protein flavors (they have a red velvet flavor that I will be trying next) and you can order a sampler pack on Amazon!  I ordered the Cake Batter and Peanut Butter Marshmallow this time around and Oh. My. God.  They are to die for.  I get really excited to drink my protein shakes after a hard workout to begin with, but now I want to drink them after my workout, after lunch, after dinner, for a midnight snack and maybe for breakfast too 🙂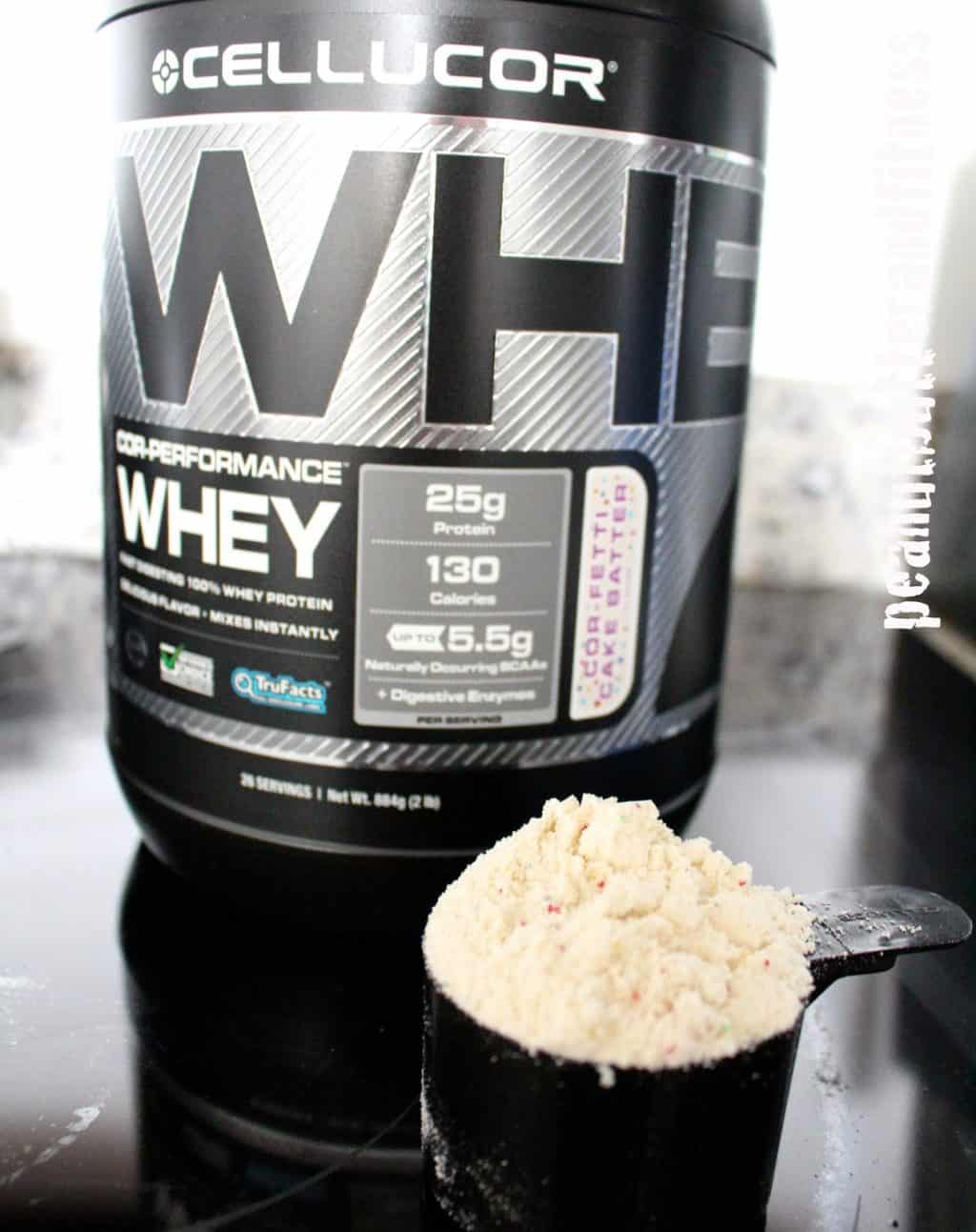 I really like the Peanut Butter Marshmallow flavor to drink and I've been making some fun food creations with the Cake Batter flavor…like these cookies! These are less than 50 calories each plus they have the same amount of protein as they have carbs and only 2 grams of sugar, so they're a winner in my book.  And they're fun-fetti looking and cake batter flavored – amazing!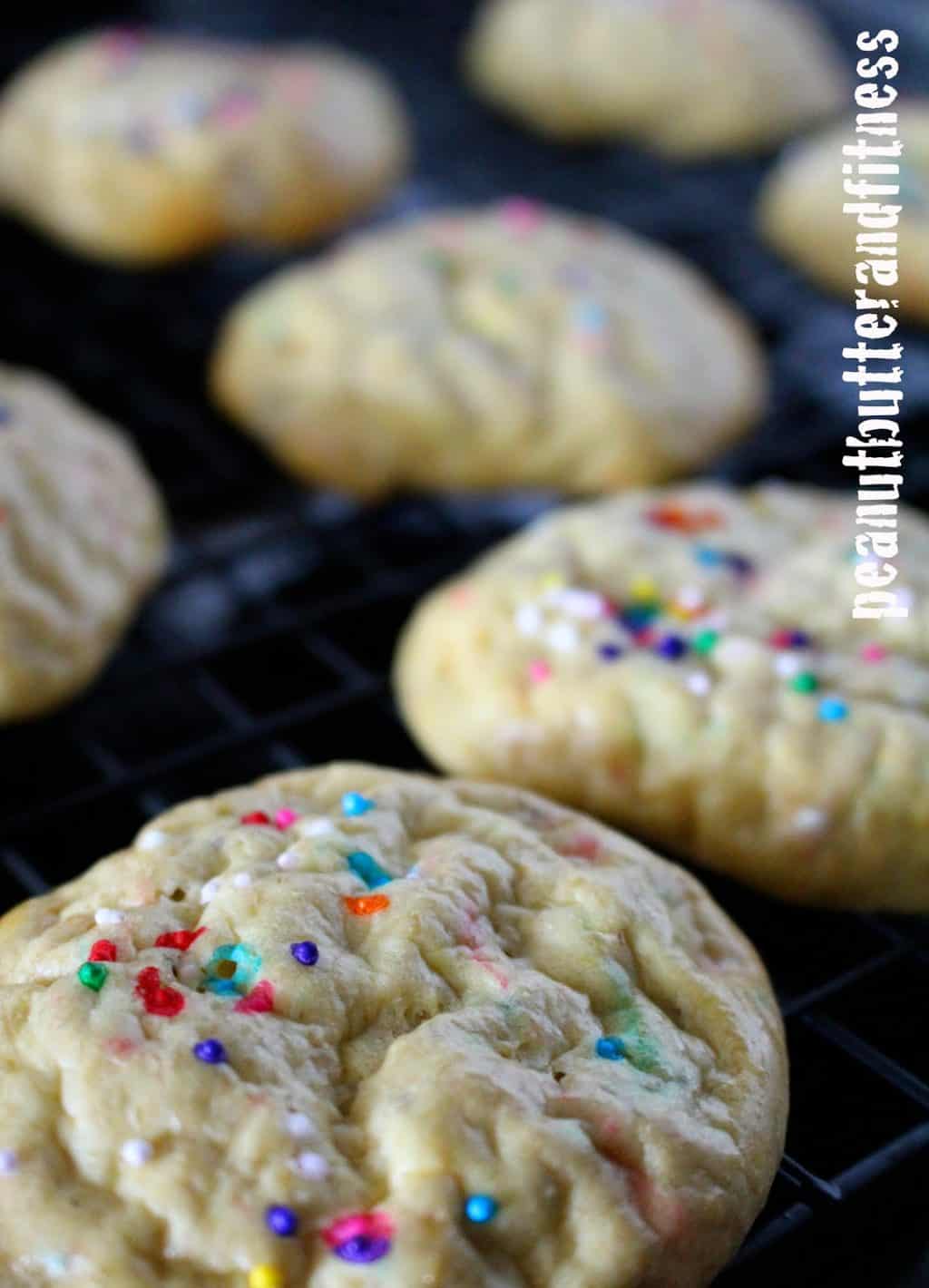 Fresh out of the oven 🙂
The bananas in the cookies keep them nice and moist on the inside and they have kind of a thin "crust" on the outside.  It's kind of hard to describe…but it's like a really thin layer on the outside that seals in the moisture.  Still tastes great!

I used plain Greek yogurt in mine since I ran out of vanilla.  I'd recommend using Stonyfield Organic Non-Fat Vanilla Greek yogurt if you can find it, that's what I'll use next time I make these!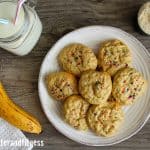 Birthday Cake Protein Cookies
Prep Time 10 minutes
Cook Time 15 minutes
Total Time 25 minutes
Servings 17 cookies
Calories per serving 48 kcal
Ingredients
1/2 cup quick oats milled
3 tbsp sugar free/fat free Jell-o vanilla pudding mix
1/4 tsp baking powder
1 whole egg
1 egg white
3/4 cup mashed banana
1/4 cup non-fat Greek yogurt
1 tsp vanilla extract
Optional: Extra sprinkles and a few drops McCormick Imitation Vanilla Butter & Nut Flavor
Instructions
Pre-heat oven to 350 degrees.

Combine all ingredients until smooth and spoon onto a baking sheet.  Top with some sprinkles if desired.

Bake at 350 degrees for 15 minutes.
Nutrition Facts
Birthday Cake Protein Cookies
Amount Per Serving
Calories 48 Calories from Fat 9
% Daily Value*
Fat 1g2%
Cholesterol 17mg6%
Sodium 66mg3%
Carbohydrates 5g2%
Fiber 1g4%
Sugar 2g2%
Protein 5g10%
* Percent Daily Values are based on a 2000 calorie diet.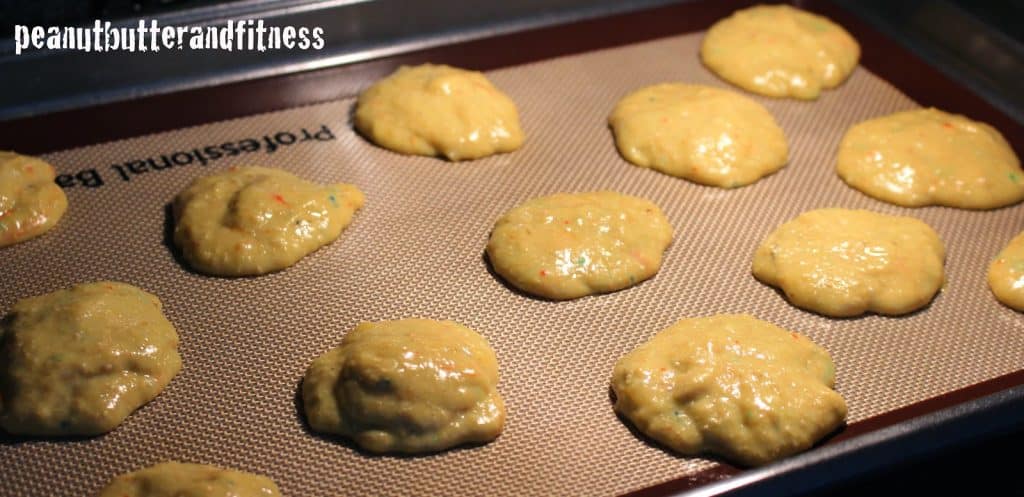 They looked a little runny to me when I first plopped the batter onto the tray, but it worked out just fine.  They puffed up pretty big while they were baking and then shrunk back down a bit after cooling.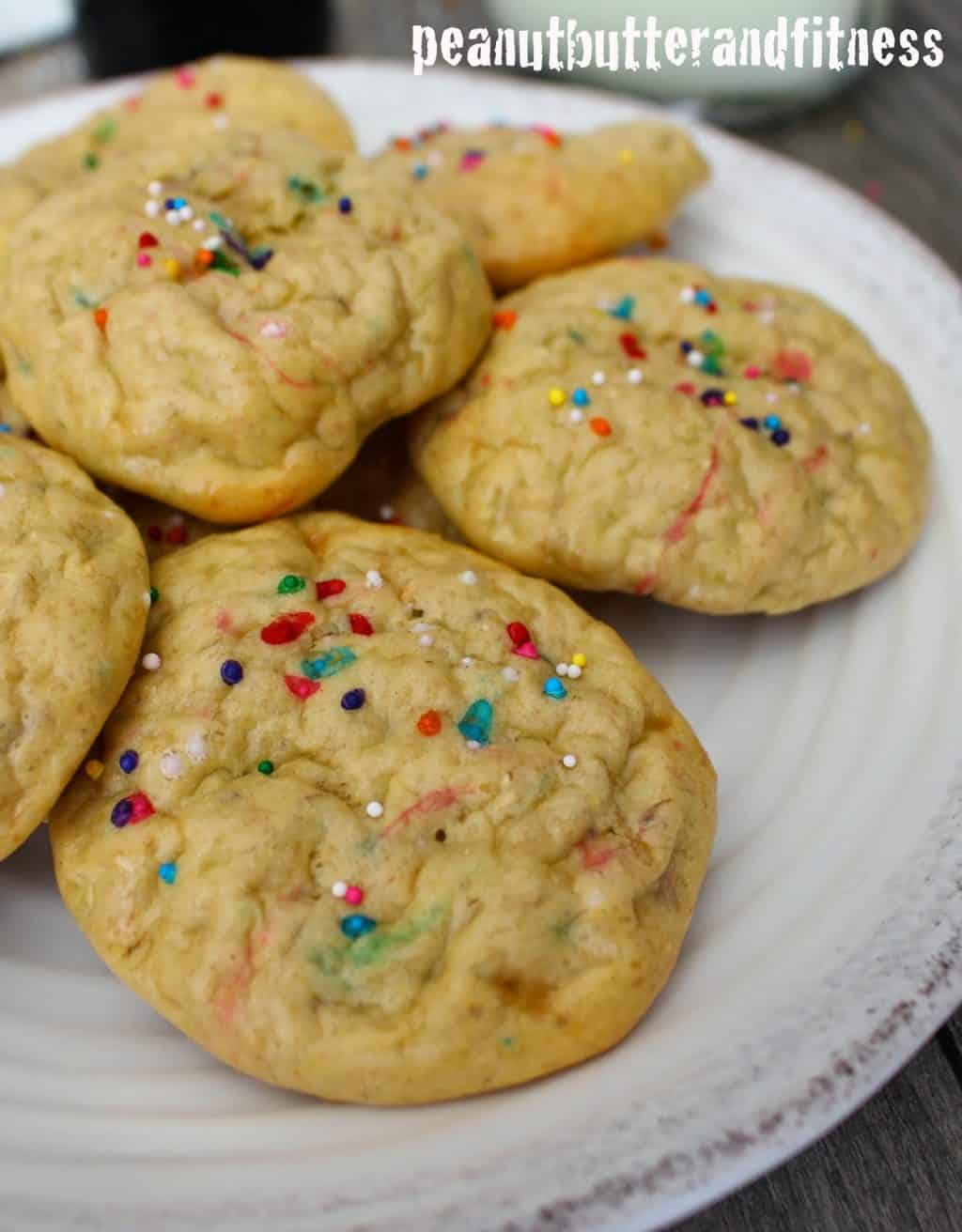 I think they look good with some extra sprinkles on top.  You can add more in the batter too if you want.  These aren't super sweet, so if you're into really sweet cookies, add a few packets of Truvia in there.  Add some milk on the side and you'll be golden 🙂