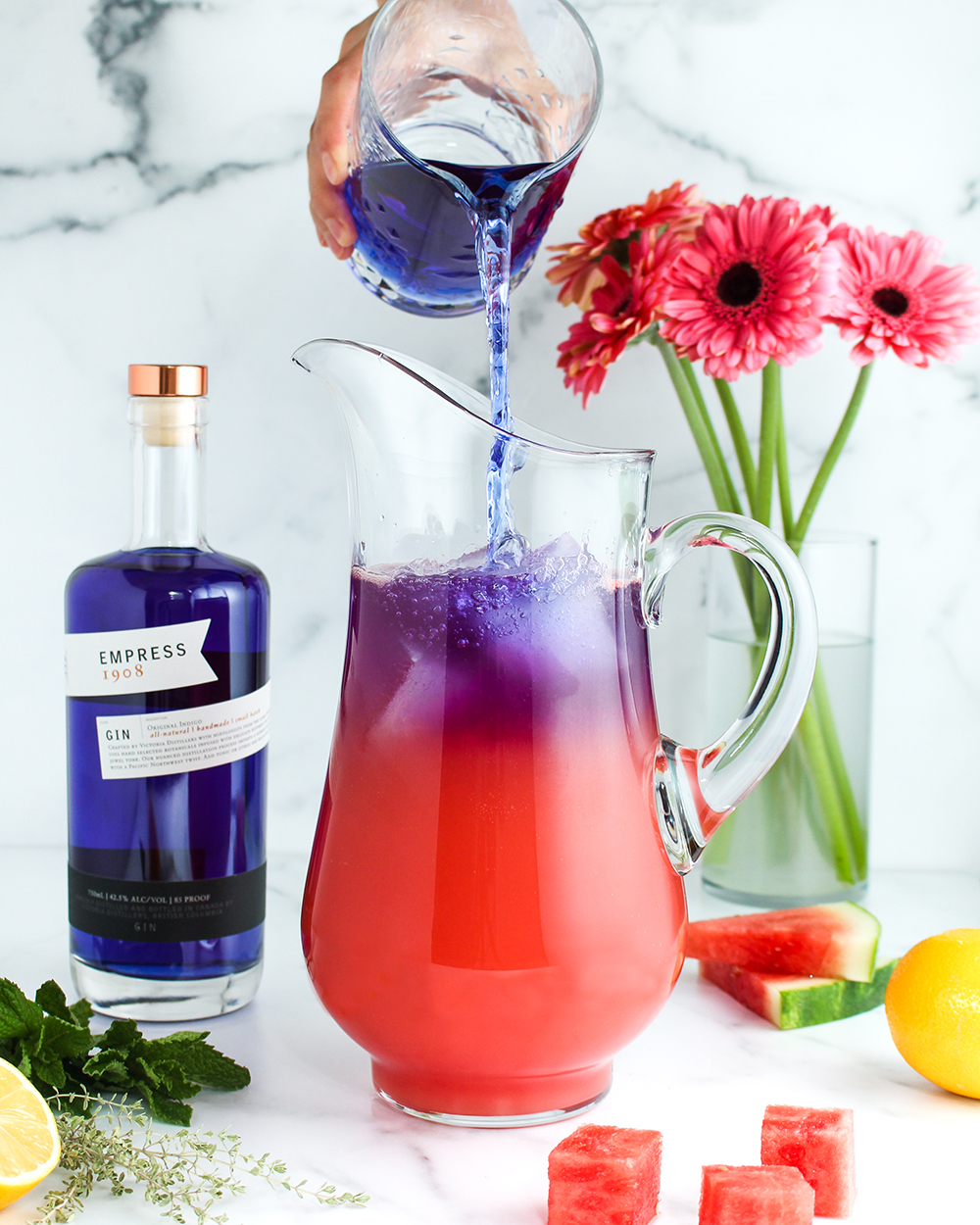 Happy Cocktail Friday, y'all! I'm still celebrating summer over here with this Big Batch Watermelon Lemonade Cocktail. It's perfect for what's going to be a steamy weekend here in the DC area – tall and refreshing! Plus, watermelon juice is incredibly easy to make (all you need is a blender!) and all I needed for this entire pitcher was about 1/2 of a watermelon. That left plenty for me and my friends to snack on 🙂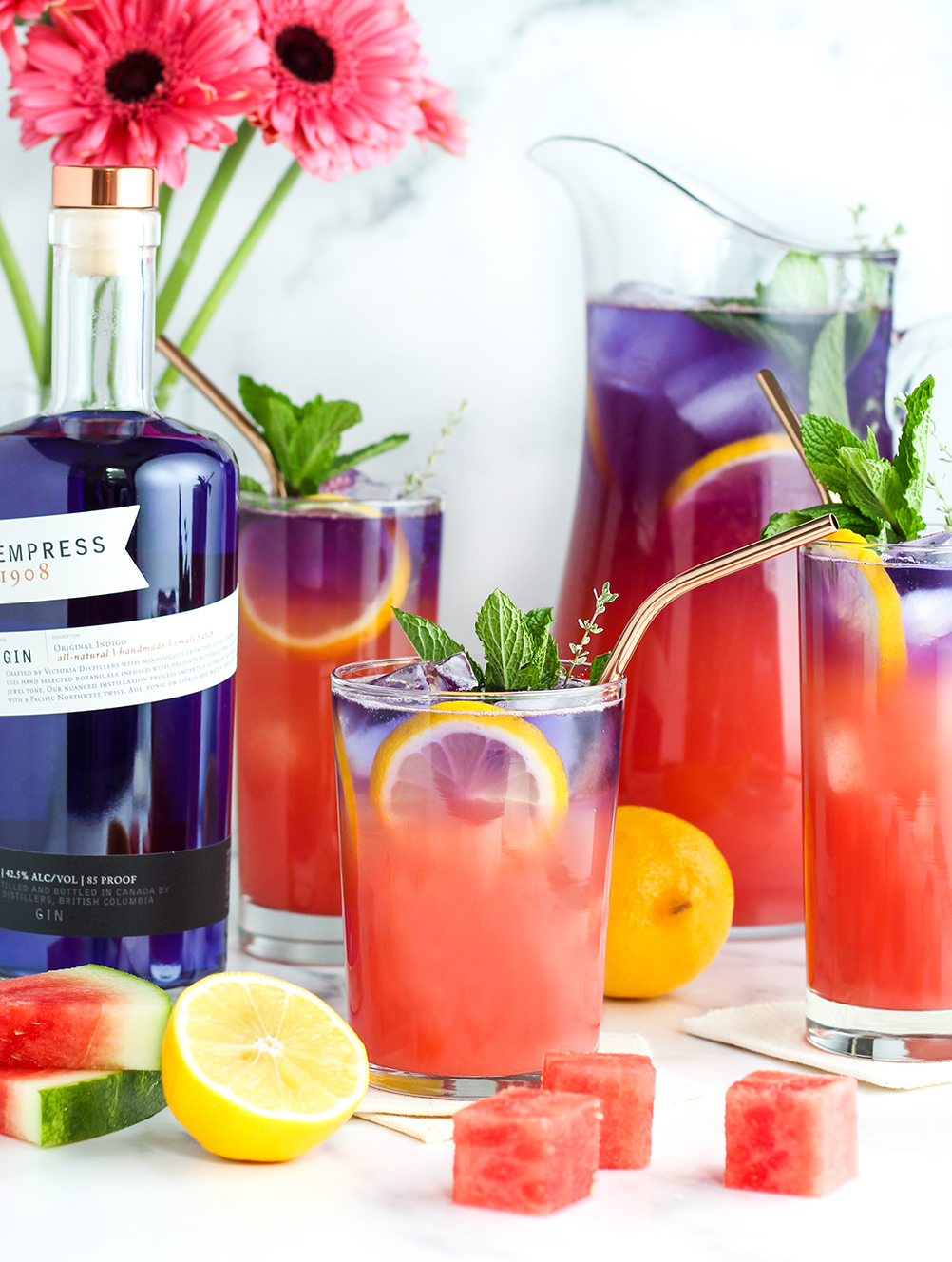 I love making layered cocktails with this beautiful indigo gin (Exhibit A and Exhibit B). I mean, come on – who isn't intrigued by a purple cocktail?? But once you stir it up, the result is often just as gorgeous!! In this case, the gin turns pink once it comes in contact with the lemon juice, which kind of just blends in to the pink of the watermelon. BUT! Your guests are sure to ooh and aah when you bring out a pitcher of layered deliciousness. Just be sure to stir it up before serving!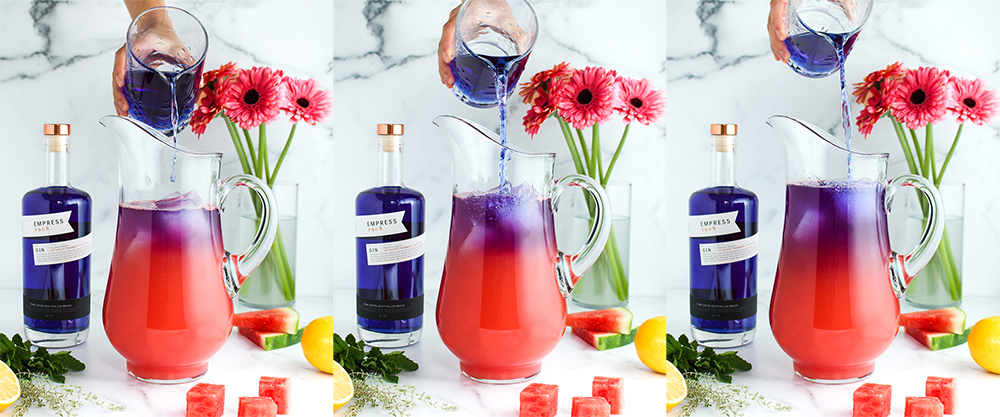 You know I had to add some fresh herbs to class this drink up and really add some depth of flavor. It'll be just as refreshing without the herbs, but you do miss out on the true cocktail experience without the complexity that they add.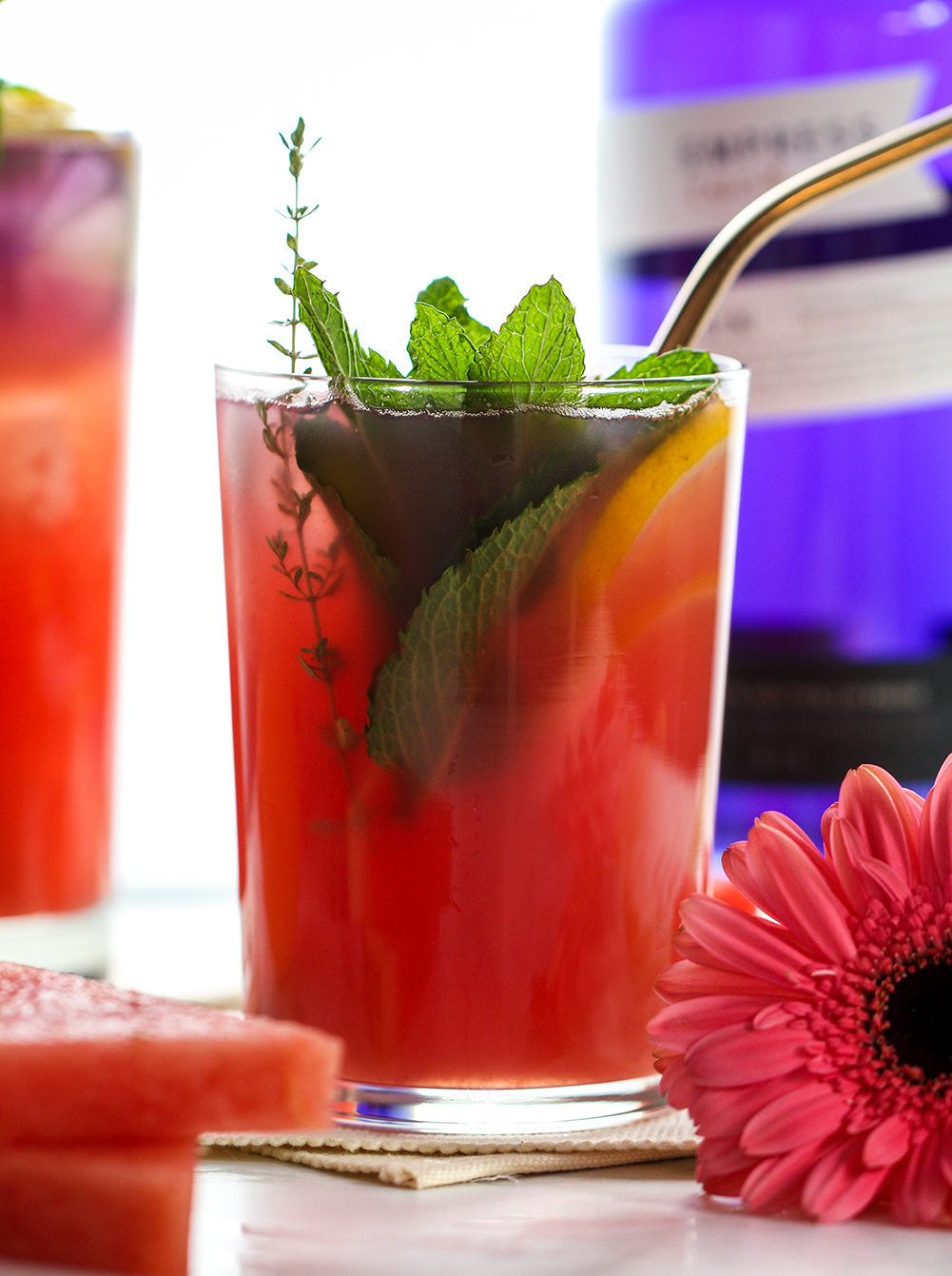 I partnered with Empress 1908 Gin to help bring you this stunner of a cocktail! I bought my own bottle of this butterfly pea flower infused gin before I ever worked with the company because it's so fun to create color changing cocktails with their gin. Plus it's really tasty even without the fun colors! Empress 1908 Gin is available for purchase on BottleRover.com.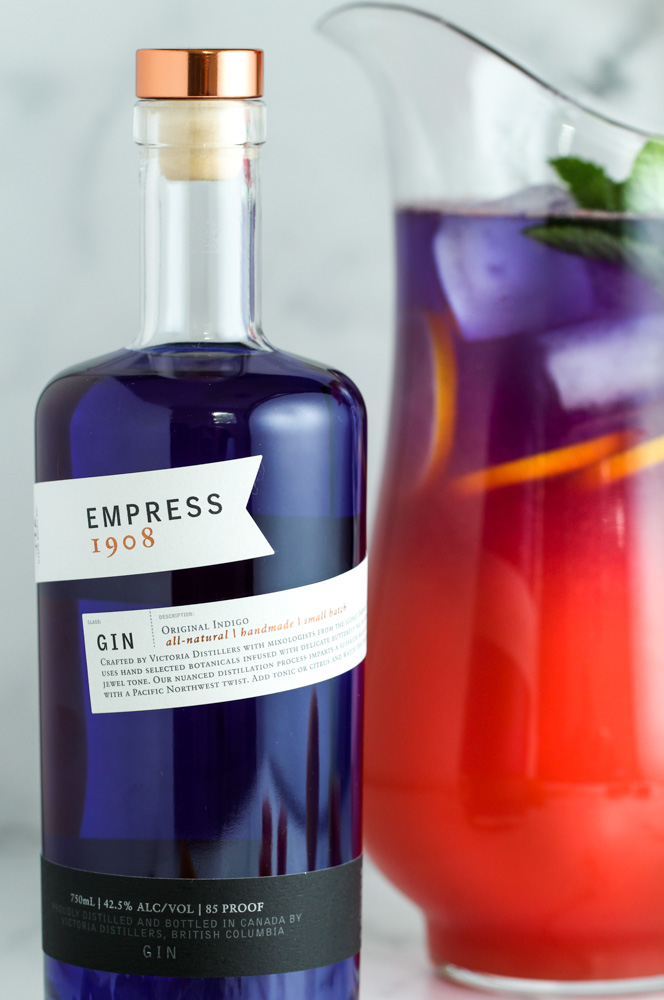 Recipe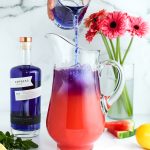 Big Batch Cocktails: Watermelon Lemonade
Prep Time 30 minutes
Total Time 30 minutes
Servings 14 servings
Calories per serving 198 kcal
Ingredients
28 oz watermelon juice (note 1)
28 oz sparkling water
21 oz Empress 1908 Gin
17.5 oz mint and thyme simple syrup (note 2)
14 oz lemon juice
Instructions
Add all ingredients except gin to a large pitcher and stir. Add ice, then top with gin for layered effect. Stir well before serving. Garnish with fresh mint and thyme.
Recipe Notes
Watermelon Juice: It takes about 6-7 cups of cubed watermelon to yield 4 cups of watermelon juice. Add the cubed watermelon to a high speed blender, then strain solids from the juice. Compost or dispose of the solids.
Mint and Thyme Simple Syrup: To make, heat 1 1/2 cups of water and 1 1/2 cups of sugar over medium-high heat, stirring until the sugar is dissolved. Remove from heat and add 3-4 sprigs each of mint and thyme. Cover and rest for 10 minutes, then remove the herbs and allow syrup to cool.
Nutrition Facts
Big Batch Cocktails: Watermelon Lemonade
Amount Per Serving (8 oz)
Calories 198
% Daily Value*
Potassium 32mg1%
Carbohydrates 28g9%
Sugar 28g31%
* Percent Daily Values are based on a 2000 calorie diet.
For my macro trackers out there, I wasn't able to create a My Fitness Pal barcode for this recipe since I would have had to decide for you whether to put the alcohol calories in as carbs or fats – that's up to you! The 28 grams of carbs listed here are just for the simple syrup and juices. For my non-macro trackers, here's more info on what I'm talking about.