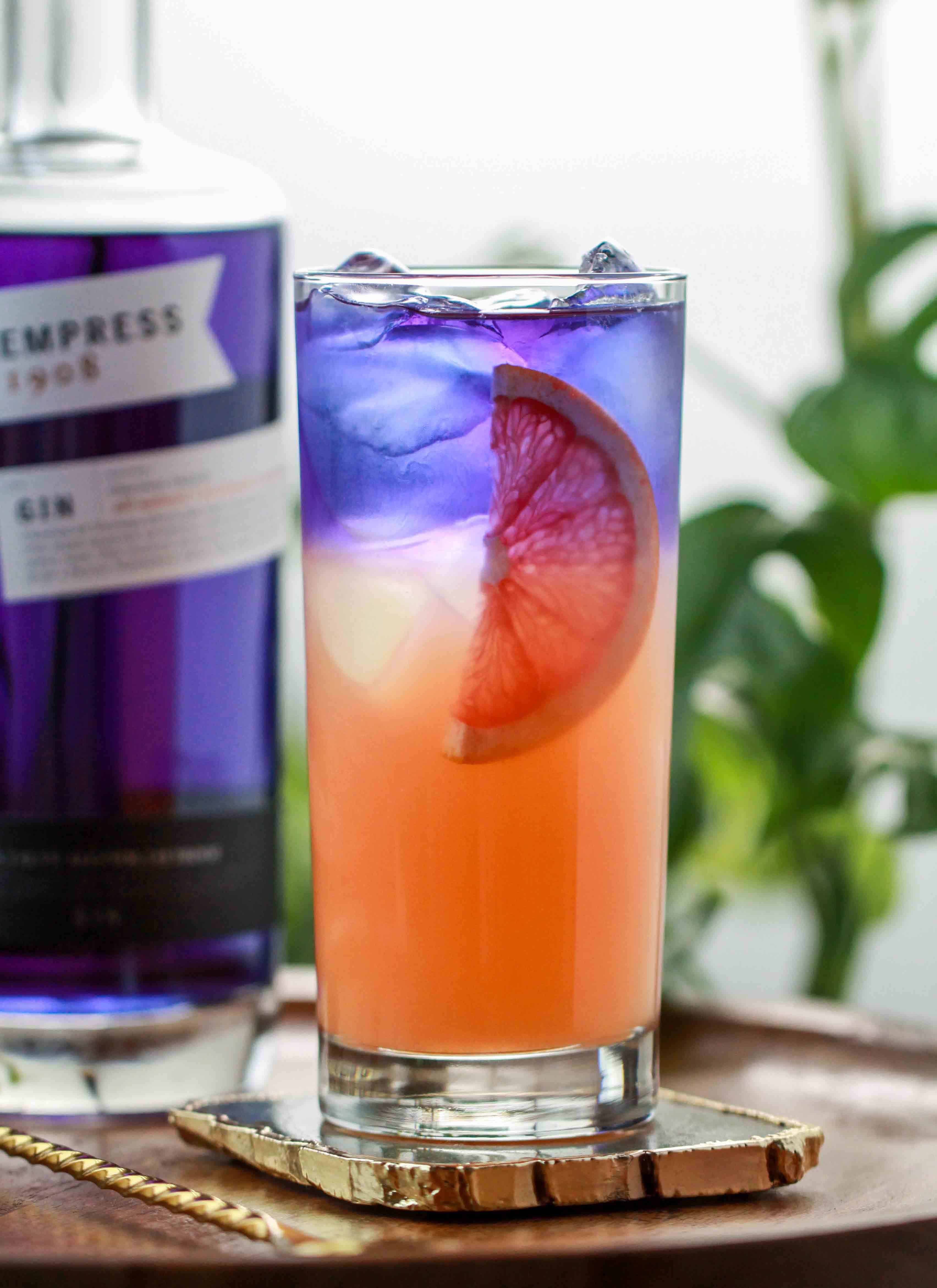 Jump to Recipe
Cheers to the end of 2020! Let's end it on a gorgeous (and purple) note with this Empress Grapefruit Collins. It's a perfect cocktail for celebrating New Year's Eve at home – beautiful but simple. Perfect for all the newfound home bartenders out there who want to impress their guests (or their significant other..or themselves) but don't want to put in too much work.
This drink is a play on the classic Tom Collins, which is a tall, cold, lemony, bubbly drink that's perfectly refreshing on a warm day. Typically they use less simple syrup than I recommend in my recipe below, so if you know you like a tart/sour Collins, just cut the simple syrup in half.
If you're not familiar with Empress Gin, now's the time to get acquainted! It's infused with butterfly pea flowers, which give it that incredible blue hue. Whenever it mixes with acid (like citrus juice), it changes color. You can see in the photo below the little wisps of purple coming off of the grapefruit slice where the gin is beginning to change color.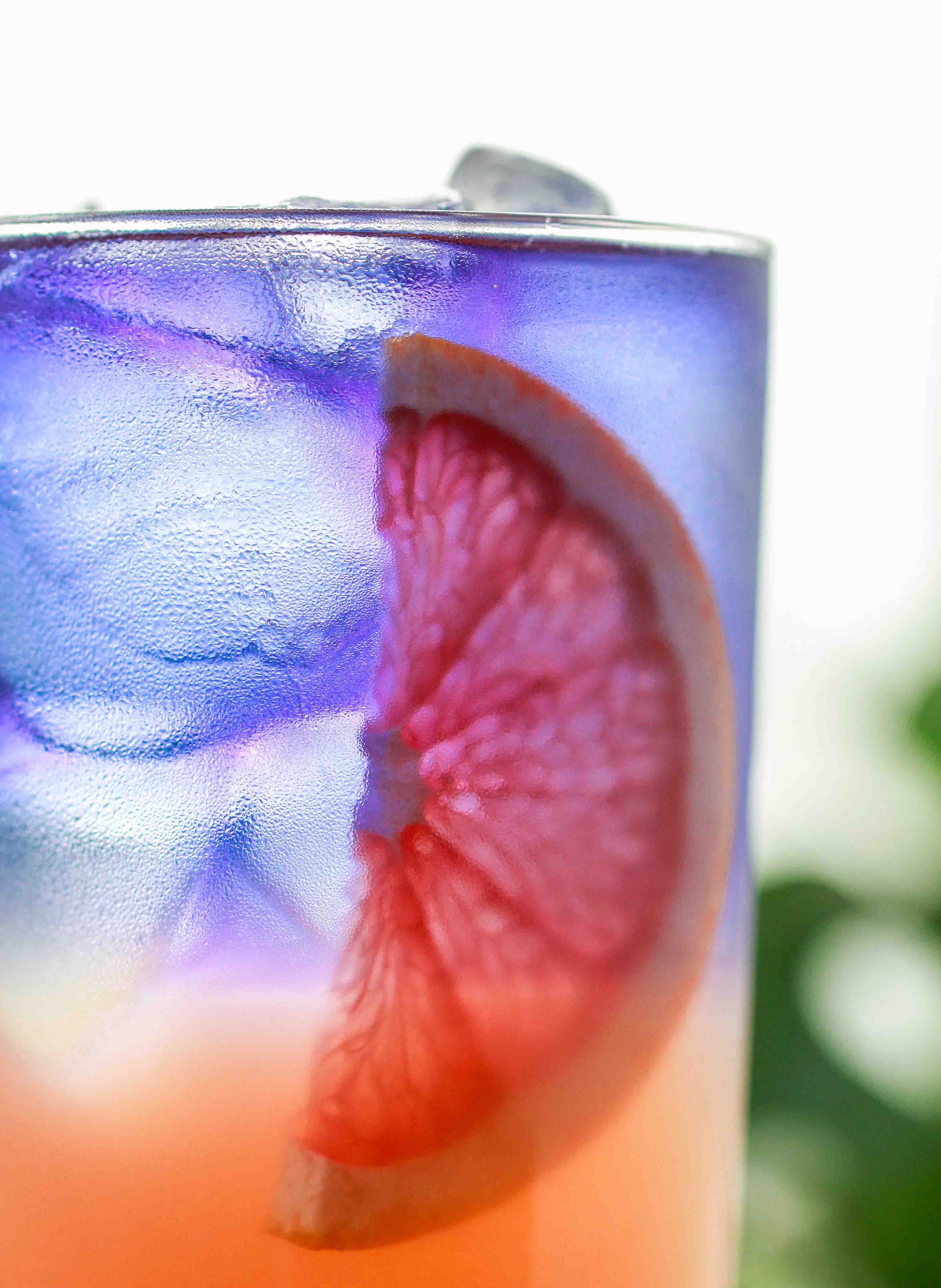 That drink condensation just looks so much sexier when the ice is truly clear, don't you think?! Clear ice is a sure way to class up a drink and is especially gorgeous when you use one giant ice cube with something like whiskey or a Negroni. For this one, I used a big square cube and chopped it up into pieces. I'll drop a link below to the clear ice maker I use – the science behind clear ice is that you need it to freeze really slowly so that all the sediments/minerals/etc. all freeze to the bottom and the clear cubes remain on top. They take a long time to actually freeze (~24 hours), but I think it's worth it to keep some stocked up in a resealable container in my freezer.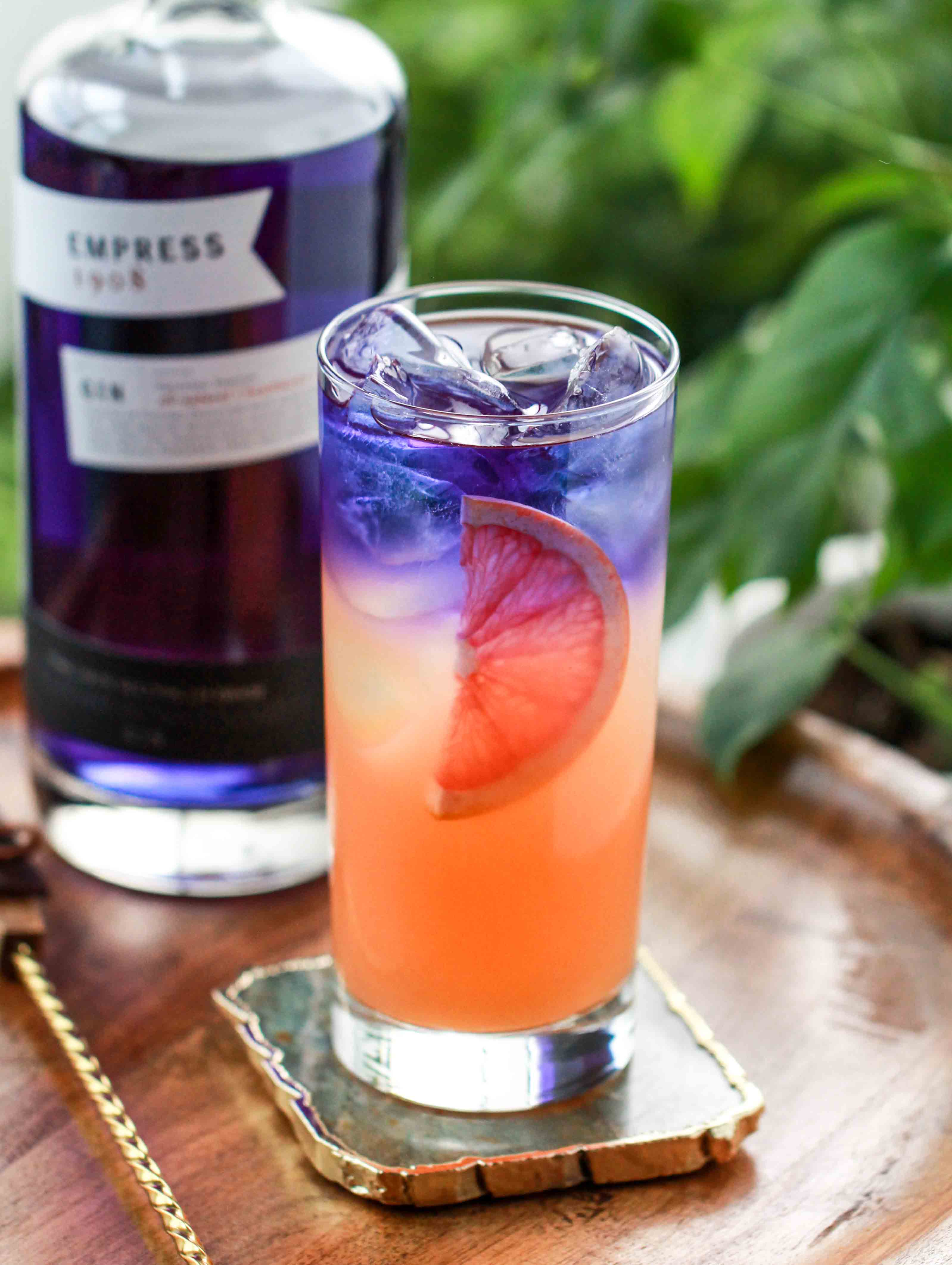 Is it just me, or does the ice look kind of fake in this photo because it's so clear and hasn't created any condensation on the glass yet?! I swear, it's real 😉
Here's some of the gear I used to make this drink. Note that these are Amazon Affiliate links.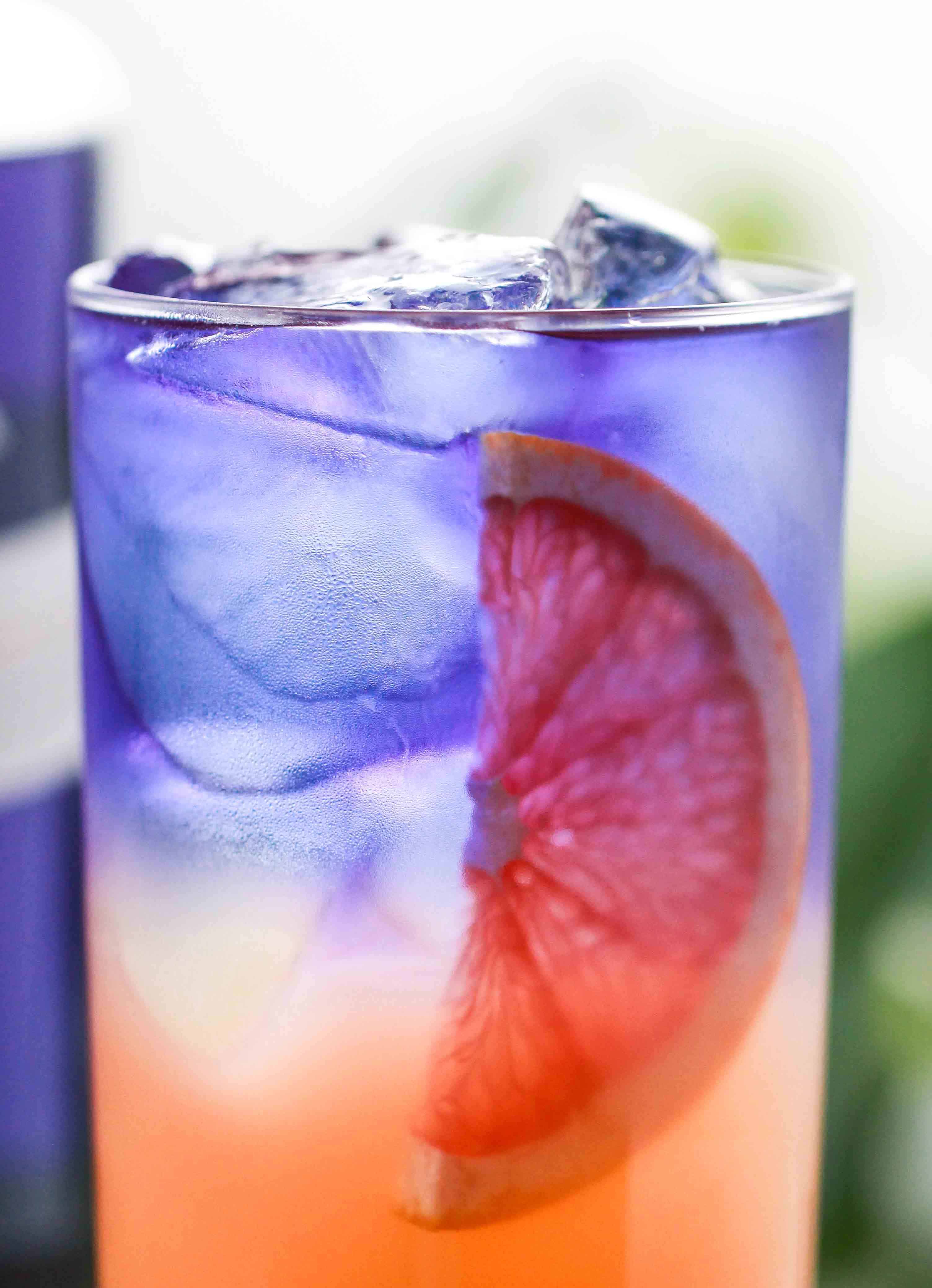 Here's how the drink should look once you fully mix it up! The color changing gin mixes with the grapefruit and lemon juices to leave you with a vibrant pink drink. Cheers!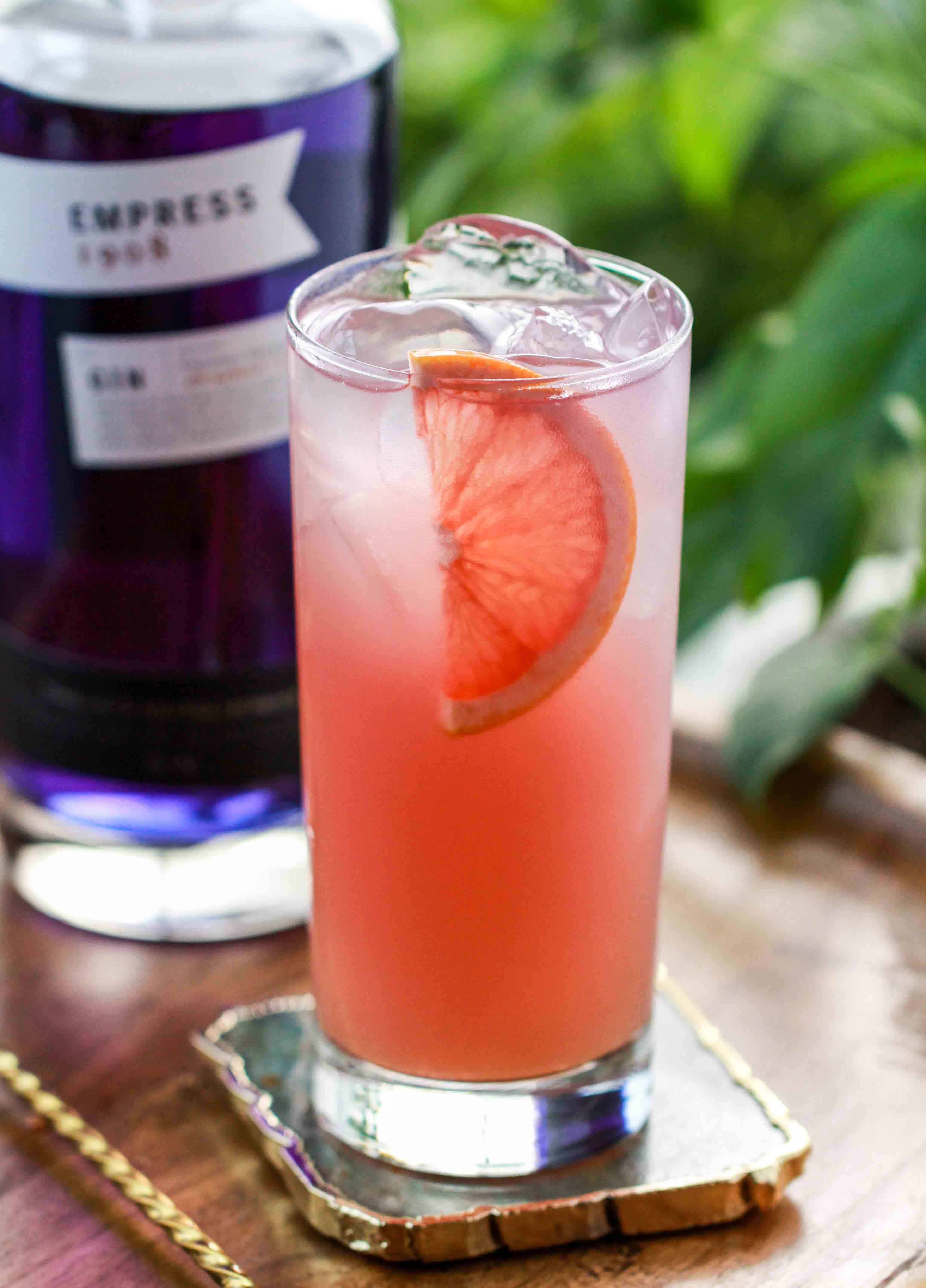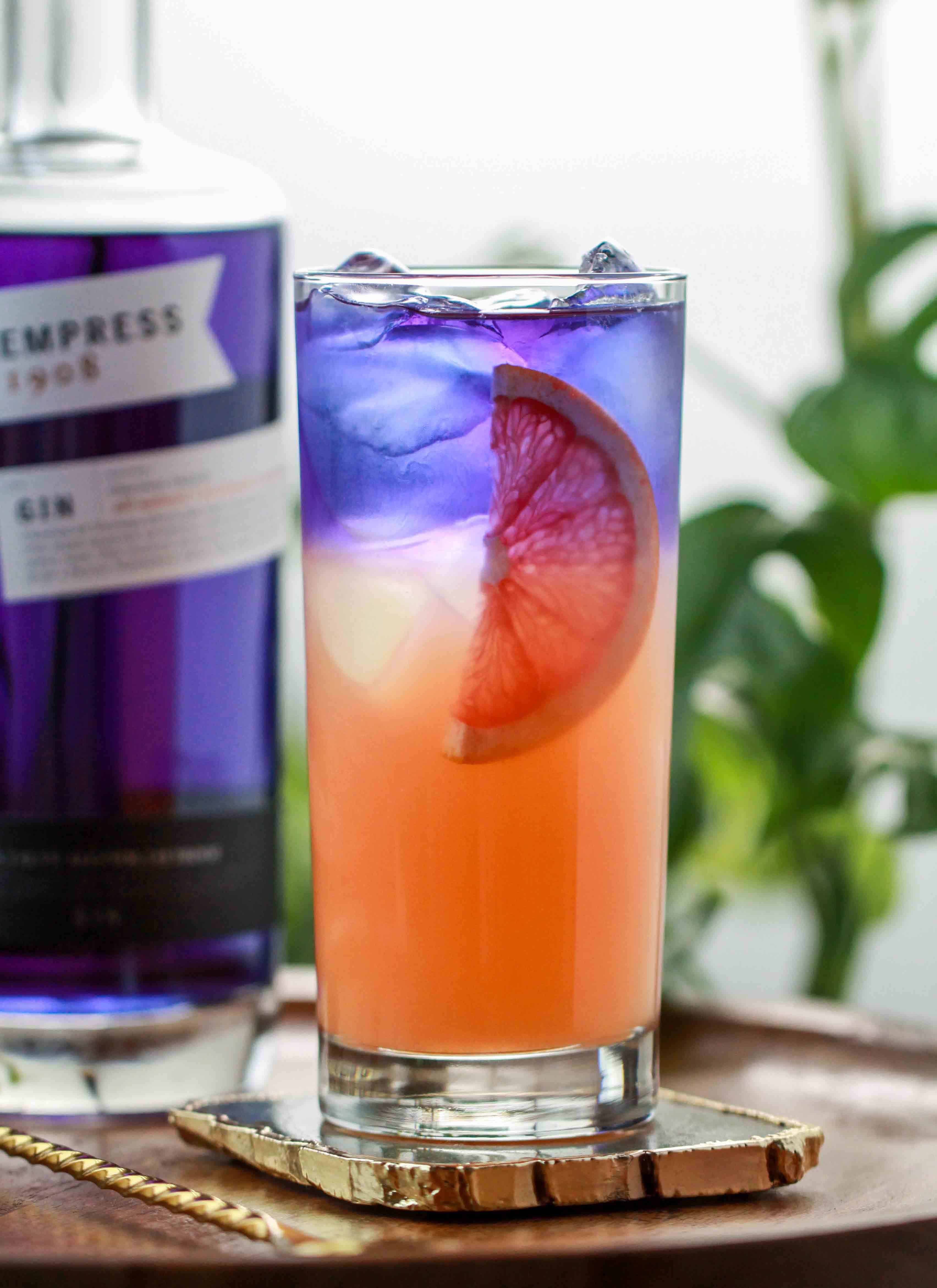 Empress Grapefruit Collins
Ingredients
4

oz

Empress Gin

4

oz

cold seltzer

3

oz

grapefruit juice

1

oz

lemon juice

2

oz

simple syrup

,

(see recipe in notes below)
Instructions
Add grapefruit juice, lemon juice, simple syrup, and cold seltzer to the bottom of a Collins glass. Stir to combine, then add ice cubes, ensuring there is about 1 to 1 1/2" of room remaining at the top of the glass (you'll need about 1 1/2" for a narrower glass and 1" for a wider glass).

Gently pour the Empress gin over top of the drink and garnish with a grapefruit slice before serving. Stir well to incorporate before drinking.
Tips & Tricks
For the Simple Syrup: add equal parts sugar and water (I used 1/2 cup honey and 1/2 cup water) to a small saucepan and bring to a boil over medium-high heat.  Lower heat to a simmer and stir to ensure the sugar is completely dissolved. Set aside to cool.
To add more complexity of flavor, use honey simple syrup instead of sugar based simple syrup.
Nutrition Information
Calories:
196
kcal
(10%)
,
Carbohydrates:
18
g
(6%)
,
Sodium:
2
mg
,
Potassium:
56
mg
(2%)
,
Sugar:
17
g
(19%)