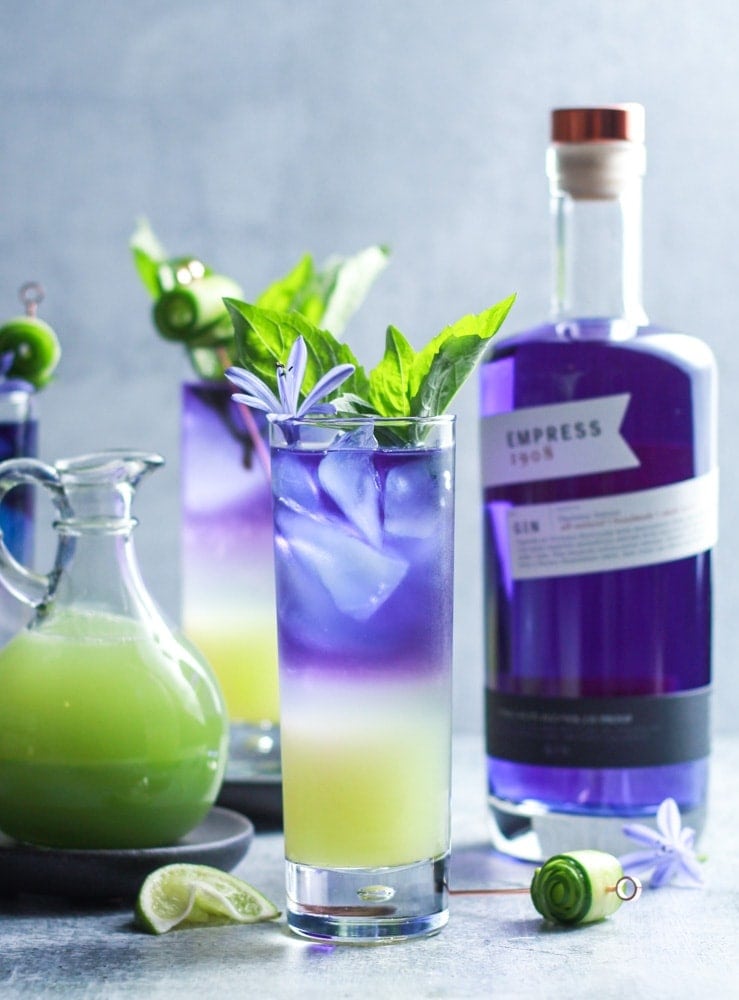 Jump to Recipe
Happy Cocktail Friday, friends! This Spring + Tonic Cocktail tastes fresh as a dewy garden in spring and features Empress 1908 Gin, cucumber juice, and basil-infused simple syrup. Plus tonic, of course! This isn't the gin and tonic that you'd expect, though. The addition of basil-infused simple syrup makes it slightly sweeter than most G&Ts, but I tested the heck out of it to ensure it's totally balanced. It's one of those cocktails that will make you say "dammit that's fresh" as you sip it over and over again 😉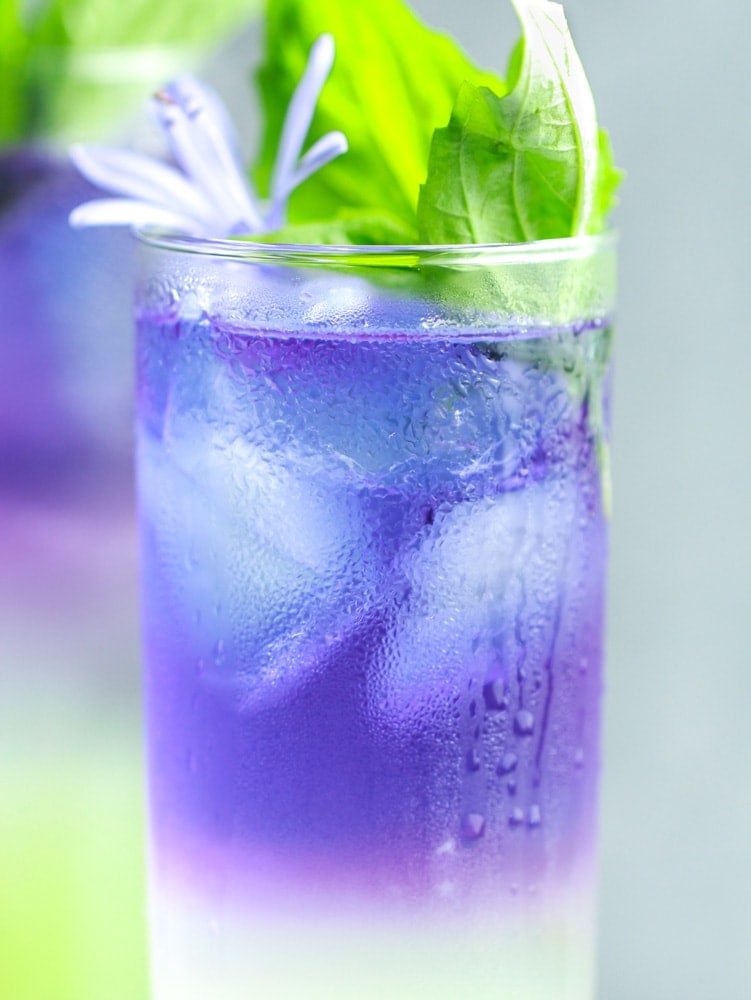 I love making layered cocktails with this beautiful indigo gin (Exhibit A). I mean, come on – who isn't intrigued by a purple cocktail?? But once you stir it up, the result is often just as gorgeous!! This one in particular turned into this ethereal pink that just hinted at a lavender color.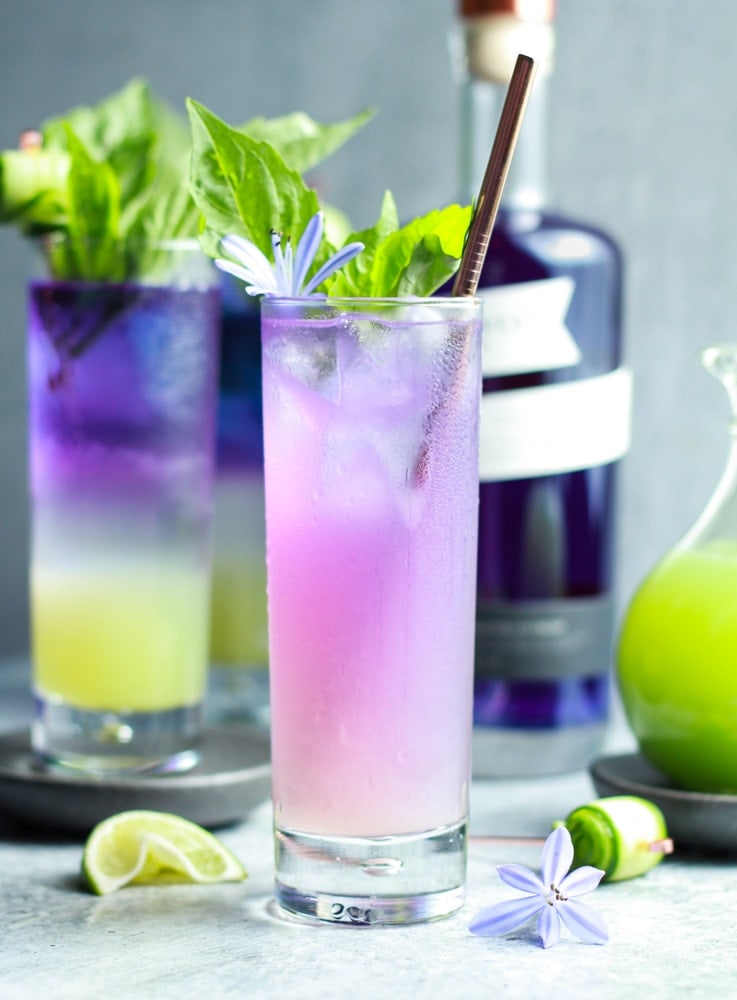 As for the cucumber juice in this drink, I went to a local juice bar here in San Antonio (Squeezers – they're great!) and asked for straight up cucumber juice. Two minutes later and voila! Cold pressed cucumber juice that is perfect for slinging drinks with. If you don't have a local juice bar to visit to get yours, you can also just take a chunk of peeled cucumber and stick it in a high speed blender or food processor and use a fine strainer or cheesecloth to strain out any remaining bits of cucumber flesh.
Another option – usually grocery stores carry some sort of green juice in the produce section that heavily features cucumber, maybe apple, and celery too. Those will work here, but the flavor will vary of course depending on the juice you get.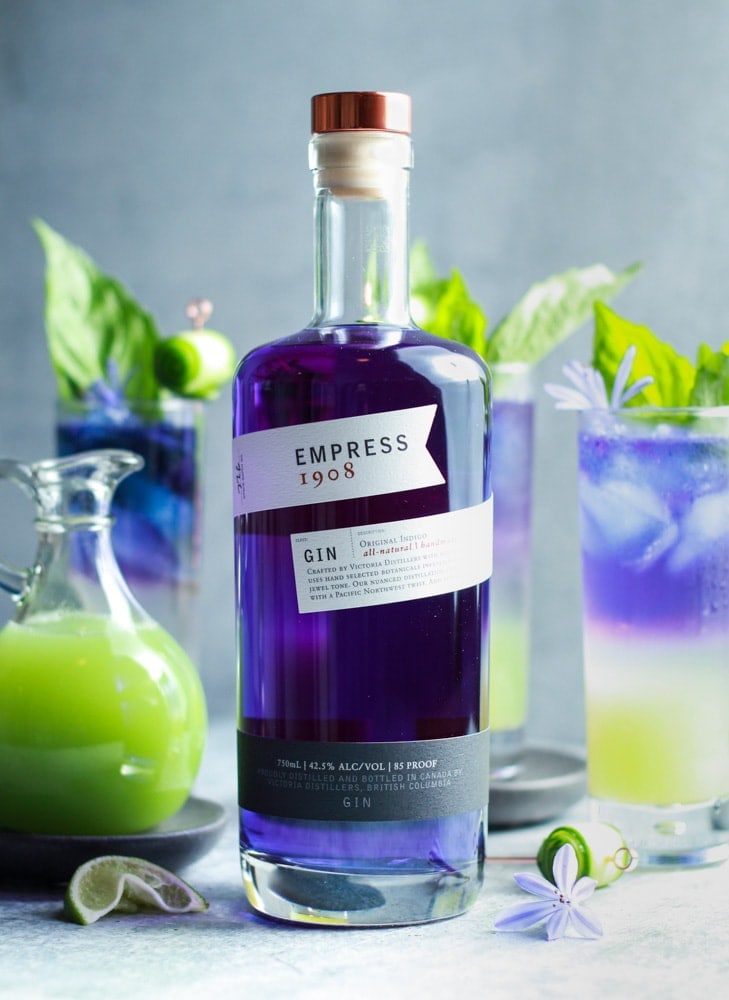 I partnered with Empress 1908 Gin to help bring you this stunner of a cocktail! I bought my own bottle of this butterfly pea flower infused gin before I ever worked with the company because it's so fun to create color changing cocktails with their gin. Plus it's really tasty even without the fun colors! Empress 1908 Gin is available for purchase on BottleRover.com.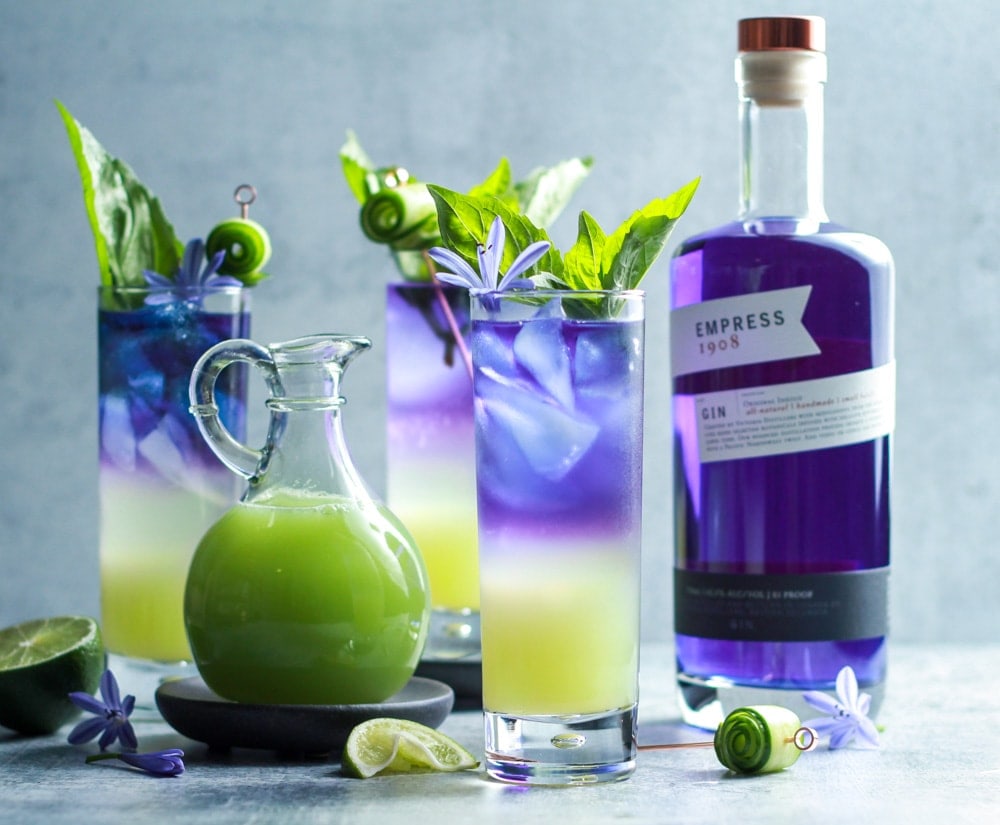 Here are some of the tools I used to create this cocktail! The first 2 items are for making clear ice at home (which I love) and the rest are beautiful rose gold cocktail accessories! Note: these are Amazon Affiliate links.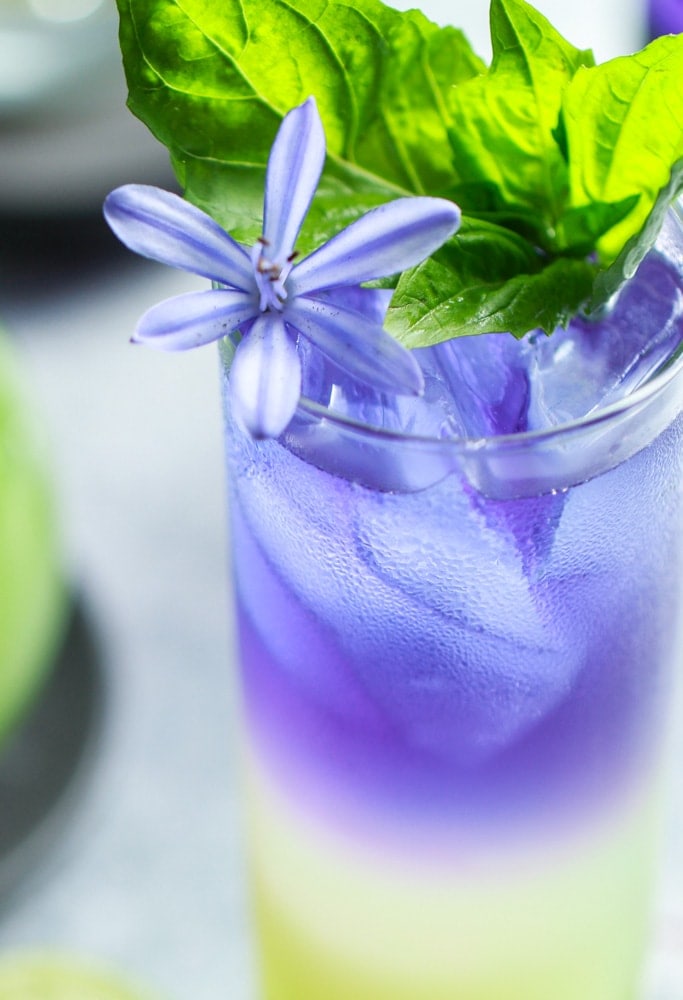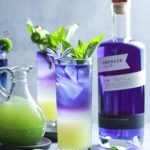 Spring + Tonic Cocktail
Servings 2 servings
Calories per serving 181 kcal
Ingredients
3 1/2 oz Empress 1908 Gin
1 1/2 oz cold pressed cucumber juice
1 1/2 oz lime juice
1 1/4 oz basil simple syrup (recipe in comments)
6 oz Fever Tree Refreshingly Light Tonic Water
Instructions
Divide cucumber juice, lime juice, and basil simple syrup evenly between two highball glasses. Add ice, then add tonic water and stir gently.

To float the Empress 1908 Gin on top of the other ingredients, gently pour the gin over the back of a bar spoon into the glasses.

Garnish with cucumber, lime, and basil leaves as desired. Be sure to stir completely before drinking!
Recipe Notes
Basil Simple Syrup: Add 1/2 cup granulated sugar and 1/2 cup water to a saucepan and bring to a boil over medium-high heat. Stir until the sugar is dissolved and remove from heat. Add 6-8 basil leaves, stir, and cover the saucepan. Rest for 10 minutes, remove the basil leaves and set aside to cool.
Nutrition Facts
Spring + Tonic Cocktail
Amount Per Serving
Calories 181
% Daily Value*
Potassium 58mg2%
Carbohydrates 14g5%
Sugar 11g12%
* Percent Daily Values are based on a 2000 calorie diet.
For my macro trackers out there, I wasn't able to create a My Fitness Pal barcode for this recipe since I would have had to decide for you whether to put the alcohol calories in as carbs or fats – that's up to you!  The 14 grams of carbs listed here are just for the simple syrup, tonic water, and juices.  For my non-macro trackers, here's more info on what I'm talking about.