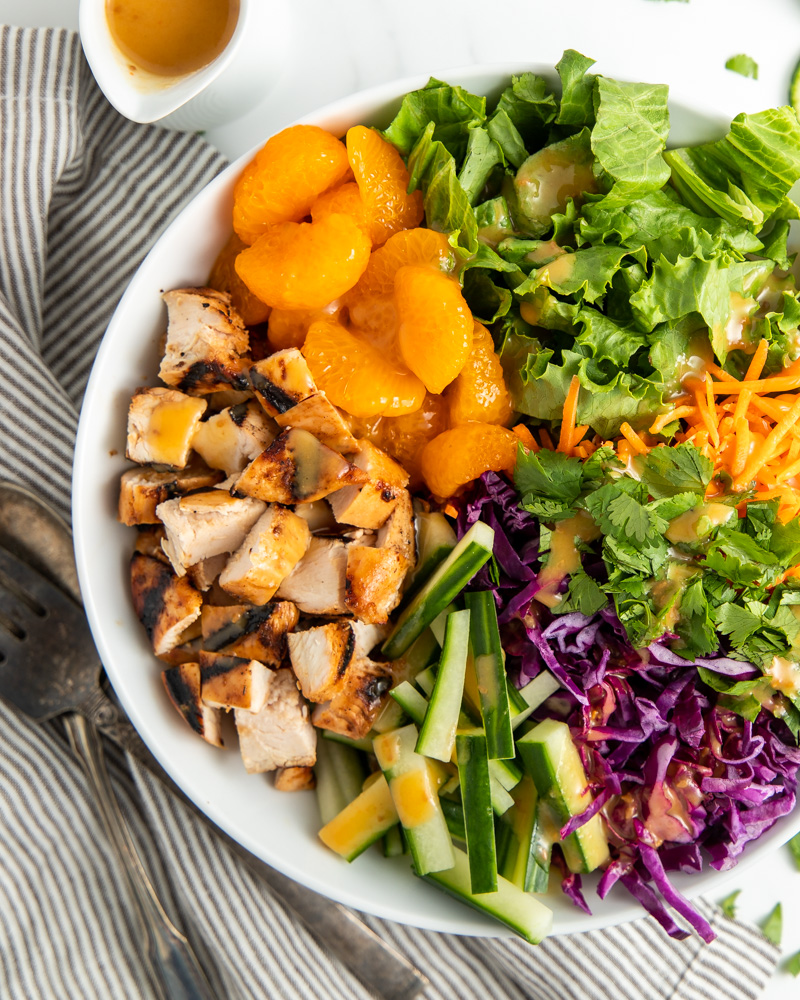 This bright, fresh Asian Chicken Salad is made with citrus ginger marinated chicken and topped with sesame ginger dressing. And it's great for meal prep!
Don't beat me up about the generic "Asian" description in the recipe name…it's really just Asian inspired and totally Americanized, but also really delicious to my tastebuds!
This recipe is actually a revamped version of the Chinese Chicken Salad recipe from my 2nd meal prep eBook, The Art of Meal Prep 2. By using store bought marinade and dressing, I just made it a much easier (and faster) recipe to make at home. You can, of course, make those things yourself to save money – just search on Google or Pinterest for those sauces. I also updated my meal prep storage tips for the salad to make sure it stays fresh all week. Check it out below…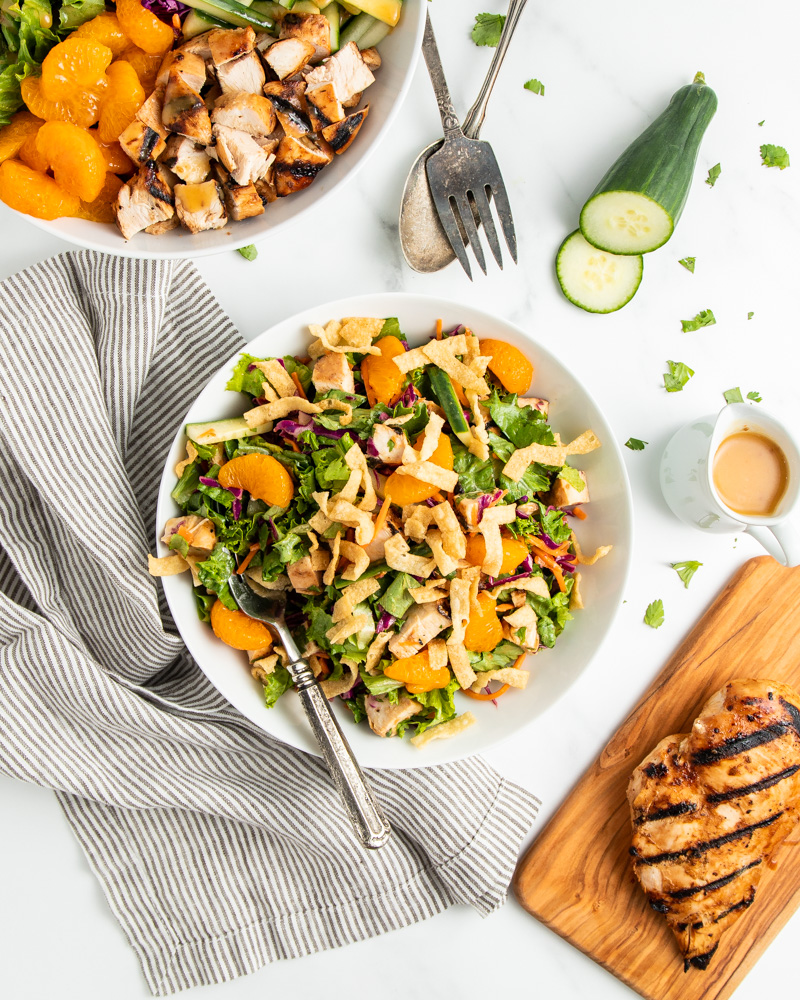 Ingredients & Substitutions
Here's what you'll need to make this recipe:
Chicken – I use chicken breasts for this recipe. If they are really thick on one end, be sure to pound them down (before marinating) to make sure they will cook evenly. It will also help the citrus ginger flavor seep in evenly while marinating.
Lettuce – I love green leaf lettuce for this salad. It's a lot like romaine hearts, but with more green and less crunchy white pieces. It's my favorite!
Red cabbage – This gives a great crunch to the salad, plus you can't beat the color. It's also a good source of vitamin K and fiber
Matchstick carrots – Bright, fresh, and lightly sweet, the carrots add even more crunch and veggie deliciousness.
Cucumber – I really like using English cucumbers, especially when I'm meal prepping. They are virtually seedless and produce a lot less water, which helps keep them from getting slimy. The skin is thinner and they're also sweeter than regular cucumbers.
Mandarin oranges – The crown jewel of this salad, I love the pop of juicy, tart, sweetness that these little slices of citrus bring to the party. Plus, they're rich in vitamin C!
Cilantro – Dubbed "Chinese parsley," cilantro is one of those herbs that people tend to love or hate. It's bright and fresh, a little citrusy, and apparently some people think it tastes like soap. I personally love it and think it brings a great flavor this salad, but you can always omit it if cilantro isn't your jam.
Sesame ginger dressing – This is a pretty common dressing to find in the store and many brands make their own version. I used the Wegmans version, but Primal Kitchen makes one, as does Annie's. Take a look in your grocery store and I bet you'll find one there too!
Citrus ginger marinade – I used a Wegmans version of this too, but there are a lot of options here. You could use the salad dressing as a marinade, though a lot of salad dressings won't give you as much flavor as a dedicated marinade. You can also use something simple and easy like this marinade mix that you just add juice to mix it all up. It didn't bother me to buy a dedicated bottle of marinade because I know I'll use up the rest when I make this recipe again.
Fried wonton strips – find these in the dressing section of the grocery store, right next to the croutons. These add a great crunch to the salad!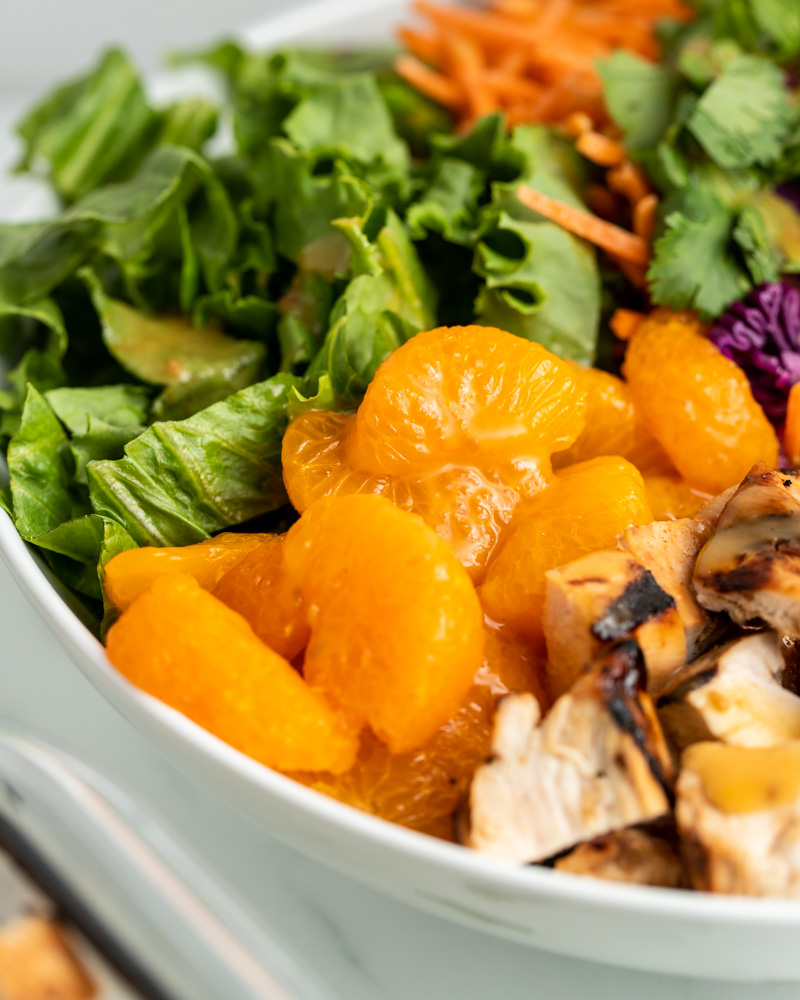 Tips for Meal Prepping Salad
I won't repeat the entirety of my "How to Meal Prep Salads that Stay Fresh All Week" post here, but I do want to touch on a few posts for this salad specifically.
Containers. First of all, if you're someone who routinely meal preps salads like me, I can't recommend enough for you to buy a dedicated salad prep container. There are a lot on the market, but I personally love my Rubbermaid Brilliance containers. They're not cheap, but I've had mine for going on 5 years now and they're still in great shape. They're also actually much cheaper if you buy them as part of a set. If you're not ready to commit to that, check these out for a more budget friendly option.
Keeping Ingredients Separated. In this recipe, the lettuce, cabbage, carrots, and cilantro can touch without much issue. Put a piece of paper towel under the lettuce in the container base to help absorb any excess moisture.
The cucumbers and Mandarin oranges can also touch, though I wouldn't put on on top of the other since the cucumber can get gross that way. You can also place a little piece of paper towel under these guys if you'd like.
Finally, keep the chicken separated from the fruits/veggies and be sure to put the dressing in it's own little container until you're ready to eat. You should also keep the wontons out of the fridge because they will definitely get soggy otherwise!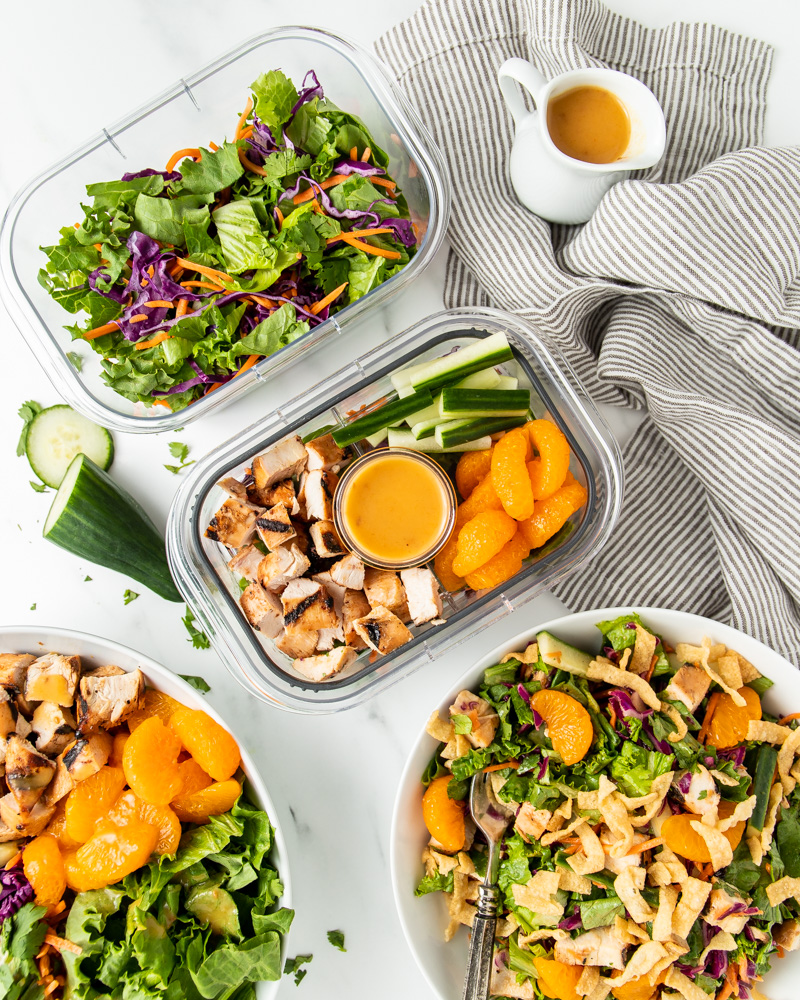 Shop for this Recipe
Here are some items I used to make this recipe a success. Note: these are Amazon Affiliate links.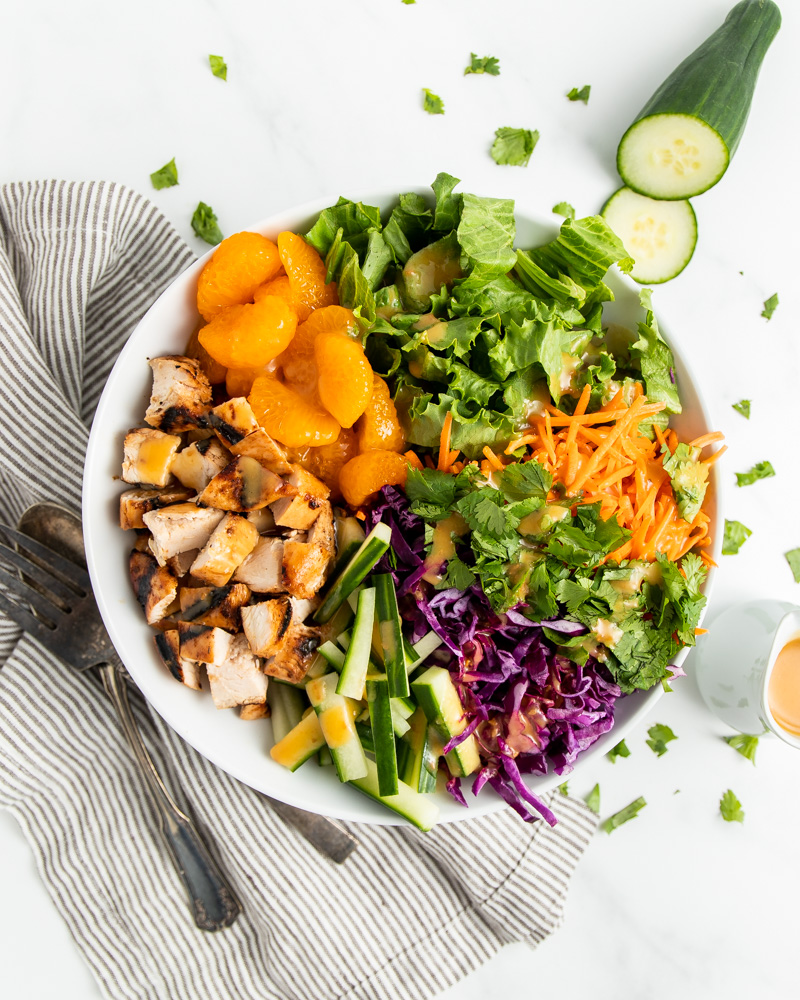 Recipe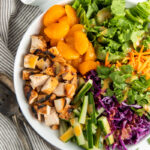 Asian Chicken Salad
Prep Time 20 minutes
Cook Time 12 minutes
Total Time 32 minutes
Servings 4 servings
Calories per serving 372 kcal
Ingredients
1 lb chicken breast, raw
8 cups green leaf lettuce, chopped (290 grams)
2 cups red cabbage, shredded (170 grams)
1 1/2 cups English cucumber, julienned (180 grams)
1 cup matchstick carrots (125 grams)
1/3 cup cilantro, chopped (6 grams)
4 4 oz cups mandarin oranges (in water or juice), drained
1/2 cup fried wonton strips (28 grams)
1/2 cup Wegmans Spicy Citrus Ginger Sauce (4 fl oz)
1/2 cup Wegmans Sesame Ginger Dressing (4 fl oz)
Instructions
Marinate chicken. Add chicken breasts and 1/2 cup of Wegmans Spicy Citrus Ginger Sauce to a resealable bag. Seal the bag and massage the chicken and sauce around to distribute the sauce and coat the chicken evenly. Set aside in the refrigerator to marinate for at least 2 hours or up to overnight.

Prepare salad ingredients. If meal prepping, add a piece of paper towel to the bottom of your 4 salad containers, then divide lettuce among the containers. Top with shredded cabbage, matchstick carrots, and cilantro.

In the salad tray or divided section of the container, add mandarin oranges and cucumbers. Divide the dressing among the dressing containers and seal. Set salad ingredients aside in the refrigerator.

Grill the chicken. Pre-heat grill to 400° and spray grill grates with non-stick grill spray or rub the grates with vegetable oil. Allow excess marinade to drip off of chicken, then add to hot grill. Grill 6 minutes on first side, then flip and continue grilling for 4-6 minutes or until internal temperature just reaches 165°.

Finish assembling salad. Allow chicken to rest for 5 minutes before slicing and adding to the dedicated/divided section in your salad container, so that it does not touch any other ingredients.

Serve. When ready to eat, heat chicken for 30 seconds, then mix all ingredients and top with fried wonton strips.
Recipe Notes
Click here or scan the barcode below to log this food in My Fitness Pal.
Nutrition Facts
Asian Chicken Salad
Amount Per Serving
Calories 372 Calories from Fat 117
% Daily Value*
Fat 13g20%
Cholesterol 66mg22%
Sodium 526mg23%
Potassium 889mg25%
Carbohydrates 34g11%
Fiber 3g13%
Sugar 19g21%
Protein 39g78%
* Percent Daily Values are based on a 2000 calorie diet.