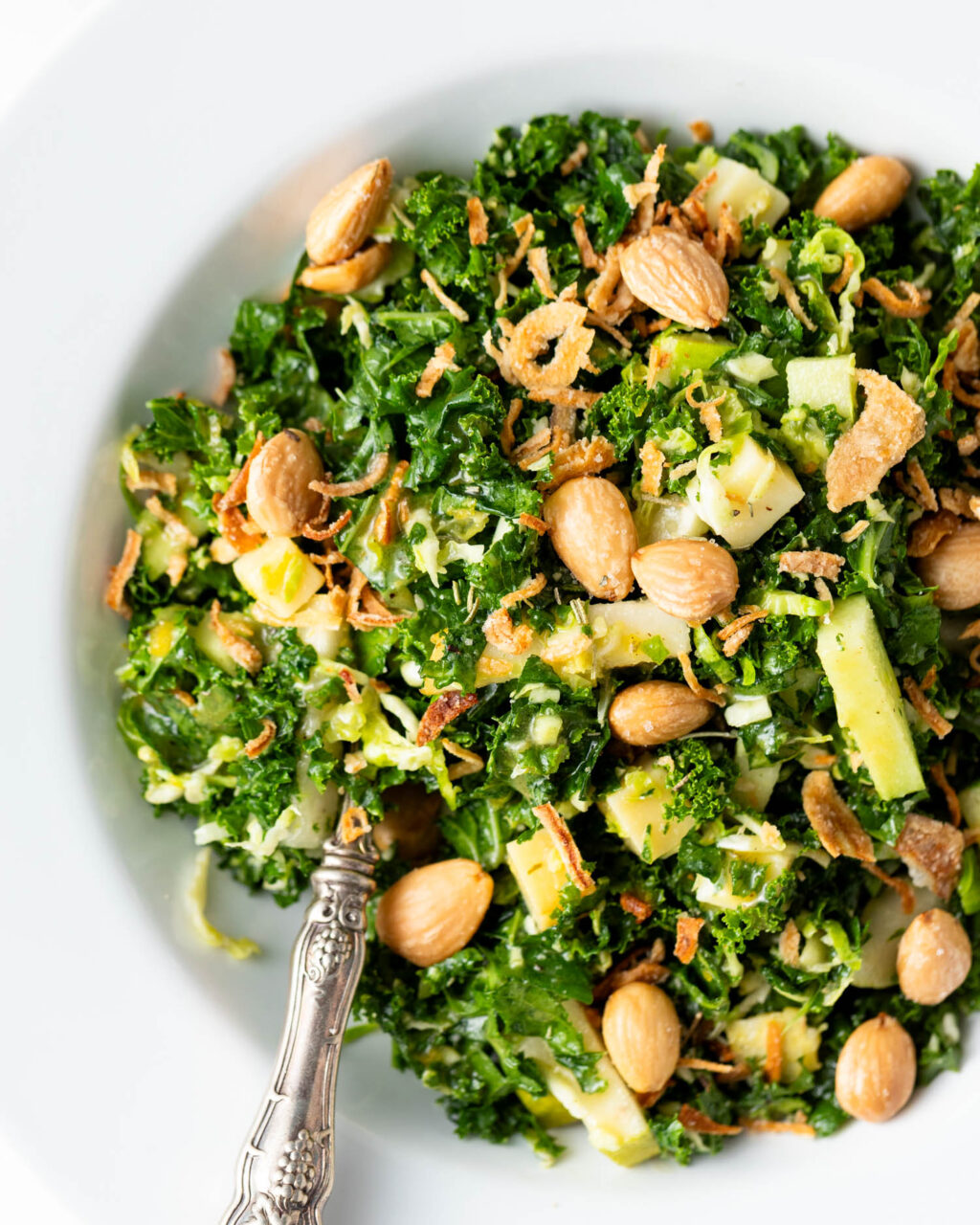 Salads, I get it, they're usually just the sidekicks on our plates and rarely win a prime time spot on your Thanksgiving table. But this Apple & Pear Chopped Kale Salad is here to break the rules and make you rethink your holiday menu pecking order. This isn't your average salad either – it's got greens finely chopped and shredded to perfection to make it super crave worthy and have you coming back for seconds, thirds, and maybe even fourths.
So, picture this: a mix of finely chopped kale and shredded Brussels sprouts, sweet apple and juicy pear slices. Now, throw in some creamy, apple-smoked cheddar cheese, a handful of rosemary Marcona almonds for that satisfying crunch, and a generous sprinkling of crispy fried onions for that extra zing. And then, there's the dressing – a sweet and tangy Apple Crisp Dressing that brings the whole thing together in one big burst of flavor on your fork.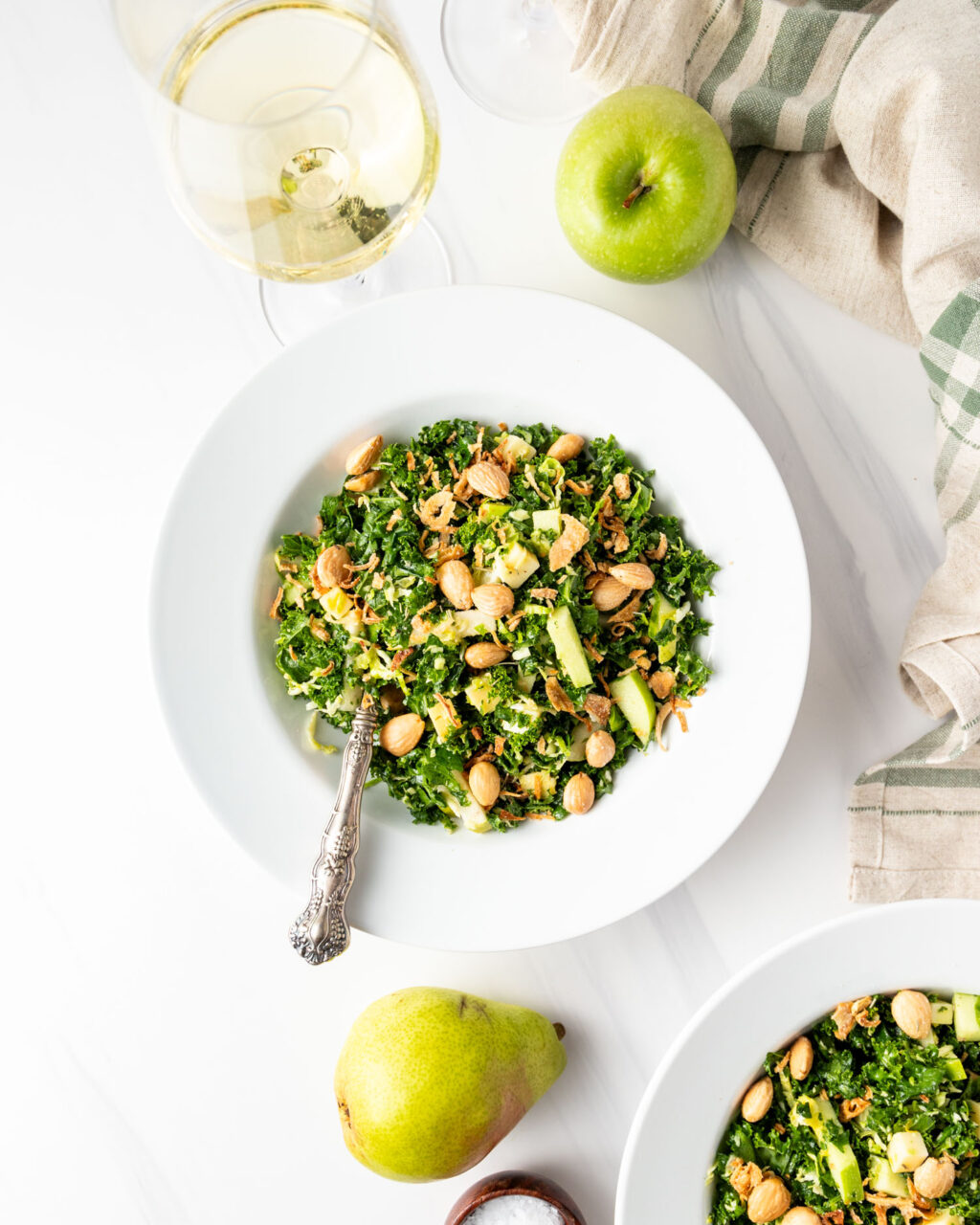 Tips for Using a Food Processor
Unless you're an alum from the Chopt restaurant chain, chances are you don't have one of those crazy salad chopping knives around to help you create a perfectly crave worthy chopped salad. If you do have one of those knives, feel free to disregard this section and do what you do! Otherwise, stick with me and let's talk about how to make your food processor do the hard work for you. Aside from minimizing your time in the kitchen doing fine knife work, the other thing I love about using a food processor is how consistent the results are. You get perfectly even slices and chops every time with basically zero effort. #winning
Brussels sprouts – For perfectly shredded Brussels sprouts, (carefully) throw the slicing blade on your food processor. Trim the brownish looking ends off the brussels sprouts, then load them up into the feed tube of the food processor. They should basically sit on top of the blade until you're ready to hit the Pulse button. Be sure to use the feeder insert for safety and to help push the Brussels down onto the blade as it slices. Once you've got the feeder tube loaded up and ready to go, hit the Pulse button and gently push down with feeder insert to get all the sprouts through the blade. That's it! Super, ridiculously easy. Repeat the process until you've gotten through your Brussels sprouts – this may only take one or two batches depending on how big your food processor's feed tube is.
Kale – Unlike the Brussels sprouts, the kale just needs a few pulses with the regular blade in your food processor. Pulse it several times for maybe 5-10 seconds until the kale pieces are about 1/2-3/4″. You'll probably need to do this in batches depending on the size of your food processor.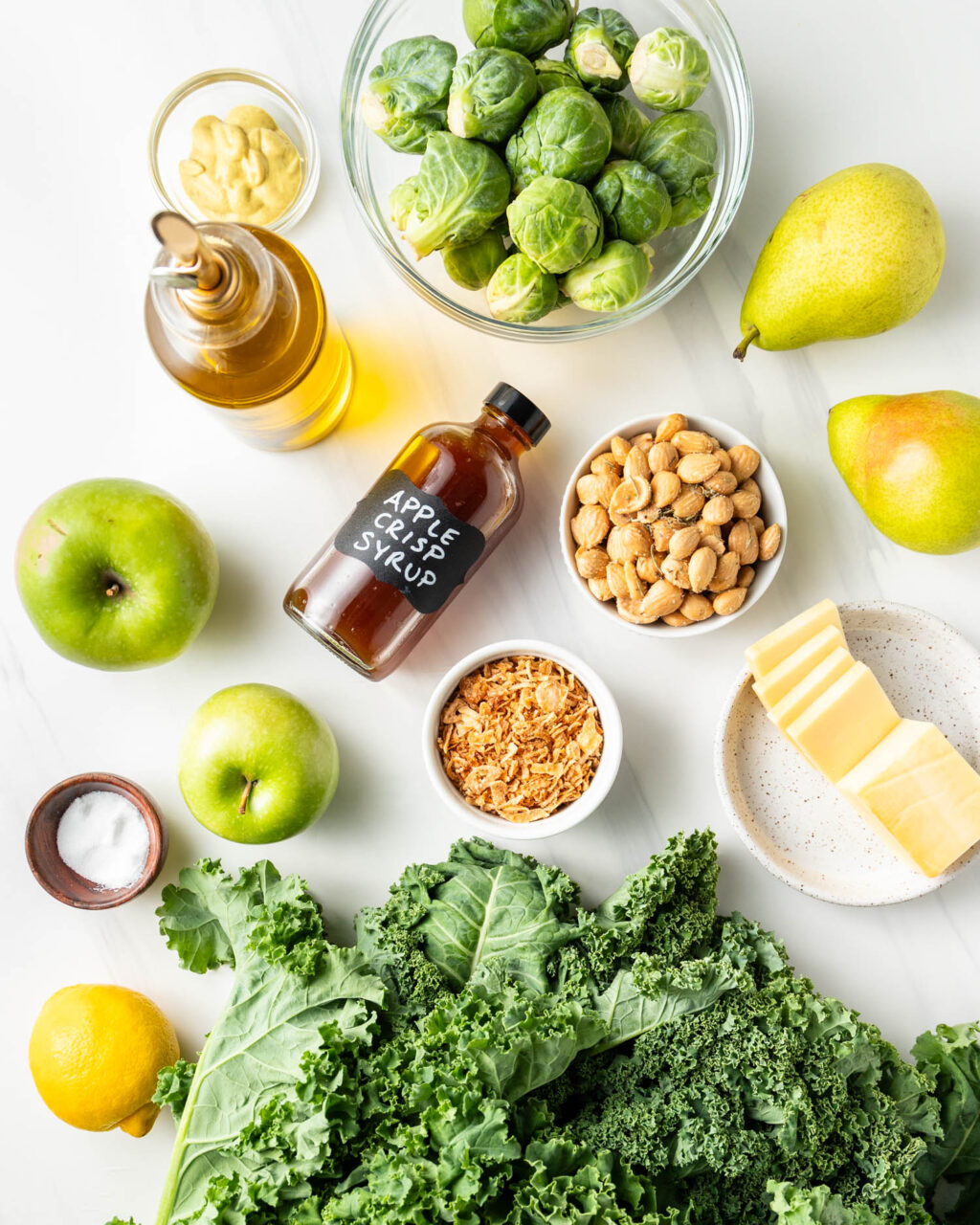 Ingredients and Substitutions
Kale – I love kale based salads this time of year. It's a hardy green that stand up to a little abuse – like being stuck in the food processor to chop it into bits 😉 I prefer the curly kale for this recipe since the curly leaves actually build more volume and hold onto the dressing and other goodies better than lacinato/dinosaur kale does. The sweetness of the dressing and pear help offset the slight bitterness of the kale and make it totally delicious.
Brussels sprouts – I'll be honest here, I don't love Brussels sprouts. They're little mini cabbages that I think just don't really taste good cooked. But shred them up finely and stick them in a salad? I'm in! I'm a bit of a bagged salad connoisseur and they use shredded Brussels sprouts quite often – I always pick out the big chunks that are left behind, but when you're shredding your own in the food processor, the shred is just primo. And what better way to capture fall in a bowl than by adding this seasonal veggie? But if you're anti-brussels sprouts in all forms, just skip them.
Apple – I really wanted to go with a monochromatic, mostly green salad here, so I went with crisp green apples. You could totally go for something sweeter like Honeycrisp if you prefer! If you want to chop the apples up ahead of time without them turning brown, give them a good drench with fresh lemon juice and reduce the amount of surface area of flesh that's exposed to the air – so for example, if you were slicing the apples, you'd keep the slices married up together until you're ready to use them.
Pear – I recommend an Anjou or Bosc pear here since they're crisp enough to hold up in a salad without turning to mush. Plus, they're both delicious and sweet!
Cheese – I used this apple smoked cheddar in my salad and I gotta say, it was a winner. I absolutely loved the flavor complexity that the little hint of smoke brought to the salad. I opted to chop instead of shred it to make sure that amazing flavor didn't get lost among the other ingredients. After you chop it up, be sure to leave it out of the fridge for at least 30 minutes to soften a bit and make it easier for the flavors to shine through.
Marcona almonds – I'm not normally a fan of almonds, but bring me some marcona almonds and I'm in! If you've never had them before, they're a gourmet almond from Spain – which is also why they're more expensive than the standard almonds we see all the time in the US. They're sweeter and softer than regular almonds, with an almost buttery texture that's closer to a macadamia nut. And when they're served up with rosemary and sea salt…mmm, *chef's kiss*! Definitely a treat worth splurging on. You'll usually find them in the deli section near the nice cheeses or in the gourmet snack section.
Crispy fried onions – It wouldn't be Thanksgiving without crispy fried onions, would it? I actually used some fried red onions that I picked up in an Asian market a while back, but the ones used on top of green bean casserole will do the trick too. They add a little crunch and extra savory flavor to a salad that otherwise leans sweet.
Apple Crisp Dressing
I'm going to give the dressing for this salad it's own air time since it's so tasty! I had some of this homemade, Starbucks-dupe Apple Crisp Syrup left over from my Iced Apple Crisp Macchiato recipe and I was itching to use it for something else – this salad was the perfect spot! Now, I know that some of you are going to get pissy that using this whole other syrup makes the dressing for this salad overly complicated, but feel free to take your pick of store bought dressings if you can't get over it. Think along the lines of Apple Cider Vinaigrette, Maple Balsamic, or Crisp Apple Honey Vinaigrette.
If you're still with me and want to make your own batch of Apple Crisp Syrup, read on! This one is easier than you might guess and it'll have your house smelling like a fall wonderland as it simmers. All you need to make it is: apple cider, brown sugar, cinnamon sticks, whole nutmeg, and Honeycrisp apples. If you can't find or don't want to buy whole spices, you can opt for 1 tsp cinnamon and 1/4 tsp nutmeg (or 1 1/2 tsp apple pie spice). I personally prefer the whole spices so that the flavors infuse into the syrup as it cooks down and you're not left with any grittiness from the ground spices. When you go to strain the syrup after simmering it hard for a good 20 minutes, be sure to press any remaining juices you can from the now very tender apple slices. Then save the apple slices as a yummy, near-applesauce snack!
Aside from the Apple Crisp Syrup, all you'll need to round out the dressing is dijon mustard, lemon juice and zest, olive oil, salt, and lemon pepper seasoning.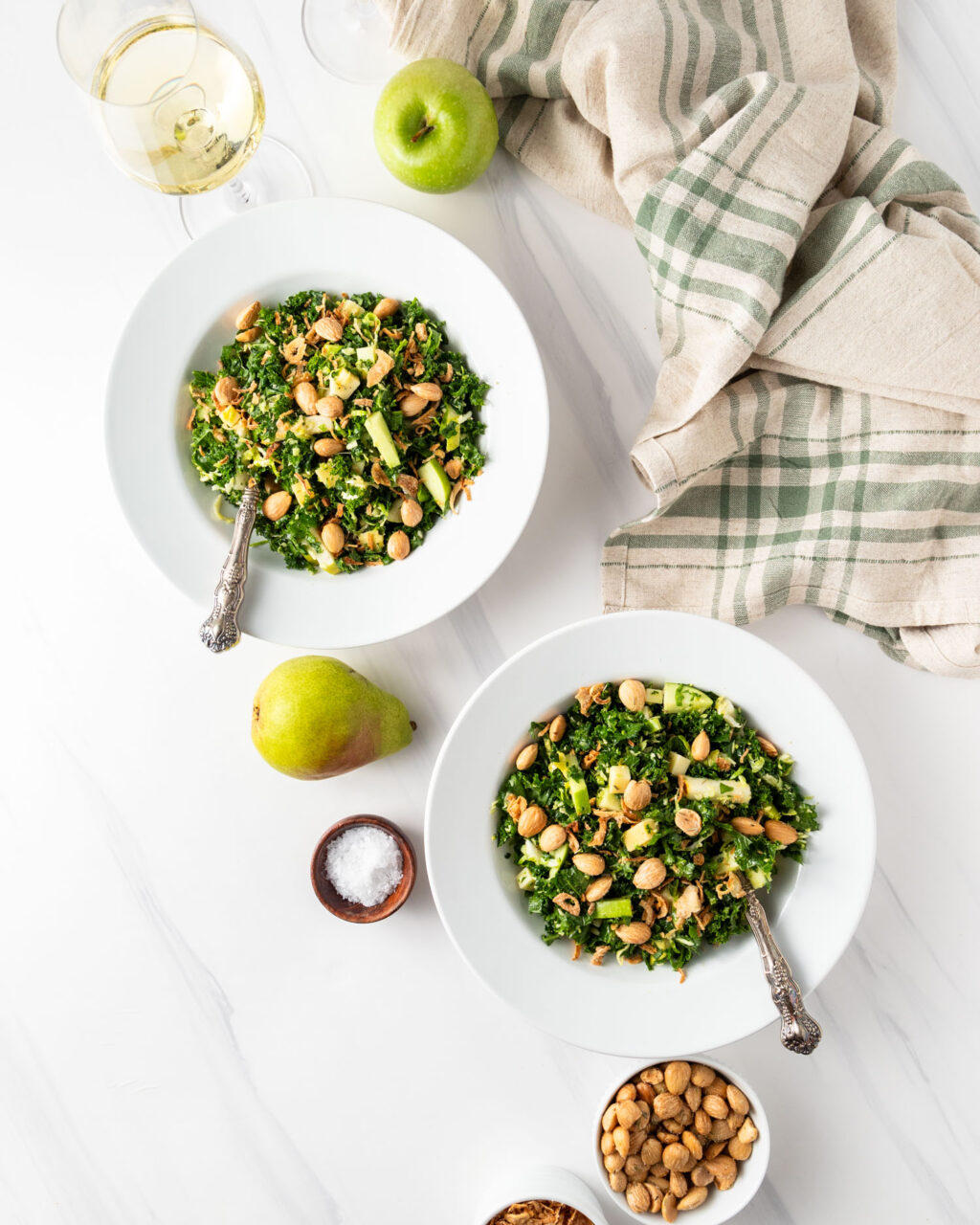 Shop for this Recipe
Here are some items I used to help make this recipe a success. Note: these are Amazon Affiliate links.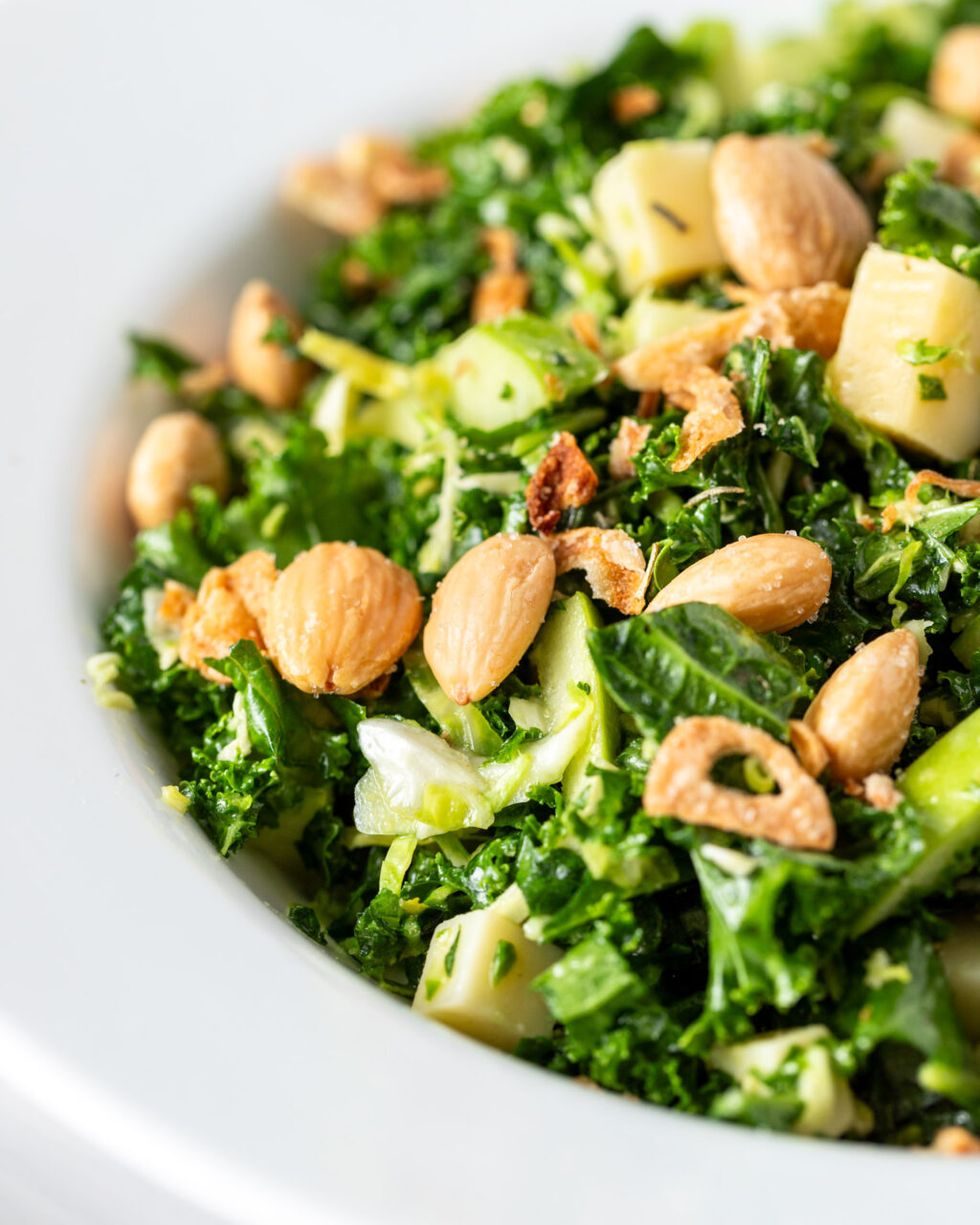 Apple & Pear Chopped Kale Salad Recipe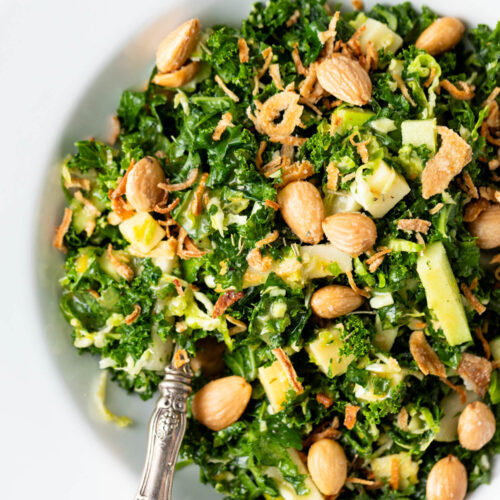 Apple & Pear Chopped Kale Salad
Ingredients
1

bunch

curly kale, stems removed and torn into 2-3" pieces

,

(200 grams)

2

cups

brussels sprouts, trimmed

,

(150 grams)

1

large green apple, chopped

,

(250 grams)

1

large pear, Anjou or Bosc variety, chopped

,

(230 grams)

4

oz

apple smoked cheddar cheese, chopped into ~3/8" squares

1/2

cup

rosemary Marcona almonds

,

(60 grams)

1/2

cup

crispy fried onions

,

(21 grams)
Apple Crisp Dressing
1/2

cup

Homemade Apple Crisp Syrup (recipe follows)

,

(4 fl oz)

1/4

cup

olive oil

,

(2 fl oz)

1/4

cup

dijon mustard

,

(2 fl oz)

1

lemon, zested and juiced

1

tsp

salt
Instructions
Prepare dressing. Add all dressing ingredients to a shaker and shake until well combined. Set aside.

Prepare kale and brussels sprouts. Add slicing blade to your food processor. Load trimmed brussels sprouts into the feeder tube, then pulse, gently pushing the brussels sprouts down toward the blade using your food processor's pusher. Repeat until all brussels sprouts are shredded. Remove the slicing blade from the food processor and remove the Brussels sprouts to a large bowl; set aside.

Add kale to the food processor, being careful not to overload the food processor bowl. Pulse the kale 5-10 times until the leaves are chopped into <1" pieces (many will be smaller). Repeat until all the kale is shredded, then remove to the bowl with the Brussels sprouts.

Assemble the salad. To the bowl with the kale and brussels sprouts, add chopped apples, pears, and cheese. Top with dressing and toss with tongs. Once the dressing has evenly coated the salad, top with Marcona almonds and crispy fried onions before serving.
Tips & Tricks
Click here or scan the barcode below to log this food in My Fitness Pal.
Nutrition Information
Serving:
1.5
cups
,
Calories:
220
kcal
(11%)
,
Carbohydrates:
25
g
(8%)
,
Protein:
7
g
(14%)
,
Fat:
11
g
(17%)
,
Cholesterol:
15
mg
(5%)
,
Sodium:
395
mg
(17%)
,
Potassium:
298
mg
(9%)
,
Fiber:
4
g
(17%)
,
Sugar:
16
g
(18%)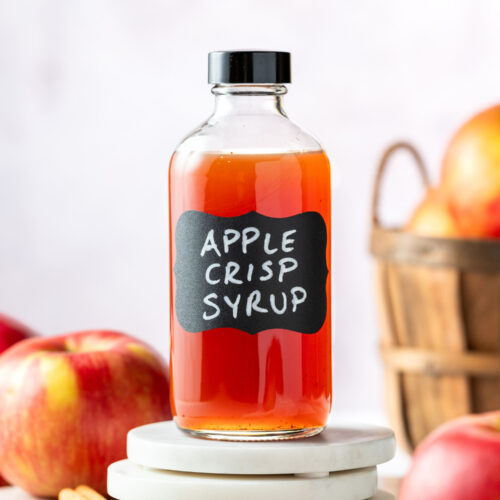 Apple Crisp Syrup
Servings:
servings (2 tbsp per serving)
Ingredients
1

cup

apple cider

1

cup

dark brown sugar

2

Honeycrisp apples, sliced

3

cinnamon sticks

1

whole nutmeg, smashed into 3-4 large pieces
Instructions
Add all ingredients to a medium saucepan and bring to a boil over medium-high heat. Stir, then reduce heat medium-low so that the mixture simmers vigorously, uncovered, for 20 minutes.

Strain the solids from the syrup, using the back of a spoon to press any liquid from the apple slices. Set syrup aside to cool.
Tips & Tricks
Click here or scan the barcode below to log this food in My Fitness Pal.
Nutrition Information
Serving:
1
fl oz
,
Calories:
75
kcal
(4%)
,
Carbohydrates:
20
g
(7%)
,
Sugar:
19
g
(21%)