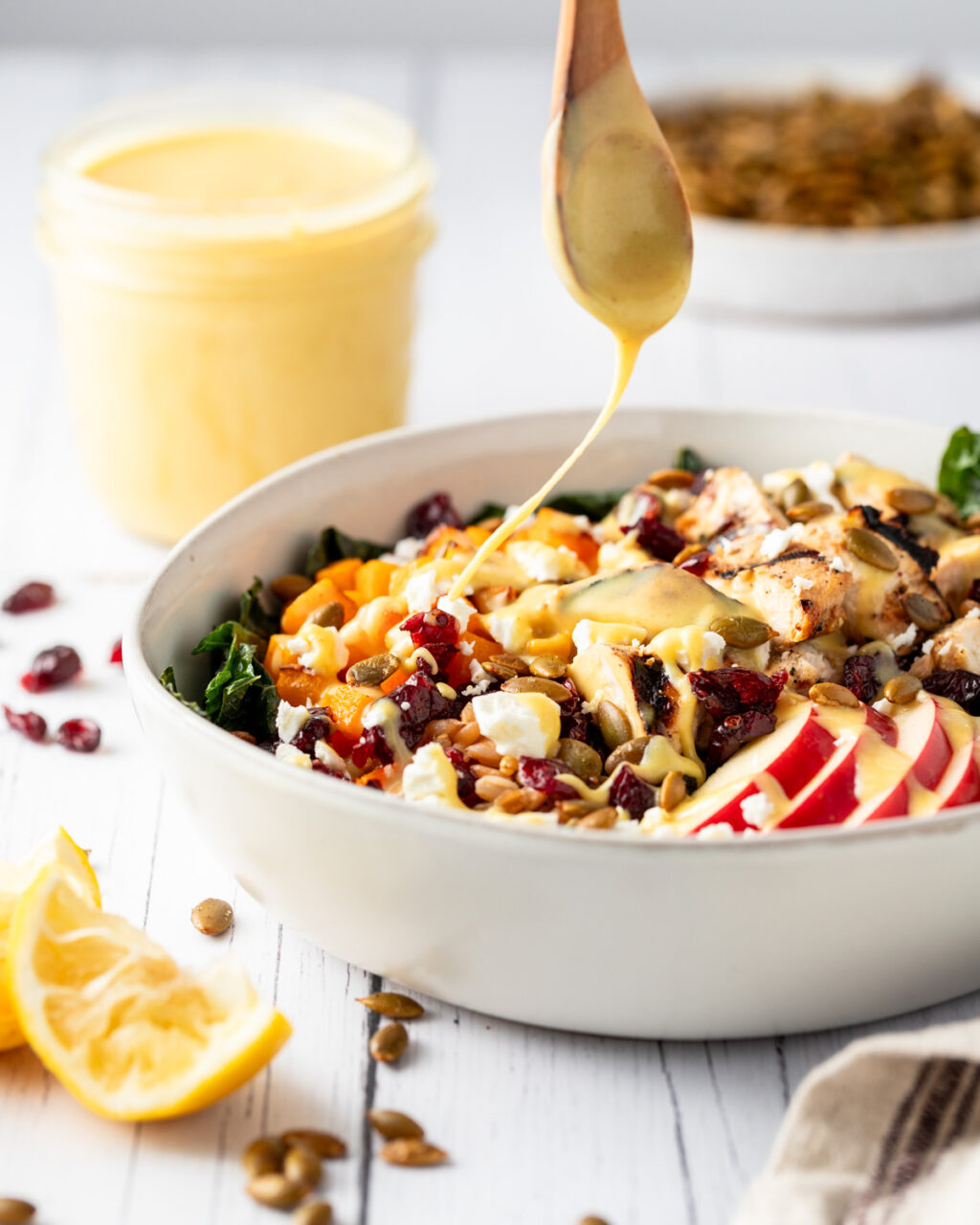 It's officially fall and today I'm diving headfirst into a dish that screams fall goodness – the Honey Dijon Harvest Bowl. I'm pretty sure there's a universal obsession with the time of year when the world starts to turn into a gorgeous combo of orange and gold, and I'm all about celebrating the cooler weather with cozy fall foods.
This recipe features juicy, honey-dijon-marinated chicken, cooked to perfection, chilling on a bed of nutty farro. Surrounding the star of the show, we've got some roasted kale, sweet roasted butternut squash, and a generous sprinkle of crunchy pumpkin seeds. But don't forget the tart dried cranberries, sweet Honeycrisp apple slices, and crumbled feta cheese to amp up the flavor party.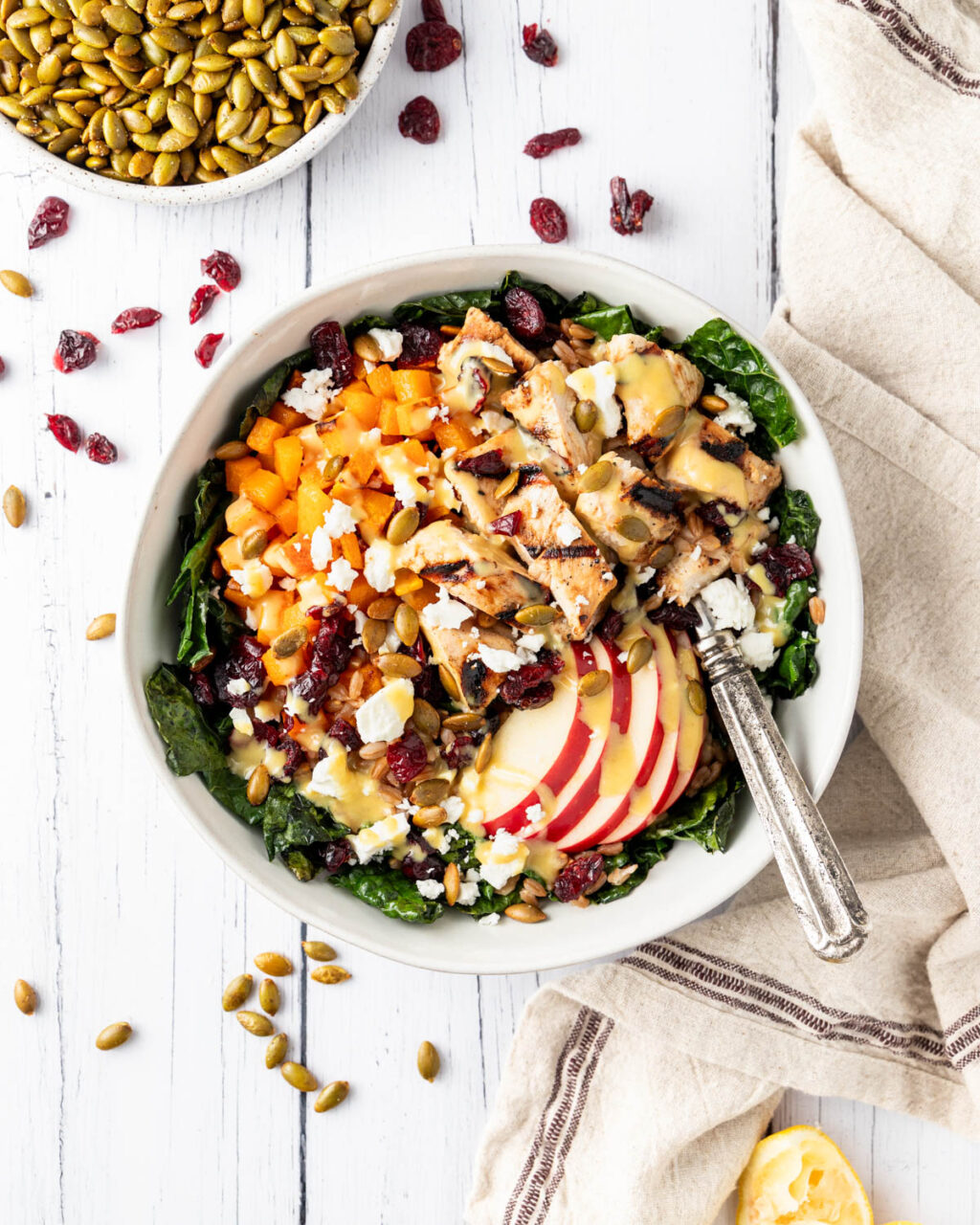 This dish is not just a meal; it's a celebration of the harvest season! Each bite captures all the fall vibes, from the warmth of honey and dijon to the earthy notes of roasted vegetables. The contrast between tender chicken and hearty farro, along with a burst of sweet and tart from the apples and cranberries will have you digging in bite after bite.
Whether you're looking for a hearty, wholesome weeknight dinner or a show-stopping dish to impress your dinner guests, the Honey Dijon Harvest Bowl is a recipe you won't want to miss. Get ready to savor the flavors of the season in every delicious bite!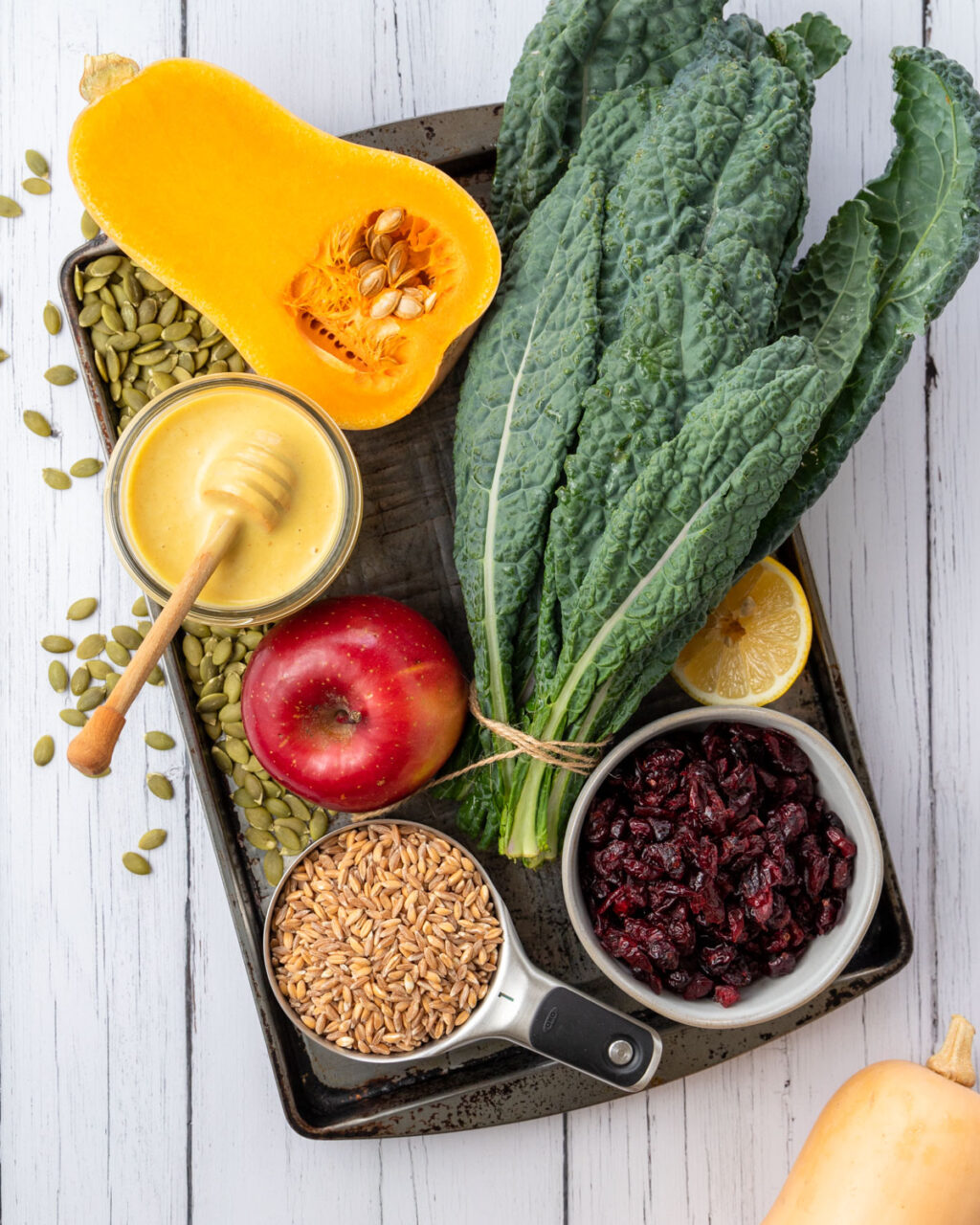 Ingredients and Substitutions
Chicken tenderloins – No, these aren't the kind from the freezer section that your kids love so much. Chicken tenderloins are actually a part of the chicken that's situated right under the chicken breast. I love them because they tend to be moist and tender, plus they cook quickly! Chicken breasts or thighs would also work in this dish, but there's something about the tenderloin that's so perfect for a quick marinade, grill, and chop.
Kale – I really love incorporating more kale into dishes in the fall, especially lacinato kale! You'll also see it called Tuscan or dinosaur kale. It's a hearty green that can hold up to being sautéed (or in this case, roasted) just as easily as it can be used in a salad raw. I love the gorgeous dark green color leaves that pack a ton of vitamin A. They also have plenty of vitamin K, C, calcium, magnesium, and potassium. If you can't find lacinato kale or prefer another green, regular kale or Swiss chard would work great.
Butternut squash – I love butternut squash in the fall! It's so easy to cube up and roast, plus it's super versatile in all kinds of dishes (hi, chili!). It's sweet but not overpowering and is packed with vitamins A and C. Every time I roast a batch, I find myself hunting around for the most golden brown pieces to eat right off the baking sheet 😉
Farro – This ancient grain has a nutty flavor and a great chew – plus it's packed with protein and fiber. Perfect for a fall bowl! You could sub it out for rice instead, or skip it altogether if you want a lower carb dish.
Honeycrisp apple – Look, I don't know if you've bitten into a Honeycrisp apple lately, but they are absolutely delicious. They were one of the first "designer" apples to hit the market in the '90s, having been bred for the perfect flavor and texture. They're juicy and have a crisp sweetness, which make them perfect on their own, but also when paired with the savory ingredients in this harvest bowl. I love them for this recipe because the flavor doesn't get lost despite some heavier ingredient buddies.
Dried cranberries – A little bit of dried fruit help brings the fall vibes and I love the pop of bright, tangy cranberries. Dried cherries could work nicely here too, or skip 'em if you feel like it.
Feta cheese – I've really been digging the Mt. Vikos brand of feta cheese lately, which comes in a block (without a ton of brine) that you can just crumble up yourself. That helps keep it nice and fresh until you're ready to eat it! The saltiness of the feta pairs nicely with several sweeter ingredients like the butternut squash, apples, and dried cranberries. If you don't like feta, go for a goat cheese instead or skip it altogether.
Pumpkin seeds – I love the little crunchy pops of salty pumpkin seeds in each bite. They also have a hint of smokey deep flavors thanks to the smoked paprika that I roasted mine with. You can, of course, buy pre-roasted pumpkin seeds at the store, but it's suuuuper easy to roast your own at home if you want to jump on that bandwagon. I love it because I can add whatever seasonings and as much (or little) salt as I want.
Honey mustard dressing/marinade – This is a really simple dressing that's made with 3 main ingredients – dijon mustard, honey, and light mayo, which makes it super creamy and dreamy. Throw in a little lemon juice, paprika, and salt and you've got yourself a winner! You can always use store bought if you prefer or come up with your own take on my recipe, but definitely don't skip out on a dressing of some kind – it helps bring together all the ingredients to really make this dish cohesive.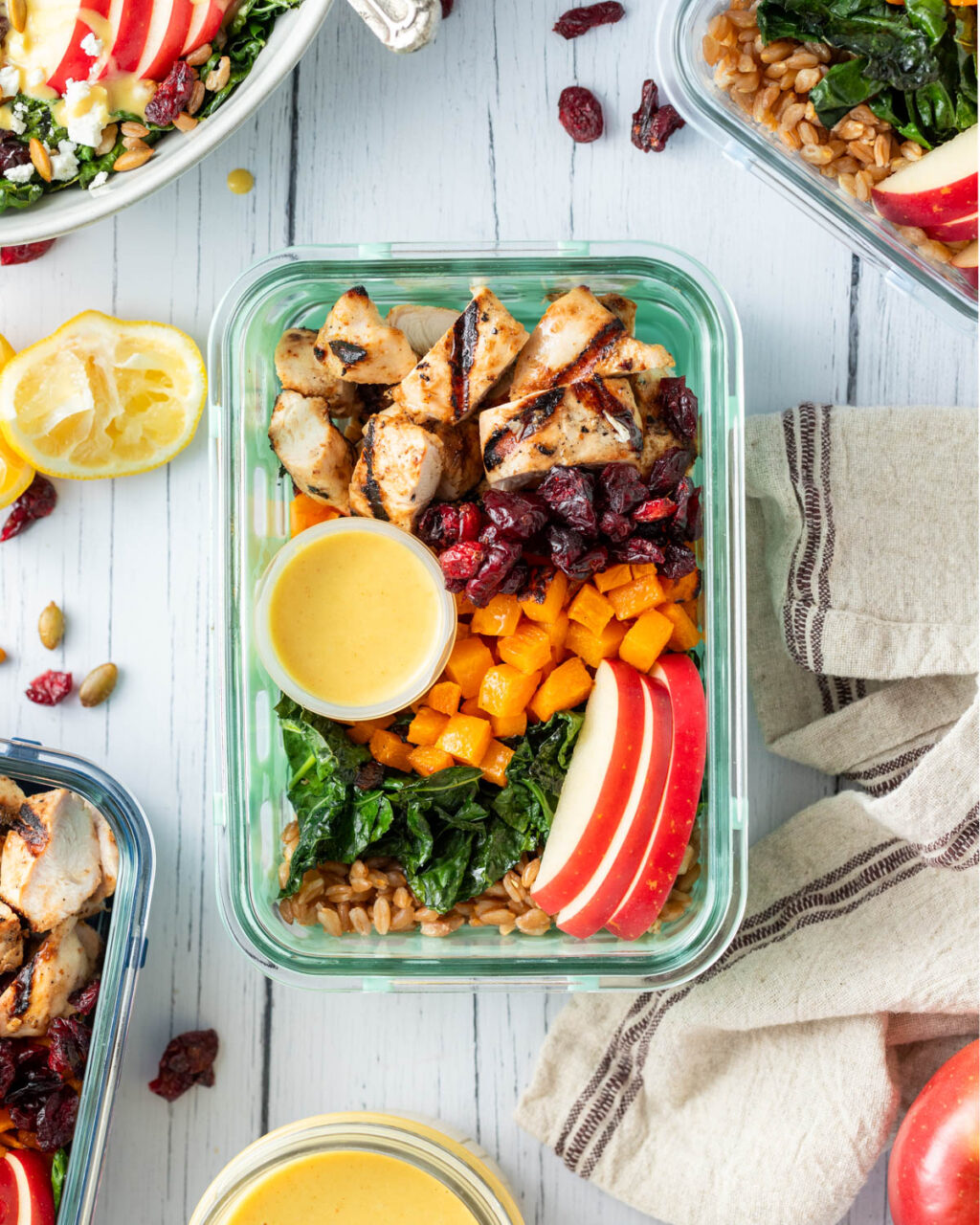 Meal Prep Tips
This dish is super meal prep friendly as is, but here are just a couple easy tips to help keep it fresh all week:
Keep the chicken on one end of the container. For a meal like this, where I have a bunch of ingredients that were cooked separately (as opposed to a meal that was already cooked in one sauce together), I like to keep things divided up like you see in the photo. I don't have any scientific proof of it, but I think it keeps things fresher for the week. Put the chicken on one end of the container so it's touching the least amount of other ingredients too.
Use sauce containers. You'll want to keep the dressing separate until after you re-heat this meal, so grab some little sauce containers like these. They're dishwasher safe and I promise they'll come in handy all the time if you're a regular meal prepper.
Squeeze lemon juice on the apple slices. I know I'll get a bunch of questions about the apple slices, so let me try to answer them here. Yes, I slice the apples up and stick them right in the container for the whole week – and no, they don't get brown and gross. That's because I slather them in lemon juice on all sides, then put the slices back together to reduce the amount of apple flesh that's exposed to air. They don't stay perfectly bright white all week, but I promise they keep pretty nice without pulling any heroics or fresh slicing them each day.
If you're worried about heating the apple slices, use a silicone muffin cup. I personally have no issues with heating up the apple slices along with the rest of the meal, but I know not everyone is into that. Instead, just stick the sliced apple in a dishwasher safe silicone muffin cup like this and when you go to re-heat the meal, you can easily remove the apples, then add them back before serving.
Save the cheese and pumpkin seeds for last. I recommend keeping the cheese and pumpkin seeds totally separate until after you've reheated the container and are ready to dig in. These containers are perfect for the cheese if you're on the go, and these are just the right size for the pumpkin seeds.
Shop for this Recipe
Here are some items I used to help make this recipe a success. Note: these are Amazon Affiliate links.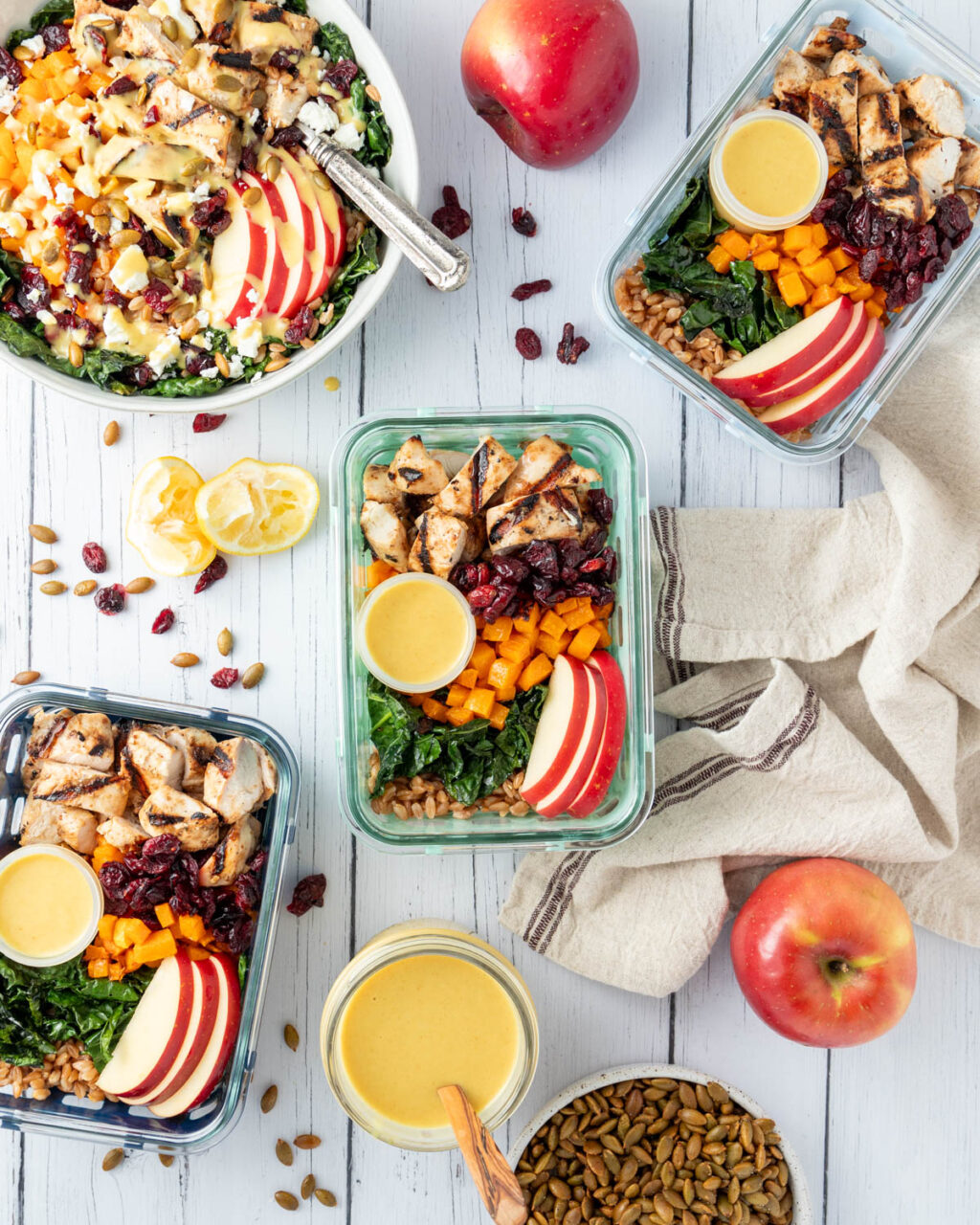 Honey Dijon Harvest Bowl Recipe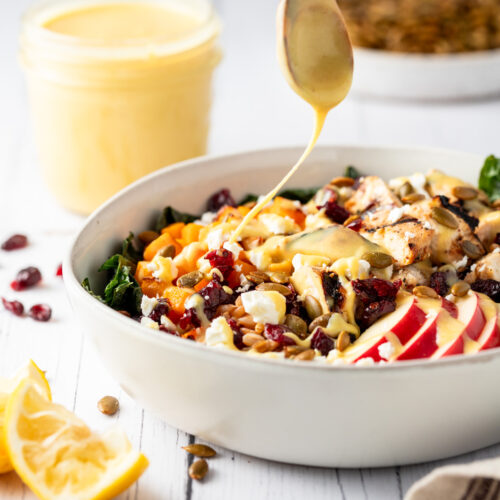 Honey Dijon Harvest Bowl
Ingredients
1

lb

chicken tenderloins, raw

6

cups

lacinato kale, stems removed and chopped

,

(510 grams)

4

cups

butternut squash, cut into 1/2" cubes

,

(650 grams)

3/4

cup

farro

,

(135 grams)

1

large Honeycrisp apple, sliced

,

(245 grams)

1/2

cup

Ocean Spray 50% Reduced Sugar Dried Cranberries

,

(80 grams)

1/2

cup

feta cheese, crumbled

1/3

cup

raw pumpkin seeds

,

(40 grams)

2

tbsp

olive oil, divided

,

(1 fl oz)

1

tsp

salt, divided

1/2

tsp

smoked paprika, divided
Honey Dijon Marinade and Dressing
1/3

cup

dijon mustard

1/3

cup

honey

1/3

cup

Duke's Light Mayonnaise

1

tsp

lemon juice

1/4

tsp

smoked paprika

1/4

tsp

salt
Instructions
Marinate the chicken. Whisk together the honey dijon marinade and dressing ingredients, then pour half over the chicken tenderloins in a resealable container. Massage the marinade into the chicken, then refrigerate for 2-4 hours.

Cook the farro. Cook the farro according to package directions, then set aside.

Roast the pumpkin seeds. Pre-heat the oven to 350°F. Toss the pumpkin seeds with 1 tsp olive oil, 1/4 tsp salt, and 1/4 tsp smoked paprika. Spread into single layer on a baking sheet and bake for 10-12 minutes or until seeds begin to puff up and turn golden brown. Remove from hot baking sheet and set aside.

Roast the kale. Increase the oven temperature to 400°F. Add the kale to a rimmed baking sheet, then drizzle with 2 tsp olive oil and season with 1/4 tsp salt. Toss until evenly coated. Bake for 8-10 minutes, then remove to a bowl and set aside.

Roast the butternut squash. Increase the oven temperature to 425°F. Add the cubed squash to a rimmed baking sheet, then drizzle with 1 tbsp olive oil and season with 1/2 tsp salt and 1/2 tsp Oh My Spice seasoning. Toss until evenly coated. Bake for 20 minutes (flipping once during baking if desired), then set aside.

Cook the chicken.To grill: Pre-heat your grill to about 400-425°F, then generously oil the grill grates using grill tongs and a paper towel dipped in vegetable oil. Let any excess marinade drip off the chicken before adding the tenders to the grill to avoid flare ups. Grill for about 3-4 minutes per side or until cooked through. Remove to a plate or baking sheet to rest.To bake: Add the chicken to a rimmed baking sheet and bake on an upper oven rack at 425°F for 15-20 minutes while the butternut squash roasts on a lower rack.

Assemble the bowls. Layer the farro, roasted kale and butternut squash, sliced apples, and chopped chicken in a bowl. Top with feta cheese, dried cranberries, and dressing. Finish with roasted pumpkin seeds.
Tips & Tricks
Nutrition Information
Calories:
620
kcal
(31%)
,
Carbohydrates:
83
g
(28%)
,
Protein:
37
g
(74%)
,
Fat:
17
g
(26%)
,
Cholesterol:
103
mg
(34%)
,
Sodium:
1204
mg
(52%)
,
Potassium:
948
mg
(27%)
,
Fiber:
12
g
(50%)
,
Sugar:
31
g
(34%)
WITH DRESSING

NO DRESSING