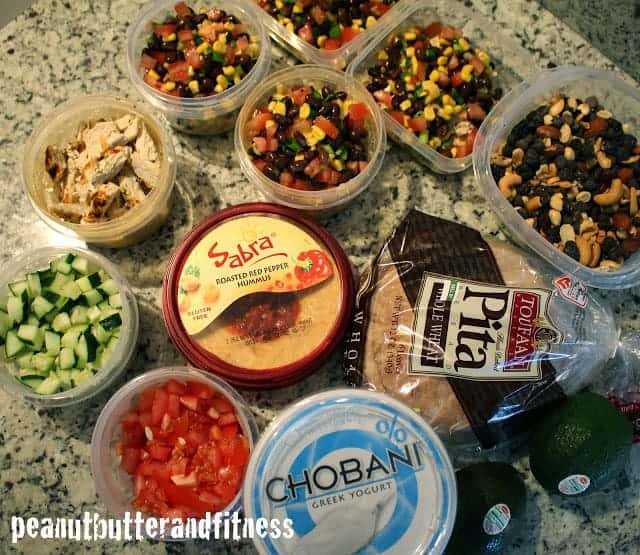 As the rain pours down in Miami and I can barely see the buildings beside mine, I'm celebrating…Back to the day shift! And normal eating and meal prep 🙂 Unfortunately I am in the process of shifting from night watch to day watch in 48 hours flat, which doesn't give the body (or the brain) much time to make that change.  Let's just say a 4 am wake-up tomorrow morning will not be fun.  Ugh.
Anyways, on a lighter note, I had some majorly weird dreams yesterday while trying to wake myself up by noon (after getting home at 6:30).  Of course as soon as my alarm started blaring Backyard by Guster, I frantically thrashed around trying to figure out why anyone would be so rudely playing their music so loud.  To set the scene: I had on my eye mask and earplugs in, so I had no idea where I was.  Once I finally found the snooze button and snuggled back in to sleep (obviously), I embarked on one of my super-strange sleeping-during-the-day dreams.  Which I always remember clearly for some reason.  Essentially I got robbed…but I was in my parent's house and I was realllly upset about the fact that the furniture was gone (??).
After that, I got my butt out of bed to avoid any further weird sleeping-during-the-day dreams, had some breakfast, and sat down to come up with a meal plan before a grocery store trip.  Welp, my body was not having it.  I passed out again.  And the dream I had this time was even weirder.  I think my brain wanted to be awake but my body was saying no-no-no, not in my house (anybody get that?) lol.  Anyways, I was basically a zombie in my dream…I was on my couch desperately trying to get up (yep, in my dream) and every time I tried I fell over and couldn't open my eyes.  And I was really embarrassed because there were window washers hanging outside of my balcony.  So strange.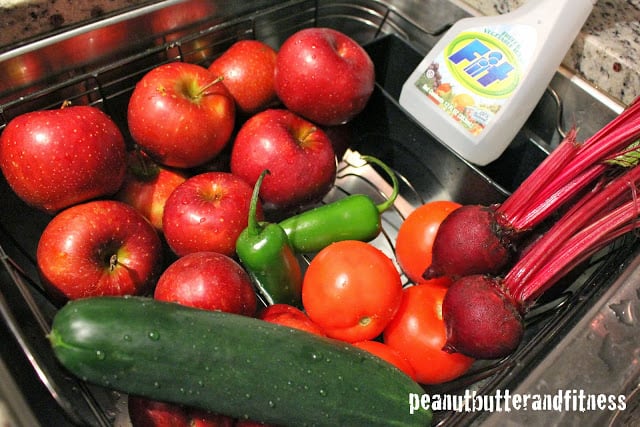 Sink full of freshly washed and ready to eat/prep fruit and veggies!
Soooo after waking up with an overwhelming sense of WTF-ness and still not having a meal plan, I decided I needed some refreshing and fun stuff to eat for the next few days.  Here's what I came up with:
Mediterranean Chicken Pitas – I'm not usually a huge fan of Mediterranean food, but these are awesome!!! Very refreshing (win!) and super easy to throw together.  Not my standard prepped meal that I can just pop in the microwave, but I'm okay with that.  Recipe will be up shortly 🙂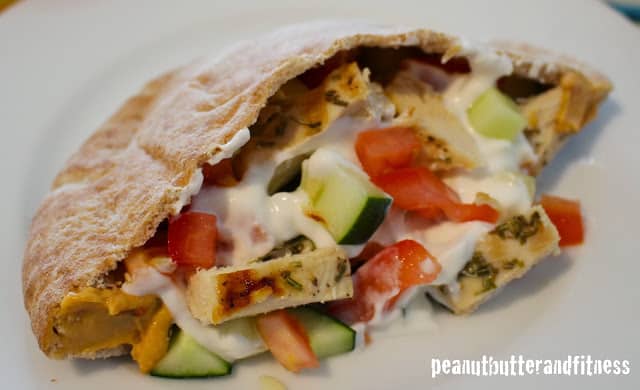 and…Southwestern Turkey Bowls – I'll be having this for dinner tonight so I didn't make a pretty picture of it to put up here.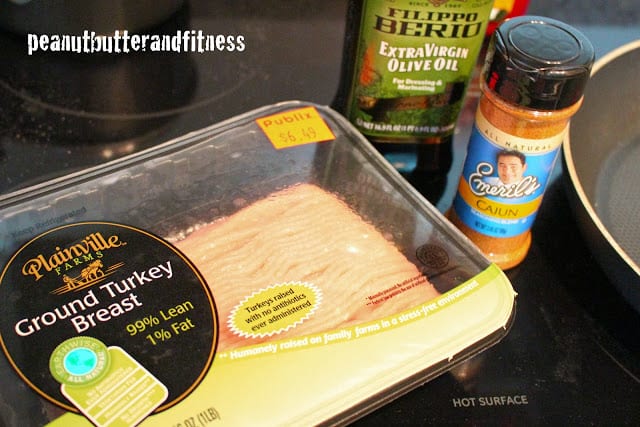 Here's what I put in mine:
Southwestern Turkey Bowls
Makes 4-5 servings
Ingredients:
1 lb lean ground turkey
15oz can low sodium black beans, drained and rinsed
1 cup corn
1/4 c chopped green onion
2 small tomatoes, chopped
1 jalapeno pepper, chopped
2 small avocados
1 tbsp + 1 tsp olive oil
2 tsp lime juice
1 tsp cajun seasoning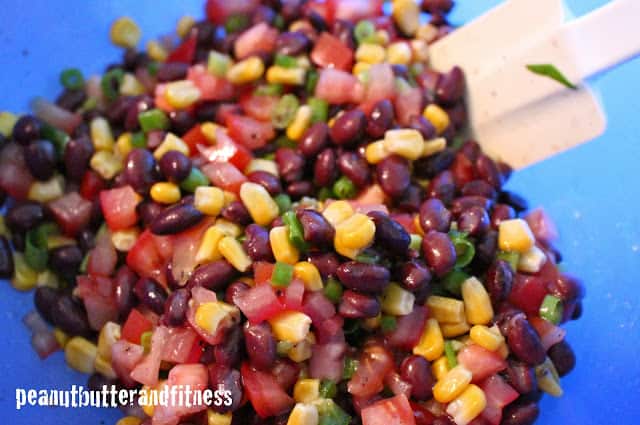 Directions:
In a large bowl, combine black beans, corn, green onion, tomatoes, jalapeno, 1 tbsp olive oil, lime juice and some salt and black peper to taste.
Heat 1 tsp olive oil in a pan over medium-high heat.  Add ground turkey and cajun seasoning.  Continue breaking apart turkey until cooked through.
Combine turkey and black bean mix in serving bowl.
Top with half an avocado.
Enjoy eating healthy all week!