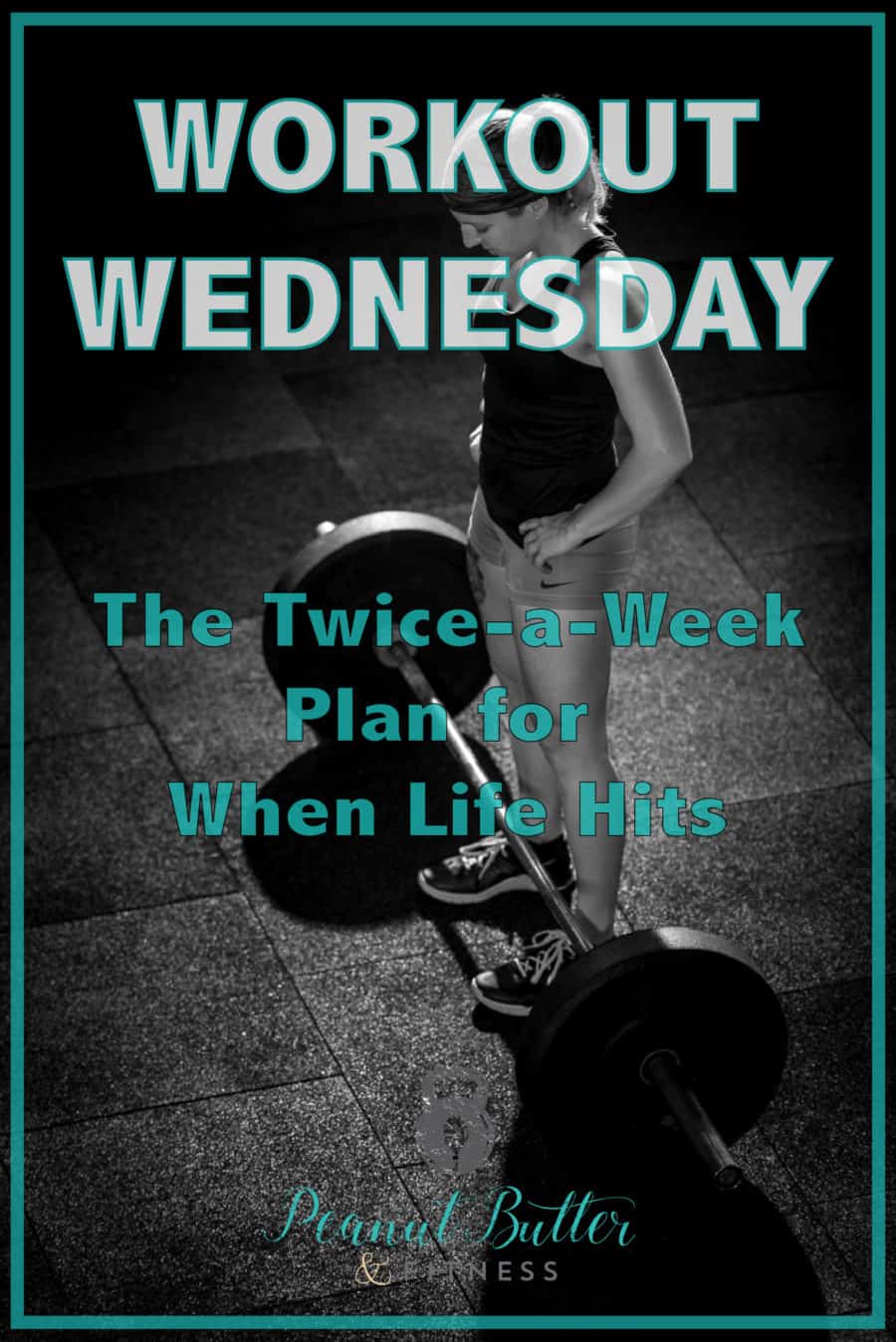 You know what's hitting me in the face right now? Grad school. We're at that point in the semester when everything comes crashing in, especially big projects with due dates looming in just a few short weeks.  I know most people just started their spring semester, but I'm in the middle of my 3rd semester since summer (we do 5 semesters in 1 calendar year…it's aggressive).  Anywho, I mention that to let you know why I'm bringing you this specific workout this month.
It's called the Twice-A-Week Plan For When Life Hits and I snagged it over at bodybuilding.com.  With my schedule right now, I usually only get 2 solid days in the gym to really take some time to lift.  I can typically squeeze in a couple 30 minute quickies throughout the week too, but…1) that's too short to get a good warmup and lift in, and 2) I "like" to get in at least a little cardio during those sessions since I sit on my butt in a classroom the rest of the day.  I say "like" because I honestly don't enjoy cardio, but it feels like a necessary evil for me right now.  Let's check it out…
The Good:
You'll hit every major muscle group in just 2 days a week.
You are definitely going to feel the burn after this workout.
This is a good one to keep in your back pocket for when life gets hectic…you can use it when you need it and go back to your regular routine when you don't.
The Bad:
It's going to take you a while to get through the entire workout, but that's kind of the point since you're only lifting twice a week.
You'll be focusing on the major muscles with this workout, so don't expect a lot of accessory work or machines.
Time needed: approx. 2 hours
Equipment needed:
Squat rack
Barbell
Dumbbells
Bench or box (for split squats)
Leg extension and leg curl machines
Pull up bar
Cable machine
Sample of the workout:
The Twice-a-Weeker – Non-consecutive Training Days
Day 1: Full-Body Push
Pushups – 5 sets of 5
Barbell Squats – 5 sets of 8 at 70%
Paired set:

Barbell bench press (medium grip) – 5 sets of 8 at 70%
Split squat with dumbbells – 5 sets of 10-12

Seated dumbbell press – 4 sets of 10
EZ bar skull crusher – 4 sets of 12-15
Day 2: Full Body Pull
The Weekender – Two Consecutive Training Days
Day 1: Lower Body
Snatch pull (from the floor) – 6 sets of 4 (If you're not comfortable with a snatch pull, try this instead)
Front squat (pause at the bottom) – 5 sets of 8 at 70%
Romanian deadlift – 4 sets of 8-10
Barbell reverse lunge – 4 sets of 10
Superset 4 sets:

Leg extensions – 4 sets of 10-12
Lying leg curl –  4 sets of 10-12

Ab circuit – 4 rounds, resting as little as possible:

Ab roller – 10 reps
Oblique crunches – 20 reps per side
Reverse crunch – 20 reps
Day 2: Upper Body
I can't put the whole workout here because of copyright issues, but just click to get the whole workout here!