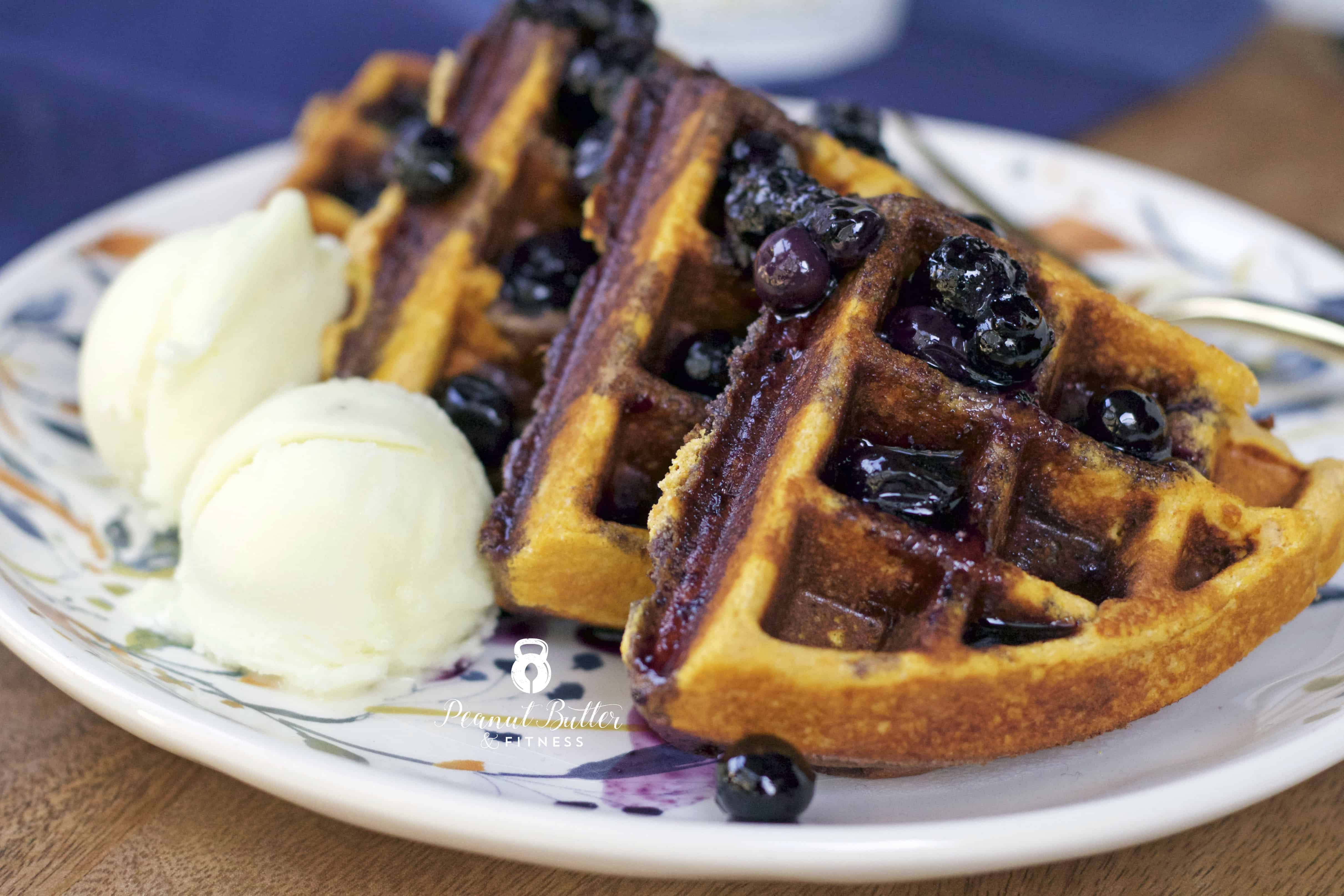 Happy Steelers Sunday!  And leg day Sunday of course.  I'm getting ready for the game and my post-game gym session with these sweet potato protein waffles.  There's nothing like a good, hearty breakfast to keep me from having a heart attack during the game, and I'm sure my team will keep the match-up closer than they should.  Anywayyyyyssss…I paired up the richness of the sweet potatoes with the brightness of a simple blueberry compote and served it all up with a couple scoops of Arctic Zero!  Ice cream for breakfast?  Yes please.
There are a few ways you can get your mashed sweet potatoes for this recipe, including baking, boiling, microwaving or using canned unsweetened sweet potato puree.  But the fastest and freshest way? (And my personal favorite)  Use the Instant Pot to pressure cook them!  I did two medium sweet potatoes at the same time, which is about double what you need for this recipe, and it only took 20 minutes in the pressure cooker!  Just add 1 cup of water at the bottom of the pressure cooker bowl, then lay the sweet potatoes on top of the steamer rack.  Set it to high for 20 minutes (probably 15 minutes for just 1 potato), then once done, carefully release the pressure manually.  The skin just falls right off and the potatoes mash like butter.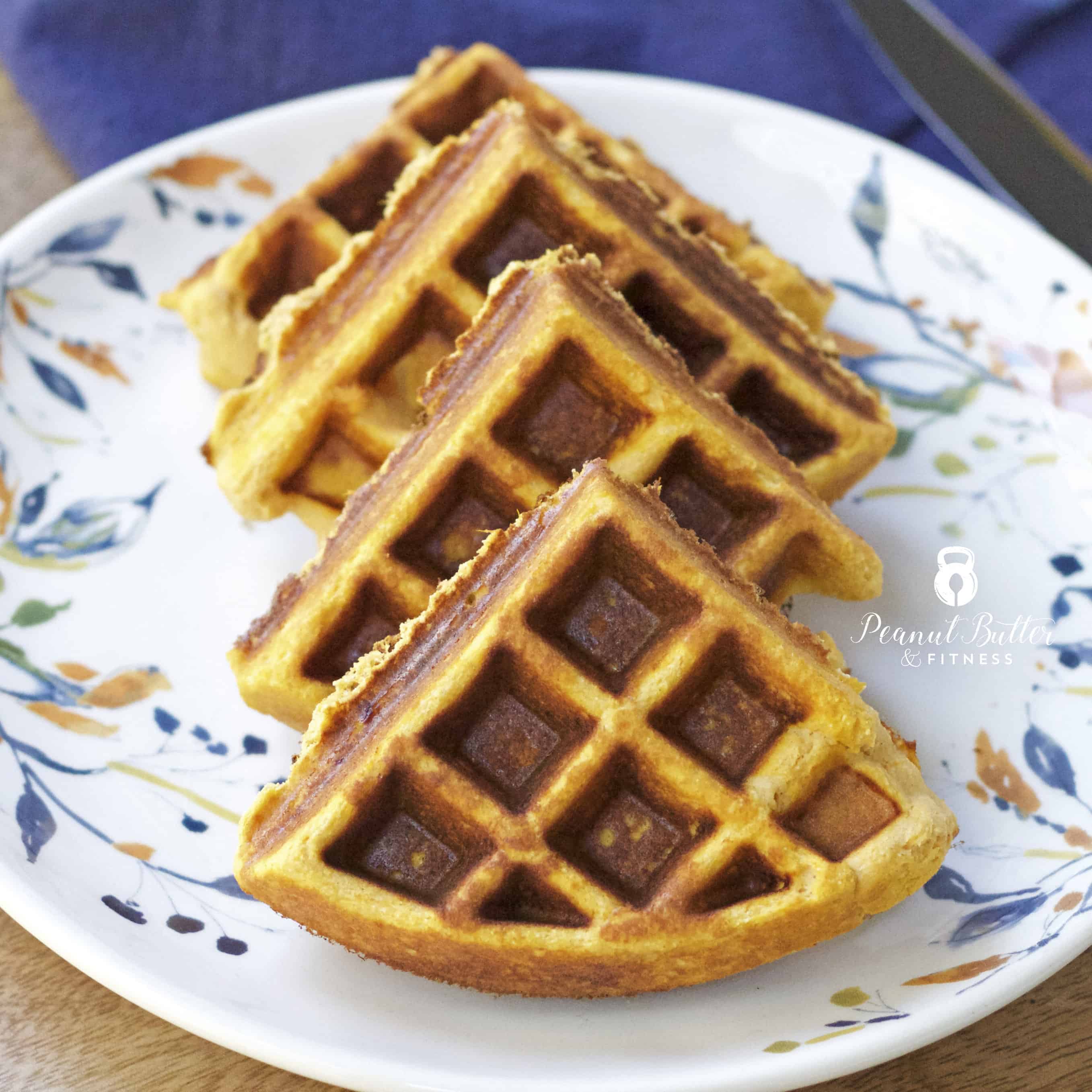 I use a pretty serious waffle maker to get these beauties to come out golden and crispy on the outside, and light and fluffy on the inside.  You can use whatever waffle maker you like, but honestly if you eat waffles a couple times a month (or meal prep with them), this Waring Pro is a great investment for around $75.  Take your waffle game to the next level 😉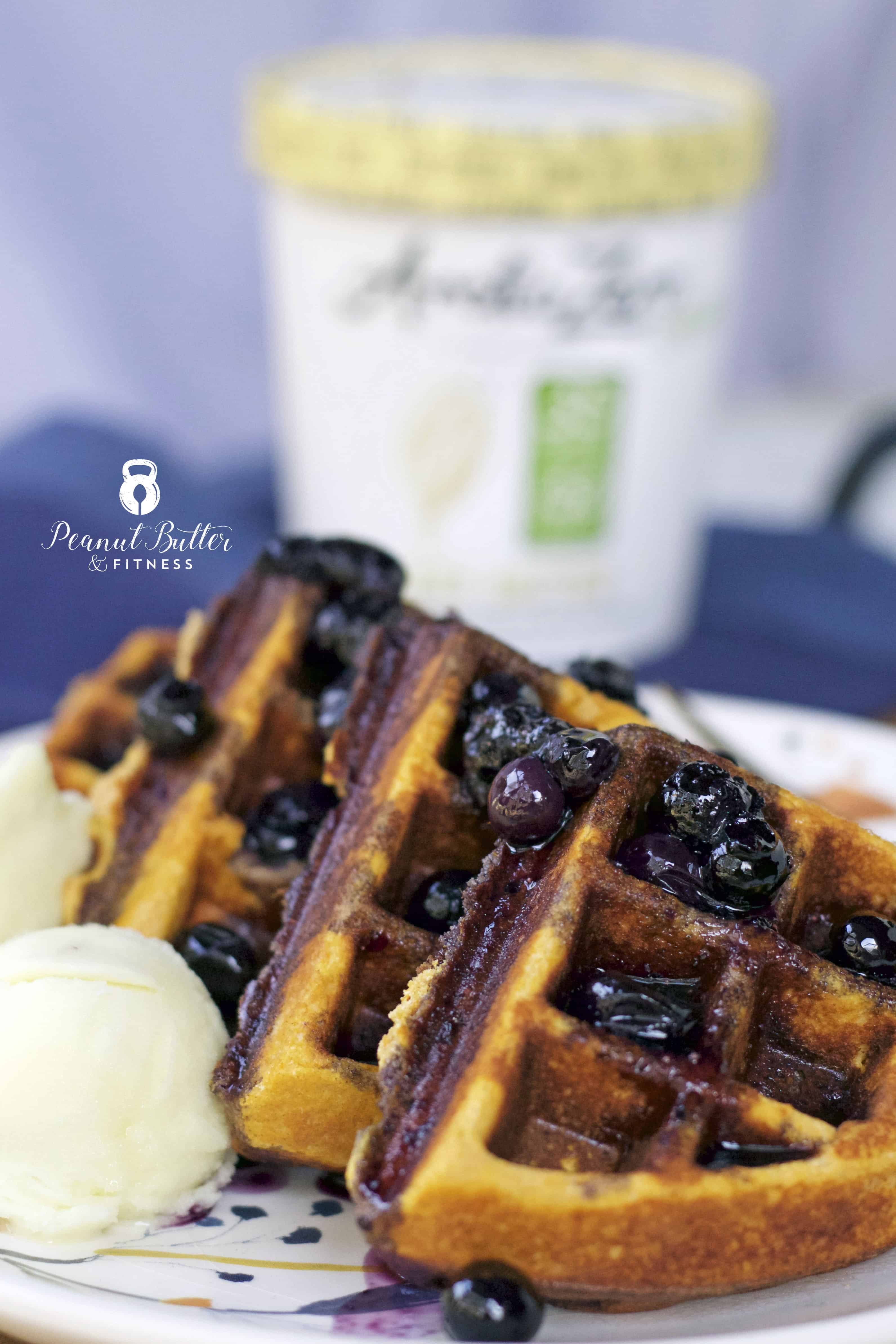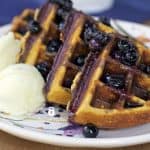 Paleo Sweet Potato Protein Waffles with Blueberry Compote
Prep Time 15 minutes
Cook Time 10 minutes
Total Time 25 minutes
Servings 2
Calories per serving 388 kcal
Ingredients
1/2 cup mashed sweet potato, without skin
1/4 cup plus 2 tbsp unsweetened vanilla almond milk
1/4 cup coconut flour
1/4 cup Jay Robb's Vanilla Whey Protein
1 egg
2 egg whites
1 tbsp maple syrup
1 tbsp coconut oil, melted
1/2 tsp vanilla extract
1/4 tsp cinnamon
1/4 tsp baking powder
Pinch of salt
Blueberry Compote
1 cup blueberries
1 tbsp maple syrup
Instructions
In a small sauce pan, bring blueberries and maple syrup to a boil over medium heat. Lower heat to a simmer for 5-10 minutes or until liquid reduces by about 1/3 to 1/2. Set aside to cool.

Pre-heat your waffle maker (I set my Waring Pro to a heat setting of 4).

Combine all dry waffle ingredients in a bowl, then add wet ingredients and mix until just blended and smooth.

Pour half of your waffle batter into one side of your waffle maker, ensuring it is spread to the edges. Close that side of the waffle maker, flip and repeat. Cook waffles for about 5 minutes or until they reach desired done-ness.

Top waffles with blueberry compote before serving.
Nutrition Facts
Paleo Sweet Potato Protein Waffles with Blueberry Compote
Amount Per Serving
Calories 388 Calories from Fat 108
% Daily Value*
Fat 12g18%
Cholesterol 93mg31%
Sodium 259mg11%
Carbohydrates 48g16%
Fiber 9g38%
Sugar 25g28%
Protein 23g46%
* Percent Daily Values are based on a 2000 calorie diet.