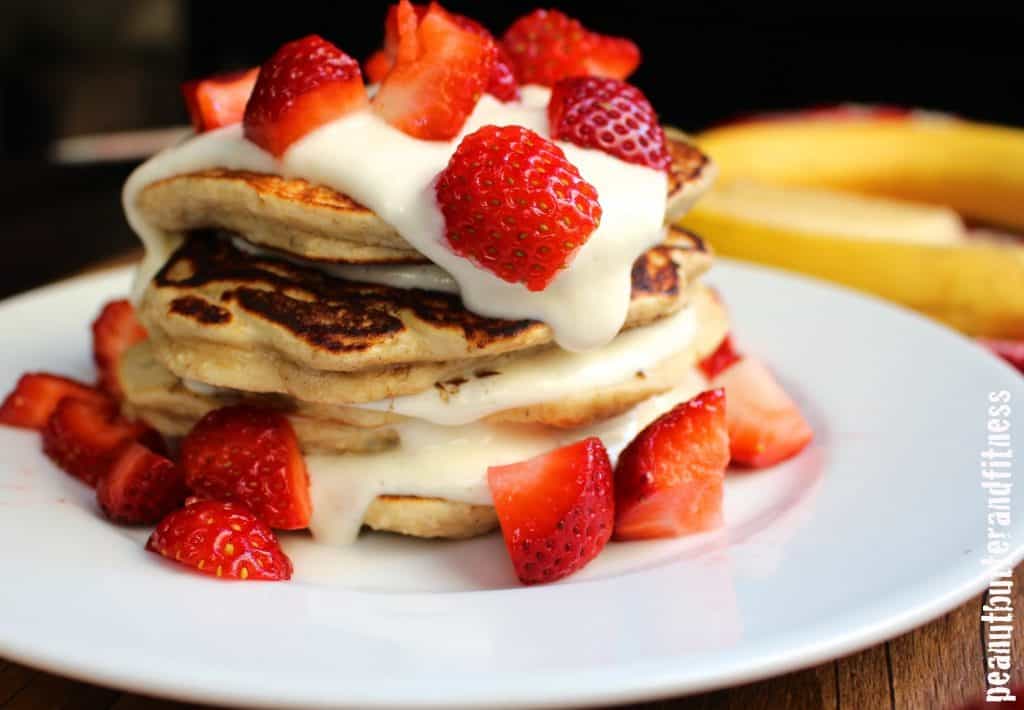 Happy Labor Day weekend everyone! I hope everyone's doing something fun or at least take a relaxing break from work 🙂 I'm doing a little bit of both, definitely heavy on the relaxing side of things and I couldn't be happier about it.  Work has been keeping me busy, so I'm taking some time this weekend to be lazy, get in some good workouts and make food!  That makes sense right? Here's my first recipe of the weekend…
I made a trip to Trader Joe's on Friday and ended up buying a massive container of strawberries and another one of blueberries! I need to come up with more recipes to use them all up…but first: these! Strawberry and banana go together in lots of fake-flavored juices, smoothies, etc. but they're even better together in real life.  The bananas make these pancakes super moist! If I could eat raw bananas (read: I'm allergic to them if they're not cooked), I'd add some sliced ones on top too.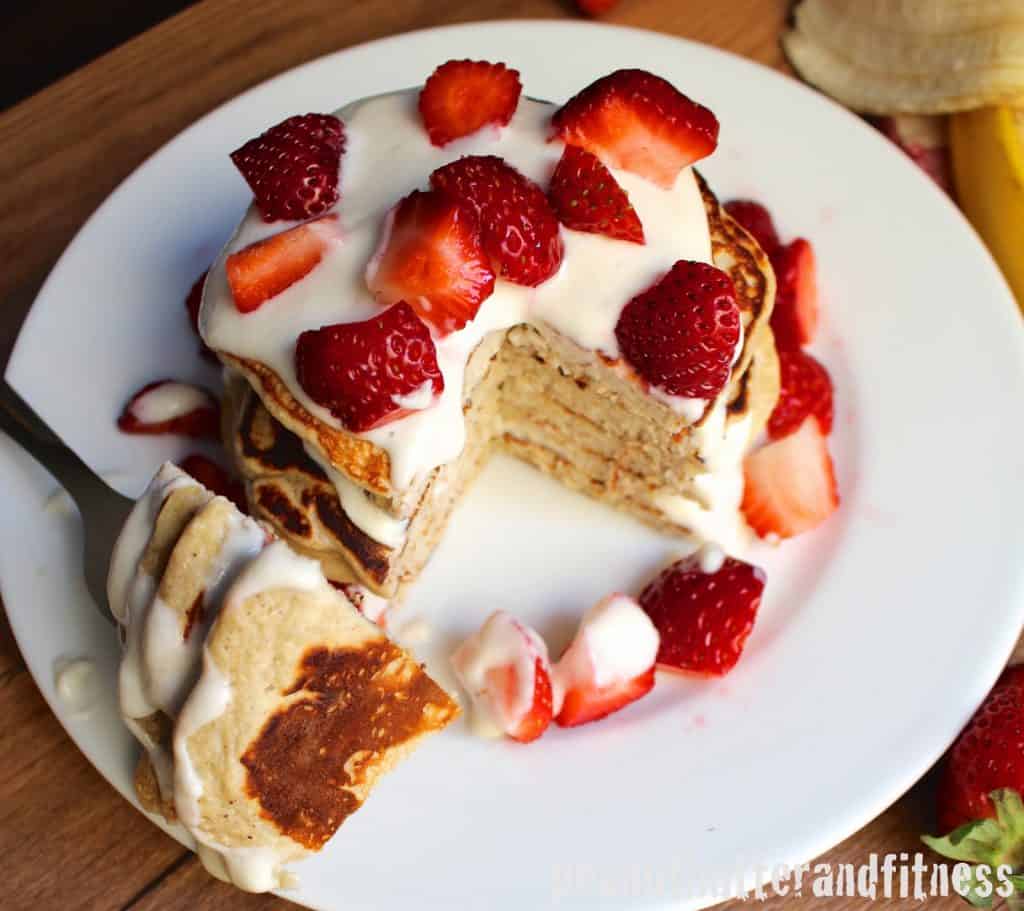 Enjoy!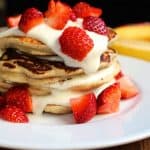 Strawberry Banana Protein Pancakes
Prep Time 15 minutes
Cook Time 10 minutes
Total Time 25 minutes
Servings 1
Calories per serving 412 kcal
Ingredients
1/3 cup rolled oats
1 scoop + 1 tbsp Cellucor Whipped Vanilla whey protein divided
1/8 tsp baking powder
1/8 tsp cinnamon
1/3 cup mashed bananas
1 egg white
3 tbsp unsweetened vanilla almond milk divided
1/3 cup strawberries chopped
3 tbsp Dannon Light and Fit vanilla non-fat Greek yogurt
Instructions
In a small bowl, blend yogurt, 1 tbsp protein powder and 1 tbsp almond milk until smooth. Set aside.

In a food processor or NutriBullet, mill the oats until they form a fine powder. Add in 1 scoop protein powder, baking powder and cinnamon. Then mix in mashed banana, egg white and 2 tbsp almond milk until smooth.

Heat a griddle or large skillet over medium heat and spray with non-stick cooking spray. Drop pancake batter onto griddle forming 3-4 medium pancakes and cook until the top starts to bubble, then flip and cook the other side.

Top pancakes with yogurt mixture and chopped strawberries.
Nutrition Facts
Strawberry Banana Protein Pancakes
Amount Per Serving
Calories 412 Calories from Fat 45
% Daily Value*
Fat 5g8%
Cholesterol 47mg16%
Sodium 323mg14%
Carbohydrates 49g16%
Fiber 8g33%
Sugar 16g18%
Protein 46g92%
* Percent Daily Values are based on a 2000 calorie diet.