Jump to Recipe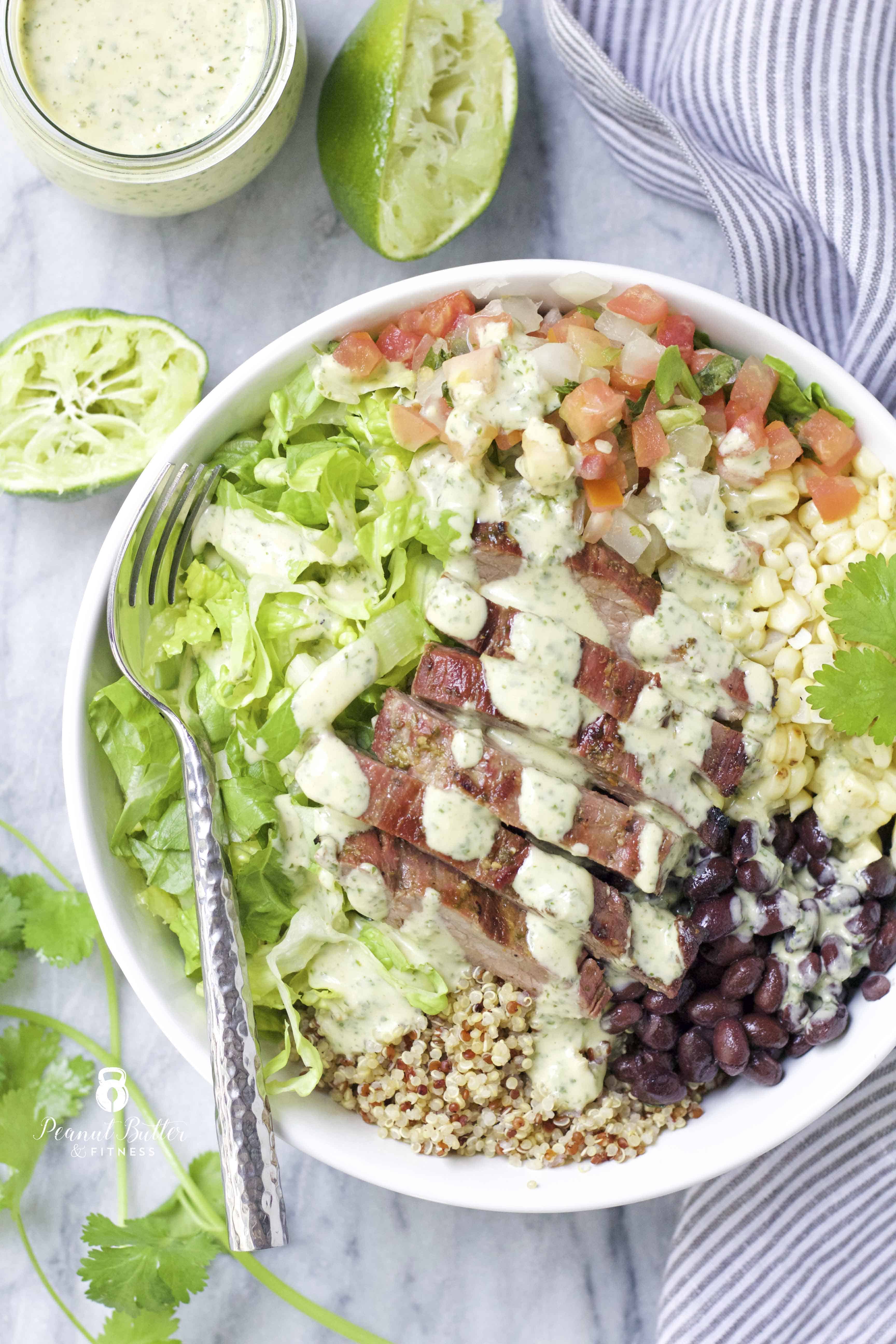 And just like that, it's Monday again. The star of my meal prep this week helps make it more bearable I suppose…the rain outside does not help though. At least I managed to catch a few rays of sun when I grilled the steak (and corn) for this burrito bowl over the weekend. I've been pretty obsessed with doing grill prep for at least a month now and don't foresee that ending any time soon. Hopefully the bright and fresh cilantro lime dressing on top will bring some proverbial sunshine into my Monday!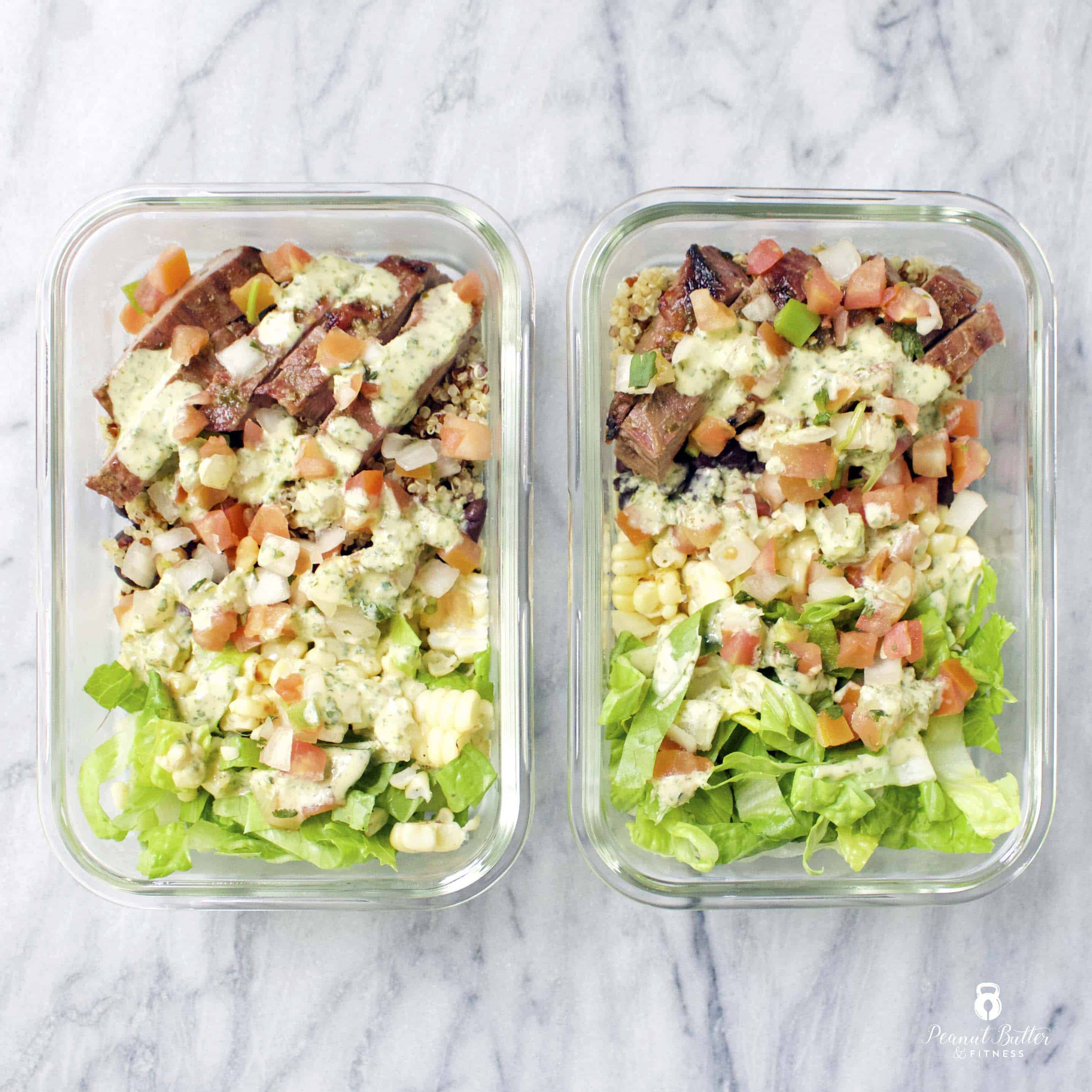 I just got these new glass meal prep containers and so far I'm really digging them. Yes, they're more expensive than plastic containers but I really do feel better about eating out of them. I'm considering buying a bunch more but it's still TBD whether I can deal with the extra size and weight when I'm on the go or taking them to work.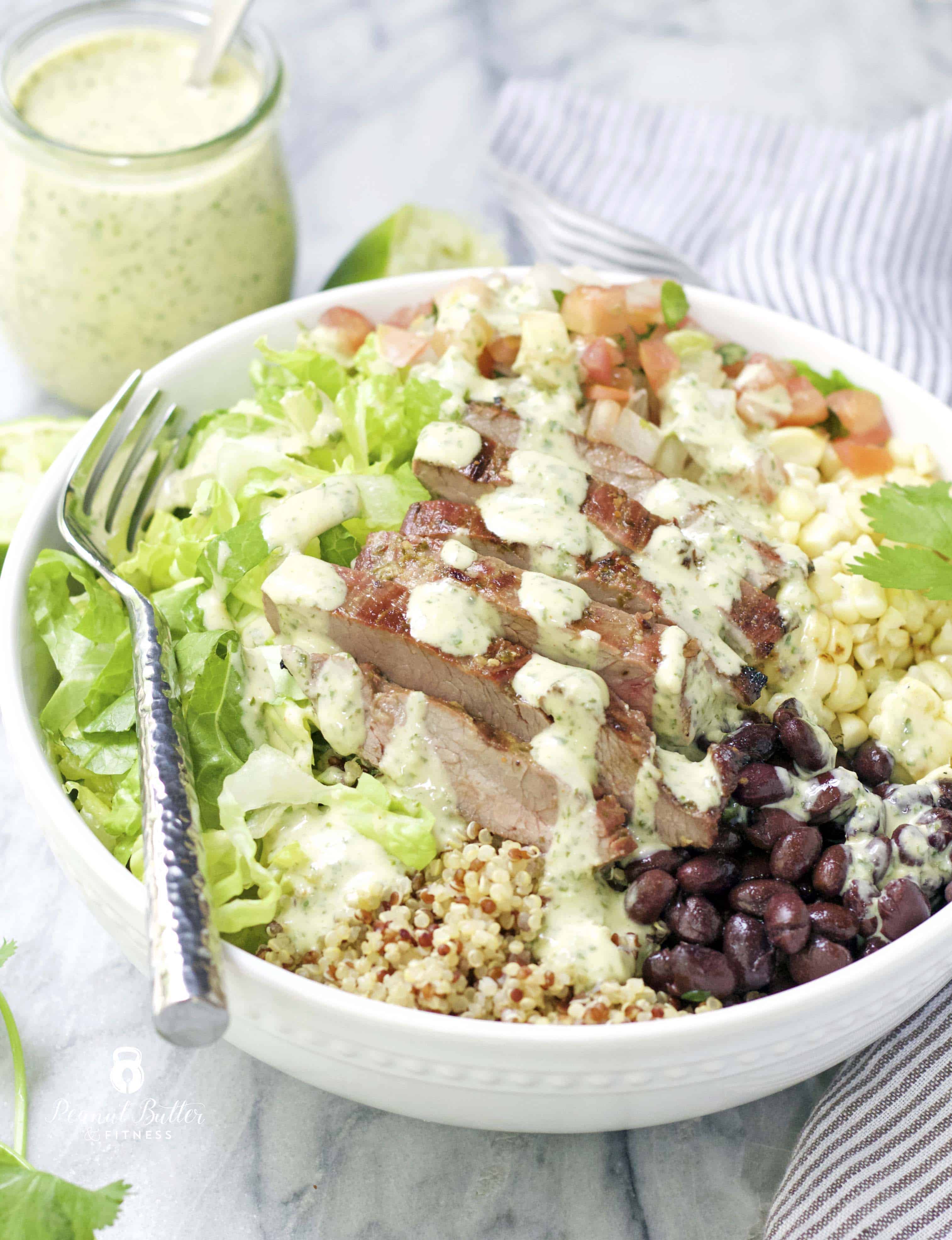 Oh yeah, don't forget to check out the burrito bowl assembly video I made!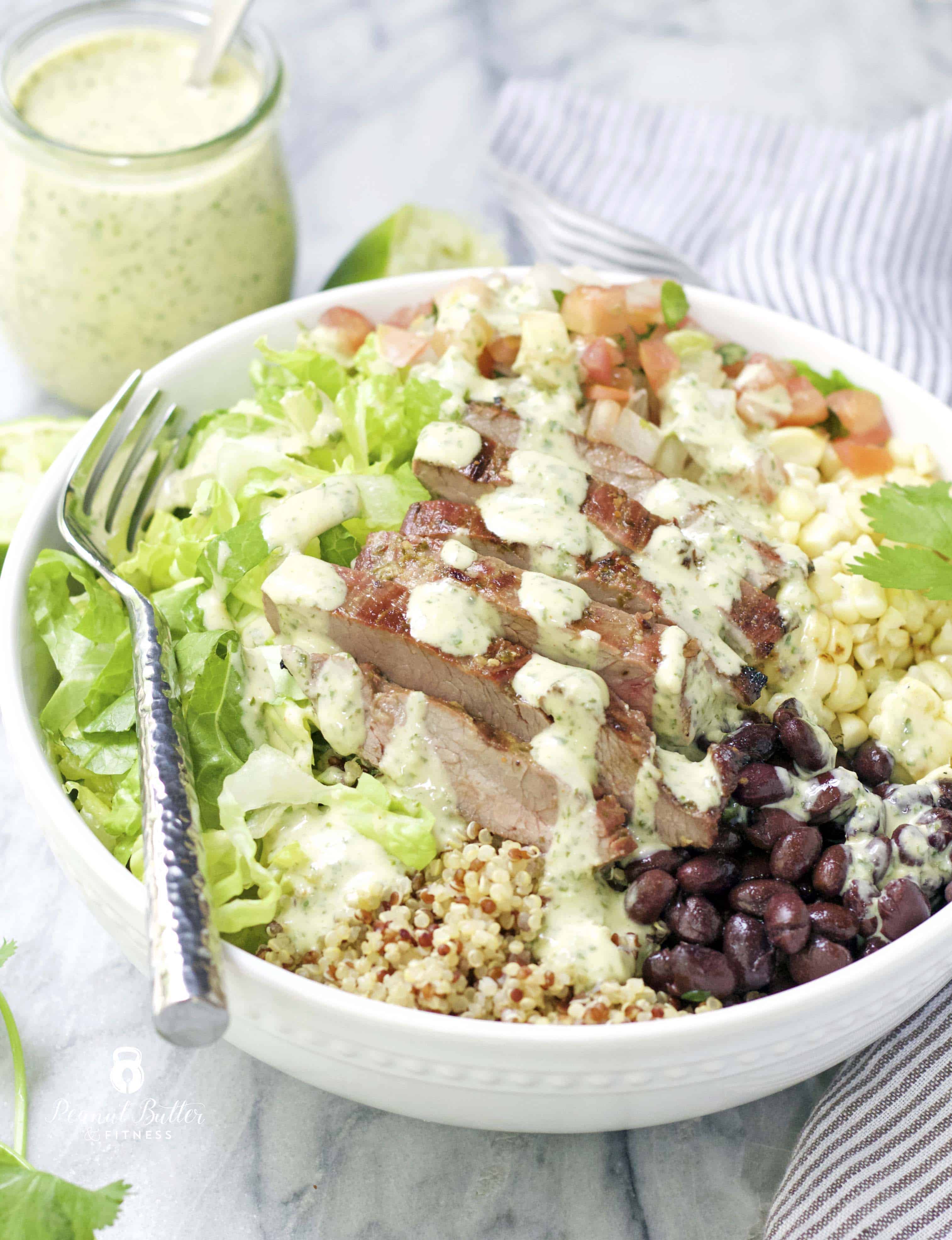 Oh yeah, don't forget to check out the burrito bowl assembly video I made!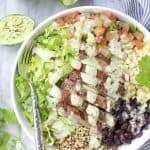 Steak and Quinoa Burrito Bowl
Prep Time 20 minutes
Cook Time 20 minutes
Total Time 40 minutes
Servings 4 servings
Calories per serving 399 kcal
Ingredients
1 lb grass fed flank steak trimmed
4 cups shredded Romaine lettuce hearts
1 cup roasted corn
1 cup low sodium black beans rinsed and drained
1 cup pico de gallo (I used the pre-made Whole Foods kind)
1/3 cup dry tri-color quinoa cooked according to package directions
1 cup cilantro loosely packed
1/4 cup fat free plain Greek yogurt
2 limes juiced
4 cloves garlic
2 tbsp olive oil
Instructions
Add cilantro, olive oil, juice of 2 limes, garlic and Flavor God seasoning to a blender. Pulse until mostly smooth.

Remove half of the cilantro mixture and pour over steak in a resealable container. Marinate for 3 hours or overnight.


Add Greek yogurt and honey to reserved cilantro mixture. Set aside to use as dressing later.

Arrange cooked quinoa, lettuce, black beans, corn, and pico de gallo in a serving dish.

Grill flank steak until cooked to desired temperature. Allow to rest for 5-10 minutes before slicing thinly against the grain. Serve on top of burrito bowl and top with cilantro lime dressing.
Recipe Notes
Grass fed flank steak is typically leaner than regular steak.
Check out the YouTube video demo here!
Nutrition Facts
Steak and Quinoa Burrito Bowl
Amount Per Serving
Calories 399 Calories from Fat 117
% Daily Value*
Fat 13g20%
Cholesterol 50mg17%
Sodium 318mg14%
Potassium 571mg16%
Carbohydrates 41g14%
Fiber 8g33%
Sugar 10g11%
Protein 34g68%
* Percent Daily Values are based on a 2000 calorie diet.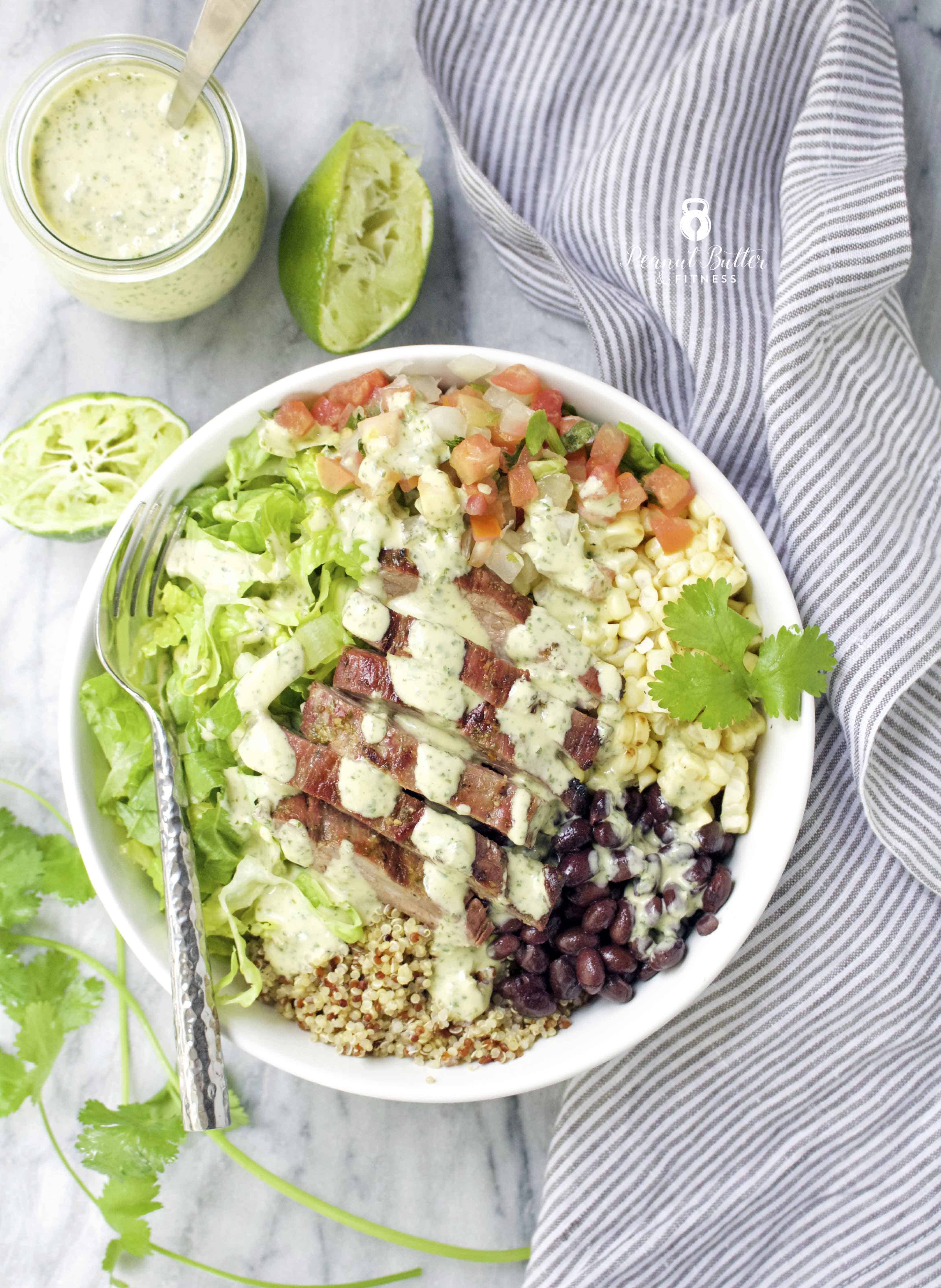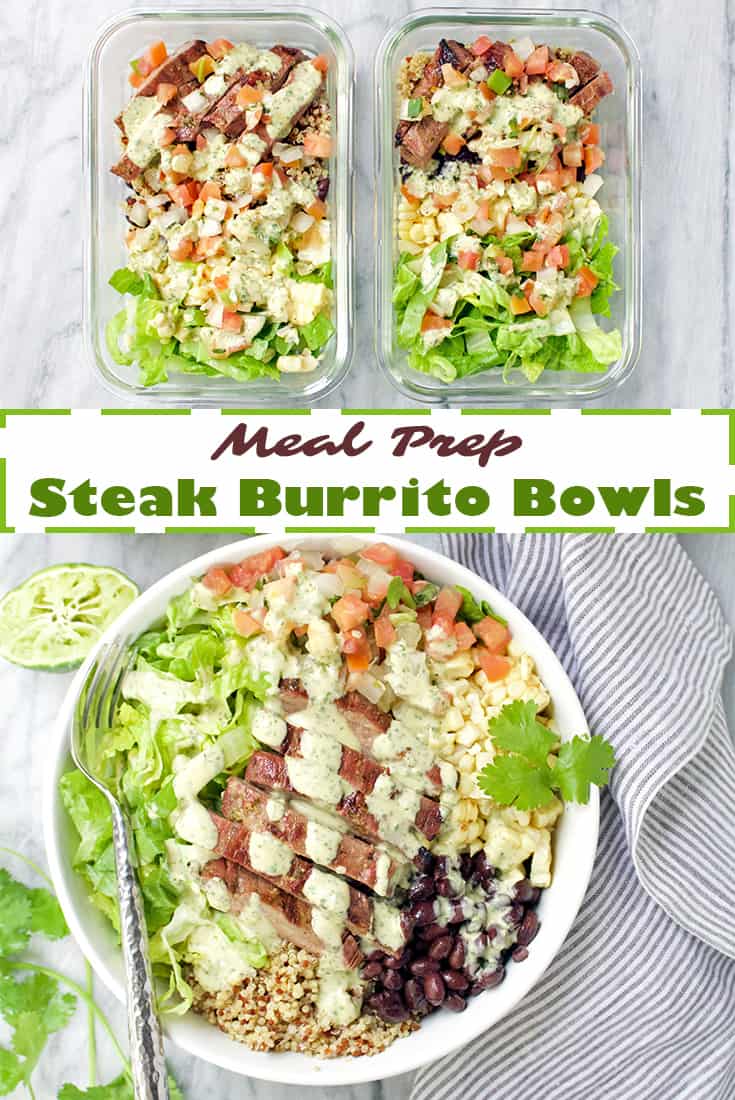 SaveSave