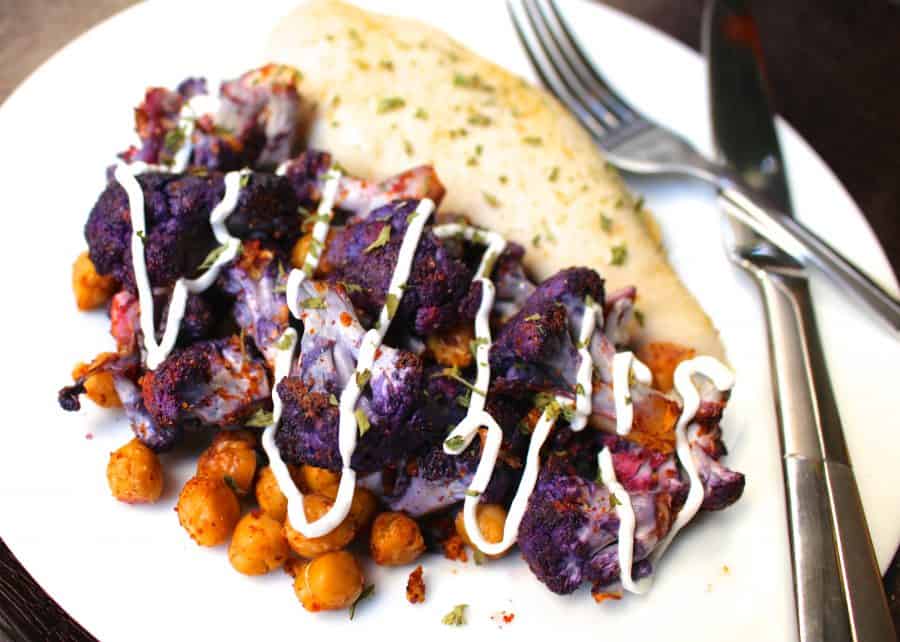 I know it's Tuesday and all, but this is my Meal Prep Monday post…since I was too pooped after spending half of the day in my kitchen yesterday.  I just didnt have it in me to actually sit down and blog about it after.  For clarification – it didn't take me half of a day to meal prep! I was experimenting with some other recipes that will be making an appearance very soon 🙂  Experimenting + meal prepping + (my favorite!) washing dishes + doing laundry at the same time = very long day.  Ugh…seriously, why can I not just have a dishwasher and washer/dryer in my own apartment in San Francisco?  I'm going to have to move after my lease is up with this place.  I hate washing dishes.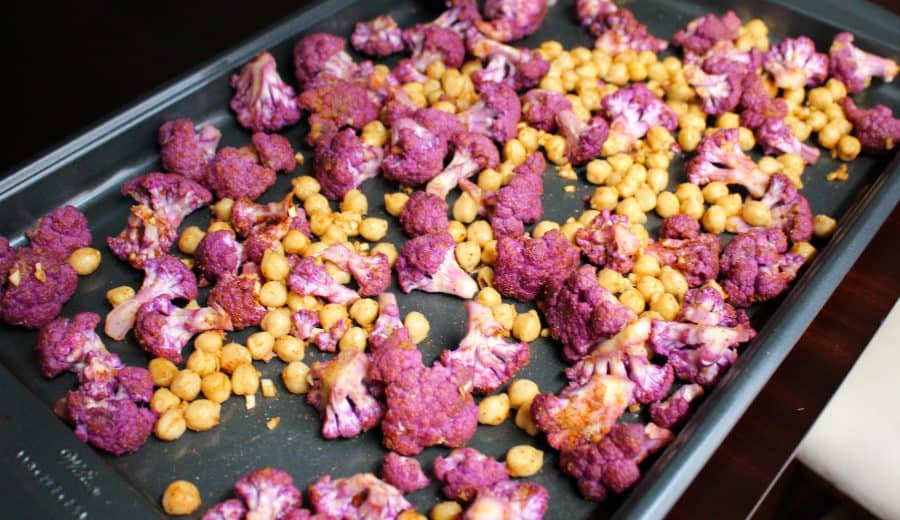 Oh, right, we're here about the food! Not the dishes.  So I decided to mix things up a bit this week with my meal prep.  I've been repeating a lot of the same food combos lately so I figured, why not add some purple in there?  And I did.  With some purple cauliflower – why is it purple you may ask? I have no idea, but Wikipedia tells me it has antioxidants.  It tastes exactly the same as white cauliflower.
I didn't add enough chili powder to this to make it hot spicy, but feel free to add more! I think this is just enough to give it a good flavor without giving you the spice sniffles.  The chickpeas are nice and firm, but not crispy so you can't spear them with a fork.  I paired this with some baked chicken, although I think grilled is always better 🙂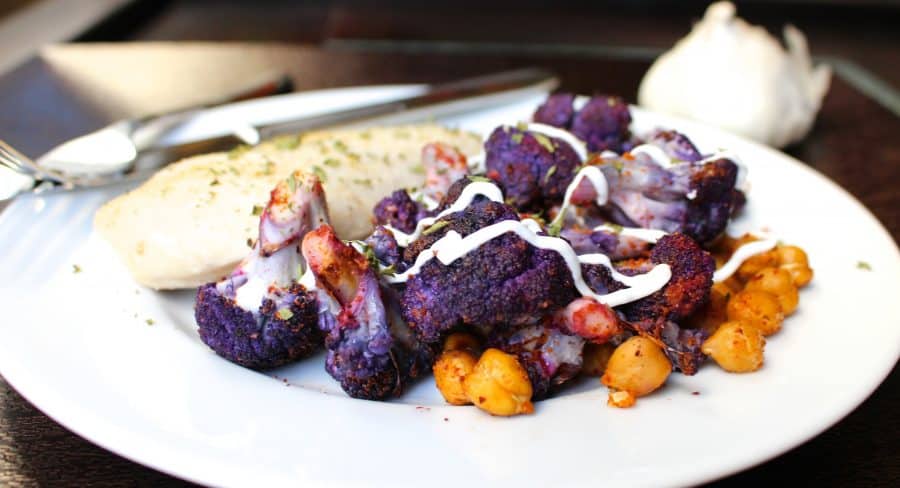 Keep scrolling to the bottom for the rest of my meal prep ideas and nutrition info!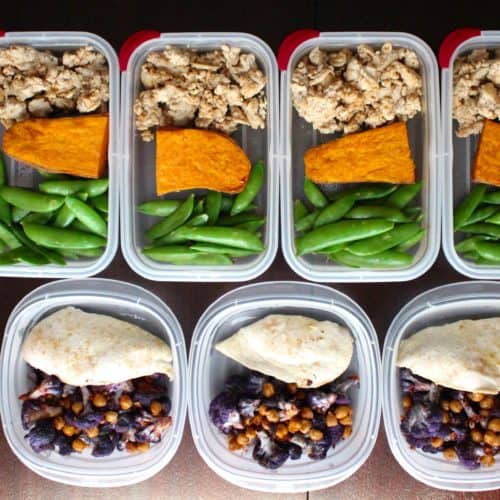 Spicy Garlic Roasted Cauliflower and Chickpeas
Ingredients
1

medium head purple cauliflower

1

cup

canned low sodium chickpeas

,

drained and rinsed

5

cloves

garlic

,

minced

1

tbsp

olive oil

1

tsp

chili powder

1

tsp

garlic powder

1/2

tsp

onion powder

Splash of lemon juice

Optional topping: Plain non-fat Greek yogurt and parsley
Instructions
Pre-heat oven to 350 degrees.

In a large bowl, toss all ingredients together until cauliflower and chickpeas are evenly coated.

Bake at 350 degrees for 25 minutes or until cauliflower is tender crisp.
Nutrition Information
Calories:
123
kcal
(6%)
,
Carbohydrates:
18
g
(6%)
,
Protein:
6
g
(12%)
,
Fat:
4
g
(6%)
,
Sodium:
306
mg
(13%)
,
Fiber:
6
g
(25%)
,
Sugar:
3
g
(3%)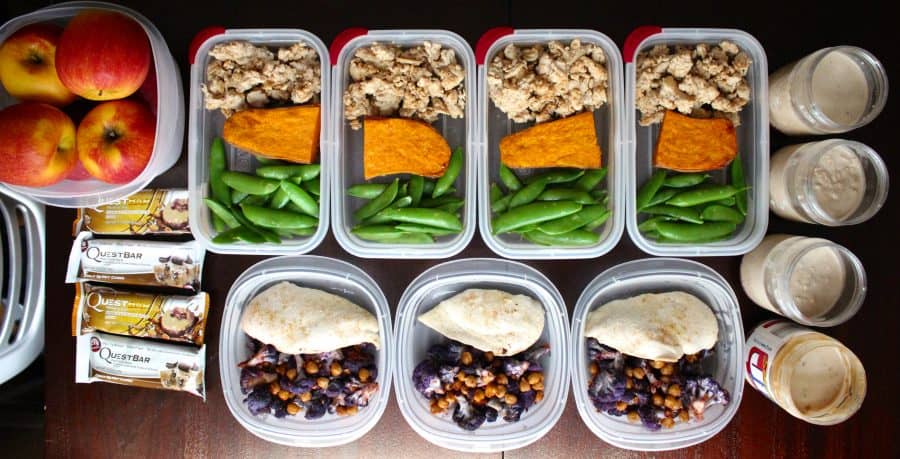 Get your
Quest bars here
! I love them for a snack – lots of protein and hardly any sugar.
Here's what I've got and nutrition totals for each meal:
Chicken with Spicy Garlic Roasted Cauliflower and Chickpeas
Calories: 243 • Fat: 5 g • Protein: 32 g • Carbs: 18 g • Fiber: 6 g • Sugar: 3 g • Sodium: 382 mg • Cholesterol: 65 mg
Recipe above plus 4 oz raw chicken
Bake chicken at 350 degrees for 25-30 mins.
Ground turkey with Baked Sweet Potato and Steamed Sugar Snap Peas
Servings: 4 • Calories: 242 • Fat: 1 g • Protein: 32 g • Carbs: 28 g • Fiber: 6 g • Sugar: 9 g • Sodium: 44 mg • Cholesterol: 0 mg
16 oz 99% lean ground turkey
2 2/3 cup sugar snap peas
Large sweet potato (~350 grams)
Optional: olive oil, Emeril's Cajun seasoning, garlic powder, seasoning salt
Directions: Cook turkey in large skillet, add in Emeril's Cajun seasoning if desired.  Steam sugar snap peas in microwave: Place sugar snap peas in a microwave safe bowl.  Cover bowl with damp paper towel, microwave for 3 minutes.  Cut sweet potato in half lengthwise and brush with olive oil.  Sprinkle with garlic powder and seasoning salt if desired.  Bake at 350 for 45 minutes, then increase to 400 degrees for another 10-15 minutes until tender.
Peanut Butter and Jelly Overnight Oats
Calories: 336 • Fat: 12 g • Protein: 24 g • Carbs: 40 g • Fiber: 10 g • Sugar: 8 g • Sodium: 258 mg • Cholesterol: 0 mg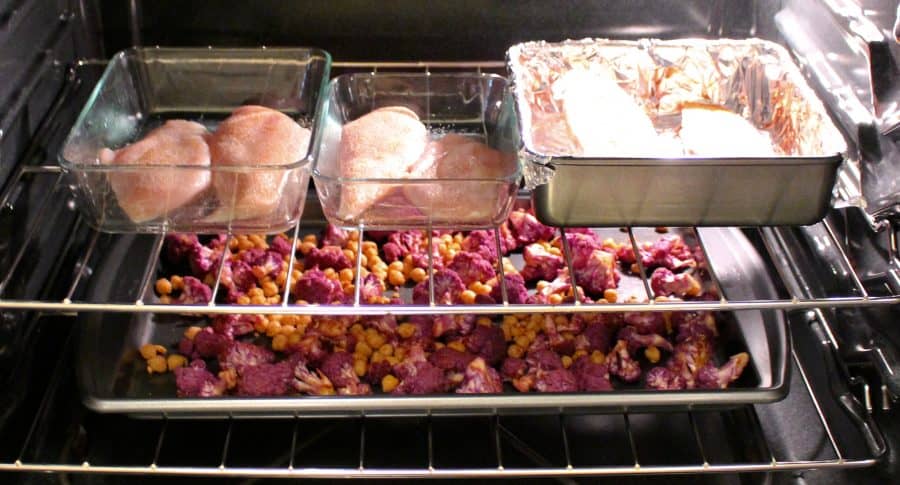 I stuck everything in the oven at one time – helps save time and energy.  The sweet potatoes kind of look like they're about to get beamed up thanks to the foil and bright oven lights.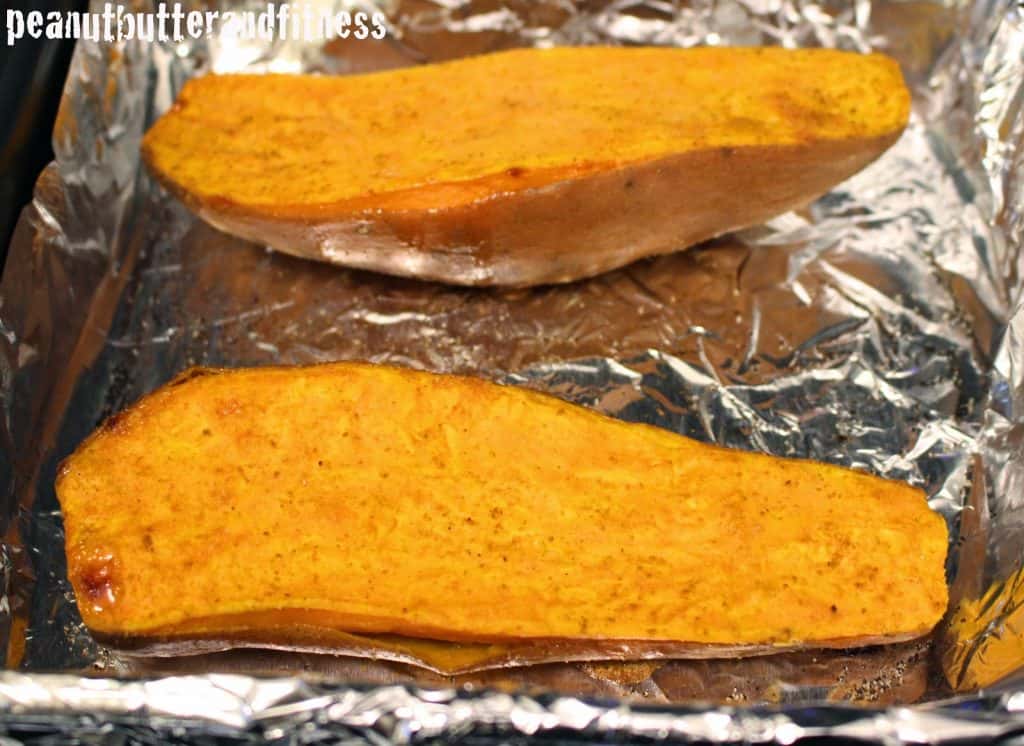 The sweet potato got so tender that the skin started to fall off 🙂 Deeeelicious.  I love using foil to save me from having to do any cleanup!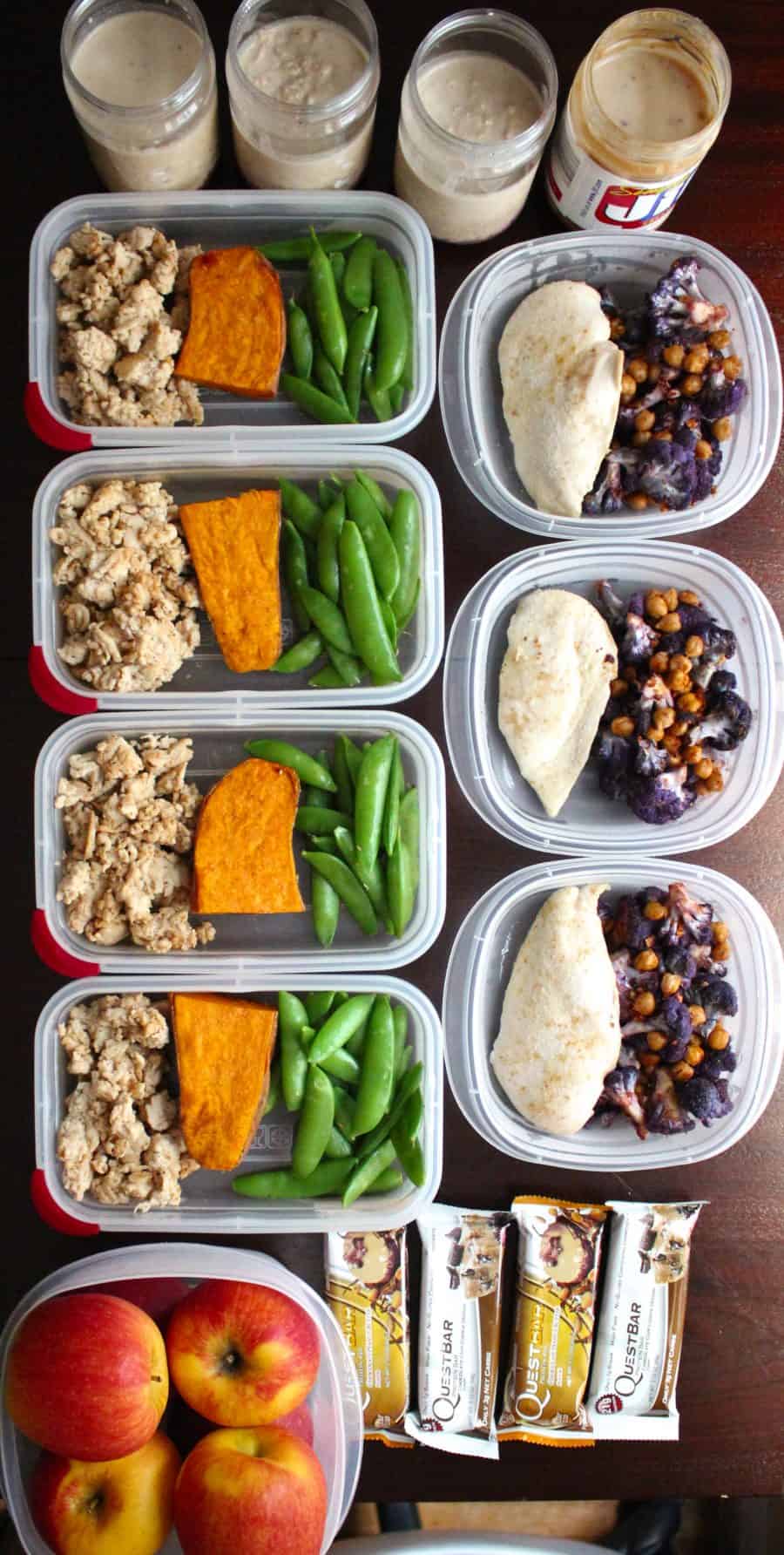 Containers you see here: