 Soup season deserves to have some adventure in it's life instead of being limited to the confines of classics like chicken noodle and tomato soup.  Take it to Mexico with this slow cooker posole verde!  One of my friends and his wife own this bomb, cozy little Mexican restaurant in Oakland and the pictures on Instagram had me feeling inspired to go south of the border with my meal prep this week.  And now, we have arrived 🙂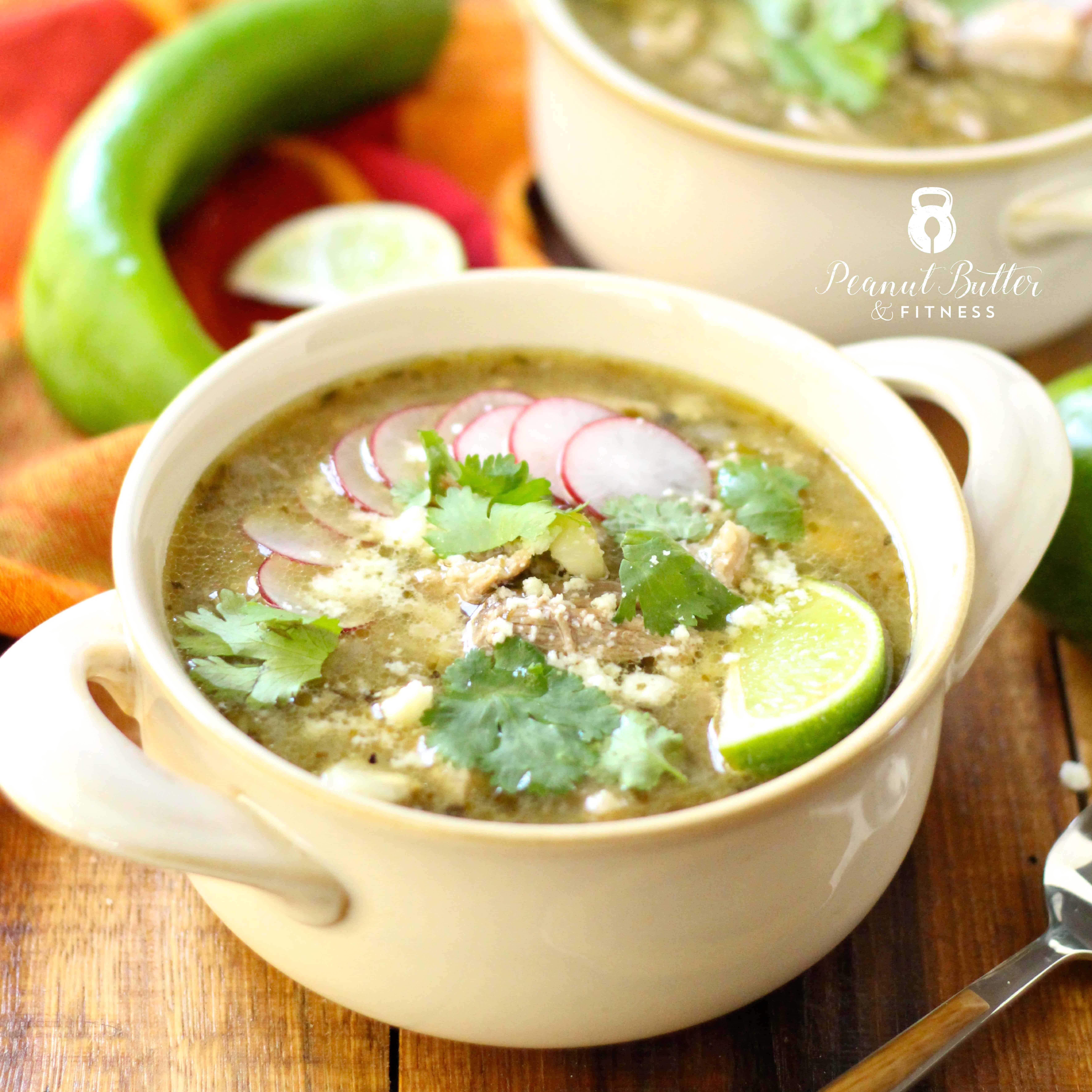 If you've never used tomatillos before, 1) I'm sorry for your loss; and 2) they're these little green tomato looking things that are naturally wrapped in a papery husk.  Once you free them from the husk, you get these sticky little things that need to be washed off – just be sure to buy a few extra than what you need because you'll always get a few that have been gnawed on by bugs or split open completely from over-ripening.  Of course, all this is hidden from view at the store because of the husk so it's hard to tell in advance unless you really stand there analyzing every tomatillo you put into your basket.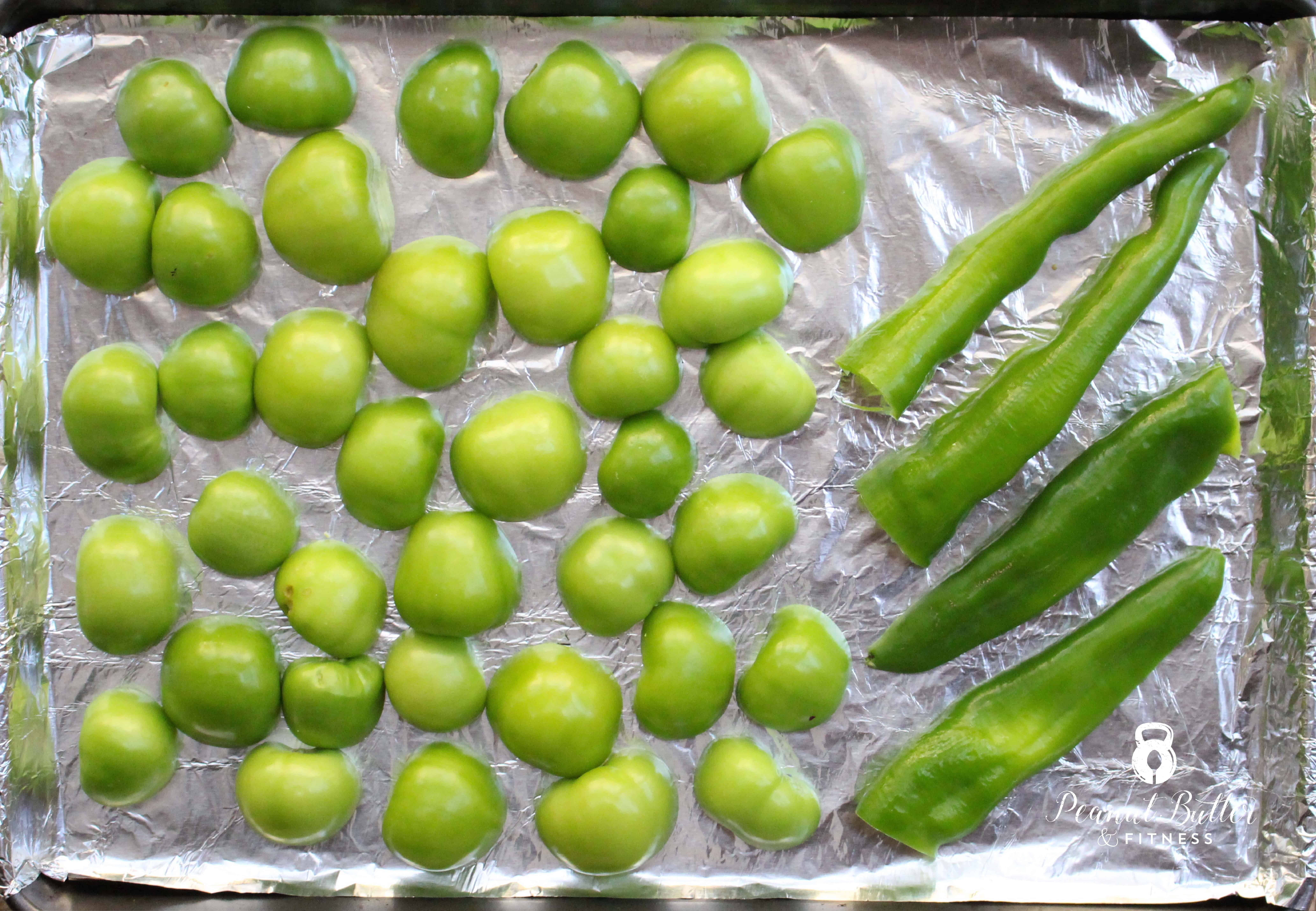 I used a combination of green poblano peppers and Anaheim chiles in this recipe (you can only see Anaheims on this baking sheet), but you can certainly use all of one or the other, or even use a combo of poblanos and jalapeños.  Poblanos tend to be a little sweeter and Anaheims are a little warmer and more acidic in flavor, although both sit at the very low end of the heat index for peppers.
Hominy is pretty easy to find in the Mexican section of your grocery store (at least it was easy to find a bunch of brands in San Francisco).  It's a variety of corn that you'll usually find in a can, although you can probably find the uncooked variety if you look hard enough.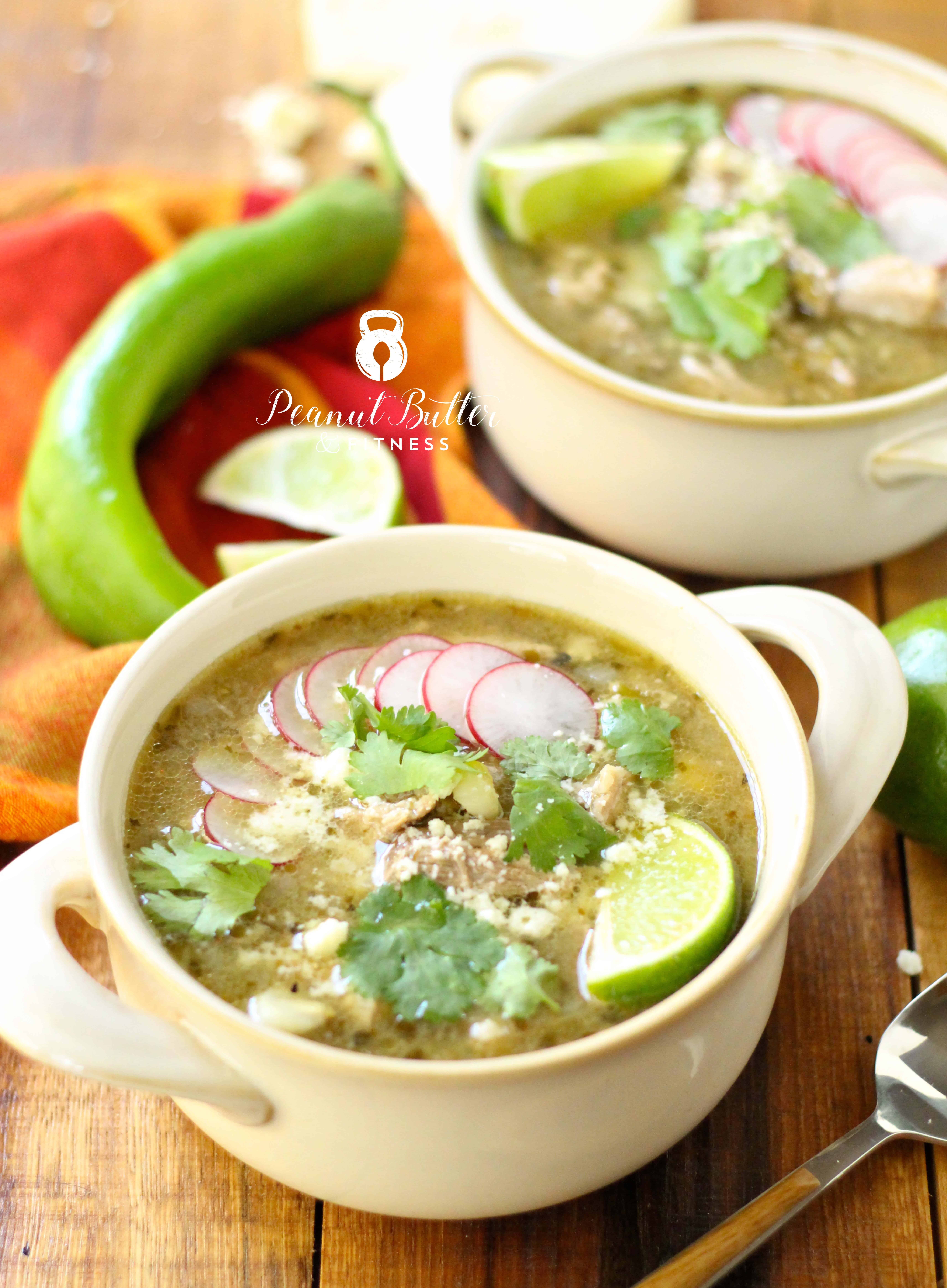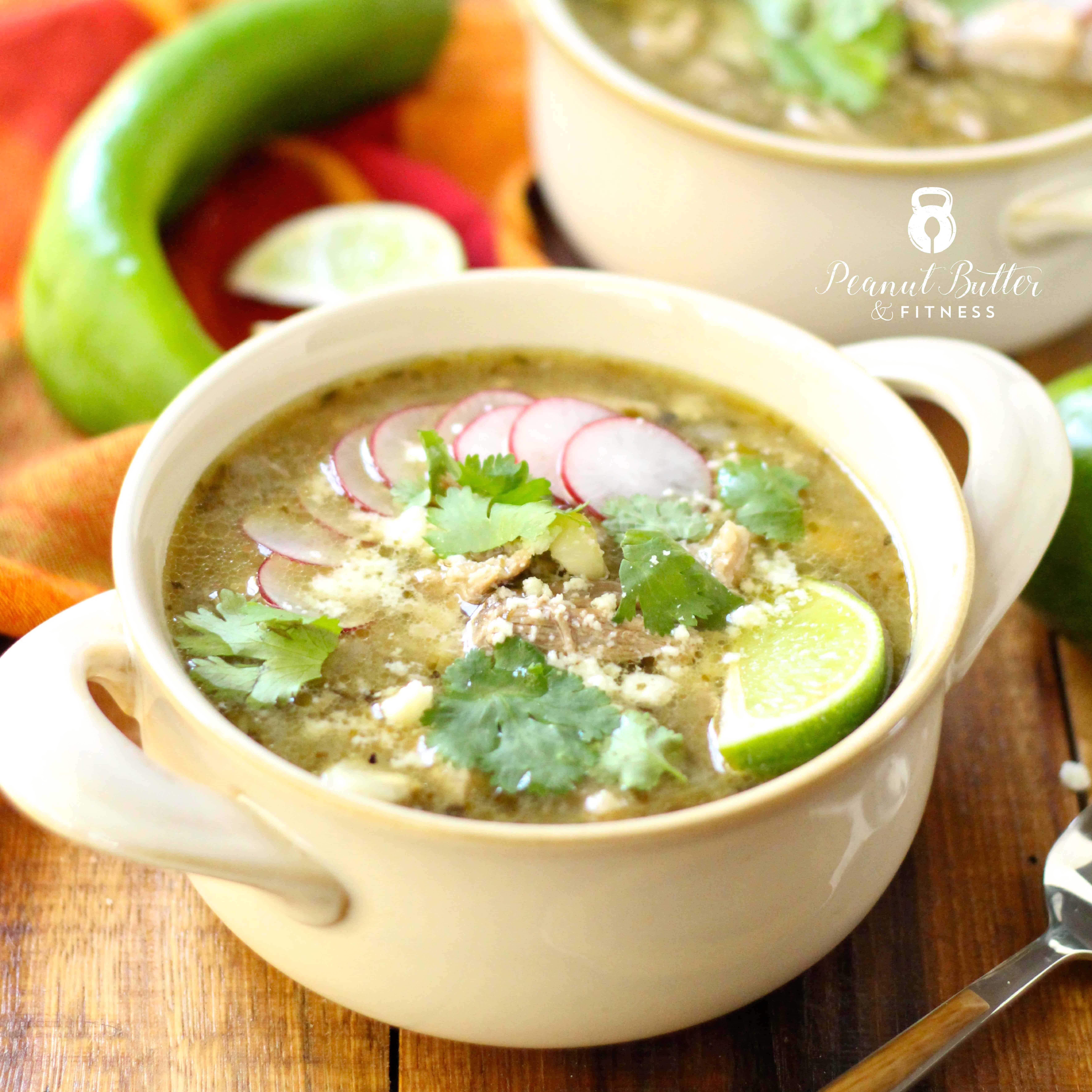 Slow Cooker Posole Verde
Ingredients
3

pound

bone in pork shoulder

1

orange

1

lime

1 

cup

 chicken bone broth

1

yellow onion,

,

chopped

5 

cloves

garlic,

,

minced

1

tsp

salt

1

tsp

pepper

1

tbsp

Mexican oregano

1/2

tbsp

 cumin

1

tsp

chili powder

1

quart

unsalted chicken cooking stock

2

lbs

tomatillos,

,

rinsed and halved

1

lb

poblano peppers,

,

halved lengthwise with stems and seeds removed, or combo of Anaheim chiles and poblanos

25

oz

can hominy,

,

drained and rinsed (I used Juanita's)

Optional toppings: quartered limes,

,

cilantro, thinly sliced radishes, crumbled cotija cheese, shredded cabbage

Salt and pepper to taste
Instructions
Rinse the pork shoulder under running water and pat dry with a paper towel.  Mix salt, pepper, cumin, chile powder and oregano, then pat spices onto all sides of pork shoulder.

Add onion, garlic and chicken broth to bottom of a slow cooker, then add pork shoulder on top with fat side up.  Squeeze orange and lime into slow cooker, then cook on low for 5-6 hours or until the meat has reached at least 145 degrees and can easily be removed from the bone and shredded.

Pre-heat oven to a broil and line baking sheet with aluminum foil.

Arrange halved tomatillos on baking sheet, cut side down.  Add poblano peppers/Anaheim chile peppers cut side down on the same pan.  Spray lightly with olive oil.  Broil for 8-10 minutes until skin begins to blister.

Remove skin from peppers and pulse in a food processor with roasted tomatillos until mostly smooth.

Shred the pork and discard the bone and any connective tissue or fat that remains.  Return shredded pork to slow cooker.  Add chicken stock, tomatillo mixture and hominy and turn heat on slow cooker to high for 30 minutes.

Serve with desired toppings (definitely don't skip the limes and cilantro!).
Nutrition Information
Calories:
351
kcal
(18%)
,
Carbohydrates:
23
g
(8%)
,
Protein:
44
g
(88%)
,
Fat:
8
g
(12%)
,
Cholesterol:
116
mg
(39%)
,
Sodium:
298
mg
(13%)
,
Fiber:
3
g
(13%)
,
Sugar:
9
g
(10%)