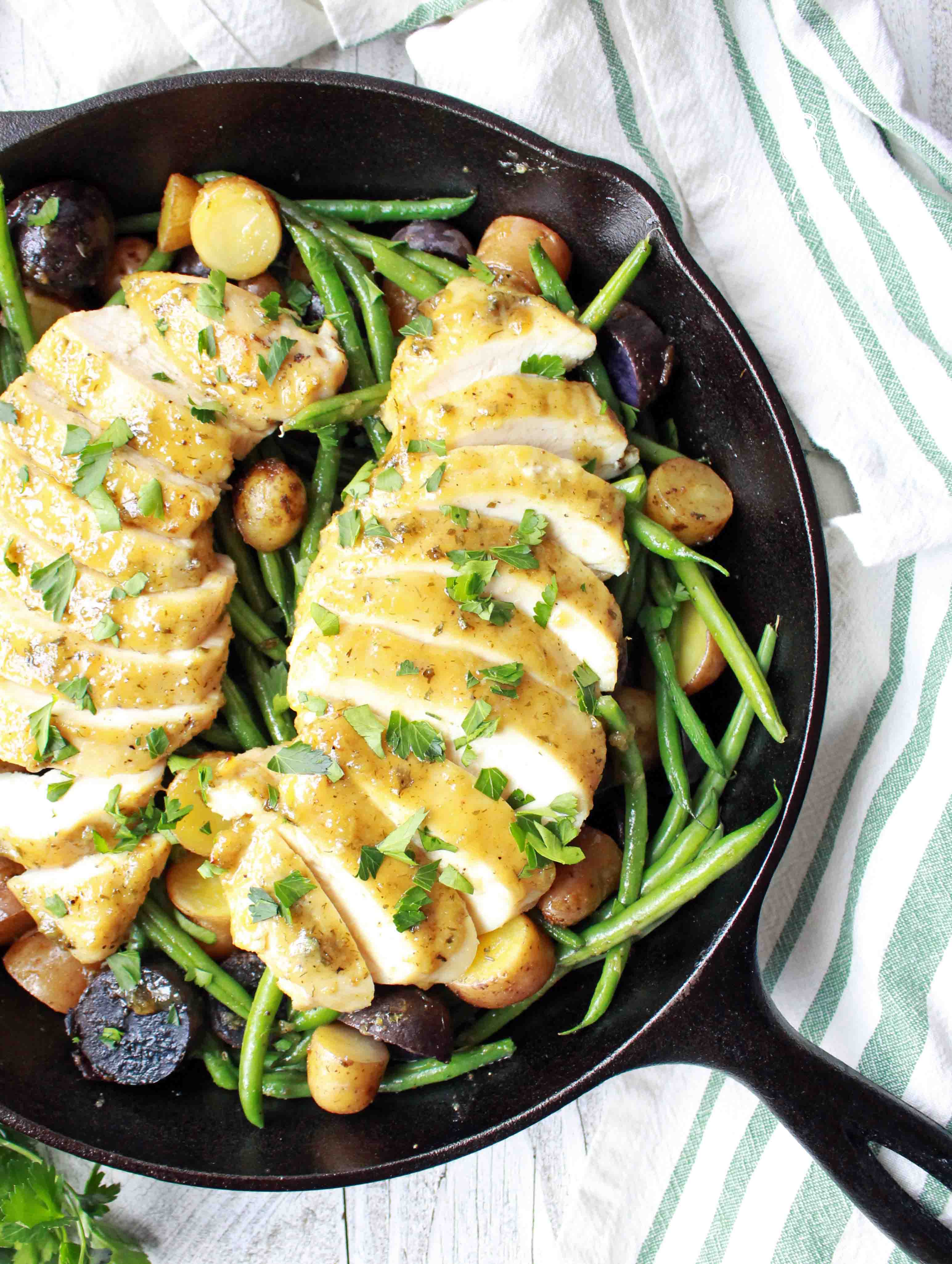 Jump to Recipe
Happy long weekend everyone! Or at least everyone that has tomorrow off. I'm sorry to those of you who have to work for MLK day. If you don't have to work, maybe take some time to watch an MLK documentary or read MLK's letter from Birmingham Jail and remember why it's a national holiday. And then make yourself some of this amazing (and super easy) chicken!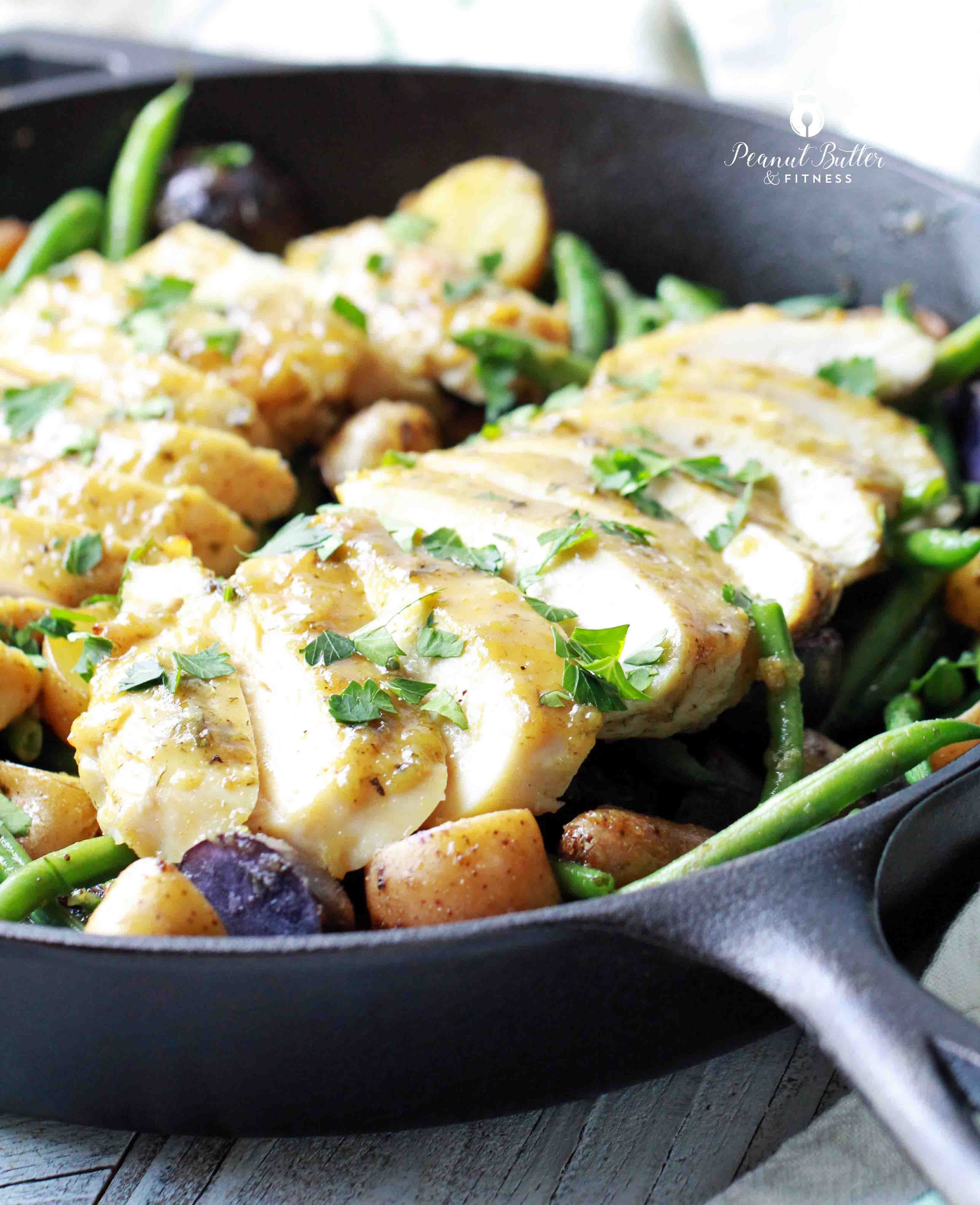 As I sat here brainstorming my meal plan for the week, I knew I wanted something easy and healthy but with lots of flavor. So I did what I always do when I'm planning meals and turned to Pinterest for some inspiration. I went through the list of usual suspects – grilled chicken, slow cooker chicken, chicken on a salad, stuffed chicken, rotisserie chicken…you get the idea. But then I remembered how much I loved the Rosemary Lemon Chicken Skillet with Sweet Potatoes that I made in October and knew I needed to reach for the skillet.
Initially I planned on using sweet potatoes for this dish but then I saw the bags of fingerling potato medleys at the grocery store and knew I had to have them. Who doesn't want to eat a purple potato?! #EatTheRainbow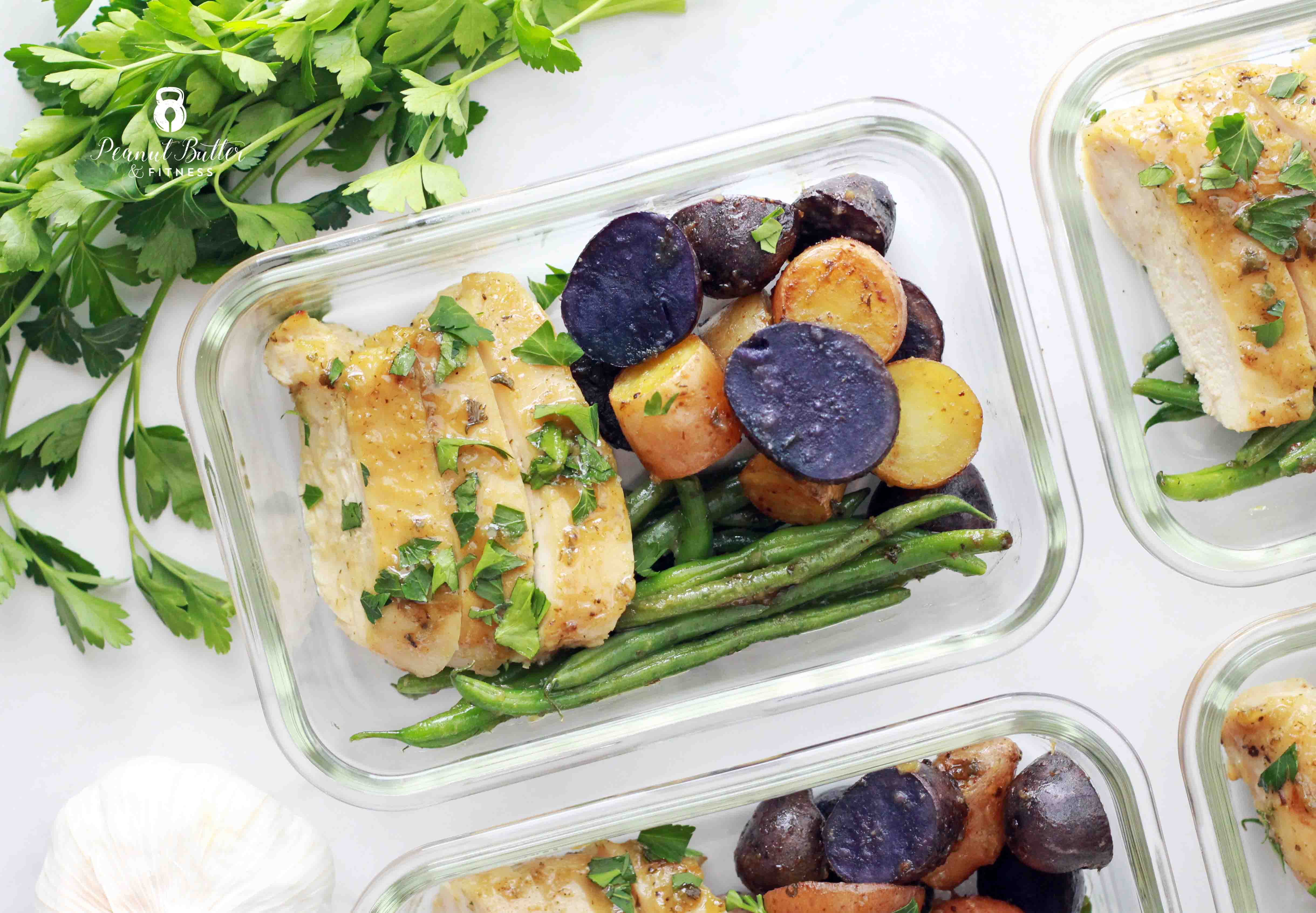 Do you really need to brown the chicken before you stick it in the oven to bake? No. But it's so much prettier if you do. Just trust me here. If you brown the top of the chicken before you bake it turns nice and golden brown in the oven, especially with the help of the honey garlic sauce. You eat with your eyes first, right? If you don't like green beans, switch them out with asparagus or maybe even broccoli.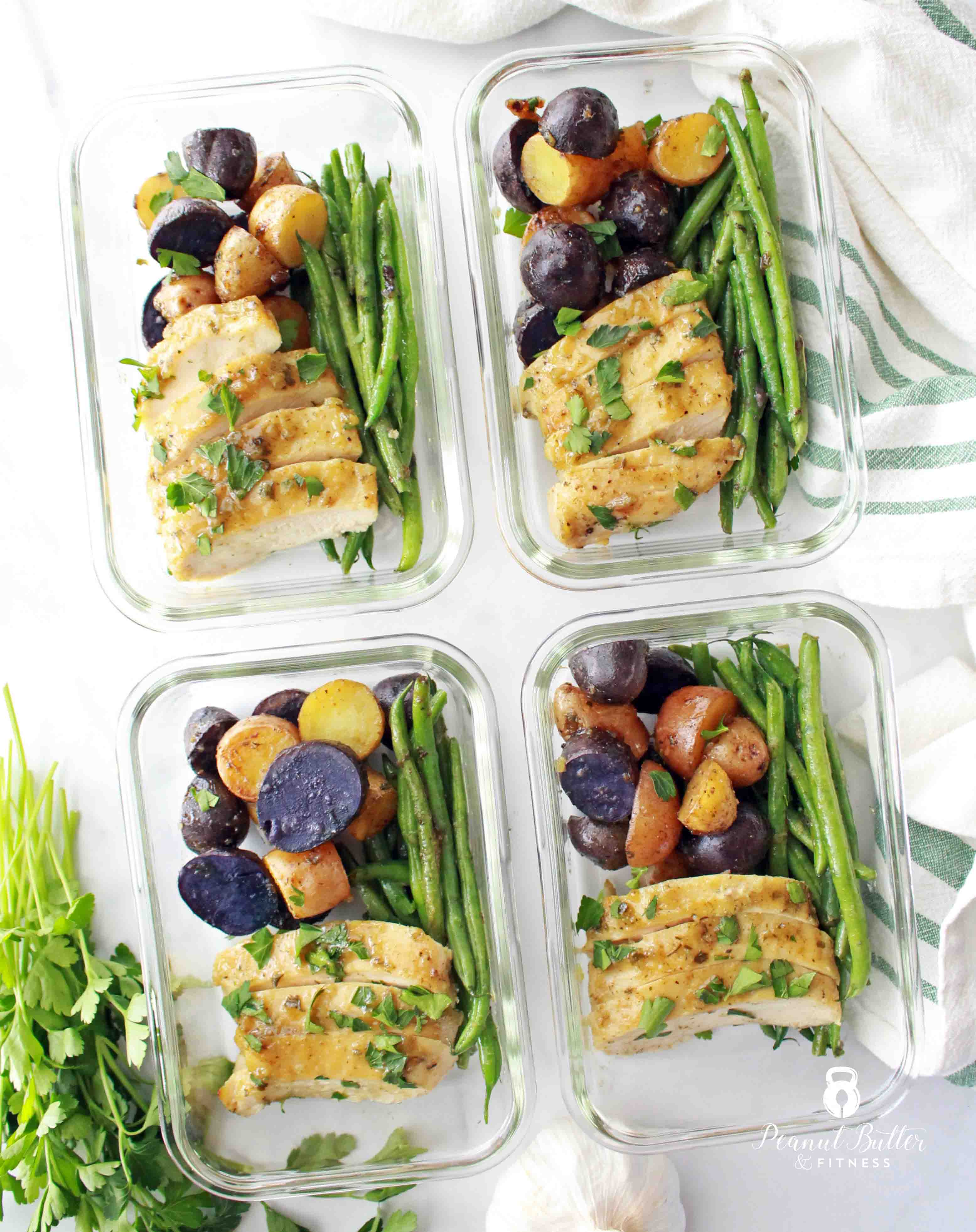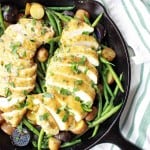 Skillet Honey Garlic Chicken with Fingerling Potatoes and Green Beans
Prep Time 15 minutes
Cook Time 25 minutes
Total Time 40 minutes
Servings 5 servings
Calories per serving 345 kcal
Ingredients
1 1/4 lb chicken breast
2 cups fingerling potatoes, halved (400 grams)
16 oz French green beans (454 grams)
2 tbsp honey (42 grams)
1 1/3 tbsp olive oil (18 grams)
1 1/2 tbsp light brown sugar (18 grams)
1 tbsp Dijon mustard
4 cloves garlic, minced (16 grams)
1/2 tsp dried parsley
Fresh parsley to garnish
Instructions
Pre-heat oven to 400 degrees.

Whisk together honey, 1 tbsp olive oil, Dijon mustard, brown sugar, garlic, Flavor God seasoning and dried parsley.  Set aside.

In a large oven safe skillet, heat remaining olive oil over medium-high heat.  Add chicken breasts and brown each side (about 1 minute per side).  Remove chicken from skillet and set aside.

Add fingerling potatoes to the skillet over medium-high heat and toss in the browned bits and remaining oil. Allow potatoes to cook in the skillet for 3-5 minutes before topping with chicken.  Brush chicken and potatoes with honey garlic mixture, saving about 2 tbsp for later.

Bake chicken and potatoes at 400 degrees for 15 minutes, then remove from oven.  Set chicken aside and add green beans to the skillet.  Place chicken on top of green beans and brush with remaining honey garlic mixture.

Place skillet back in oven and bake for an additional 15 minutes or until chicken reaches an internal temperature of 165 degrees.
Nutrition Facts
Skillet Honey Garlic Chicken with Fingerling Potatoes and Green Beans
Amount Per Serving
Calories 345 Calories from Fat 45
% Daily Value*
Fat 5g8%
Cholesterol 80mg27%
Sodium 185mg8%
Potassium 174mg5%
Carbohydrates 46g15%
Fiber 7g29%
Sugar 15g17%
Protein 31g62%
* Percent Daily Values are based on a 2000 calorie diet.