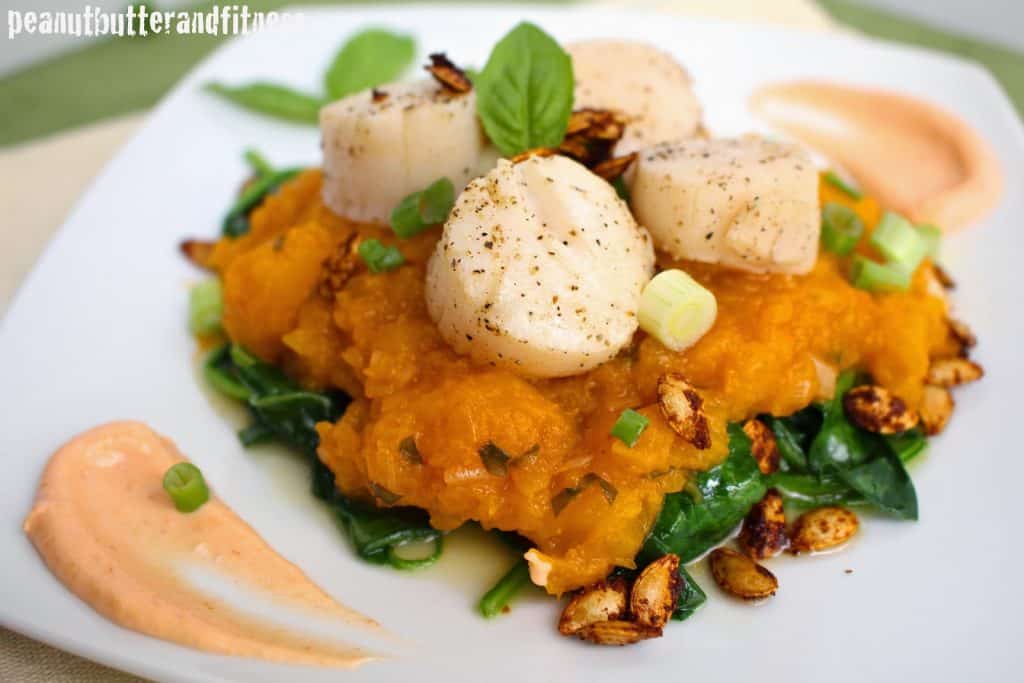 This weekend when I was coming up with my meal plan for the week I was struggling…like, I just couldn't bring myself to want to eat any version of salads or even my go-to ground turkey with baked sweet potato and veggies. All of it sounded so unappetizing for some reason :/ So I decided to get a little bit adventurous and (eek!) make something Thai-inspired with curry! And butternut squash because, well…yum. Plus one serving here has 335% of your daily vitamin A! Go eye health.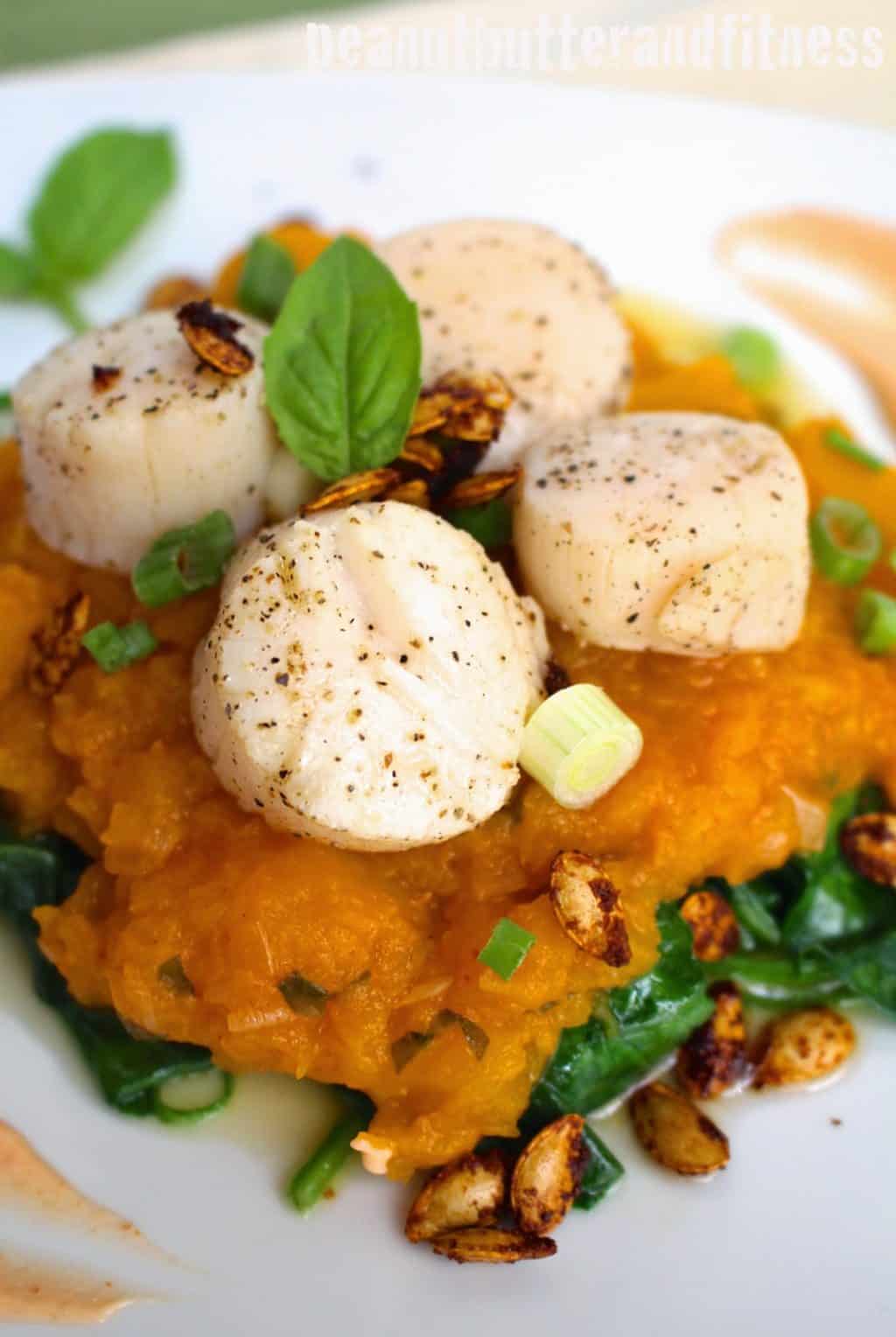 I have been a little bit scared to do anything with curry ever since the firs time I tried Indian food…I can honestly say that I hate Indian curry. It's just so…bad. And yellow. I've tried red curry before (the Thai kind) and I liked it, but this is the first time I cooked with it at home. I have to say that it turned out really well! The butternut squash mash is the star of this dish 🙂 It's got a really complex flavor that's not too spicy but has a nice sweet finish thanks to the coconut milk.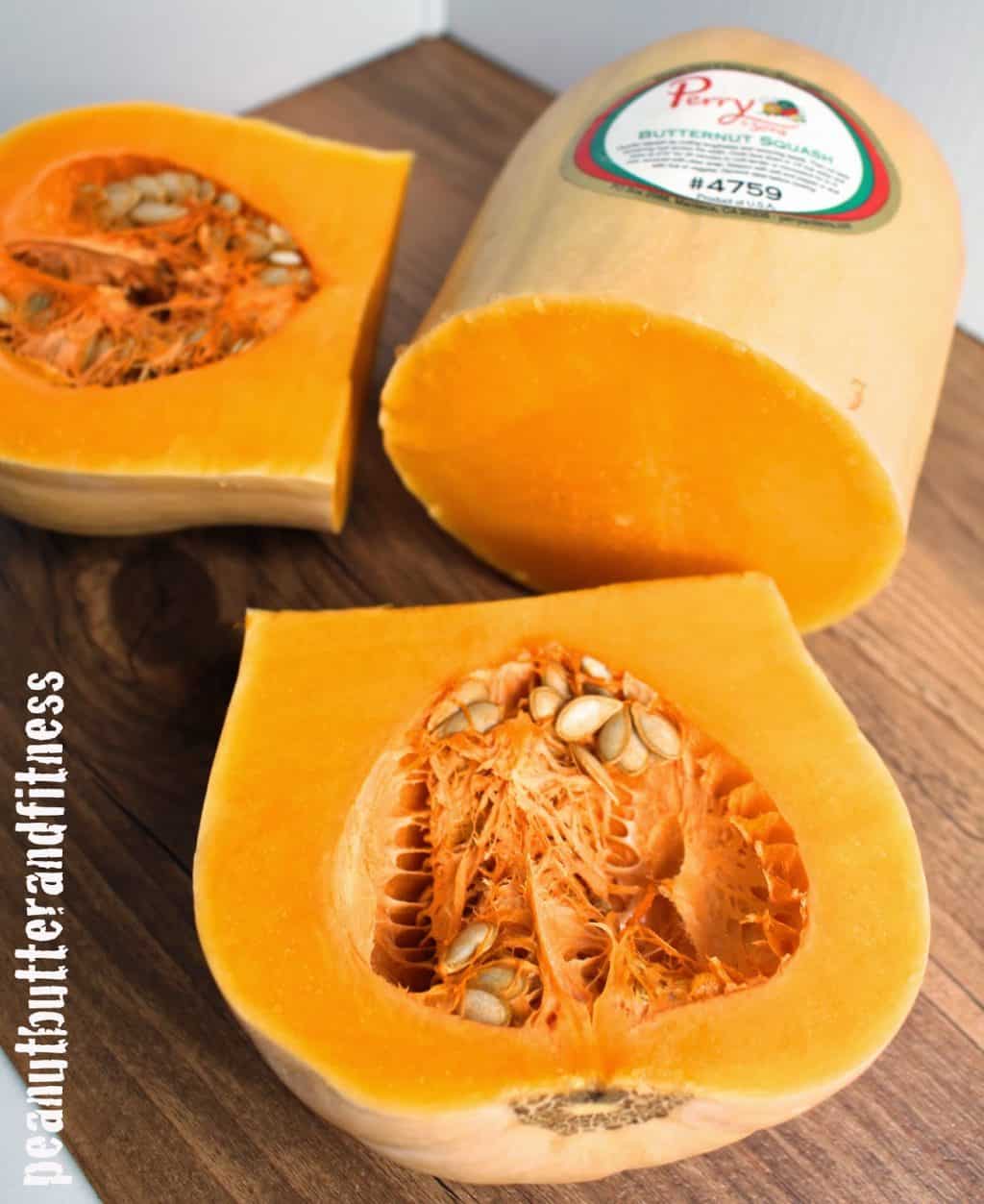 If you haven't cooked with it before, butternut squash are deceptively large. As in, I picked out a pretty average size squash in the store and figured "oh, I hope it makes enough" and then found myself with about 6 cups worth of cubed squash in the end. I didn't even end up cutting up or cooking one of those bottom halves…it was just so much. A lot of grocery stores will sell this stuff already cubed, which I would normally highly recommend since this stuff is a pain in the butt to cut and peel. But in this case…you want the seeds. You need them really 🙂 See what I mean?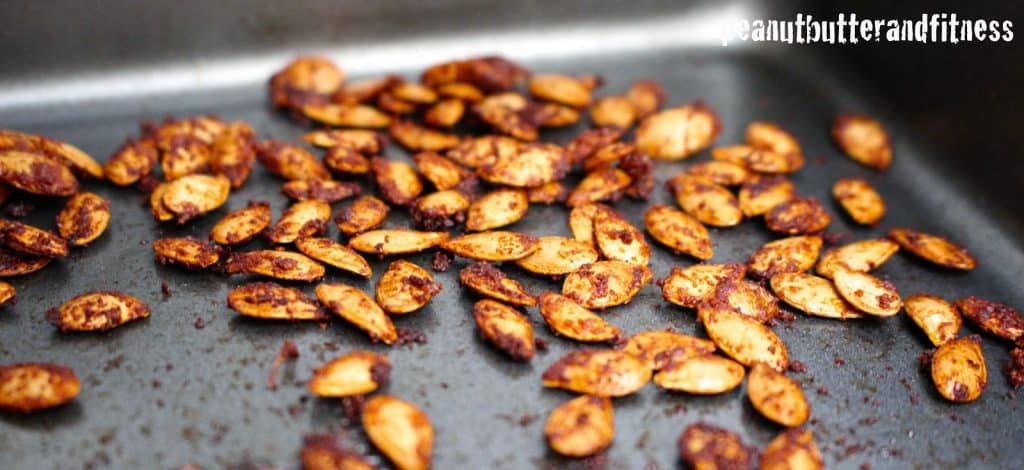 I roasted them up with some sriracha, olive oil and garlic powder. They add a perfect little crunch and extra kick of spice on the butternut squash. You gotta try them. Seriously.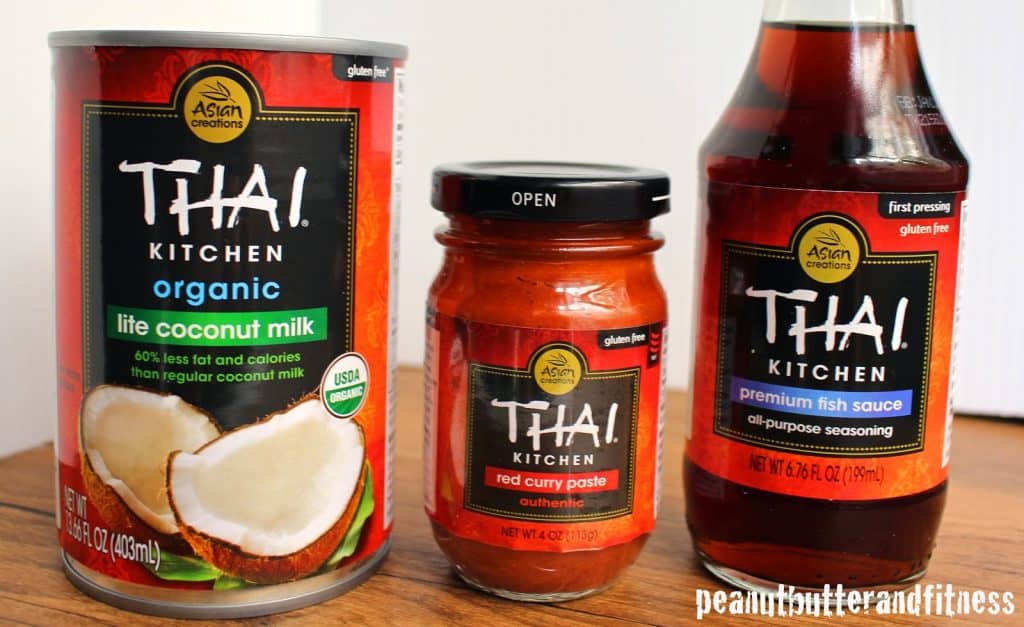 What is this, a tribute to Thai Kitchen or something? The funny thing is that I bought all 3 of these things at different times, at different grocery stores. And somehow unintentionally ended up with the same brand every time! I know some people will get grossed out by the fish sauce, but give it a chance. Honestly, it adds a really unique, complex nutty flavor to the squash here that you can't get otherwise…you just have to be careful about how much you use! It's very potent and salty tasting and I can almost promise you that if you open it up and smell it, you will want to leave it out. Don't give up! If it really freaks you out, just use 1 tsp instead of 1 1/2 tsp. Be brave, my friends.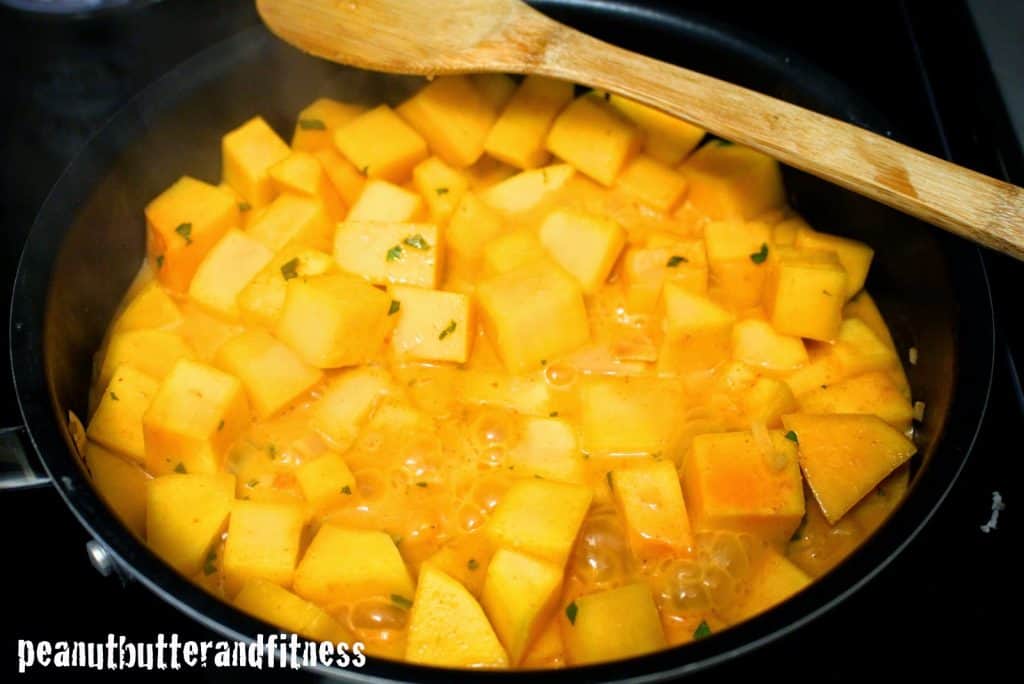 I would say that the squash was mildly spicy with 4 tsp of curry. If you like spicy, add more. Obviously. And the bed of wilted spinach? Well, I really just wanted something green to go with the dish but if you aren't concerned about that, just leave it out and eat more squash 🙂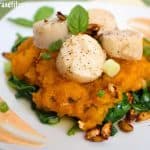 Scallops with Thai Butternut Squash Mash
Prep Time 30 minutes
Cook Time 20 minutes
Total Time 50 minutes
Servings 4
Calories per serving 267 kcal
Ingredients
1 lb raw scallops
4 -5 cups butternut squash cubed
1 cup light coconut milk
1/4 cup diced shallot
4 tsp red curry paste
1 1/2 tsp fish sauce
2 tbsp chopped fresh basil
6 cups baby spinach
1 tbsp coconut oil
1 tsp olive oil
Salt and pepper to taste
Optional toppings: Green onions, sriracha sauce mixed with plain Greek yogurt, roasted sriracha butternut squash seeds
Instructions
In a medium pot, melt half of the coconut oil over medium-high heat.  Add diced shallot and sauté until fragrant.  Add coconut milk, fish sauce, curry paste and dried basil and mix well.  Add butternut squash and bring to a boil, then reduce heat to medium-low and continue cooking, covered for 15 to 20 minutes or until squash is tender.

Once squash is cooked, remove from heat and mash by hand or using an immersion blender.  Set aside.

In a large pan, heat olive oil over medium-high heat.  Add baby spinach, tossing to coat evenly in olive oil.  Wilt baby spinach until just tender and divide evenly among 4 plates, then top with butternut squash mash.

Add remaining coconut oil to pan and melt over medium-high heat.  Season scallops with salt and pepper and sear on one side until browned, about 2-3 minutes.  Flip scallops and sear the other side until cooked through.  Serve over butternut squash mash and top with green onions and roasted butternut squash seeds if desired.
Recipe Notes
*To make the roasted sriracha butternut squash seeds: Mix the reserved butternut squash seeds with 1/2 tsp olive oil, 1 tsp sriracha and 1/2 tsp garlic powder.  Spread in single layer on baking sheet and bake at 300 degrees for 15-20 minutes or until crunchy.
Nutrition Facts
Scallops with Thai Butternut Squash Mash
Amount Per Serving
Calories 267 Calories from Fat 81
% Daily Value*
Fat 9g14%
Cholesterol 37mg12%
Sodium 649mg28%
Carbohydrates 25g8%
Fiber 4g17%
Sugar 4g4%
Protein 22g44%
* Percent Daily Values are based on a 2000 calorie diet.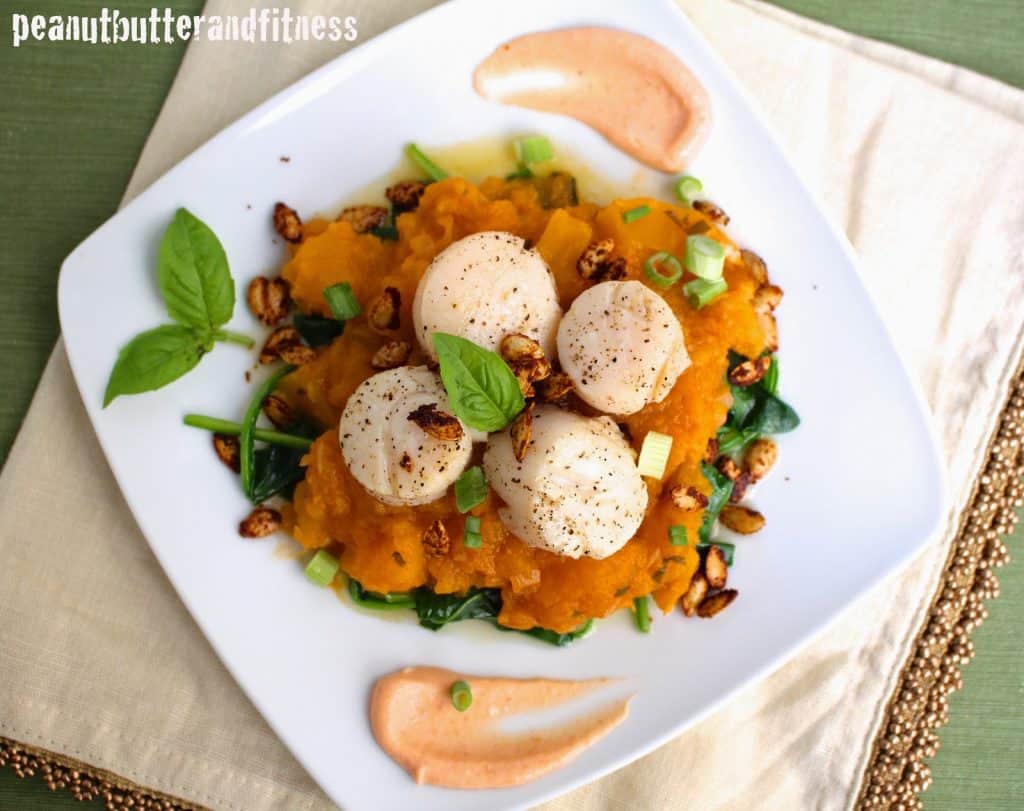 If you have a grill, you had better be grilling those scallops! I just did them in a pan on the stovetop, but I almost never get a good sear doing it that way…I end up with too much liquid as soon as they start cooking and then any hopes of a golden brown scallop bottom are dashed. So grill away! Enjoy 🙂