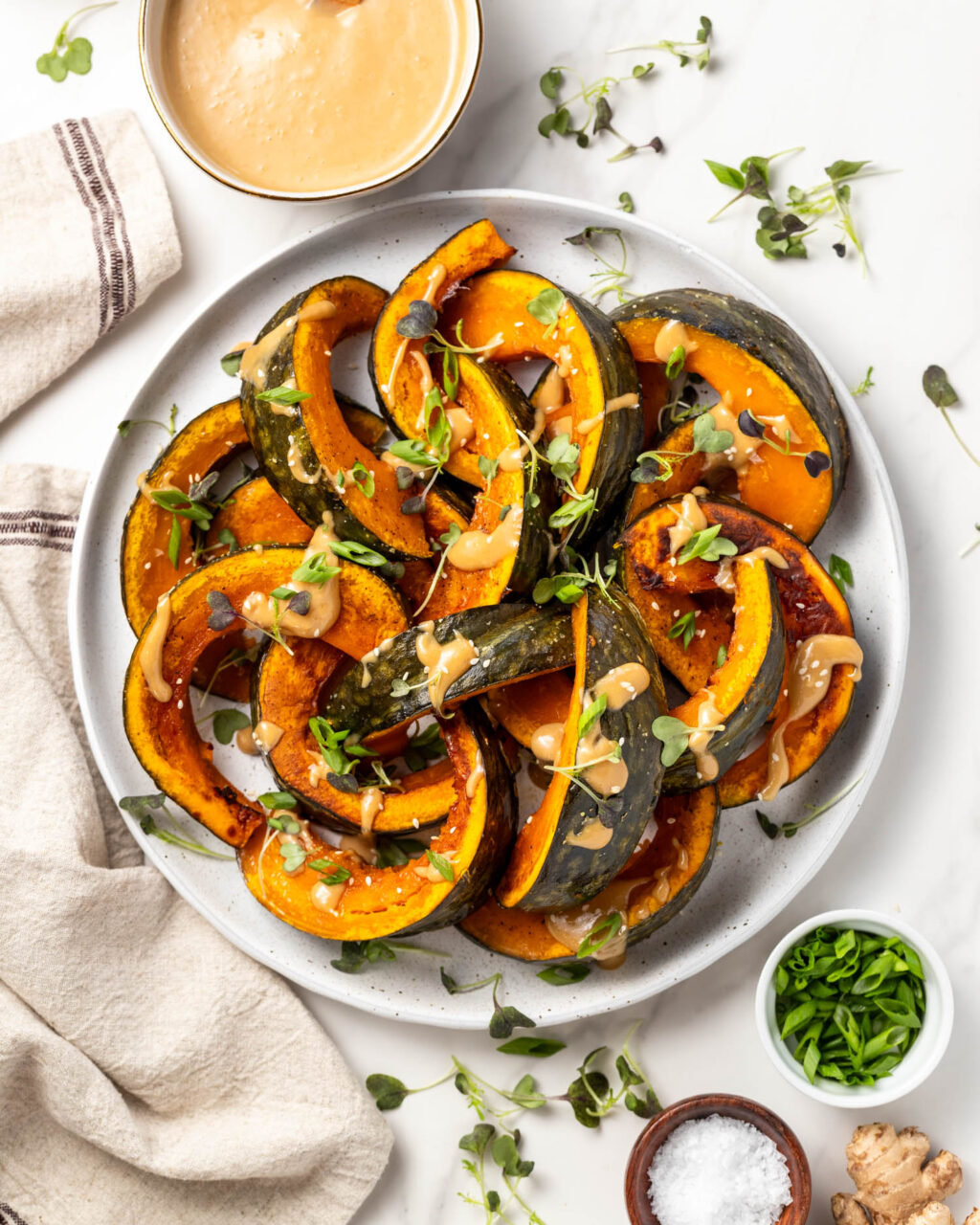 Introducing: Roasted Kabocha Squash with Sesame Ginger Dressing! Remember when I said I had decided to roast my way through all the varieties of fall and winter squash I could get my hands on? Well here we are with the next installment of that super informal/unorganized series. Don't worry, I'll wrap it all up into one post at some point 😉
For a lot of the squash I've been roasting, I've paired them with classic fall flavors – think sage and thyme, chopped nuts, maple syrup or brown sugar, etc. But because kabocha squash is a variety with Japanese roots, I wanted to take things a different direction for this recipe. Kabocha develops an earthy, slightly sweet flavor and a really creamy but fluffy texture when roasted, so I decided to pair it up with the bold flavors of sesame and ginger. The dressing has enough acidity and flavor to help brighten up that earthiness and complement the creaminess.
This recipe and styling for this post were inspired by this one over at Love and Lemons. They have a beautiful site with tons of vegetarian recipes – go check it out!
What is Kabocha Squash?
Also called Japanese pumpkin, kabocha squash comes in red and green varieties. It has a natural sweetness that is often compared to a combination of sweet potato and pumpkin. This inherent sweetness becomes more pronounced when the squash is cooked. Roasting it also develops a creamy and velvety texture. This smooth and dense flesh makes it ideal for purees, soups, and dishes where a rich, creamy consistency is desired. The skin is edible.
Kabocha squash has several nutritional benefits since it is high in beta-carotene, potassium, fiber, and antioxidants. It can be stored in a cool, dry place for long periods after the autumn harvest, making it a great option for fall or winter cooking.
How to Prepare a Kabocha Squash
The first thing you'll want to do when preparing to cook a kabocha squash is to wash it well, especially if you'll be eating the skin. Then you'll need to slice in in half from stem to bottom to expose the flesh and seeds. You can do this with a sharp chef's knife, but kabocha squash is quite hard and a little bit awkward/unwieldy on the cutting board, making it a little dangerous to cut if you're not careful. Here's a tip to make it safer: stick that bad boy in the microwave first!
You only need a couple minutes in the microwave (though I've seen recommendations up to 5 minutes) to soften things up just enough to make it easier to butcher this tough squash. You may need to use a towel on top of the squash to help protect your hand from the heat post-microwave, but I was okay after 2 minutes in there. From there you can halve it, scoop the seeds, and slice!
Ingredients and Substitutions
Kabocha squash – I mean, this is obvious, right? You could definitely pair the dressing up with a different squash, but the roasting time is likely to be different. Mooooving on…
Olive oil – A little something to rub down the squash slices to encourage even browning. Use whatever neutral flavored oil you like.
Salt and pepper – Build that seasoning right on the squash wedges before you even add in the dressing to maximize flavor.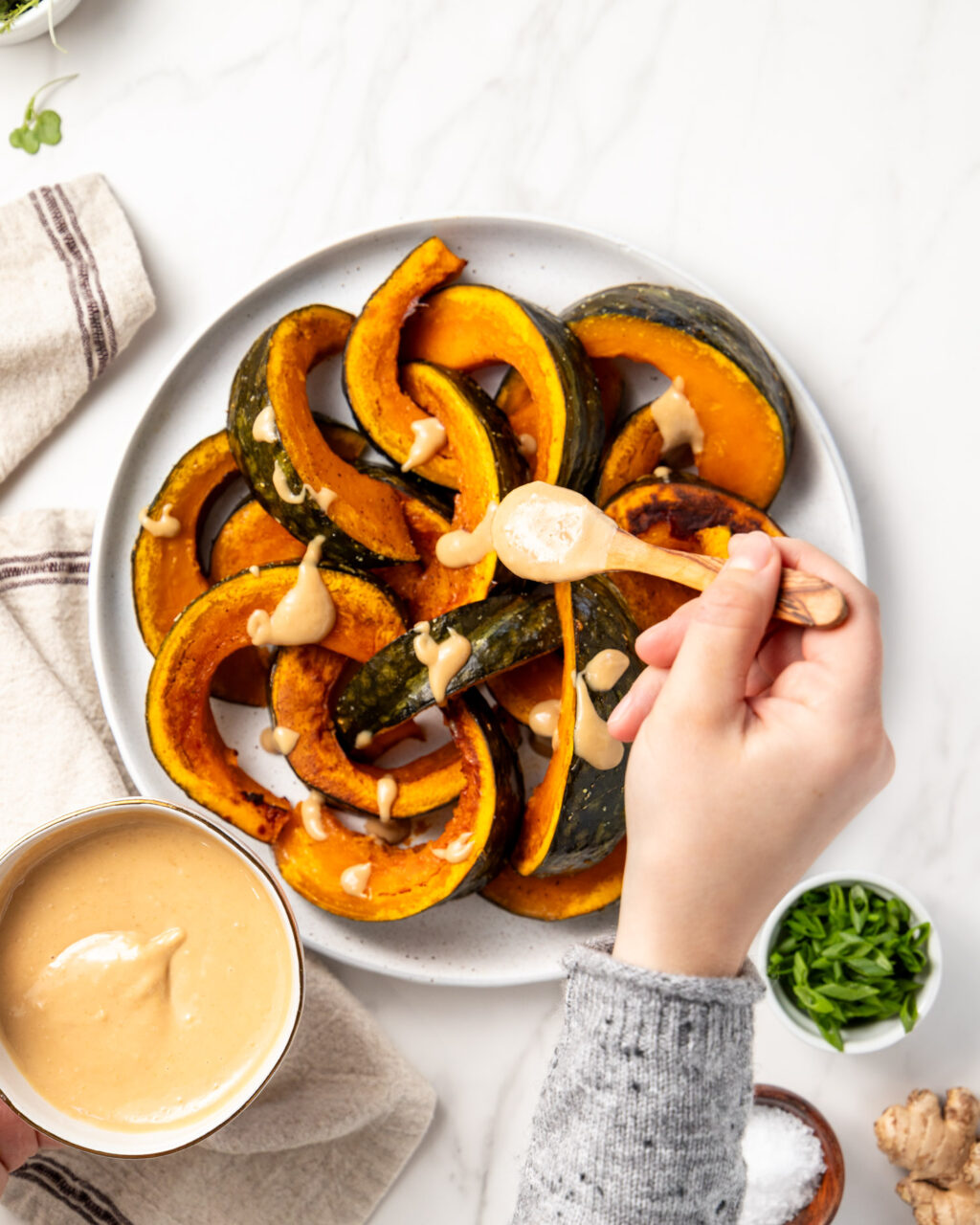 Sesame Ginger Dressing
Tahini – If you didn't know, tahini is actually just ground up sesame seeds and has the texture of a smooth natural nut butter. Most commercial brands of tahini can be poured relatively easily once the oil is reincorporated by stirring. Using tahini as the high volume, creamy element in the dressing really helps build that sesame flavor without getting too overpowering like can happen with too much sesame oil. You could use peanut butter here instead, but I really like the sesame flavor of tahini.
Lime – The juice and the zest, please! I love the acidity and freshness of the lime to help balance out some of the deeper umami flavors in the other dressing ingredients. You can even use a lemon if you forgot to pick up a lime at the store.
Ginger – Obviously another banner ingredient for this recipe that you don't want to skip or replace. I love the spicy zing of ginger! You can peel and grate it yourself or use those convenient ginger paste tubes you find in the produce section.
Mirin – If you haven't tried it before, mirin is a lightly sweet Japanese rice wine that is a perfect complement to soy sauce. If you can't find it or don't want to buy it, try using rice vinegar and 1/2 tsp of sugar per tablespoon of rice vinegar used.
Soy sauce – Helps to both deepen the flavor of the dressing and adds volume. Be sure to use a low sodium version so things don't get too salty!
Sesame oil – This is where the sesame flavor really gets hammered home for the dressing. You can use toasted or untoasted, but be sure to taste test before adding more! I'd say the 2 tsp the recipe calls for is the bare minimum to get the flavor to shine through, but if you want more, just add it cautiously 1/2-1 tsp at a time, continuing to taste as you go.
Honey – Just a touch of honey helps round out the flavors of the dressing. You could also use maple syrup, brown sugar, or regular granulated sugar.
Shop for this Recipe
Here are some items I used to help make this recipe a success. Note: these are Amazon Affiliate links.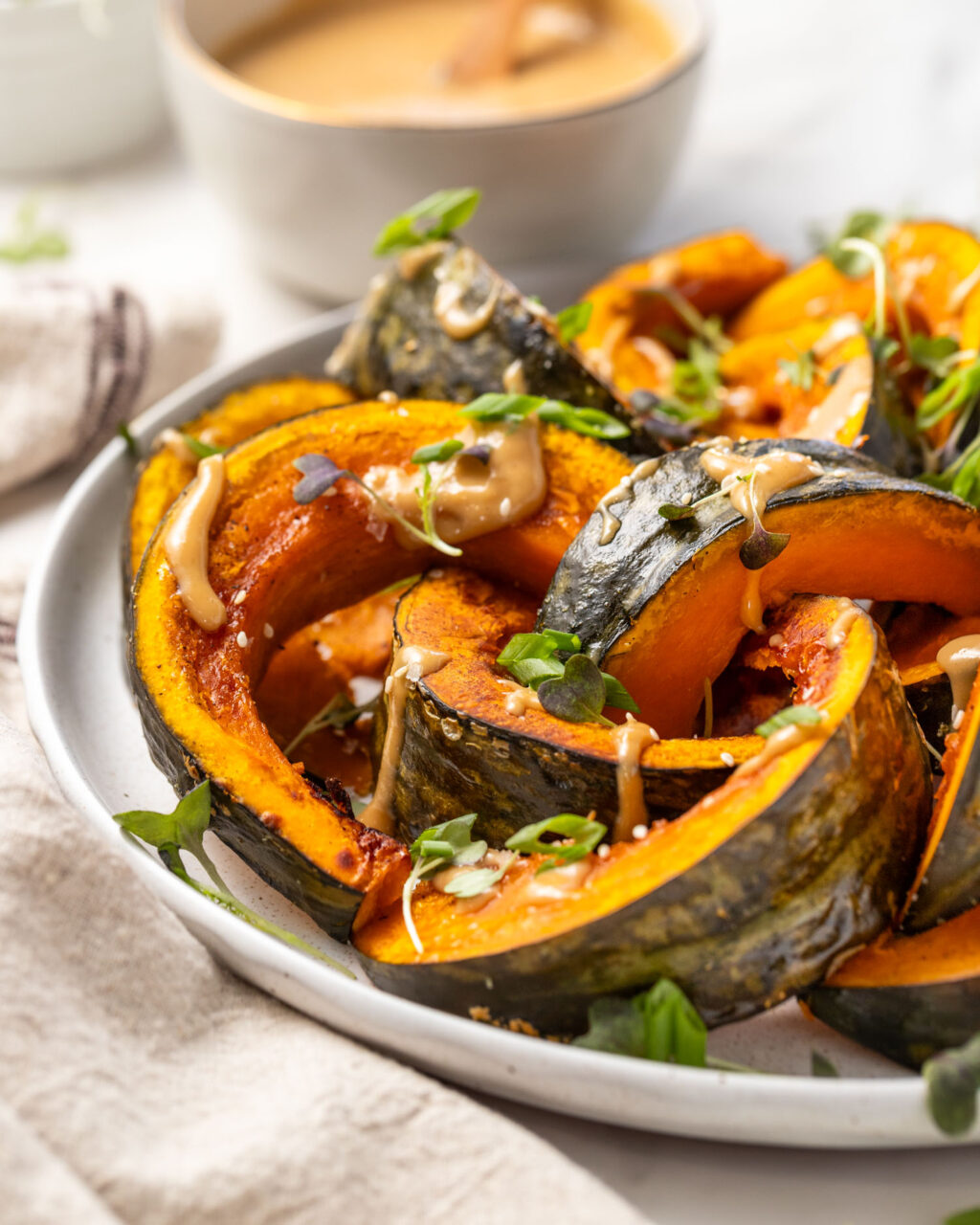 Roasted Kabocha Squash with Sesame Ginger Dressing Recipe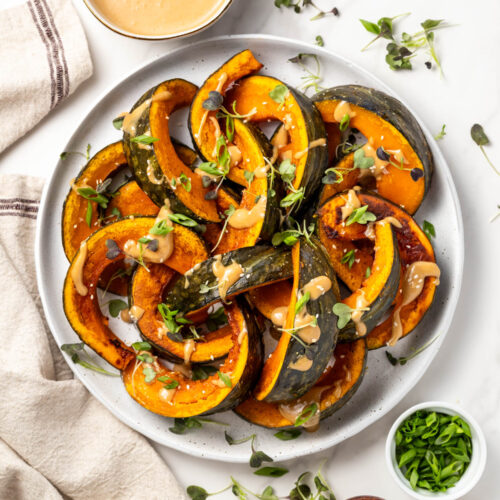 Roasted Kabocha Squash with Sesame Ginger Dressing
Servings:
servings (3 wedges per serving)
Ingredients
1

Kabocha Squash

,

(1000 grams yield)

1

tbsp

olive oil

,

(0.5 fl oz)

1/2

tsp

salt

1/4

tsp

black pepper

green onions, sesame seeds, and microgreens for garnish
Sesame Ginger Dressing
1/4

cup

tahini

,

(2 fl oz)

1

lime, juiced and zested

2

tbsp

freshly grated ginger or ginger paste

,

(1 fl oz)

2

tbsp

mirin

,

(1 fl oz)

1

tbsp

low sodium soy sauce

,

(0.5 fl oz)

2

tsp

sesame oil

,

(9 grams)

1

tsp

honey

,

(7 grams)
Instructions
Pre-heat oven to 400°F. Line a baking sheet with aluminum foil. Set aside.

Wash and dry the outside of the squash, then microwave it for 1-2 minutes to make it easier to slice. Then cut the squash in half from stem to base and scoop out the seeds. Cut the halves further into 1-1.5" wide wedges.

Arrange the squash wedges in a single layer on the lined baking sheet. Drizzle with olive oil and rub the oil on to each wedge to evenly coat. Season with salt and pepper.

Roast the squash at 400°F for 30 minutes, flipping if they begin to get too browned on top.

While the squash roasts, whisk or shake all dressing ingredients together until smooth. Set aside.
Tips & Tricks
Click here or scan the barcode below to log this food in My Fitness Pal.
Nutrition Information
Serving:
3
wedges
,
Calories:
148
kcal
(7%)
,
Carbohydrates:
17
g
(6%)
,
Protein:
3
g
(6%)
,
Fat:
8
g
(12%)
,
Sodium:
258
mg
(11%)
,
Potassium:
51
mg
(1%)
,
Fiber:
3
g
(13%)
,
Sugar:
8
g
(9%)