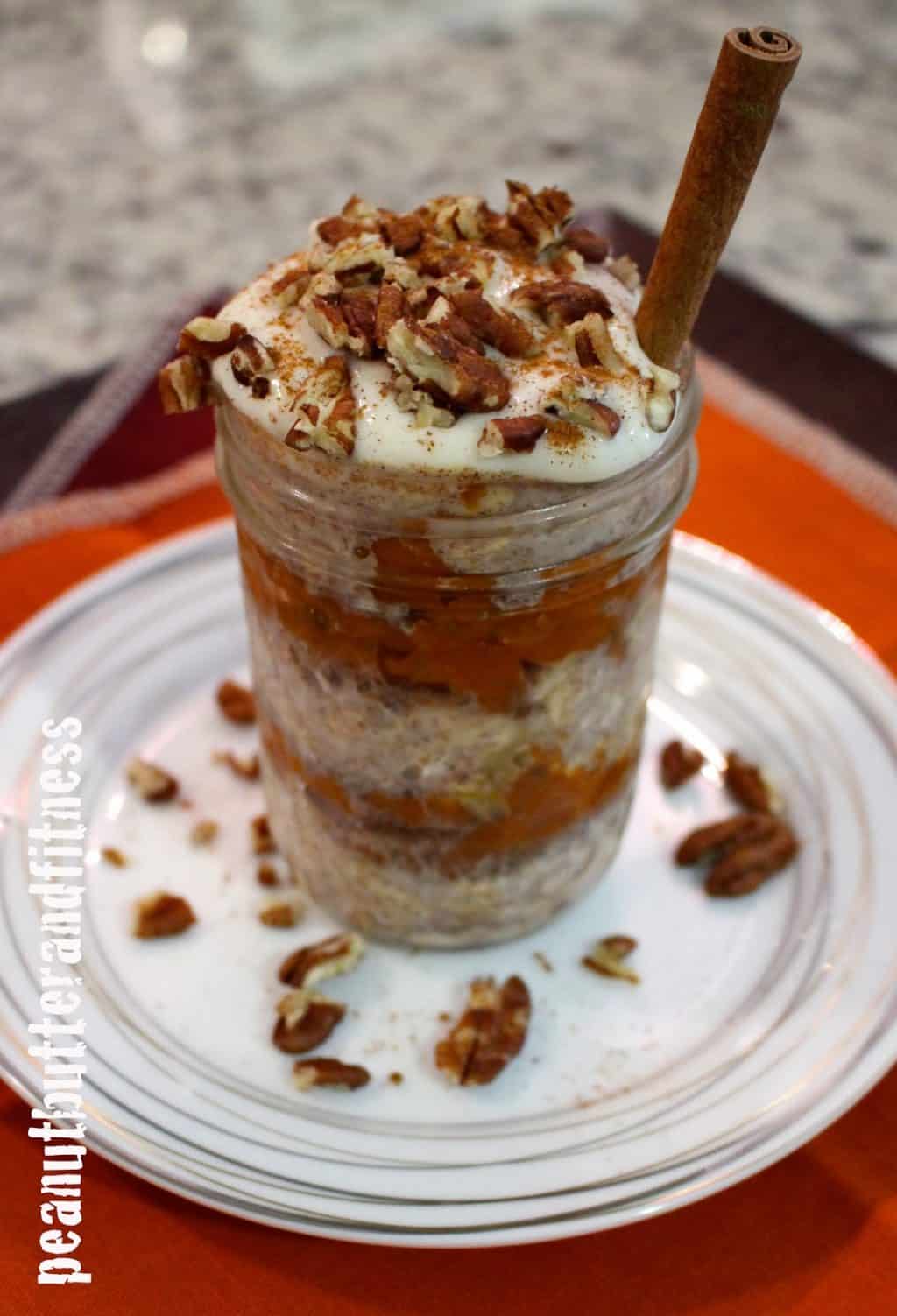 Pumpkin pie in a jar makes me happy 🙂 This was a yummy breakfast for my 5th day of quitting cereal.  Still feeling good…yesterday's breakfast was filling enough to get me through until a late lunch at the Miami Boat Show.  Now if only I could afford one of those boats…I wouldn't need to stand around telling rich people to register their EPIRBs to make my job easier lol.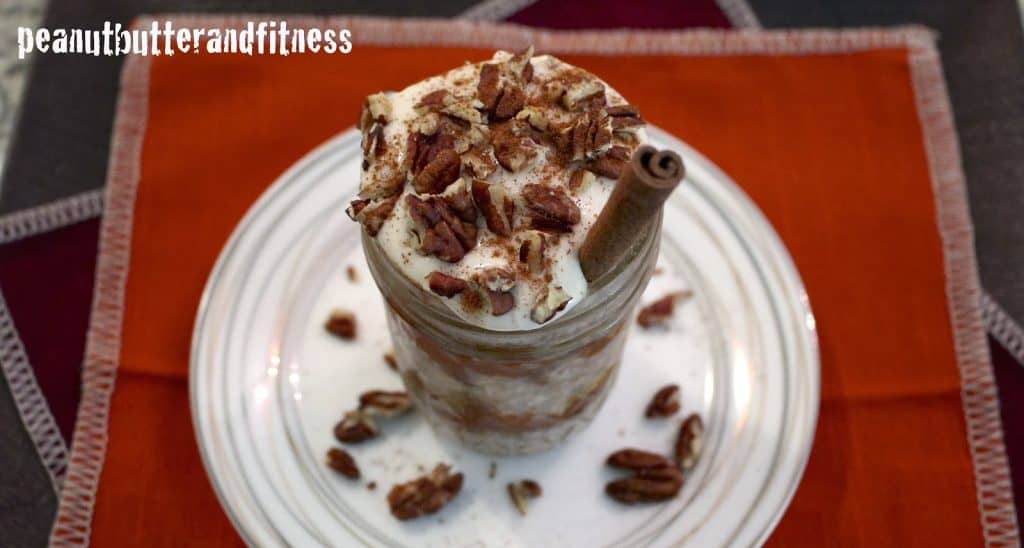 It might be a little late in the year (or early?) for pumpkin, but luckily it's still canned pumpkin season.  Crisis averted.  Just make sure you get the stuff that is pure pumpkin, not the pumpkin pie filling.  I think we all know pumpkin is good for us, but in case you forgot, here's a little review – pumpkin is packed with vitamin A and fiber, plus some potassium and vitamin C.  So dig in!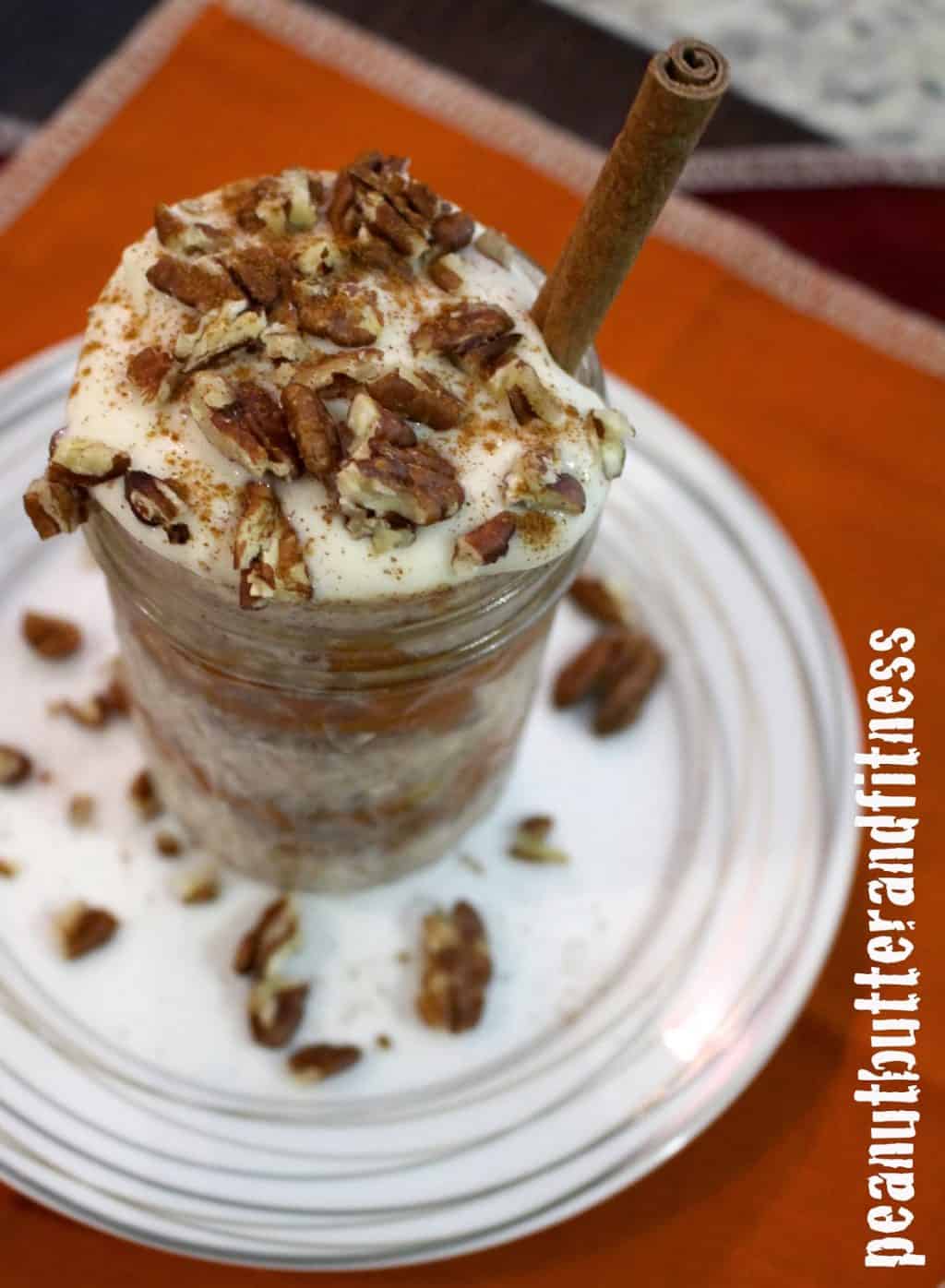 And here's the cereal comparison for anyone following my cereal quitting campaign:
Cereal – Calories: 452 • Fat: 9 g • Protein: 19 g • Carbs: 81 g • Fiber: 12 g • Sugar: 22 g • Sodium: 378 mg


Pumpkin Pie Overnight Oats
Calories: 348 • Fat: 11 g • Protein: 21 g • Carbs: 45 g • Fiber: 9.4 g • Sugar: 12 g • Sodium: 156 mg • Cholesterol: 1.2 mg


Ingredients:
7 tbsp rolled oats

1/2 cup unsweetened vanilla almond milk

1/4 cup pumpkin puree

1/2 tbsp pure maple syrup

1 tsp chia seeds

1 packet Truvia

1/2 tsp cinnamon

Pinch of pumpkin pie spice and nutmeg

2 tbsp non-fat vanilla Greek yogurt

1 tbsp vanilla protein

1 tbsp crushed pecans
In a small bowl, combine pumpkin puree, maple syrup, Truvia and chia seeds.  Set aside.

In another small bowl, combine rolled oats, cinnamon, pumpkin pie spice, nutmeg and almond milk.

Layer the oats with the pumpkin mixture in a re-sealable jar or container.

Refrigerate overnight.

Mix Greek yogurt and vanilla protein until smooth.  Top oats with yogurt mixture and garnish with crushed pecans.