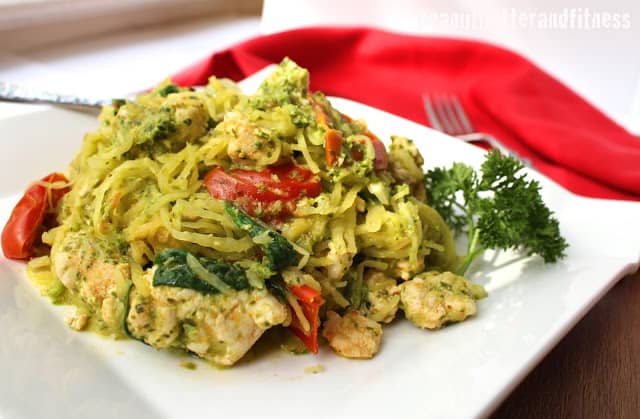 I'm back!!! I'm finally done with the GMAT and couldn't be happier to be back to blogging 🙂 I made this recipe back in July (yes, I've been studying that long) and here we are at the end of September and I'm finally sharing it!  Anyways, this is a delicious Italian inspired recipe that will make you think it's not healthy.  The flavors are rich, bold and fresh.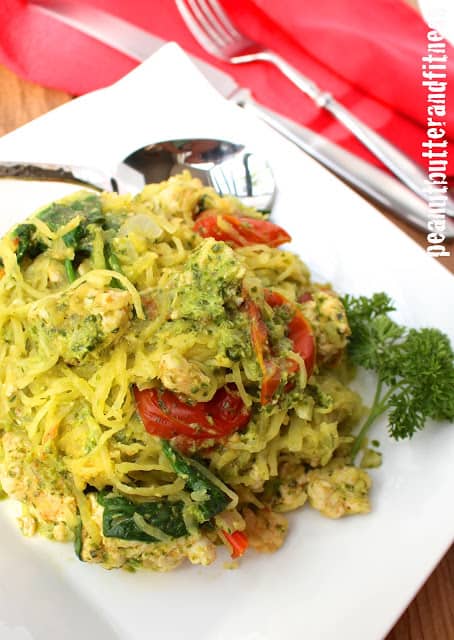 I think this recipe is really filling as is, but if you have a desire to add more complex carbs/fiber, toss in a cup of cannellini beans – their nutty flavor will go great with the pesto.  I've been pretty obsessed with spaghetti squash lately – I actually really enjoy the flavor after it's roasted and you really are just getting extra veggies when you eat it!  The texture is a perfect substitute for al dente pasta.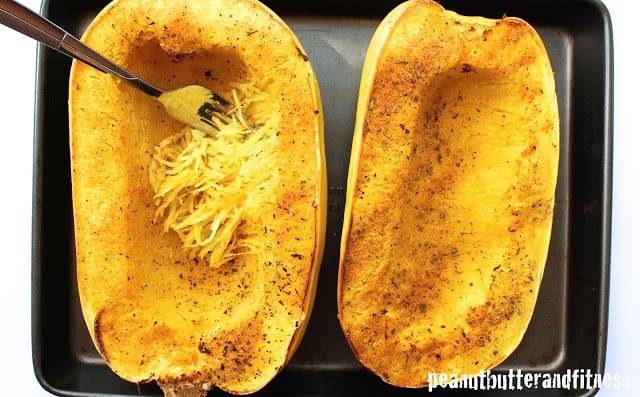 When you buy your pesto, make sure you take a look at the nutrition facts first.  A lot of pestos include a TON of oil and cheese which sends the fat content through the roof.  I found this pesto at Safeway in the fresh pasta section.  The best part? Only 35 calories per serving and there's plenty of flavor.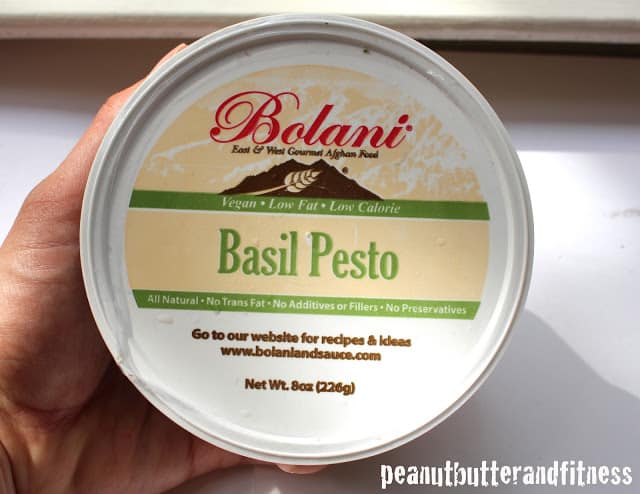 Oh and squash-ta = squash pasta.  In case you were wondering 🙂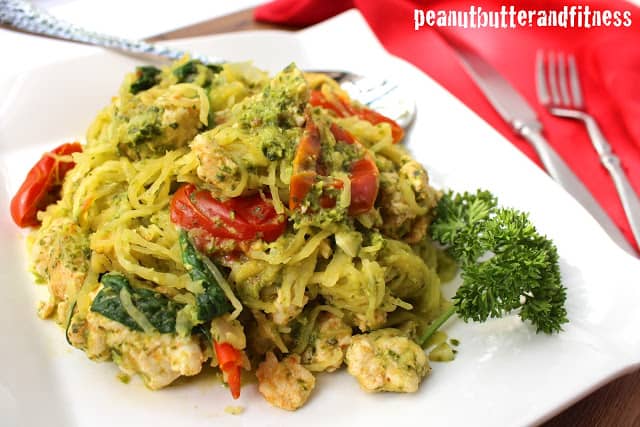 Pesto Turkey Squash-ta
Yield: 6 servings • Calories per serving: 225 • Fat: 7 g • Protein: 25 g • Carbs: 18 g • Fiber: 4 g • Sugar: 7 g • Sodium: 315 mg • Cholesterol: 47 mgIngredients:
1 1/4 lb extra lean (99%) ground turkey
1 medium spaghetti squash
4 oz Bolani basil pesto
1/2 cup onion, diced
4 garlic cloves, minced
1 tbsp fresh parsley, chopped
10 oz grape tomatoes, halved length-wise
5 cups baby spinach
1 tbsp Earth Balance Olive Oil Buttery Spread
2 tbsp shredded Parmesan cheese
1 tbsp olive oil, divided
2 tsp Flavor God Garlic Lover's Seasoning, divided
Pre-heat oven to 400 degrees.  Line small baking sheet with foil; set aside.
Cut spaghetti squash in half length-wise.  Scoop out seeds and rub inside of spaghetti squash with 1/2 tbsp olive oil.  Season with 1 tsp of Flavor God seasoning.  Place spaghetti squash, cut side up, on lined baking sheet.
Bake spaghetti squash for 40-45 minutes or until the squash separates easily into strands when scraped with a fork.  Allow to cool slightly, then scrape remaining squash into strands; set aside in a large bowl and mix in Earth Balance spread and parmesan cheese until melted.
Heat remaining olive oil over medium-high heat in a large pan.  Add onion and garlic and sauté until fragrant.  Add ground turkey and separate with wooden spoon while cooking.  Season with remaining Flavor God seasoning while continuing to separate turkey.
When turkey is about 2/3 cooked through, add grape tomatoes and baby spinach.  Once turkey is cooked through, add to spaghetti squash.
Stir pesto and fresh parsley into turkey and spaghetti squash mix until coated evenly.  Divide into 6 servings and enjoy.