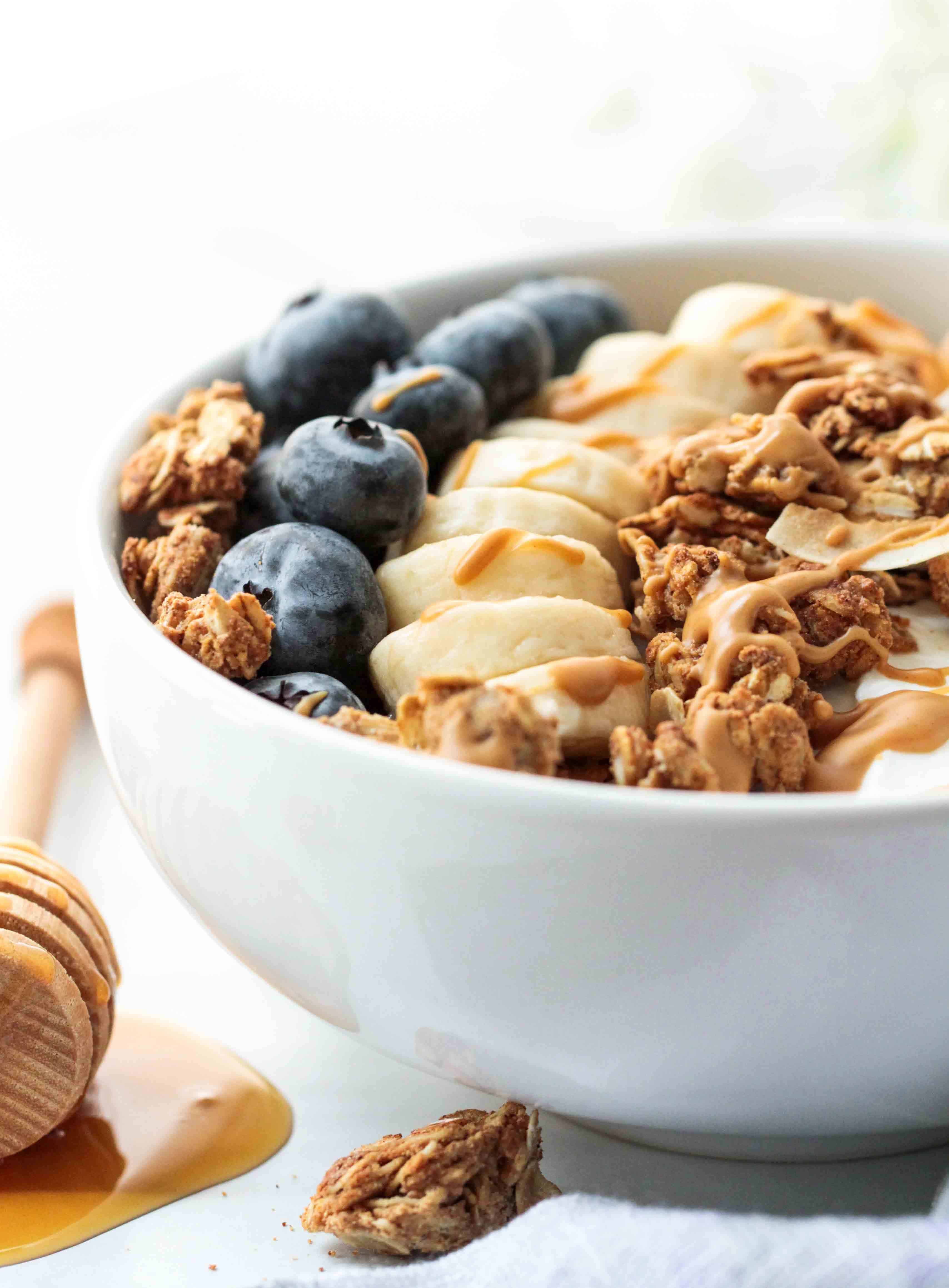 Jump to Recipe
Happy Sunday, friends! I hope you all had a great (but safe) Thanksgiving. Mine was very low key with a couple local friends, but no traveling and no family. Now, who's ready to get back into the swing of things after the long holiday weekend? No? Yeah, me neither. But this Peanut Butter Collagen Granola will help. It's crunchy, peanut buttery, and delicious!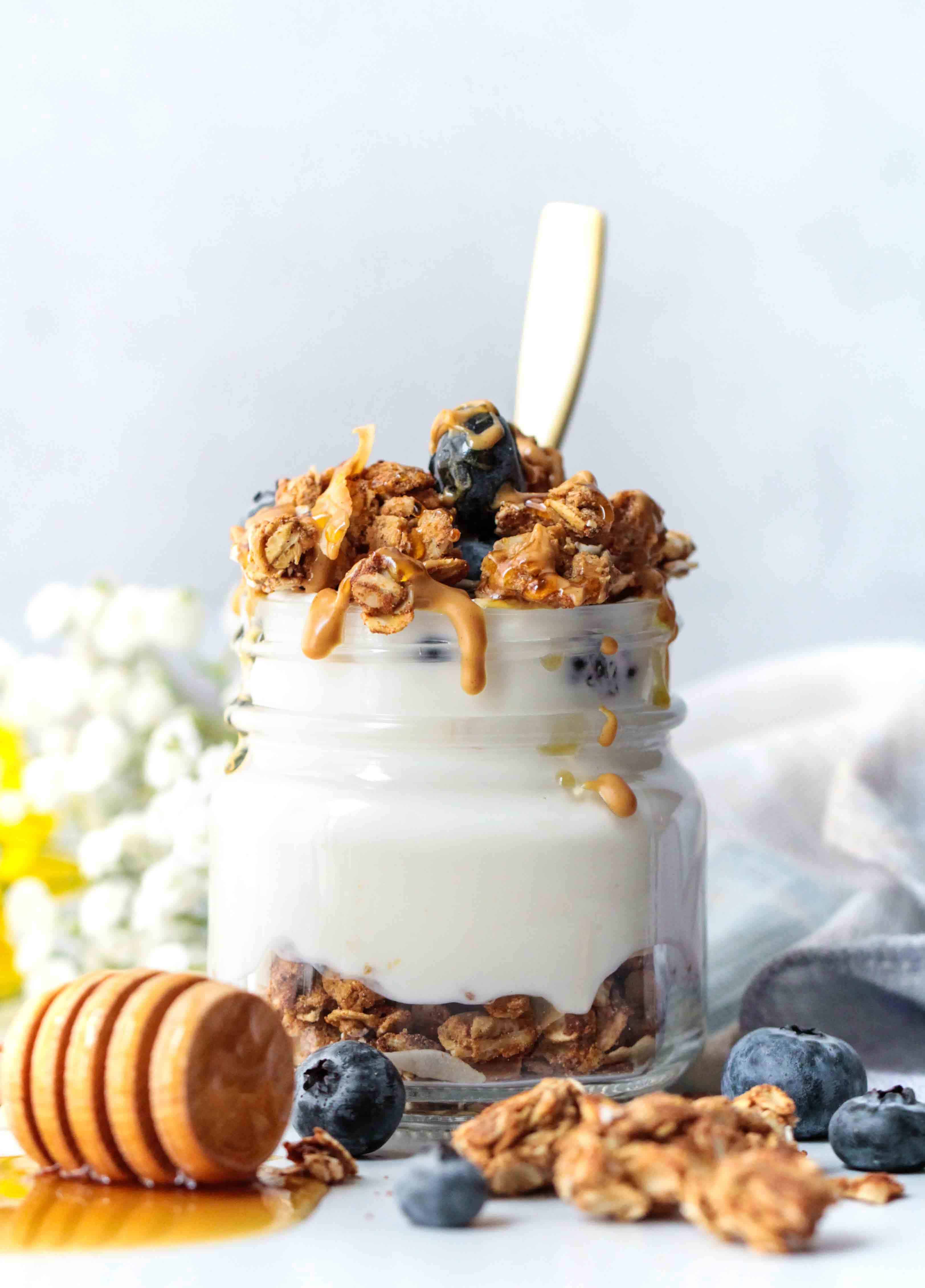 Any guesses how many tries it took me to get this recipe right?? Let's just say it would take more than one hand to count, but I can't be mad because I got to taste test lots of yummy granola in the process. I initially tried this recipe out with a plant-based protein powder, then whey protein, and then I finally settled on collagen for a little protein boost. The problem with the other powders was that they caused the granola to burn and have a scorched flavor. Plus there was just too much powder! I even tried using a little bit of egg whites to help absorb the powder without adding more fat/carbs, but that almost seemed to make the burning issue worse. Collagen seemed to be the right balance of volume (no extra powder laying around to burn) and it held up to the heat without impacting the flavor of the granola.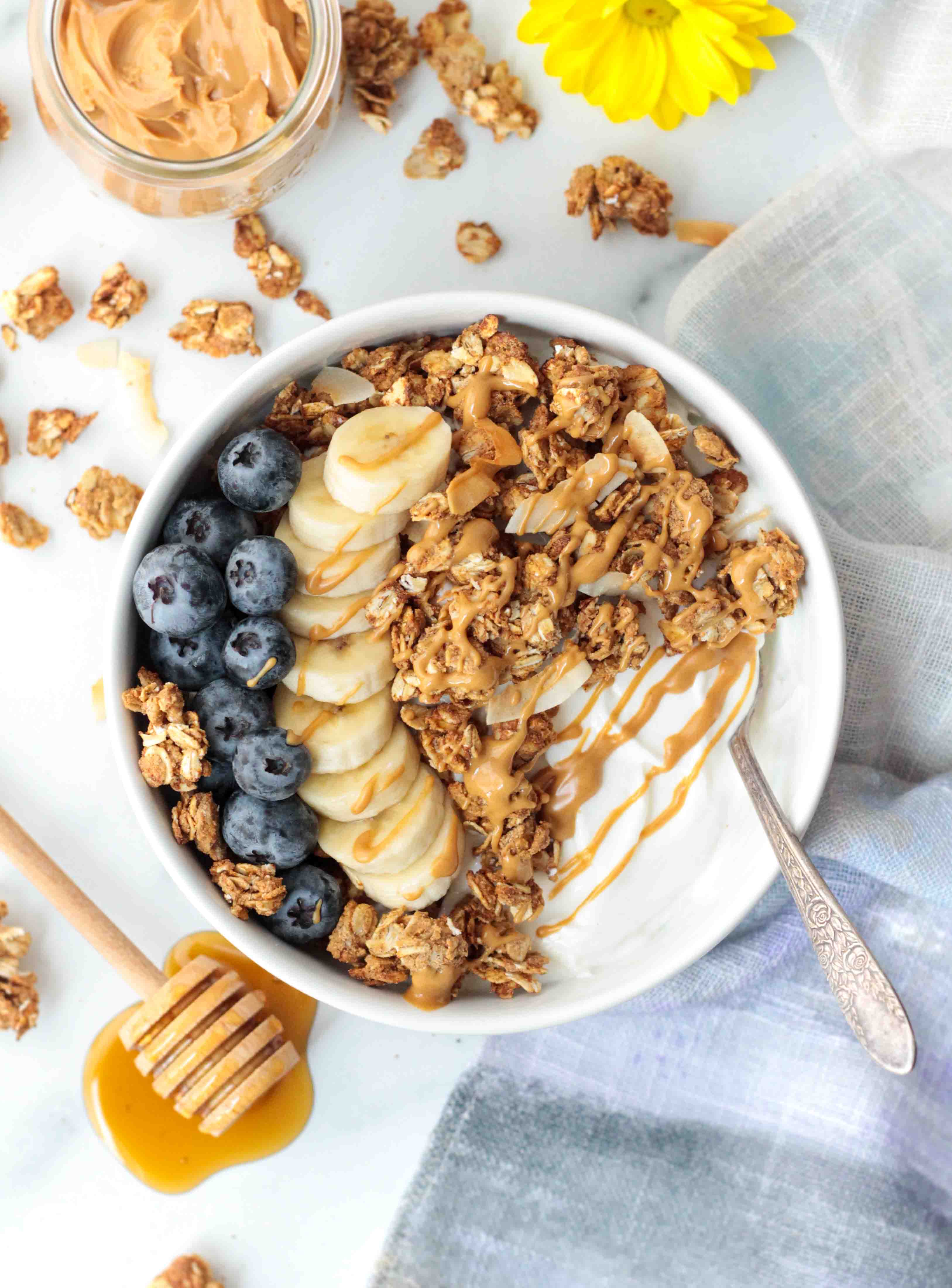 Don't forget that the granola will not be crunchy right when you take it out of the oven – it needs to rest on the hot baking sheet for at least 15-20 minutes to finish baking/crisping!
Enjoy!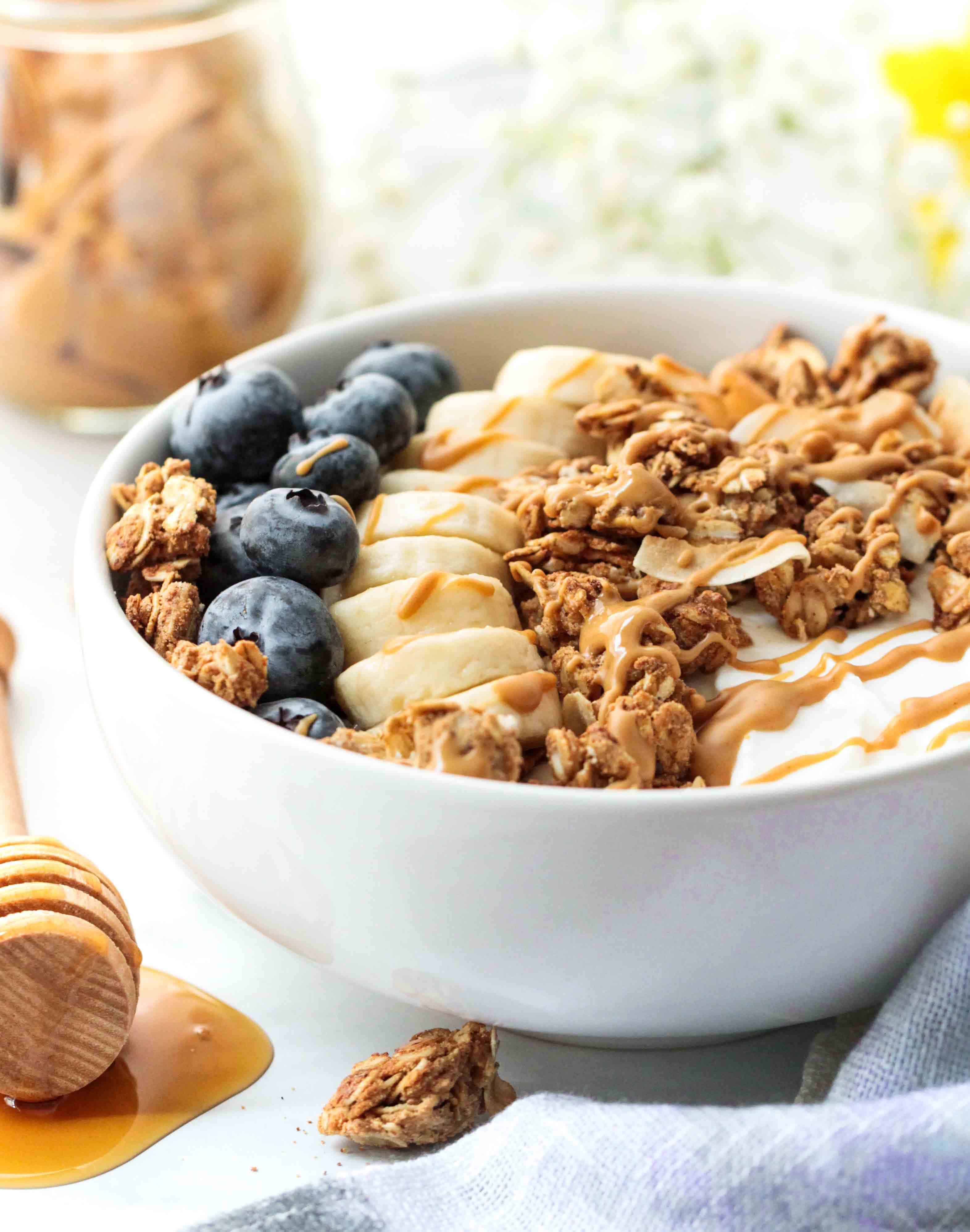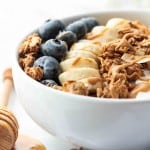 Peanut Butter Collagen Granola
Prep Time 15 minutes
Cook Time 15 minutes
Servings 8 servings (~1/2 cup per serving)
Calories per serving 234 kcal
Ingredients
2 cups rolled oats (192 grams)
1/4 cup Skippy Natural Creamy peanut butter (64 grams)
3 tbsp honey (1 1/2 fl oz)
1 tbsp coconut oil (14 grams)
1/2 tsp cinnamon
1 tsp vanilla extract
1 pinch salt
Optional: 1/4 cup coconut flakes (not included in nutrition info)
Instructions
Pre-heat oven to 300 degrees. Line a baking sheet with SILPAT or parchment paper and set aside.

Mix the oats, collagen, cinnamon, and salt until evenly combined.

Add peanut butter, honey, and coconut oil to a small microwave safe bowl. Microwave for 30-45 seconds or until melted. Add vanilla extract and whisk until combined.

Pour peanut butter mixture over dry ingredients and mix until you no longer see any powder and the oats are all coated.

Spread granola mixture onto the lined baking sheet. It's okay to leave some chunks (not too big) so that you will end up with bigger chunks of granola.

Bake for 10 minutes, then remove from the oven and toss the granola with a spatula. If adding coconut into the mixture, do it here. Return baking sheet to the oven for another 4-5 minutes. (Note: the granola should still look soft when you take it out of the oven!)

Allow the baking sheet with granola to cool (on top of the hot oven if possible) for 20-30 minutes before serving or storing. It will crisp up during this time.
Recipe Notes
Scan the barcode below or click here to log this food in My Fitness Pal.
Nutrition Facts
Peanut Butter Collagen Granola
Amount Per Serving (80 grams)
Calories 234 Calories from Fat 99
% Daily Value*
Fat 11g17%
Sodium 90mg4%
Potassium 139mg4%
Carbohydrates 26g9%
Fiber 3g13%
Sugar 8g9%
Protein 9g18%
* Percent Daily Values are based on a 2000 calorie diet.