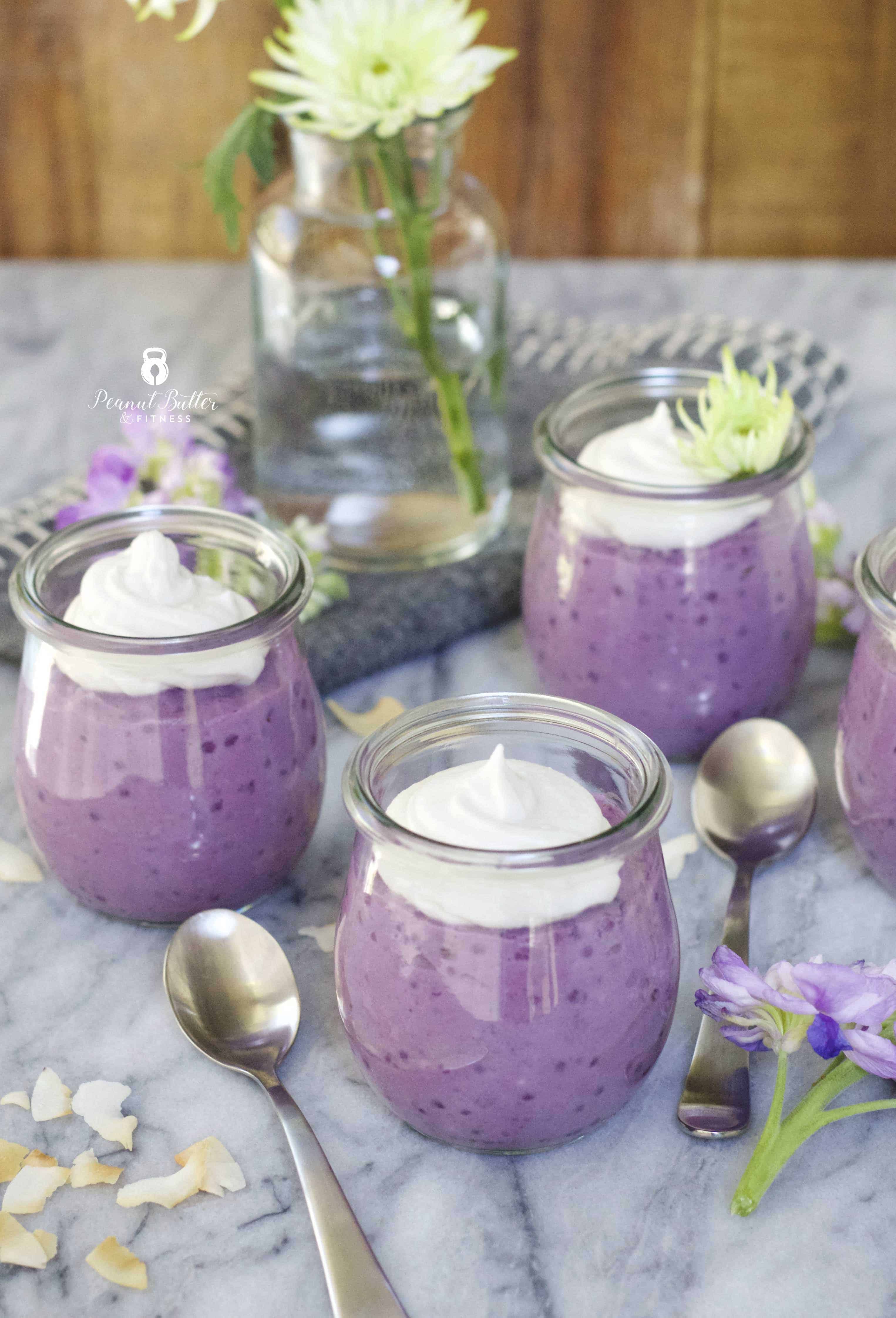 Spring is in the air! At least it has been in California for the last week or so. We've got more rain in the forecast but I'm feeling the sunshine-y, spring-y spirit with the pretty purple of this Purple Sweet Potato Tapioca Pudding. The flowers don't hurt either 😉 I bought a bouquet of flowers this week and last to brighten up my apartment (inspired by the super bloom in the CA dessert after all the rain), so get ready for some flowery photography!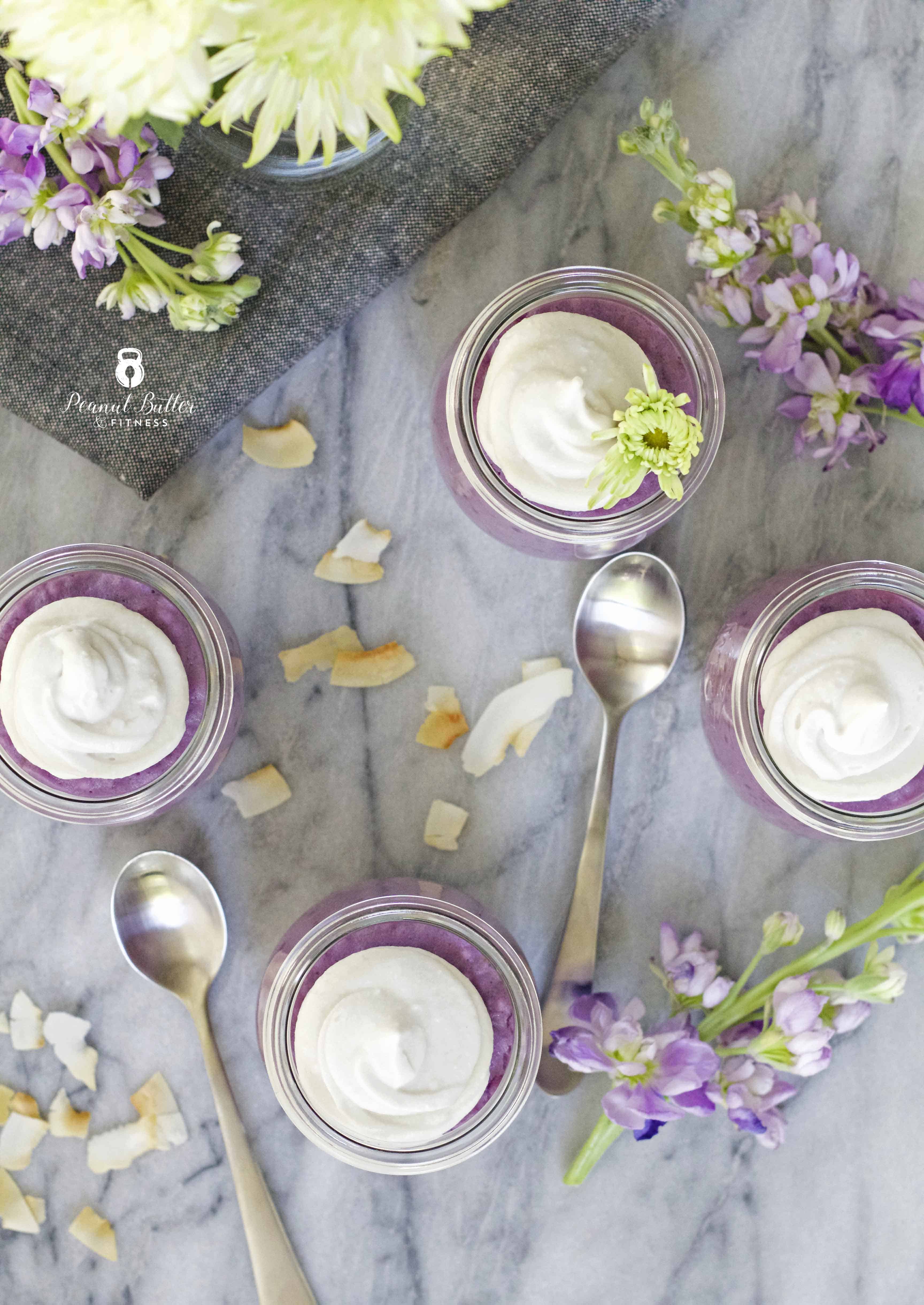 Purple sweet potato is also called "ube" and is used a lot in Hawaiian and Filipino cuisine. I fell in love with ube desserts on my trips to Hawaii (can't wait to go back in a few weeks eek!!!). I'm not sure how much of my love for it has to do with the fact that it turns things bright purple and how much actually has to do with the taste. I'm also not sure that I care either way. I mean, c'mon – Whole Foods out there even has grab and go desserts that are purple with taro and ube. How can you not love it?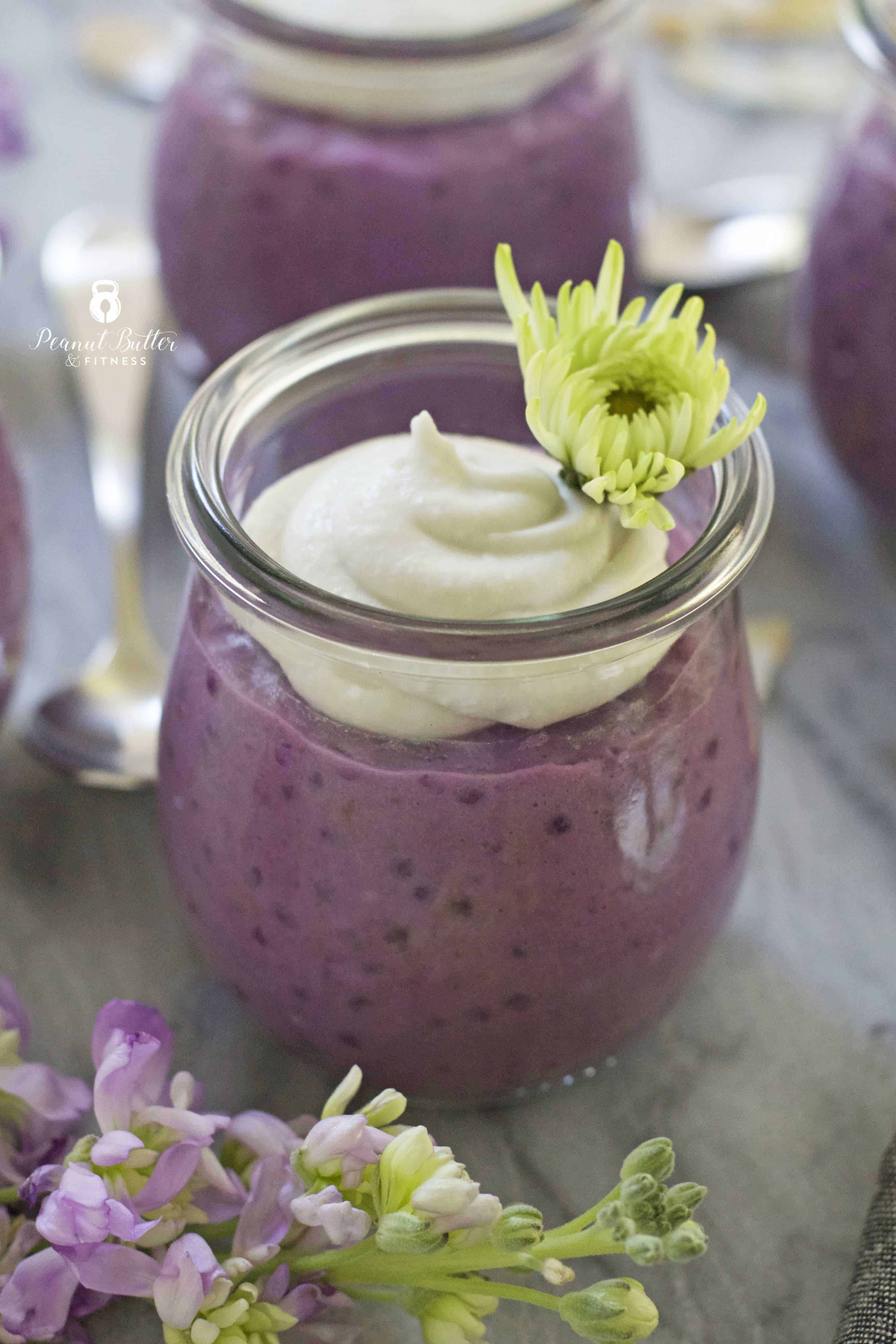 Anywho, this is sort of my [second] attempt at recreating that dessert. I tried it once before using only taro and it was bland and not as pretty as I wanted it to be even though I added blackberry juice for extra purple color. With the ube I didn't have to add any extra color. It's just that purple.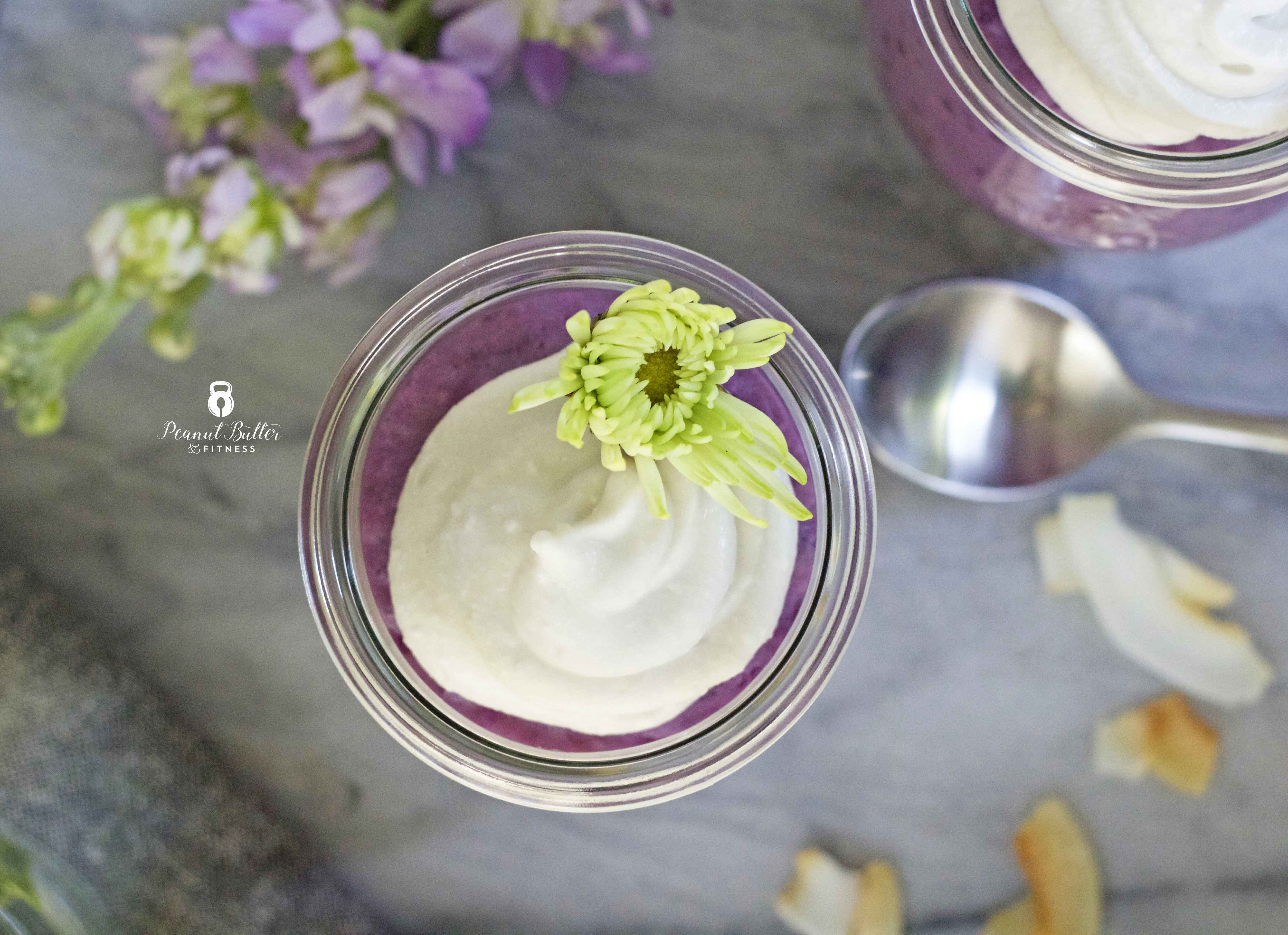 I topped my pudding off with some coconut "whipped cream" and it's the perfect complement to the dessert! Smooth and creamy with a subtle coconut flavor…I give it a thumbs up. It's just coconut milk solids whipped up with honey so it's super easy.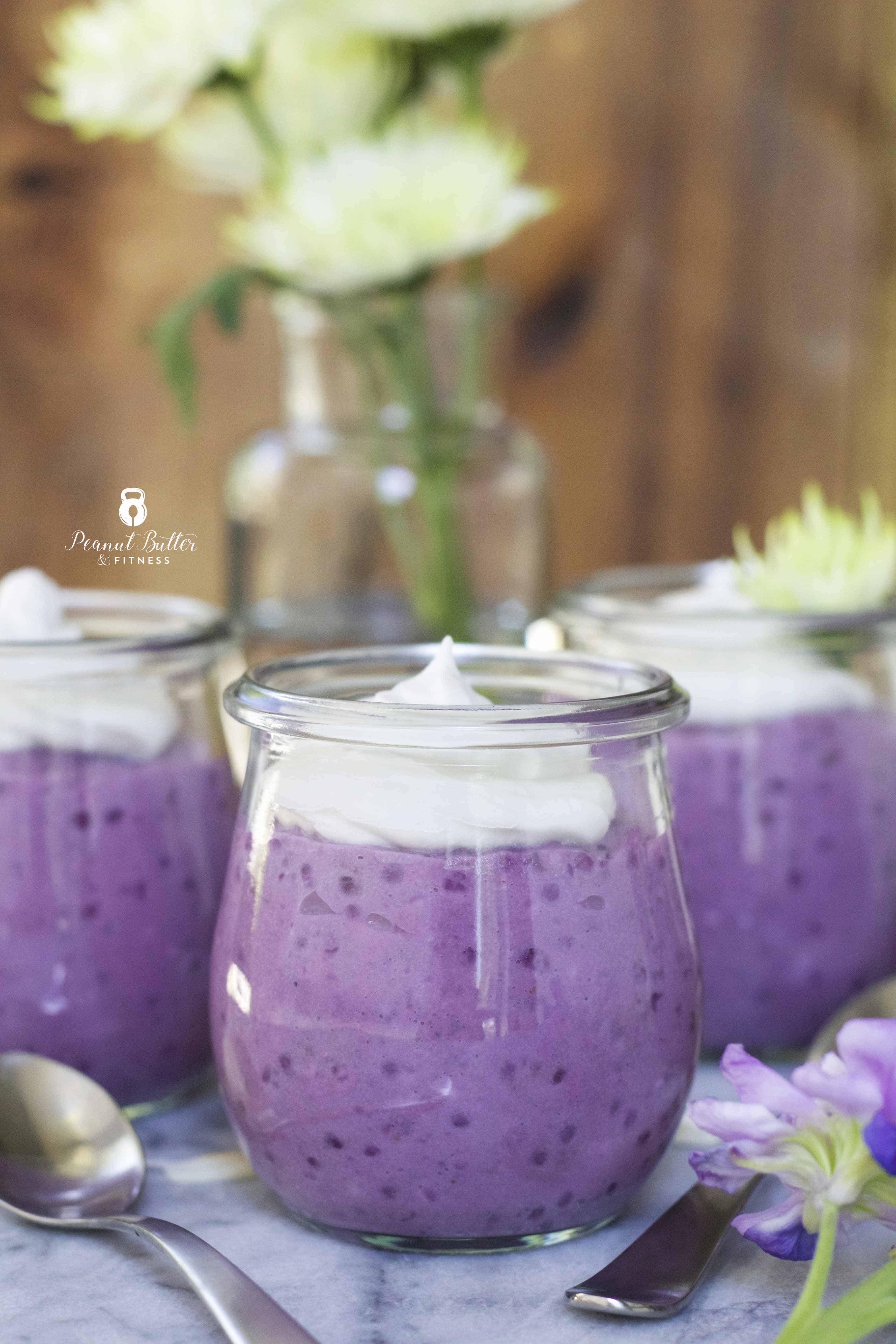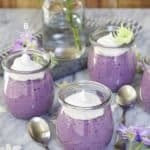 Paleo Purple Sweet Potato Tapioca Pudding
Prep Time 30 minutes
Cook Time 10 minutes
Total Time 40 minutes
Servings 6 servings (1/2 cup per serving)
Calories per serving 158 kcal
Ingredients
1 medium purple sweet potato
13.5 oz can light coconut milk
3/4 cup water
1/3 cup small pearl tapioca
1 scoop Jay Robb Vanilla Whey Protein
3 tbsp maple syrup or honey
1 tsp vanilla extract
Pinch of salt
Instructions
Using an Instant Pot, pressure cook sweet potato on high for 20 minutes or until very soft. Peel skin from sweet potato and mash. Set aside.

Add tapioca and water to a medium pot. Soak tapioca in water for 30 minutes. Do not drain.

Whisk coconut milk, mashed sweet potato, protein powder, maple syrup, vanilla extract and salt until smooth (use a blender for best results). Add to tapioca and stir over medium heat until just boiling. Simmer uncovered over low heat for 5 more minutes, stirring frequently.

Cool tapioca for 15 minutes, then add to resealable containers and refrigerate. Best served chilled.
Recipe Notes
For best flavor, top your tapioca pudding off with some paleo "whipped cream."  Just refrigerate a can of full fat coconut milk, then once it's chilled, open the can from the bottom.  Pour off the clear liquid on top until you're left with the coconut cream solids.  Whisk it up with a tablespoon or two of honey until smooth.
Nutrition Facts
Paleo Purple Sweet Potato Tapioca Pudding
Amount Per Serving
Calories 158 Calories from Fat 27
% Daily Value*
Fat 3g5%
Sodium 50mg2%
Potassium 204mg6%
Carbohydrates 28g9%
Fiber 2g8%
Sugar 9g10%
Protein 4g8%
Vitamin A 2500IU50%
* Percent Daily Values are based on a 2000 calorie diet.