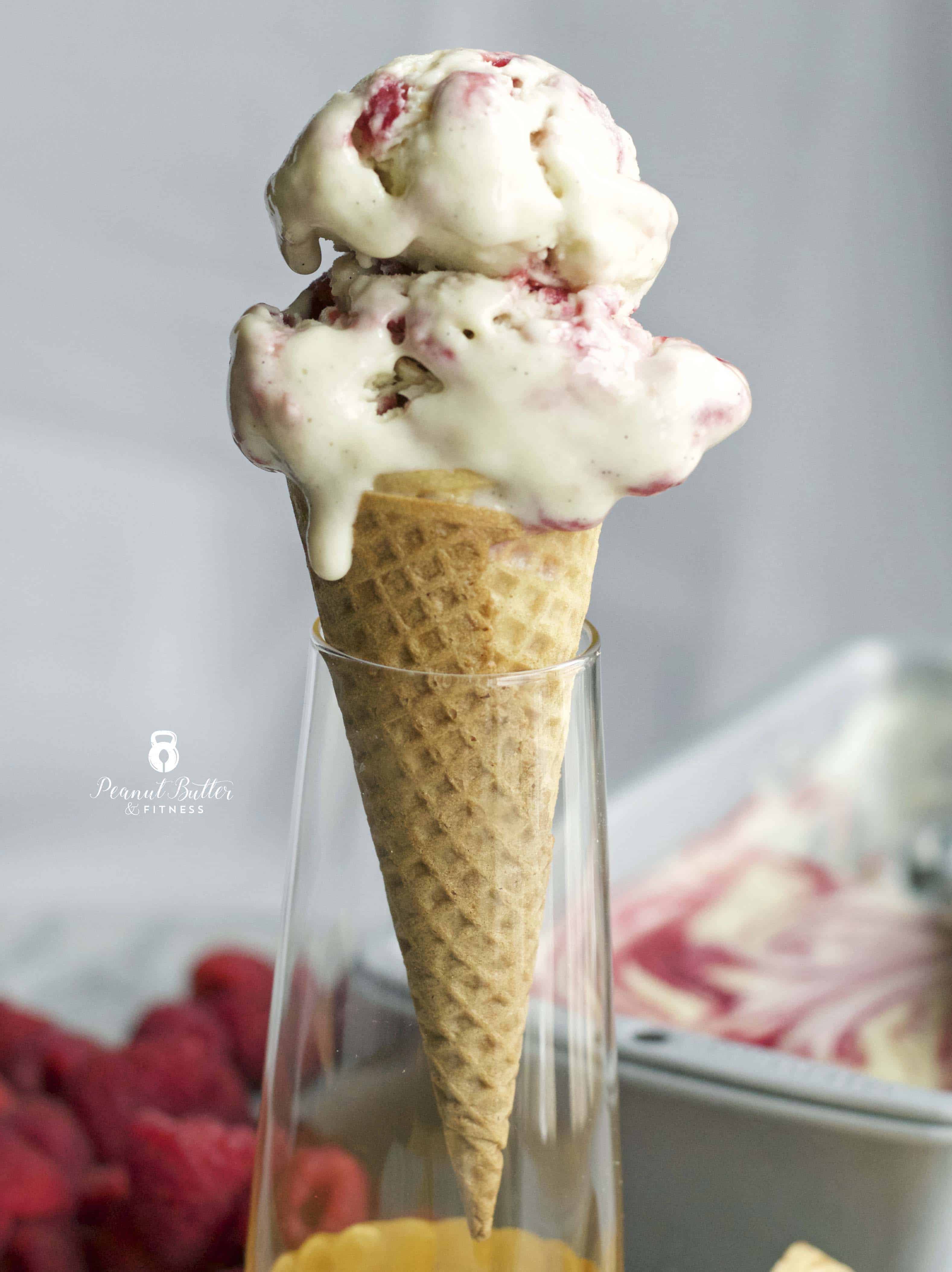 I'm told that this week is the first official week of summer.  Can you believe it?!  It's been hitting the 100s in San Antonio since May, so I feel like I've been pretty solidly in summer mode for a while now.  But hey, why don't we all celebrate with some ice cream?
You guys probably know by now that I like trying my hand at just about any kind of recipe that I can healthify… and if that means sticking white sweet potatoes and coconut milk in my ice cream, I'm in.  If you remember, I've done this with purple sweet potatoes before and it turned out to be delicious.  This time around, I really wanted to take advantage of the beautiful raspberries that have been calling my name at the farmer's market and grocery store.
The best part about this ice cream besides it's deliciousness?  It's so easy to make.  No churning or ice cream machine required!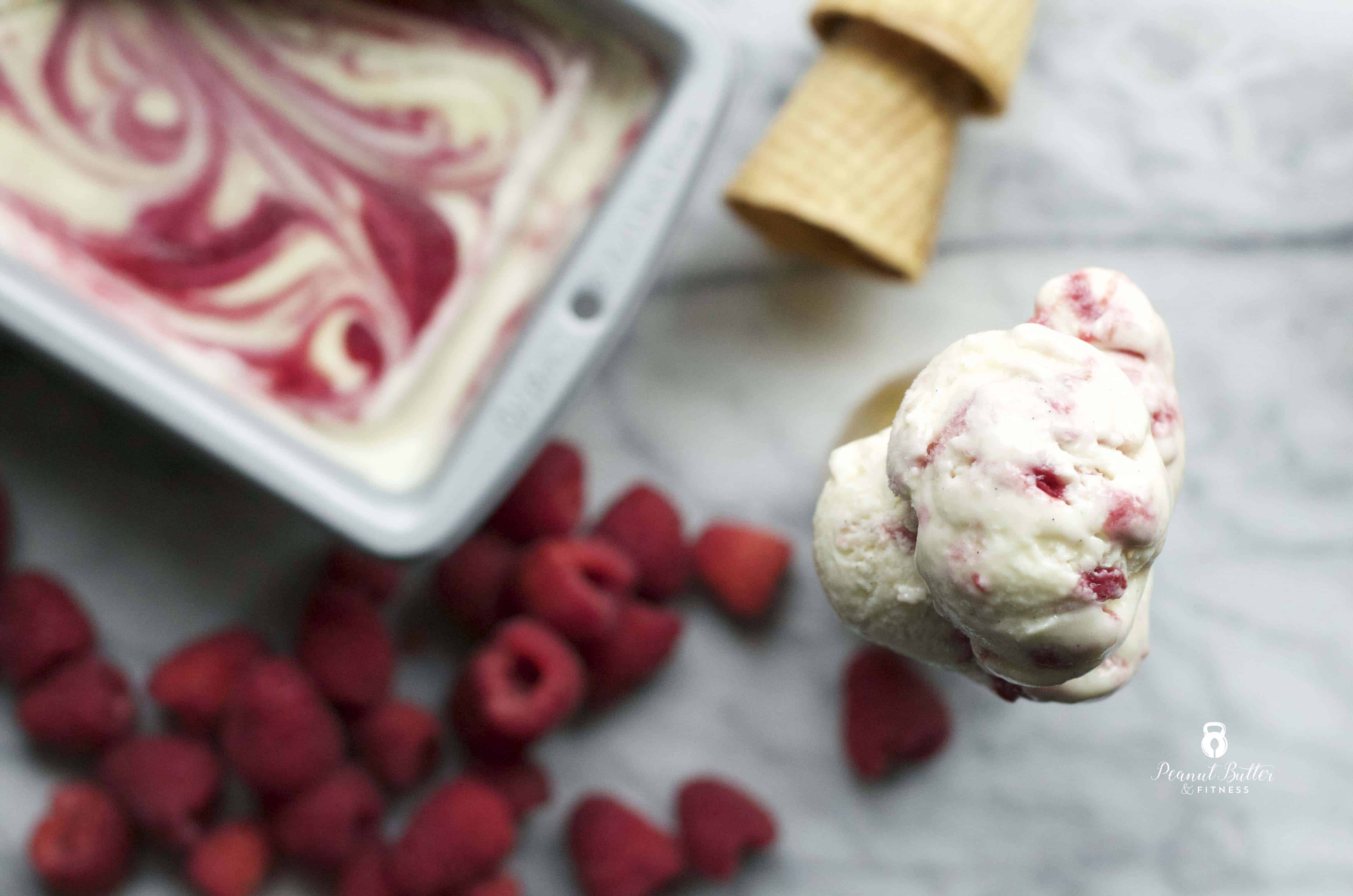 There is some debate about whether or not white sweet potatoes should be considered paleo, primarily because they lack the high levels of nutrients and antioxidants that orange and purple sweet potatoes contain.  But, they do still have a good amount of Vitamin C and other micronutrients that are nothing to balk at.  If you still have hangups about the white sweet potato, you can just as easily use an orange one (it'll taste about the same) and impress your kids or nieces/nephews with some crazy colored ice cream that has zero food coloring added.
Enjoy!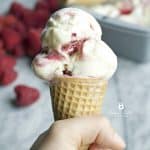 Paleo-Friendly Raspberry Swirl "Ice Cream"
Prep Time 30 minutes
Total Time 30 minutes
Servings 7 servings (1/2 cup per serving)
Calories per serving 194 kcal
Ingredients
15 oz can full fat coconut milk
2/3 cup cooked and mashed white sweet potato (150 grams)
2 scoops Jay Robb Vanilla Whey Protein
1/2 scoop Cellucor Vanilla Casein Protein
1/4 cup maple syrup
Seeds from 1 vanilla bean pod
Optional: 1 1/2 tbsp whipped cream vodka (to help keep the ice cream from freezing solid)
Raspberry Swirl
2/3 cup raspberries
1 tbsp maple syrup
Instructions
Bring raspberries and 1 tbsp maple syrup to a boil over medium-high heat, then lower heat to a simmer for 10 minutes until the raspberries are soft and mashed easily. Mash by hand or in a food processor, then set aside in refrigerator to cool.

Add all ice cream ingredients to a blender and blend for at least 1 minute to help incorporate some air into the mixture. Pour into a loaf pan or resealable plastic container.

Pour cooled raspberry mash on top of ice cream and swirl throughout using a knife.

Freeze ice cream for 4-6 hours, then allow to thaw and soften slightly before serving. Eat immediately and refreeze remaining ice cream.
Recipe Notes
Be sure to use grass-fed whey and casein (and skip the booze) to keep this recipe paleo.  Grass-fed casein can be a bit harder to find than grass-fed whey, so you can use 2 1/2 scoops of whey and skip the casein if necessary.  The casein adds an extra level of creaminess that you won't get with just the whey though.
Nutrition Facts
Paleo-Friendly Raspberry Swirl "Ice Cream"
Amount Per Serving
Calories 194 Calories from Fat 90
% Daily Value*
Fat 10g15%
Sodium 77mg3%
Potassium 274mg8%
Carbohydrates 19g6%
Fiber 1g4%
Sugar 11g12%
Protein 9g18%
* Percent Daily Values are based on a 2000 calorie diet.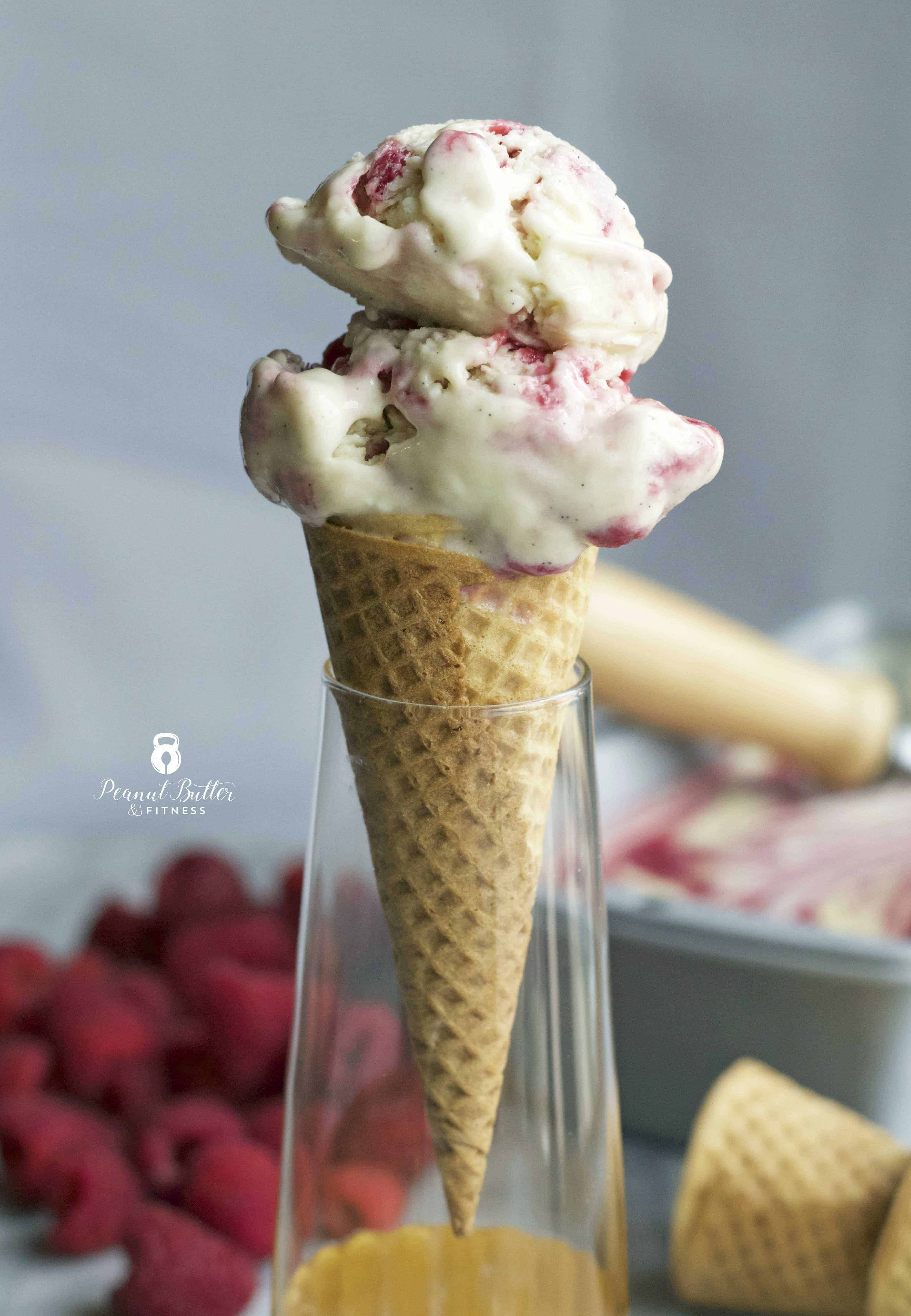 SaveSave
SaveSave
SaveSave