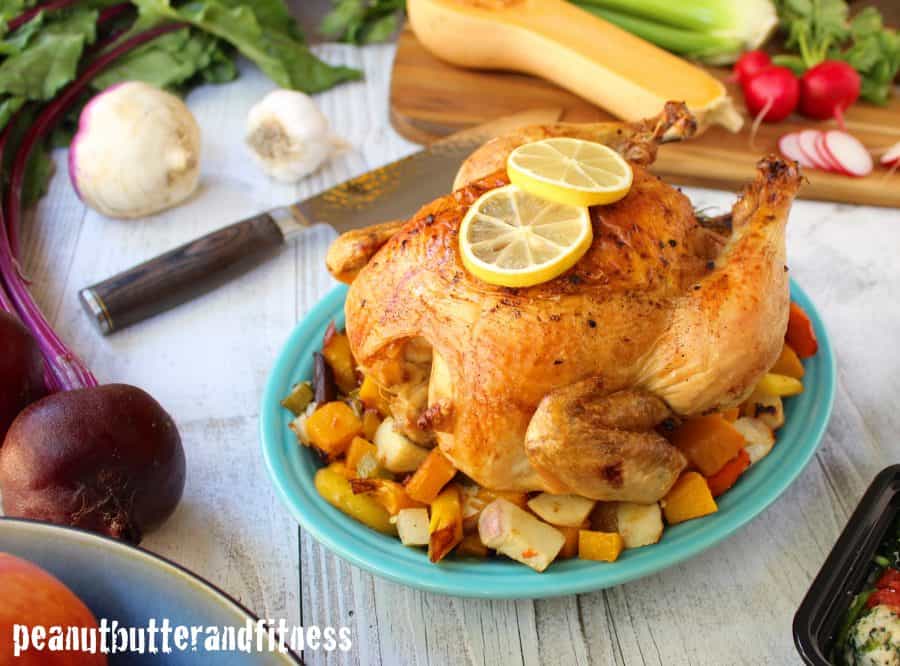 Who doesn't love the looks of a perfectly roasted golden brown chicken on a platter?  Well, probably not vegans…but I doubt that I get a lot of page traffic from vegans considering how much animal based protein I eat, so I'll just go ahead and assume you all are drooling already.  But wait!  There's more to this post than a delicious platter of food!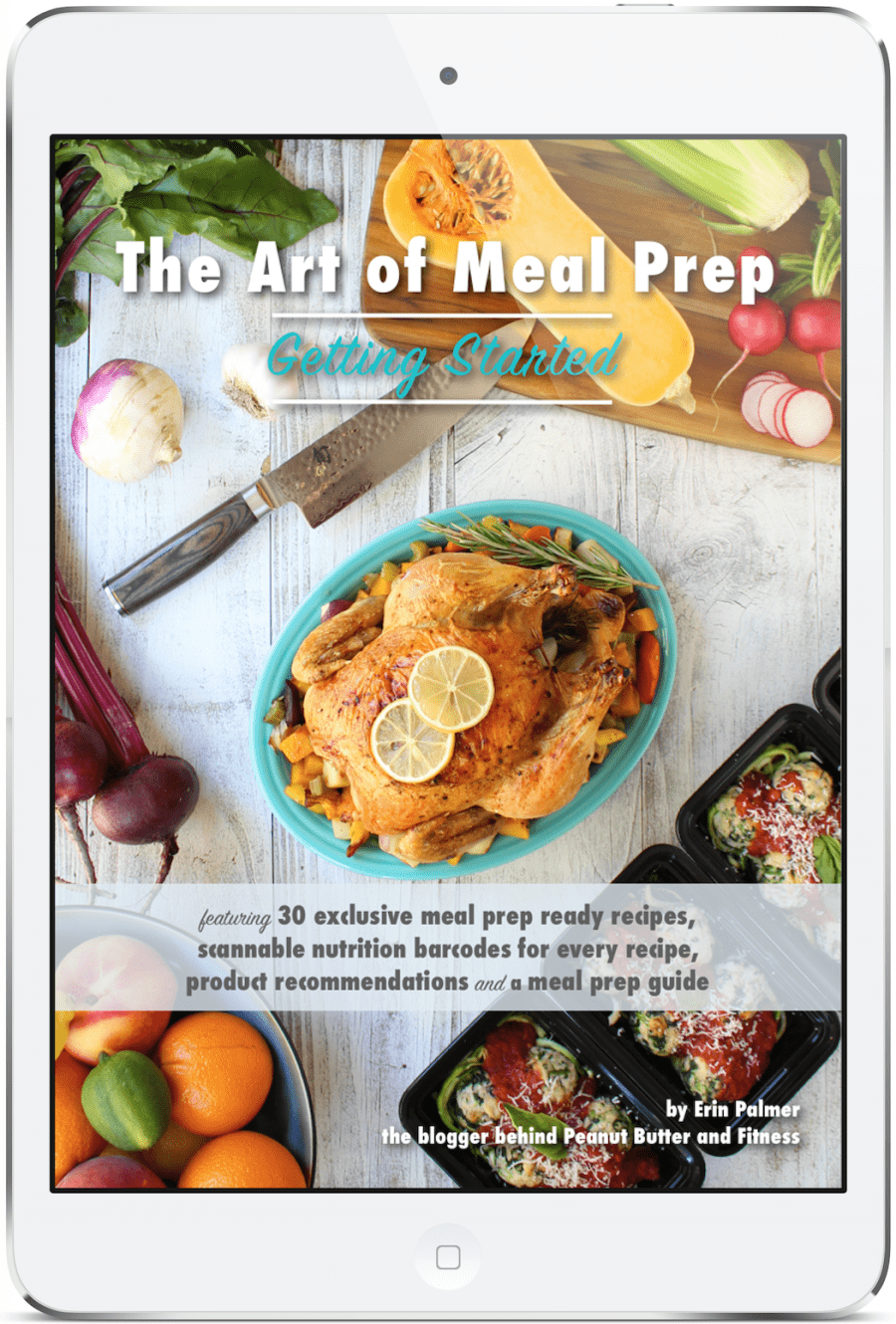 Today is an exciting recipe day because not only is this roasted chicken gorgeous, but I'm also announcing the upcoming launch of my eBook!  This chicken is on the cover of the book, so it's only fair that I tease you with the recipe 🙂  I've been working my butt off to compile all the best of my meal prep knowledge and meal prep ready recipes (20 of which you won't find here on the blog), so I hope you are excited too!  Head on over to my brand spankin' new eBook page for more details.  I'm planning to launch no later than November 1st, so be sure to check back here or follow me on Instagram for updates and discount codes!  The first 100 of you to pre-order will get 15% off with the code preorderlove!
One of the coolest things about my book (in my oh so humble opinion) is that every recipe in there comes with a barcode that you can scan into My Fitness Pal and immediately see/log the nutrition for that recipe.  And just so you can see how easy it is, here's the barcode for this recipe…

The nutrition facts listed below are approximate because every chicken is different and assume that you are not eating the skin or bones (although it's tough to resist that crispy skin!).  For bigger servings, up the size of the chicken to 5 or 5 1/2 lbs or decrease the number of servings.
One Pan Roasted Chicken and Vegetables
Yield: 5 servings • Calories per serving: 256 • Fat: 9 g • Protein: 25 g • Carbs: 20 g • Fiber: 5 g • Sugar: 8 g • Sodium: 430 mg • Cholesterol: 14 mg
Ingredients:
4 1/2 lb whole chicken
2 cups butternut squash, cubed
2 medium turnips, cubed
5 large carrots, thickly sliced
5 stalks celery, diced
1/2 yellow onion, chopped
1 lemon, quartered
3 cloves garlic, minced
3 sprigs rosemary
3 sprigs thyme
1 tbsp olive oil
1 tsp salt
1 tsp black pepper
1/2 tsp paprika
Optional: lemon slices
Directions:
Remove giblets from chicken if present, then bring chicken to room temperature (to help cook evenly).  Rinse chicken inside and out, then pat dry.
Pre-heat oven to 425 degrees.  Prepare a roasting pan with non-stick cooking spray and set aside.
Toss butternut squash, turnips, carrots, celery, onion and half of the minced garlic with olive oil and 1/4 tsp each of salt and pepper.  Arrange on roasting pan in single layer.
Place chicken on top of vegetables and tuck wing tips under body of chicken.  Stuff cavity of chicken with sprigs of herbs and chunks of lemon.  Tie drumsticks together with butcher's twine if available.
Rub chicken skin with remaining salt, pepper and paprika.  Bake at 425 degrees for 1 hour, then remove vegetables from pan, add lemon slices on top of chicken and continue baking at 400 degrees for about 30 more minutes or until a thermometer inserted into the meatiest part of the thigh reads 165 degrees.