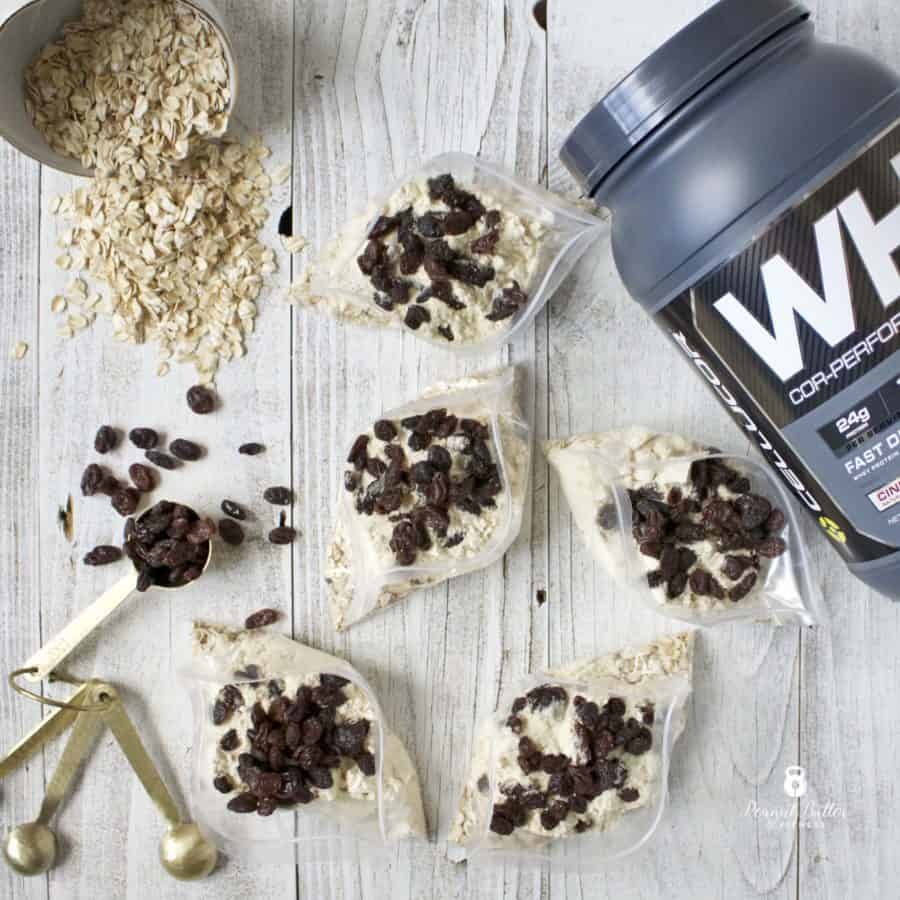 This meal prep Monday is a little late in the day and a little outside my usual repertoire, but hopefully it's useful this holiday season! Since there will be a lot of folks traveling over the next couple of weeks, I decided to share one of my travel meal prep tips.  Usually if I'm going on a short trip to somewhere where I won't have access to food that fits my macros or I won't have access to a kitchen, I'll at least prep my breakfast and take it with me.  Even if there's no microwave in my hotel room, there's almost always a coffee maker where you can easily get hot water to whip up some oatmeal.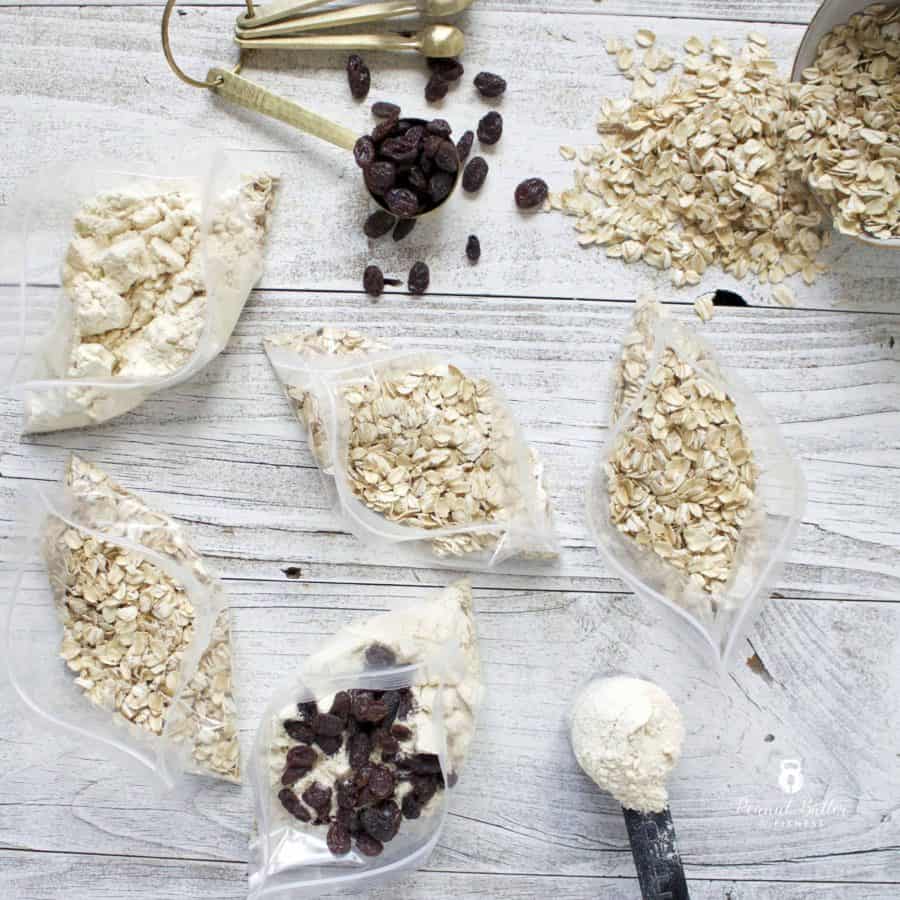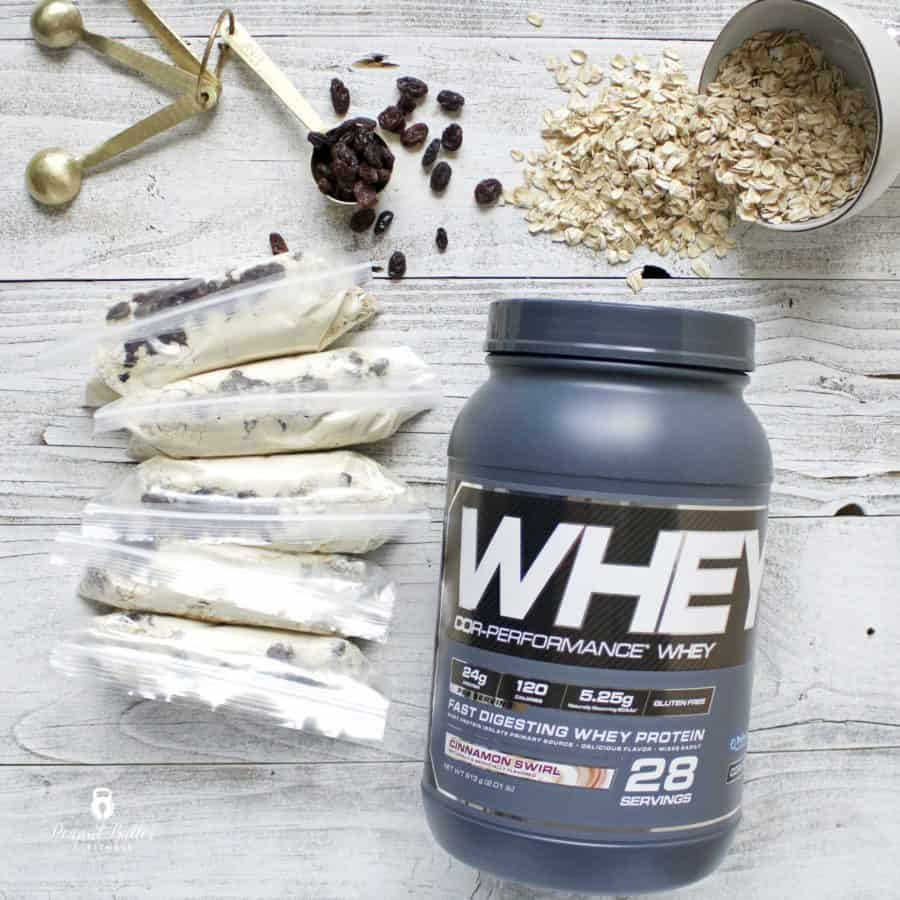 These little bags take no time to make and can go right in your suitcase with no need for refrigeration.  I always prefer to use fresh fruit in my oatmeal if I can (more volume and same micronutrients for less calories!).  Butttt I know it doesn't always work out that way and a lot of times you either can't find fresh fruit to buy or don't have anywhere to store it.  In that case, dried fruit (including freeze dried) is oh-so-easy…just opt for the low sugar or no sugar added varieties if you can.  The great thing about using dried fruit in oatmeal is that it gets re-hydrated in the cooking process.
You can also throw in nuts or seeds for healthy fats if you'd like.  Get crazy with some chocolate chips or peanut butter chips if that's what suits your fancy.  There are endless possibilities for flavors here – just pick what sounds good to you.  Here are some ideas to get you started!
Chocolate protein with:
Dried strawberries
Dried bananas and peanuts
Dried cherries
Coconut flakes and peanut butter chips
Cinnamon protein with:
Raisins
Dried cranberries
Dried apples
Dried peaches with cinnamon and pecan pieces
Strawberry protein with:
Dried bananas
Coconut flakes
Dried strawberries and peanut butter chips
Vanilla protein with:
Dried blueberries and coconut flakes
Dried cranberries and walnuts
Dried strawberries and chocolate chips
Dried apricots and a pinch of ground ginger
The other great thing about this kind of prep? It's so easy to adjust for food allergies and sensitivities.  Allergic to peanuts? Don't add them. Can't eat dairy? Use a plant based protein powder.  Don't like oatmeal? Well, shit, can't help you there.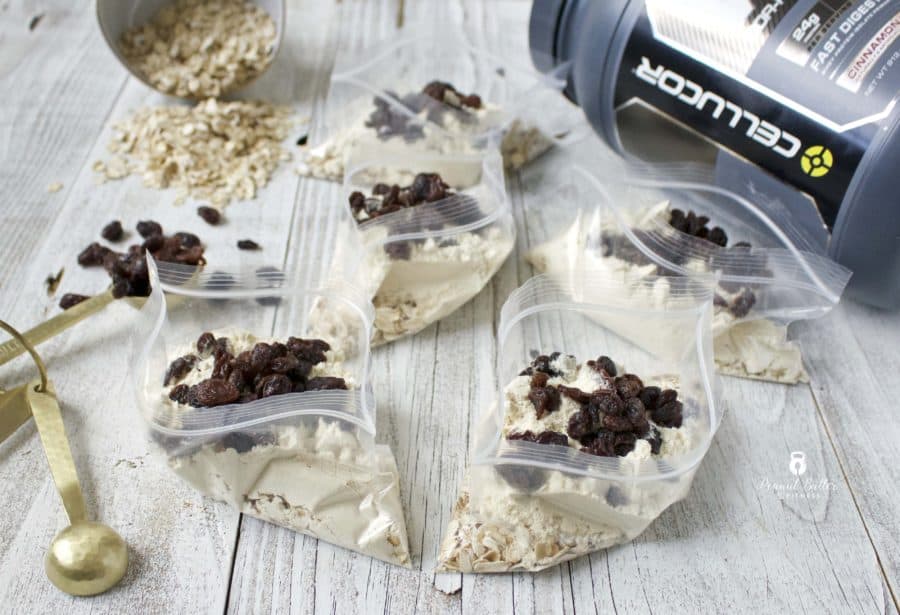 Scan this barcode into My Fitness Pal to log the recipe!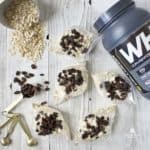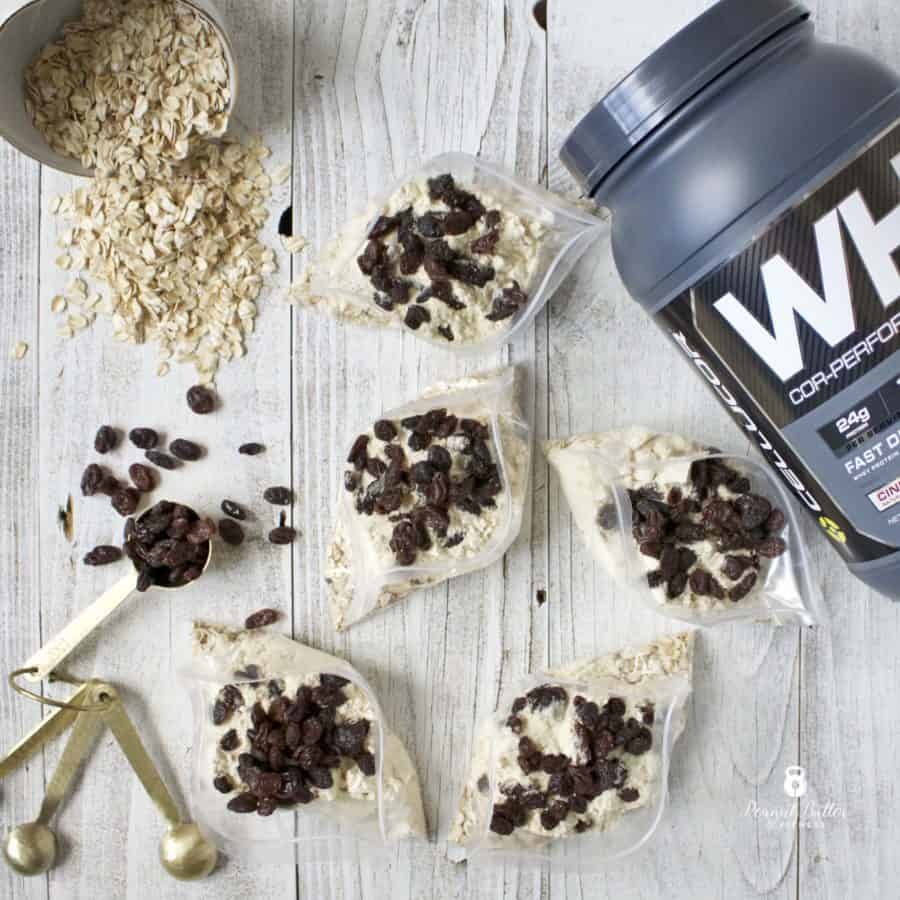 Protein Oatmeal On-the-Go
Prep Time 5 minutes
Cook Time 2 minutes
Total Time 7 minutes
Servings 1 serving
Calories per serving 304 kcal
Instructions
Add ingredients to 1/2 to 3/4 cup water (depending on preference). Stir until mixed. Microwave for one minute, then stir and microwave for another 30 seconds (or more if needed).
Nutrition Facts
Protein Oatmeal On-the-Go
Amount Per Serving
Calories 304 Calories from Fat 36
% Daily Value*
Fat 4g6%
Cholesterol 35mg12%
Sodium 115mg5%
Carbohydrates 39g13%
Fiber 4g17%
Sugar 14g16%
Protein 30g60%
* Percent Daily Values are based on a 2000 calorie diet.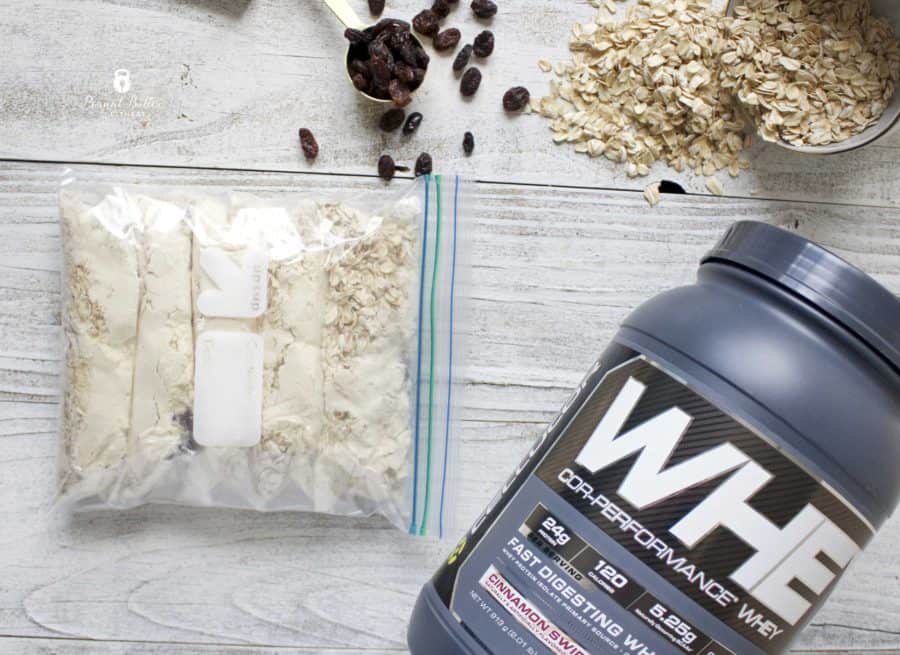 Once they're all made and sealed up, I stick the little snack bags into a bigger bag to prevent spills and keep them all organized in one place.  Another option if you don't want to bother with flavors – grab some low sugar instant oatmeal packets and pack your own protein and dried fruit!  I prefer using rolled oats in my protein oatmeal but you can totally use instant oats if you prefer those.  There are honestly like a million options with this portable breakfast.  Safe travels!
SaveSave
SaveSave