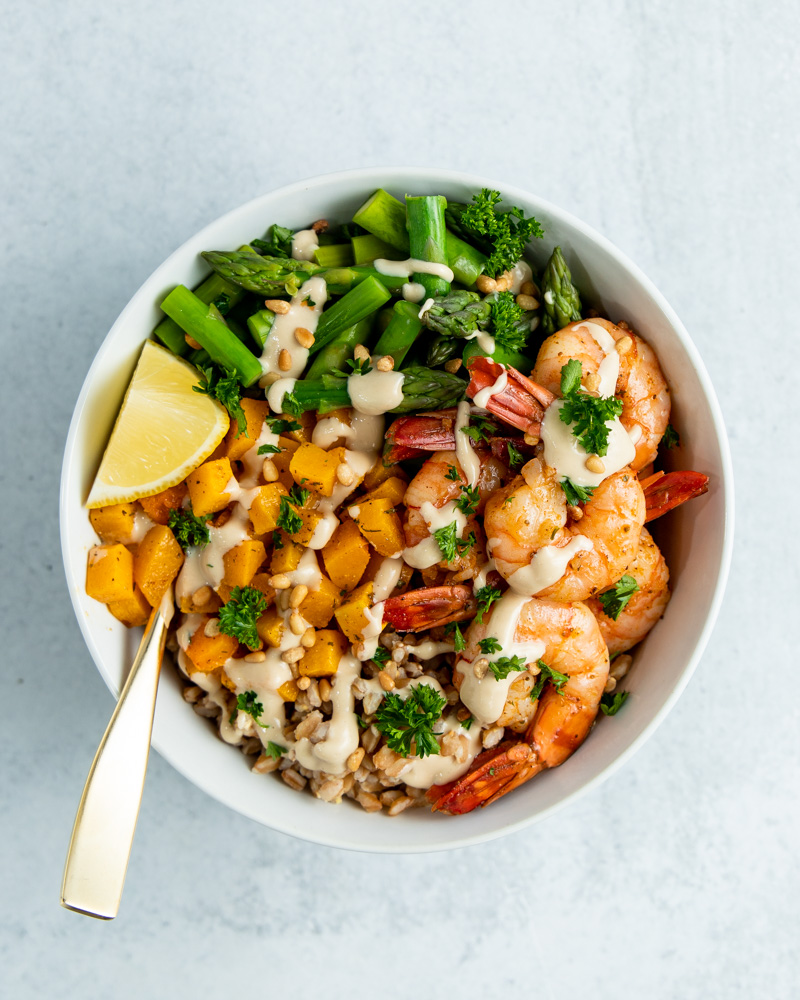 Happy Sunday, meal preppers! I don't have a full meal plan to share with you this week but what I do have is a new recipe for these Lemon Garlic Shrimp Bowls with Tahini Dressing. I think you're going to love this one – this is the 2nd time I've made this recipe as part of my meal prep and it's just so bright and fresh, with so many pops of flavor. Hearty, chewy farro serves as the grain for this bowl, and is accompanied by butternut squash and asparagus for plenty of veggies and vitamins. The shrimp are pan-seared with a touch of butter, as well as lemon and garlic (of course!). Then it's all topped off with this tangy lemon tahini dressing that's balanced nicely with a bit of honey. For extra flavor and texture, add fresh chopped parsley and toasted pine nuts. Finally, devour and swooooooon! 😉
Like the Korean Inspired Ground Beef Bowls that I recently shared, this recipe is part of a mix and match meal prep series that I've been working on since New Year's. I still have a lot of work to do on that post before I can publish it, but here are some photos of the individual ingredients from that post! I'm looking forward to finishing and sharing that one with you. But until then, you can enjoy these individual bowl recipes! I love this one for my spring meal preps – you'll definitely see it make an appearance in a weekly meal plan soon.
If you've never had tahini before, you're in for a treat here! It's basically just sesame seeds ground into something that resembles natural peanut butter. The flavor is savory and nutty, with a sesame seed flavor that's kind of subtle in my opinion. For this recipe, I used a roasted garlic flavored tahini for a little extra kick – if you're using plain tahini, you'll probably want to add some garlic powder or other seasoning to bump up the flavor factor a bit.
Here are some items I used to make this recipe a success. Note: these are Amazon Affiliate links.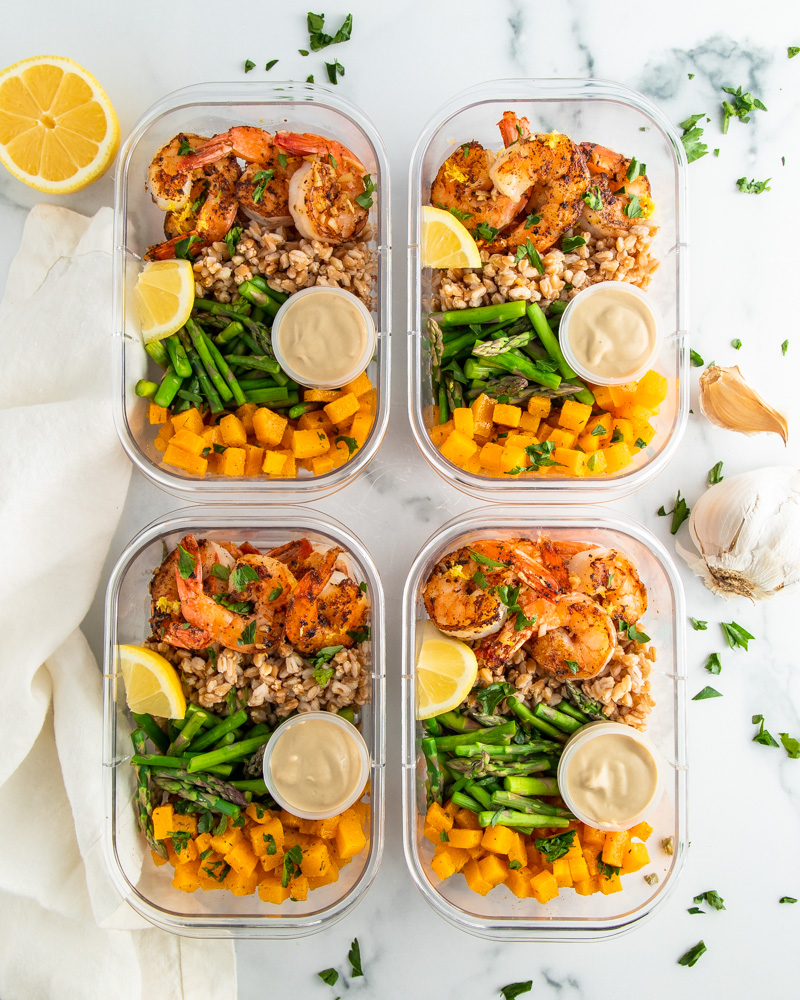 Recipe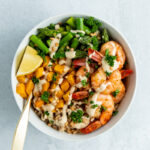 Lemon Garlic Shrimp Bowl with Tahini Dressing
Prep Time 10 minutes
Cook Time 10 minutes
Total Time 20 minutes
Servings 4 servings
Calories per serving 395 kcal
Ingredients
Lemon Garlic Shrimp
1 1/2 lbs raw shrimp, peeled and deveined, tail on
5 cloves garlic, minced (20 grams)
1 1/2 tbsp unsalted butter (21 grams)
1 1/2 tbsp lemon zest
1/2 lemon, juiced
1/4 tsp chili powder
Tangy Lemon Tahini Dressing
2 tbsp Roland Roasted Garlic Tahini (28 grams)
1 tbsp lemon juice (15 grams)
1/2 tbsp honey (11 grams)
1/2 tbsp apple cider vinegar (7 grams)
1/2 tbsp water (7 grams)
1 tsp dijon mustard (5 grams)
1/4 tsp salt
Other
2 1/2 cups butternut squash, cubed (330 grams)
1 bunch asparagus, trimmed (400 grams)
2/3 cup farro, cooked according to package directions (120 grams)
1/4 cup fresh curly parsley, chopped
1 tsp olive oil
salt and pepper to taste
Optional: toasted pine nuts
Instructions
Make the dressing. Whisk together all dressing ingredients until smooth. Adjust salt to taste, then set aside in the refrigerator.

Roast the butternut squash. Pre-heat oven to 425° and line a baking sheet with foil. Add cubed butternut squash to the baking sheet and drizzle with 1 tsp olive oil, then season with 1/2 tsp Flavor God Garlic Lover's Seasoning.

Toss squash to coat evenly with oil and seasoning, then arrange in a single layer on the baking sheet. Roast for 20-25 minutes or until it begins to get golden brown and is fork tender. Set aside.

Steam the asparagus. Add asparagus to a large, microwave safe bowl. Cover bowl with a damp paper towel. Microwave for 2-3 minutes or until asparagus is bright green and tender-crisp. Immediately transfer asparagus to an ice bath to stop cooking, then pat dry and cut into 2″ pieces.  Set aside.

Prepare the shrimp. Rinse shrimp and pat dry with paper towels. Season with Flavor God Garlic Lover's Seasoning and chili powder.

Melt butter over medium-high heat (7 or 8 out of 10) in a large skillet. Add shrimp in a single layer, being careful not to crowd the skillet (you may need to do this in 2 batches). Cook for 1-2 minutes or until browned on the cooked side.

Flip the shrimp, add garlic and lemon juice, and continue cooking for about 2 minutes or until shrimp just reach opaque and are cooked through.

Remove shrimp to a plate or bowl and toss with lemon zest.

Assemble the bowls. Add cooked farro, butternut squash, asparagus, and shrimp to a large bowl. Drizzle with lemon tahini dressing. Top with fresh chopped parsley and toasted pine nuts, if desired.
Recipe Notes
Click here or scan the barcode below to log this food in My Fitness Pal.
Nutrition Facts
Lemon Garlic Shrimp Bowl with Tahini Dressing
Amount Per Serving
Calories 395 Calories from Fat 99
% Daily Value*
Fat 11g17%
Cholesterol 244mg81%
Sodium 676mg29%
Potassium 471mg13%
Carbohydrates 40g13%
Fiber 7g29%
Sugar 6g7%
Protein 35g70%
* Percent Daily Values are based on a 2000 calorie diet.