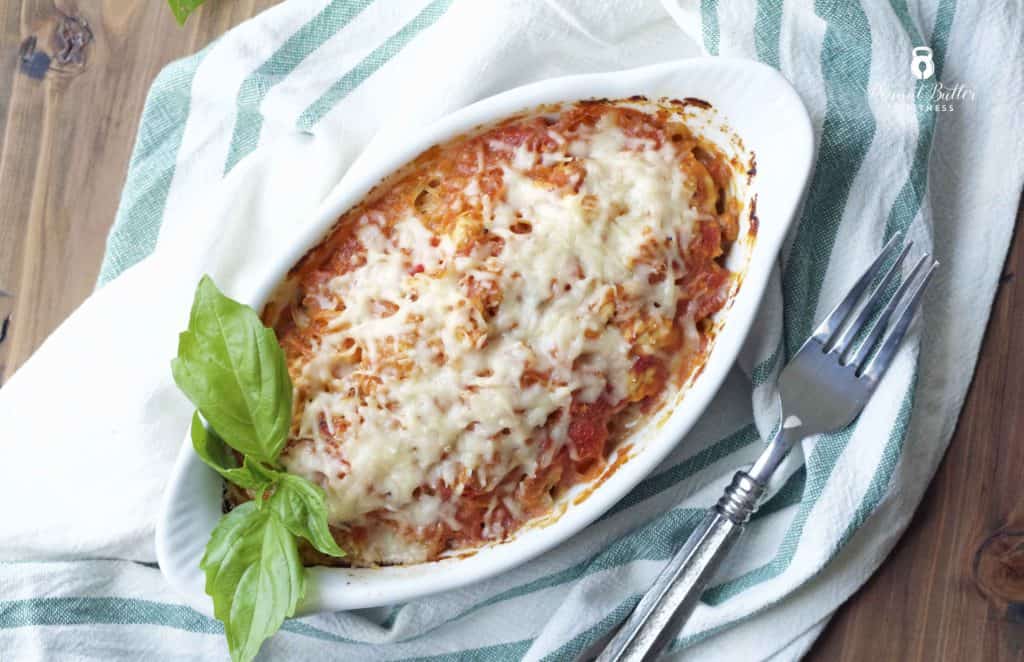 Squash season is pretty much here, so I felt like it was a perfect time to bring spaghetti squash back into my life and meal prep. Casseroles are such an easy way to meal prep, but I don't use them to my advantage enough. This week, that changes!! I present to you this delicious Italian Spaghetti Squash Bake featuring ground turkey, turkey sausage, and a few other goodies.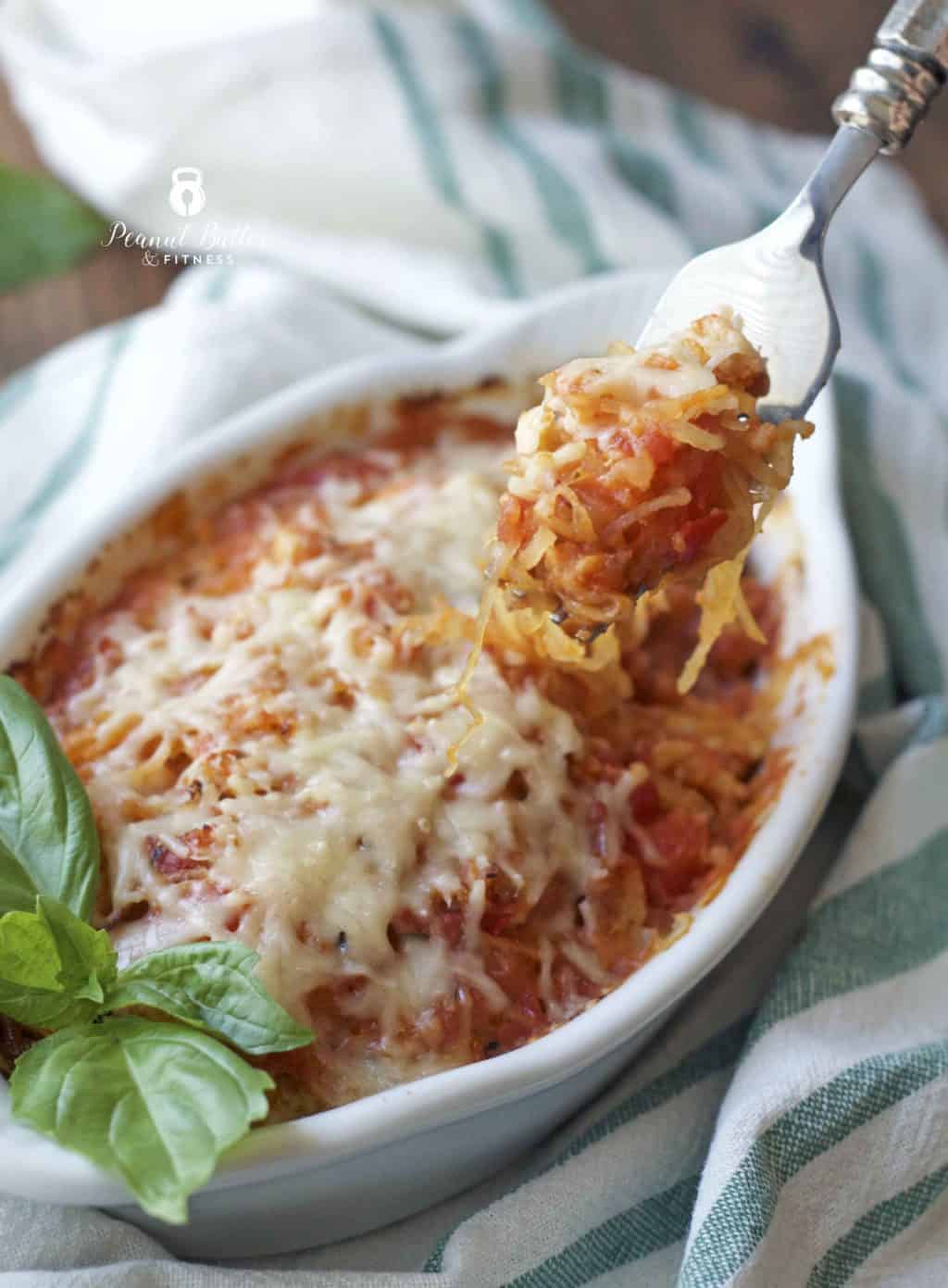 I gotta say, I'm pretty impressed with myself on this one…I couldn't stop digging into this little guy after its photo shoot. I can only describe the flavor as being perfectly reminiscent of lasagna. Seriously. Add some mozzarella and parmesan on top to make it even more like lasagna. You won't be disappointed (unless you're lactose intolerant…then you'll need to take some Lactaid in order to avoid disappointment :)).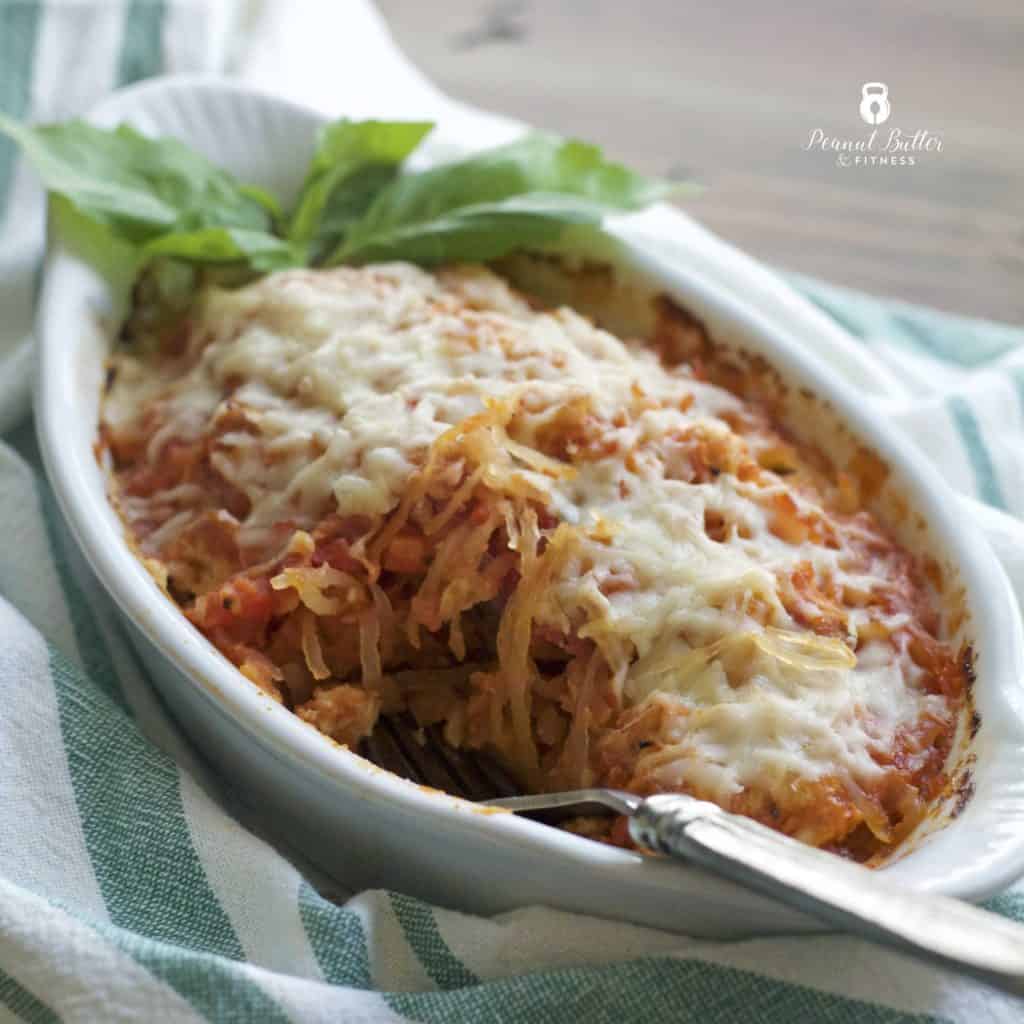 You'll notice in the recipe that I call for you to make this in a deep 9×9″ casserole dish. Well it turns out that I actually had an 8″ casserole dish and couldn't actually fit all of this goodness into it. So I improvised and stuck the overflow into one of these little au gratin dishes. It looked so cute in there that I couldn't help but to show it off in some photos. Down below you'll see the results of my 8×8″ casserole dish…meal prep style of course! If you're meal prepping this dish and not eating it right away, I'd recommend waiting for it to cool before slicing it up to make things easier on yourself.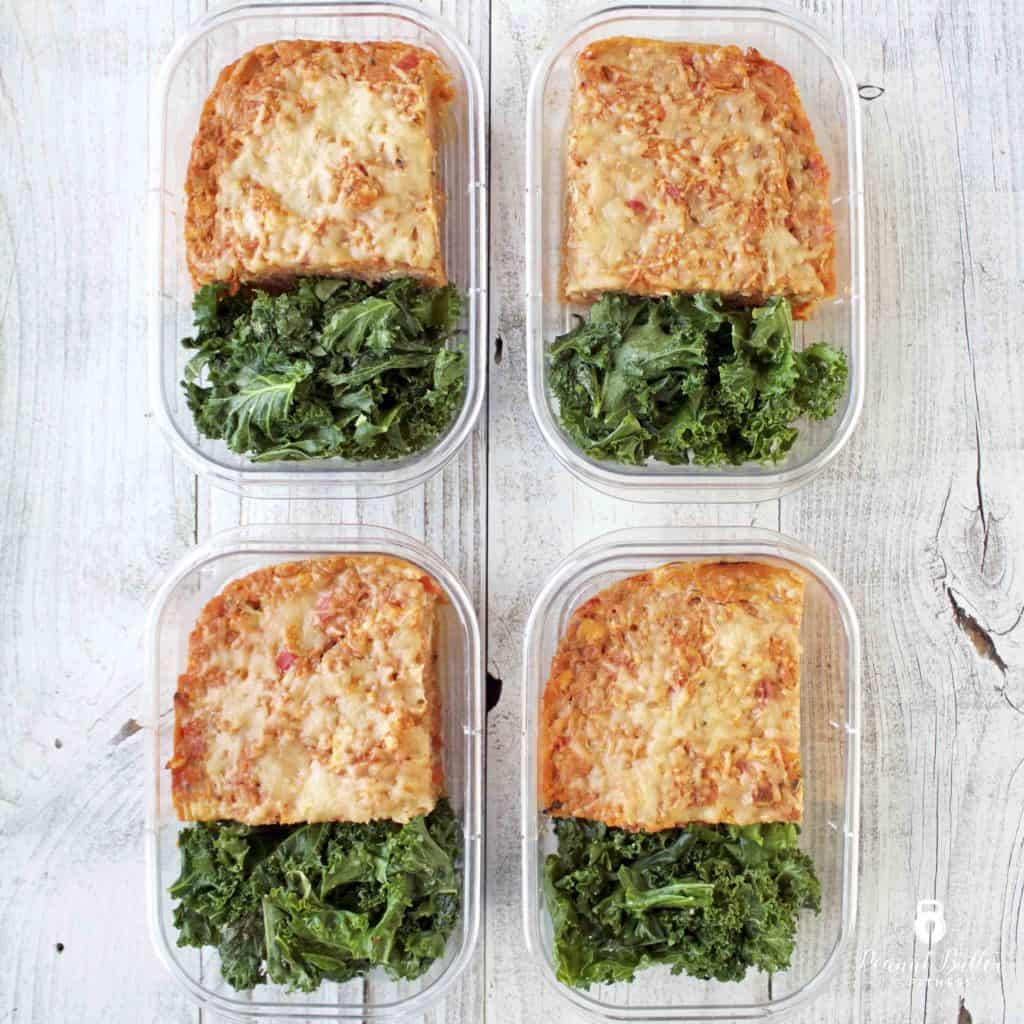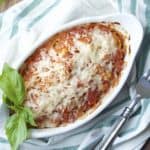 Italian Spaghetti Squash Bake
Prep Time 20 minutes
Cook Time 1 hour 40 minutes
Total Time 2 hours
Servings 5 servings
Calories per serving 280 kcal
Instructions
Pre-heat oven to 400 degrees. Line a 9x13" baking sheet with aluminum foil. Set aside.

Cut spaghetti squash in half and remove seeds. Rub cut side of flesh with 1 tsp olive oil, then season with 1 tsp Flavor God seasoning. Place cut side up on lined baking sheet and bake for 40 minutes or until squash can be easily flaked apart with a fork. Set aside to cool.

Heat remaining olive oil in a large sauté pan over medium-high heat. Add bell pepper, onion, and garlic and sauté until fragrant. Add ground turkey and sausage, breaking apart with a wooden spoon. Season with remaining Flavor God seasoning and continue cooking and breaking apart with a spoon.

When meat is mostly cooked through, add pasta sauce, stir, and bring to a boil, then remove from heat. Set aside to cool.


Using a fork, scrape spaghetti squash "noodles" from shell and place in a large bowl. Add red pepper flakes, meat and sauce mixture and mix until combined.

If the squash mixture is hot to the touch, you will need to temper your eggs with some of the liquid before stirring in the eggs. If it is just warm to the touch, you can stir the eggs in directly.

Grease a deep, 9x9" casserole dish with non-stick cooking spray or olive oil. Add squash mixture and flatten out on top. Bake for 45 minutes to 1 hour, until it becomes firm to the touch. If desired, add parmesan cheese on top for the last 10-15 minutes of baking.
Recipe Notes
You can also make this dish with 93/7 ground chicken, but it will add about 7 grams of fat per serving.
Nutrition Facts
Italian Spaghetti Squash Bake
Amount Per Serving
Calories 280 Calories from Fat 90
% Daily Value*
Fat 10g15%
Cholesterol 144mg48%
Sodium 549mg24%
Potassium 184mg5%
Carbohydrates 18g6%
Fiber 5g21%
Sugar 10g11%
Protein 30g60%
* Percent Daily Values are based on a 2000 calorie diet.