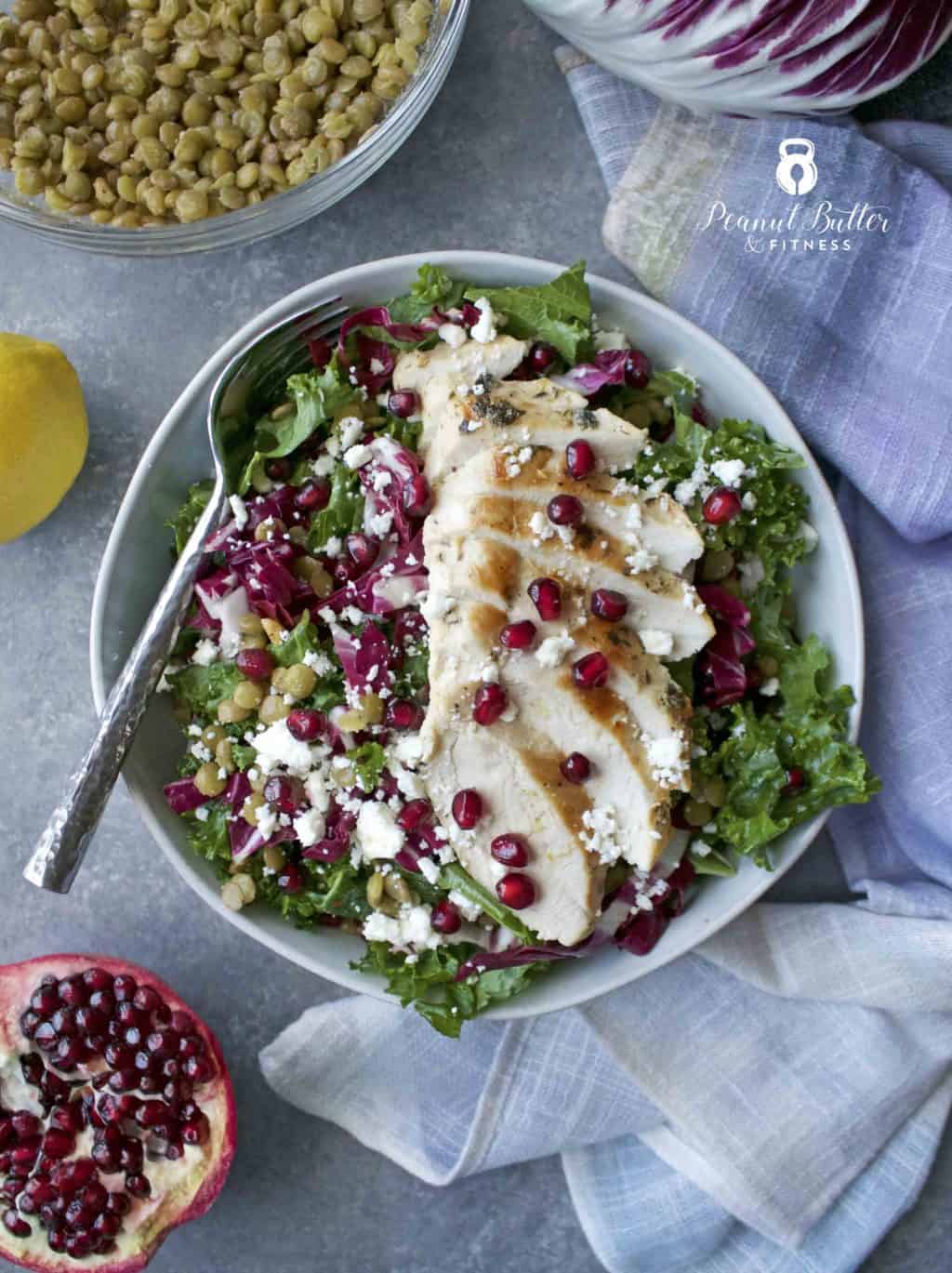 Let's start the new year off with a big, hearty salad, shall we? If you've been around PBF for a while, you know I love a good salad in my meal prep every week. This Italian Kale and Radicchio Lentil Salad was inspired by a salad I stumbled upon at a restaurant that I absolutely fell in love with. The lentils add such a great chew (and some extra protein!) to a fresh salad, and pre-tossing the salad with the dressing is key to perfecting this one.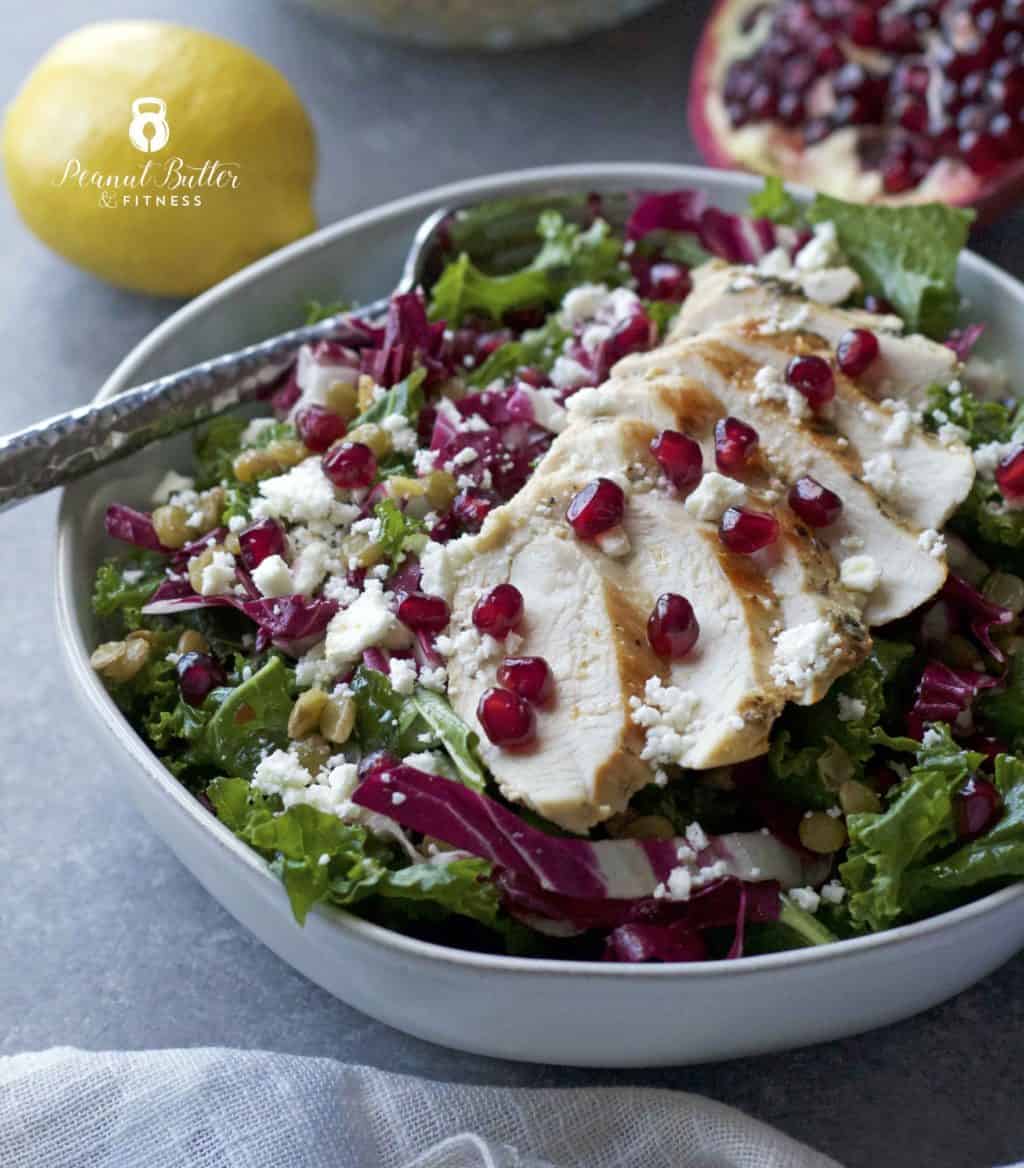 I'll admit that the salad at the restaurant had some amazing chicken on a skewer that I didn't even attempt to replicate, but what can I say…it's just easier to grill a chicken breast. If you've got skewer skills, feel free to exercise them here 😉
One thing to note about this salad is the use of the radicchio. It adds a beautiful pop of color, but if you haven't worked with it before, you might be surprised by its bitterness. Part of the reason why it's so key to toss the salad with the dressing before serving it is because the honey in the dressing helps to counteract that bitterness. The little pops of pomegranate juice that you get from those seeds help too!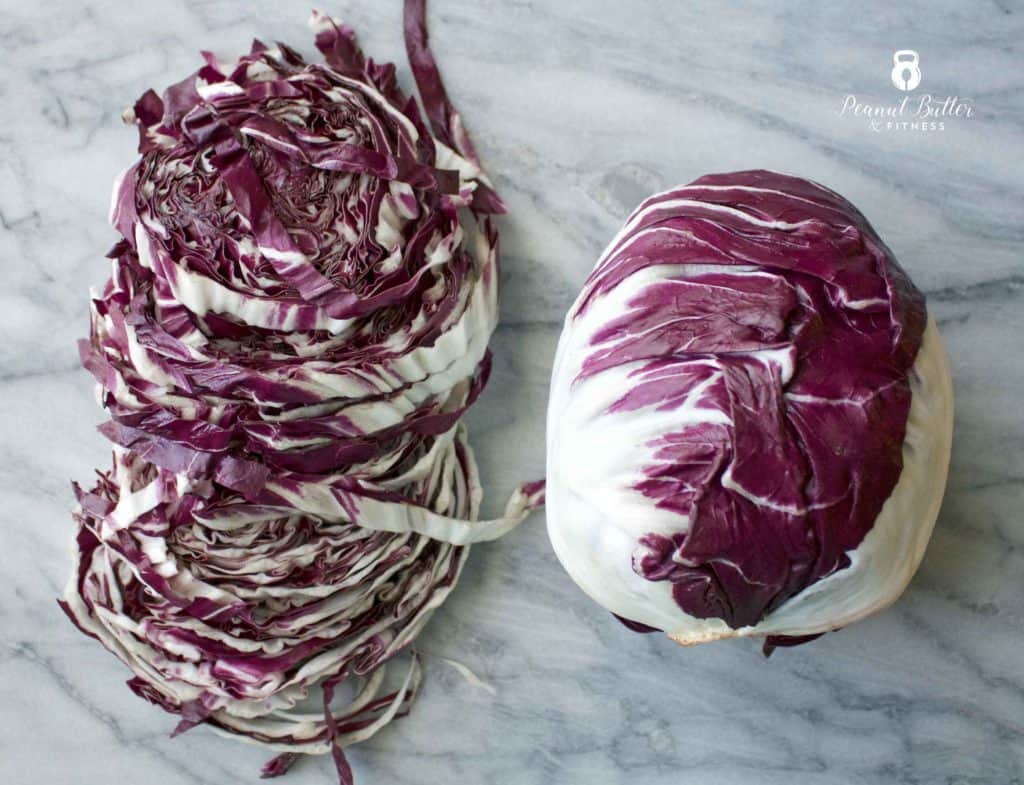 If you plan on meal prepping this salad like I did, be sure to add a piece of paper towel in the bottom of your salad container to absorb excess moisture. The radicchio is much more sensitive to moisture than the kale and will get gross pretty quickly if you're not careful.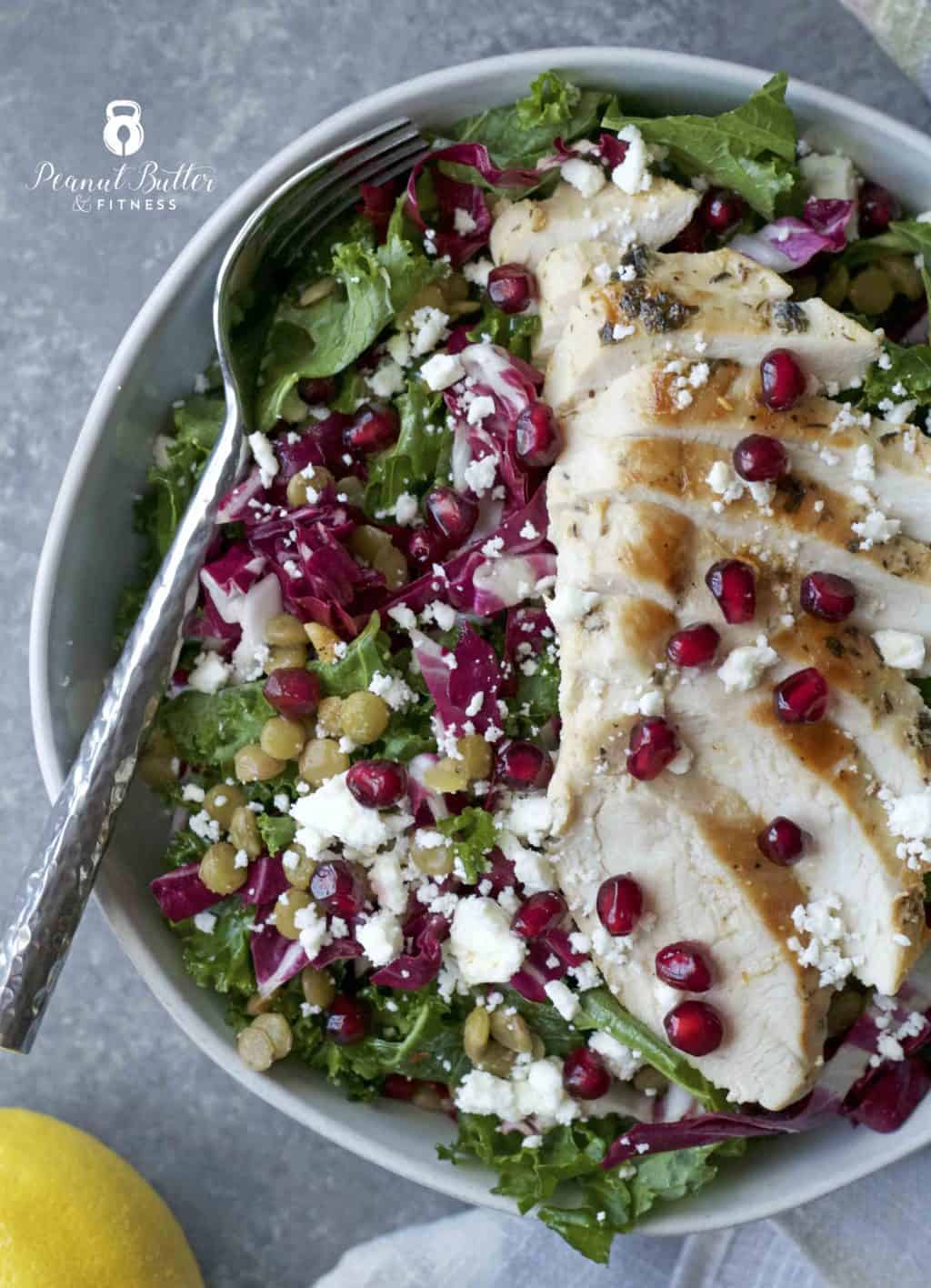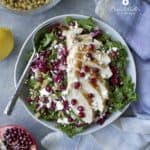 Italian Kale and Radicchio Lentil Salad
Prep Time 20 minutes
Cook Time 10 minutes
Total Time 30 minutes
Servings 6 servings
Calories per serving 298 kcal
Ingredients
1 1/2 lb raw chicken breast
8 cups kale, chopped (140 grams)
4 cups radicchio, sliced (140 grams)
1/2 cup dry green lentils, cooked according to package directions (88 grams)
1/2 cup pomegranate arils (85 grams)
Optional toppings: feta cheese
Marinade/Dressing
5 tbsp olive oil (2.5 oz)
1/4 cup white wine vinegar (2 oz)
2 tbsp lemon juice (1 oz)
2 tbsp honey (1 oz)
1/2 tsp dried basil
1/2 tsp dried oregano
1/2 tsp dried parsley
1/4 tsp red pepper flakes
Optional: 2 tbsp grated Parmesan cheese
Instructions
Whisk together all marinade/dressing ingredients except Parmesan cheese (if using). Pour half of the dressing over the chicken breast in a resealable bag or container. Marinate for at least 1 hour.

If desired, whisk Parmesan cheese into remaining salad dressing (not included in nutrition info).

Assemble salad by tossing kale, radicchio, and cooked lentils with most of the remaining dressing, conserving some for on top of the chicken once cooked. (Keep dressing separate if meal prepping the salad.)

Grill chicken until cooked through, about 5 minutes per side, depending on thickness. Allow chicken to rest for 5 minutes before slicing and placing on top of salads.

Top chicken with remaining dressing and pomegranate arils. Add feta cheese, if desired (not included in nutrition info).
Nutrition Facts
Italian Kale and Radicchio Lentil Salad
Amount Per Serving
Calories 298 Calories from Fat 99
% Daily Value*
Fat 11g17%
Cholesterol 66mg22%
Sodium 90mg4%
Potassium 648mg19%
Carbohydrates 19g6%
Fiber 6g25%
Sugar 8g9%
Protein 32g64%
* Percent Daily Values are based on a 2000 calorie diet.