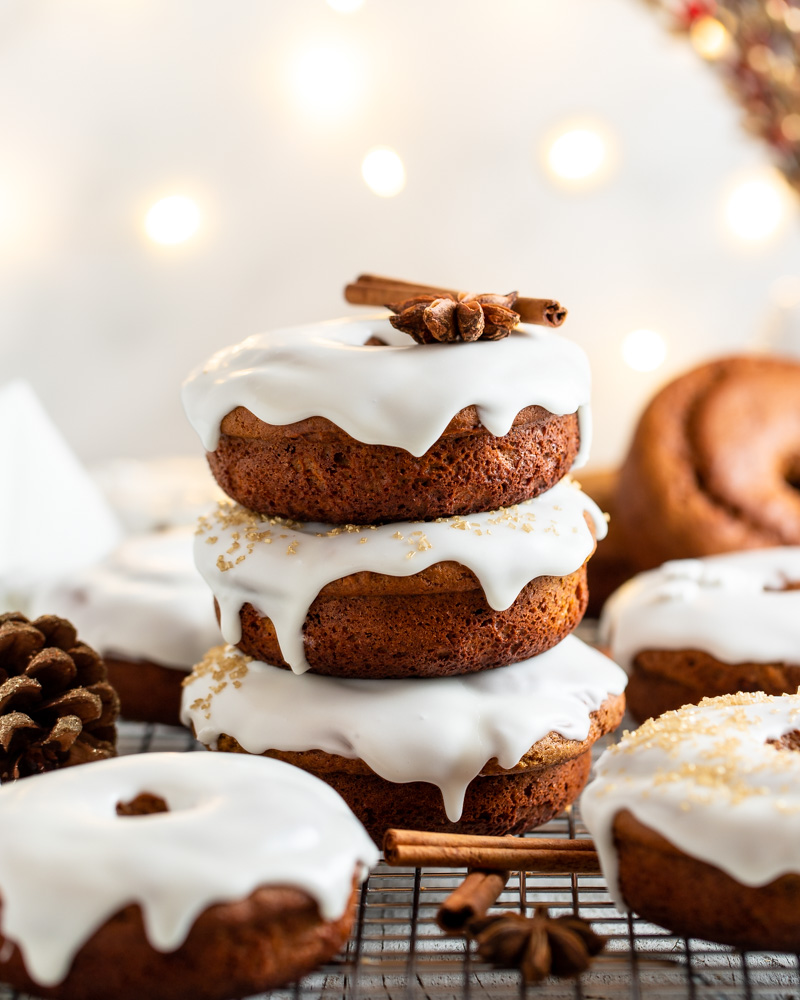 'Tis the season for all things gingerbread and warm and cozy! These Healthier Gingerbread Donuts are a definite breakfast winner with all the classic gingerbread flavor with an added boost of protein. Don't you just love how the icing on these donuts turned out looked exactly like the snowy icing that you see on gingerbread houses?! I can't get over it!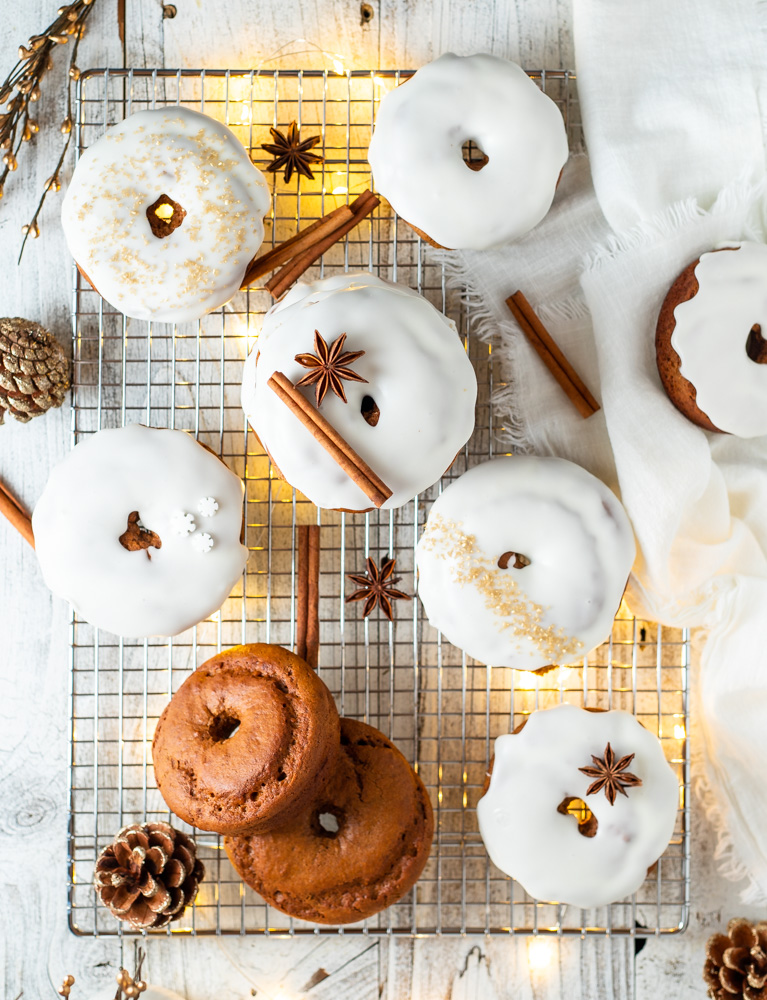 If you've ever made a batch of baked donuts at home before, you probably know that they can be a pain in the butt to get out of a metal donut pan. I much prefer to use a silicone one like this that you can just pop the donuts right out of and onto a wire rack to cool. You can also easily make a mini version of these in your air fryer using donut molds like this. I do love a mini donut…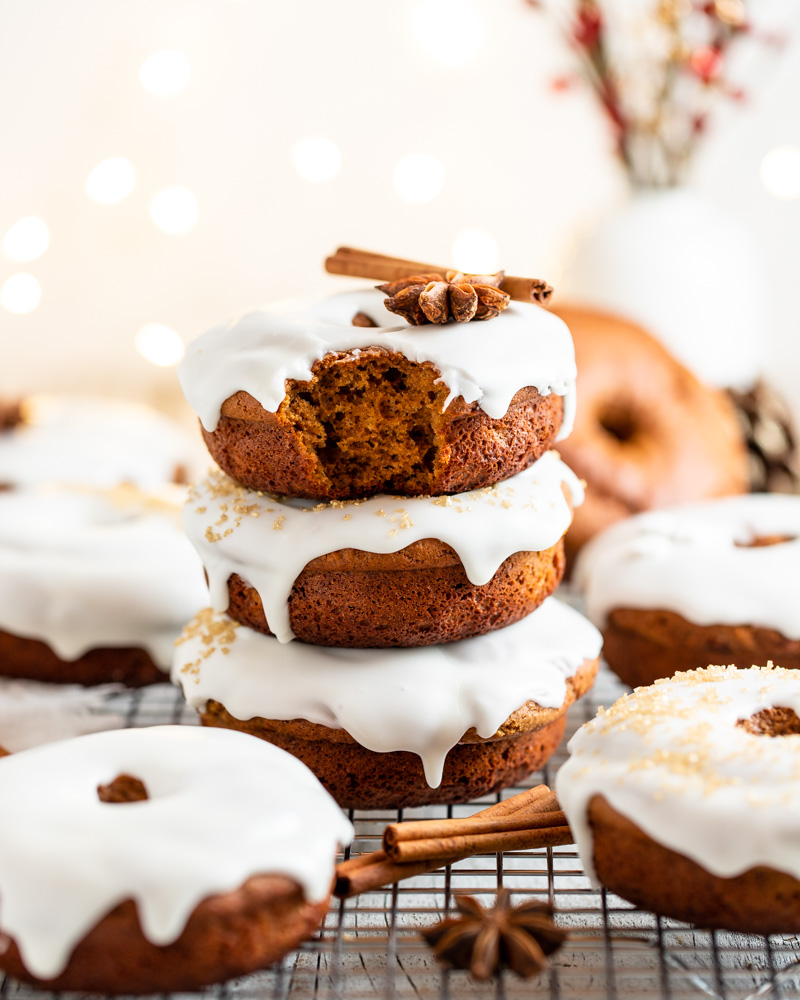 I'm thinking my next homemade donut recipe needs to be a yeast donut…not sure how it will work out with extra protein, but I gotta give it a whirl! Hopefully it's a success and I can share another awesome donut recipe soon!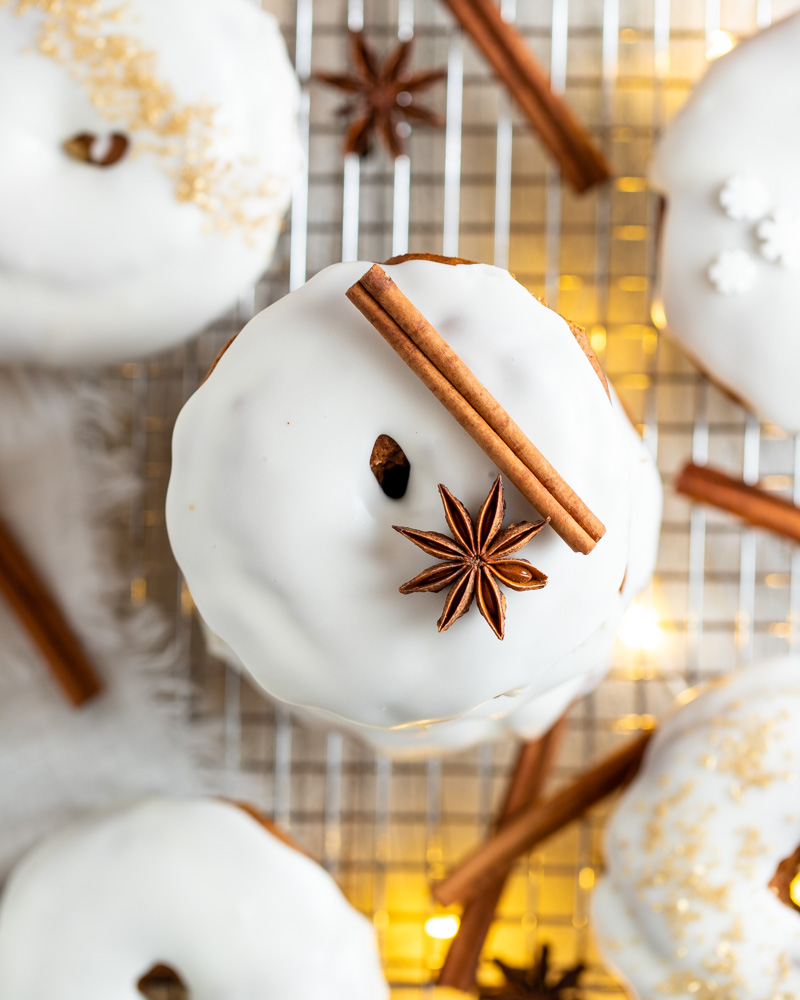 Shop for this Recipe
Here are some items I used to make this recipe success. Note: these are Amazon Affiliate links.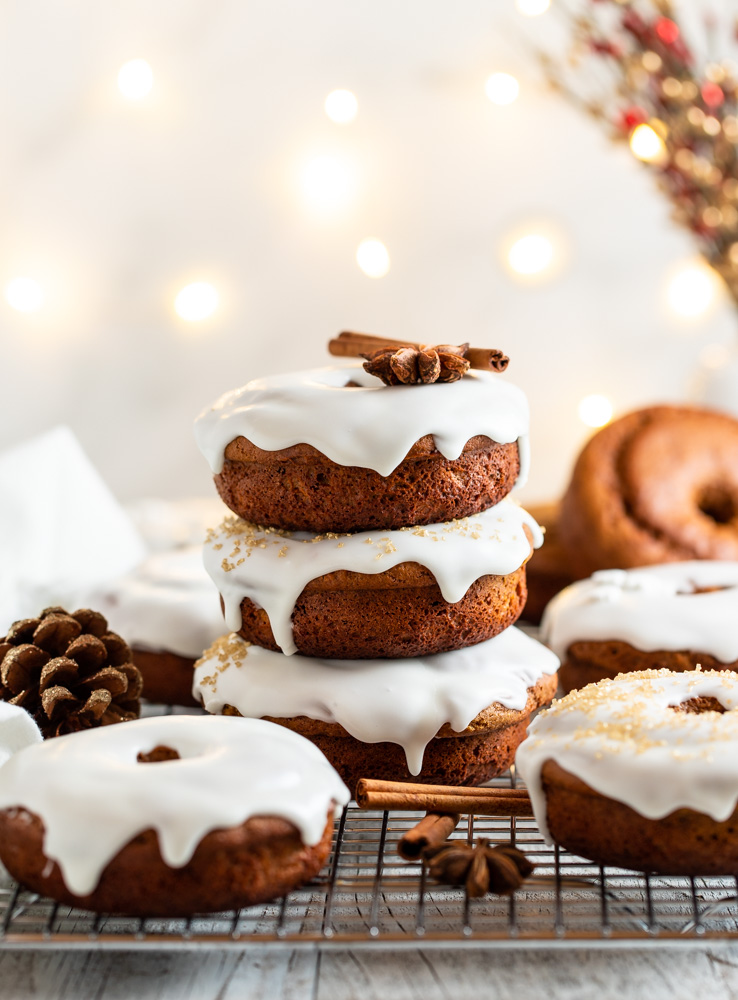 Recipe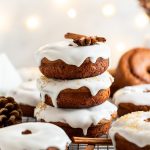 Healthier Gingerbread Donuts
Prep Time 15 minutes
Cook Time 16 minutes
Total Time 31 minutes
Servings 6 donuts
Calories per serving 277 kcal
Ingredients
Donuts – Wet Ingredients
1/3 cup unsweetened vanilla almond milk (2.67 fl oz)
3 tbsp molasses (45 mL)
3 tbsp light brown sugar (36 grams)
3 tbsp unsalted butter (1.5 oz)
1 egg
1 tsp vanilla extract
Frosting
1 cup powdered sugar (120 grams)
1 oz reduced fat cream cheese, softened at room temp (31 grams)
2 tsp unsweetened vanilla almond milk
Instructions
Pre-heat oven to 350 degrees.

Mix all dry donut ingredients and set aside.

In a small bowl, melt the butter in the microwave for 30 seconds. (The butter shouldn't be completely melted, but it should be completely softened.) Add brown sugar and mix until well combined. Next, add the molasses and vanilla, then mix again until combined. Add almond milk and egg, whisk until egg is well incorporated.

Add wet ingredients to dry ingredients and mix until just combined, being careful not to over mix. Some lumps are okay as long as you can no longer see raw flour in the batter.

Scoop donut batter into a piping bag or Ziploc bag and cut off the tip of the bag so you get about a 3/4" opening. Pipe the batter into a silicone donut mold, filling the mold about 3/4 of the way to the top.

Bake for 14-16 minutes or until a toothpick inserted into the thickest part of the donut comes out clean. Remove donuts from the silicone mold and place on a cooling rack.

While the donuts cool, prepare the frosting. Whisk very soft cream cheese, powdered sugar, and almond milk (start with just 1 tsp almond milk and add more if needed) until smooth. A hand mixer will help you achieve smooth frosting quickly. You want the frosting to still be thick enough that it holds some of it's form as you remove the whisk from it – you don't want it to be runny and glaze-like.

After the donuts have cooled, dip them into the frosting. You may need to help this process along with a spatula. Allow the frosting to set up for 30 minutes to an hour – you can speed it along by putting the donuts in the refrigerator.
Recipe Notes
You can also make these as mini-donuts in an air-fryer: put the batter into these molds and air fry them at 350 degrees for 7 minutes.
Click here or scan the barcode below to log this food in My Fitness Pal.
Nutrition Facts
Healthier Gingerbread Donuts
Amount Per Serving (1 donut)
Calories 277 Calories from Fat 72
% Daily Value*
Fat 8g12%
Cholesterol 53mg18%
Sodium 243mg11%
Potassium 149mg4%
Carbohydrates 44g15%
Fiber 2g8%
Sugar 33g37%
Protein 9g18%
* Percent Daily Values are based on a 2000 calorie diet.