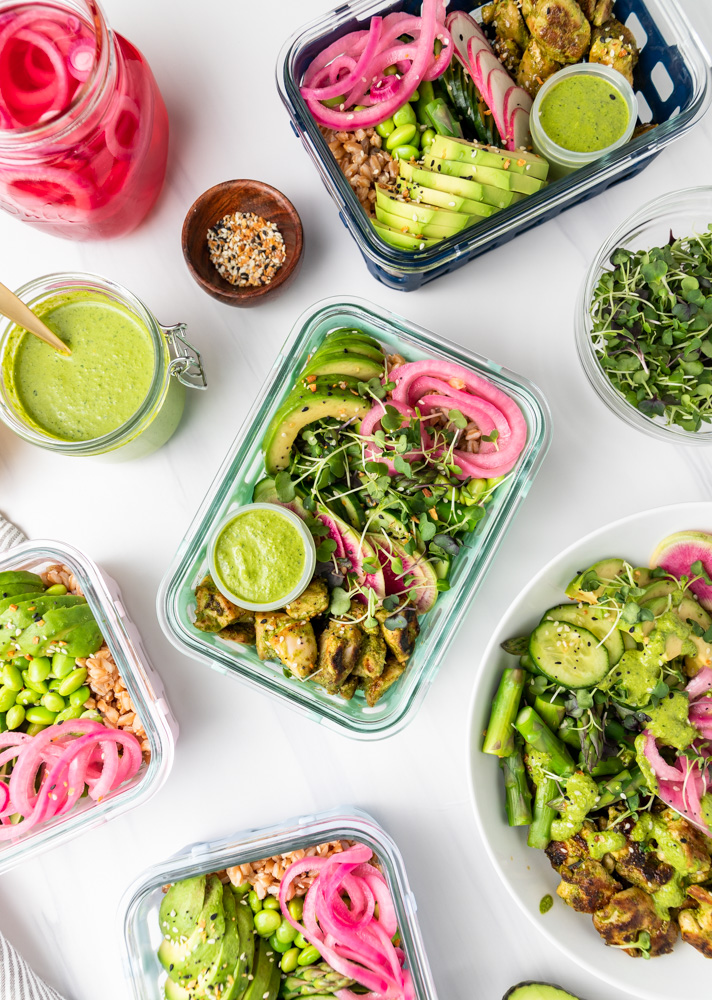 This post is not sponsored, but Vitamix provided me with a Propel Series 510 blender in exchange for my honest review of the product.
I'm coming at you this week with a brand new meal prep recipe full of good-for-you, whole food ingredients: Green Goddess Power Bowls! Hearty, chewy farro serves as the grain for this bowl, and is accompanied by…you guessed it…green things! Juicy bite size pieces of Green Goddess marinated chicken and plenty of veggies like cucumbers, avocado, and protein-packed edamame. It's all topped off with a yummy homemade Green Goddess Dressing that I made using my awesome new Vitamix Propel Series 510 blender.
Why Vitamix?
I've been a Vitamix owner and lover for years, so when Vitamix reached out to me about trying out one of their new Propel Series blenders, I was stoked! I bought my original Vitamix in my early PBF days (like…2013ish?) and have always loved how it made easy work of even the toughest blending jobs. The new Propel Series has some awesome new features that are sure to be fan faves among my meal prepping crew – so if you're in the market for a blender or just looking to upgrade, look no further! I opted for the 510 Series because of the smaller 48 oz pitcher, which is perfect for how I use my Vitamix (and the size of my kitchen).
It has a 5-year warranty and 3 blending programs optimized for Smoothies, Frozen Desserts, and Hot Soups – you don't even have to think about what setting to put the blender on – just pick the applicable one and let it rip! The 750 Series has larger 64 oz container, a 7-year (!!!) warranty, and additional programs for Dips & Spreads and Self Cleaning. You can't go wrong with either! Just pick the size that fits your lifestyle and kitchen needs. Oh and don't worry, my older model found a happy home with my best friend who will definitely enjoy it for many years to come 😉
How to Make Homemade Tahini
Have you ever thought about making tahini at home?! It's incredibly easy as long as you have a powerful Vitamix blender! Just add lightly toasted sesame seeds, a touch of olive oil, and salt and let your blender do its thang – the new Propel Series 510 is perfect for the job. Check out the video below to see it in action. Once you've made a batch you can use it for making hummus, dressings, other veggie dips, and so much more. Keep it sealed up in an airtight jar in the fridge and it will last for up to 6 months!
Get in on the Green Goddess Craze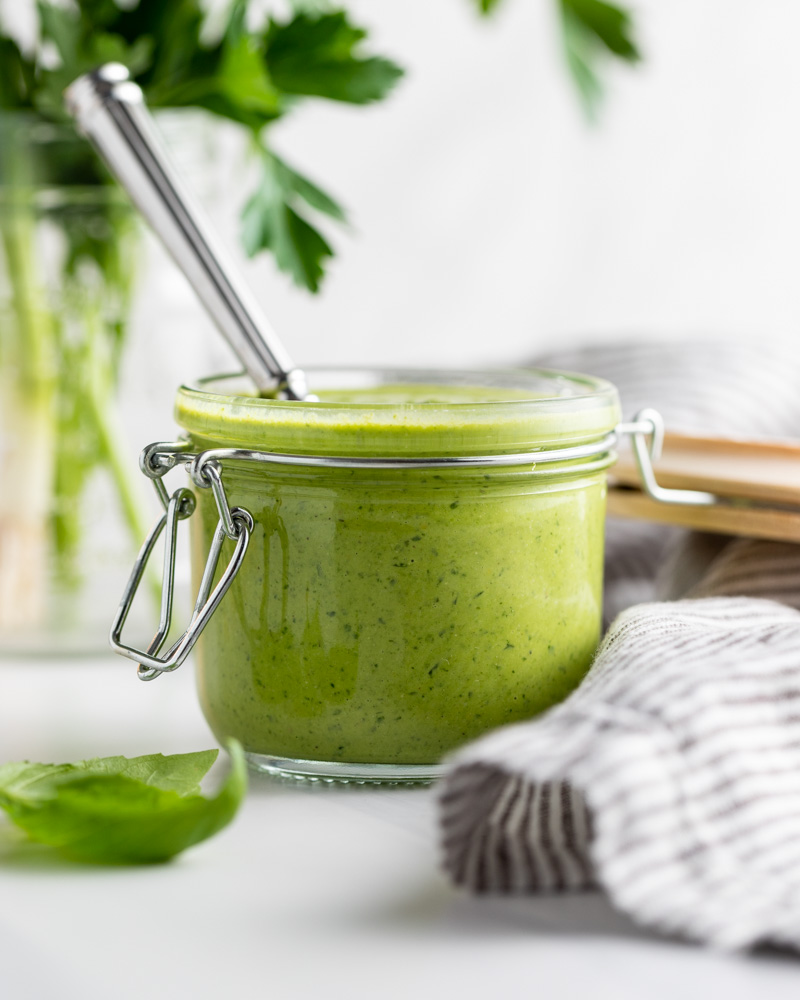 Green Goddess dressings/dips/bowls and all the things are incredibly popular among the meal prepping and wellness communities – and for good reason! It's incredibly simple to make it at home, and it's full of good-for-you, real food instead of additives and artificial ingredients. Plus the bright, fresh flavor is too tasty to pass up.
Once you've made a batch of tahini in your Vitamix blender, you don't even have to wash the blender pitcher – just add in the rest of the dressing ingredients! I love making dressings at home because you can use all the fresh ingredients you love – in this case, lots of fresh herbs, lemon juice, honey, and a few other ingredients to help balance things out. The new Vitamix Propel Series 510 makes quick work of breaking it all down into a dressing that can be used on salads, as a veggie dip, or as a marinade for chicken! See it in action in the video below!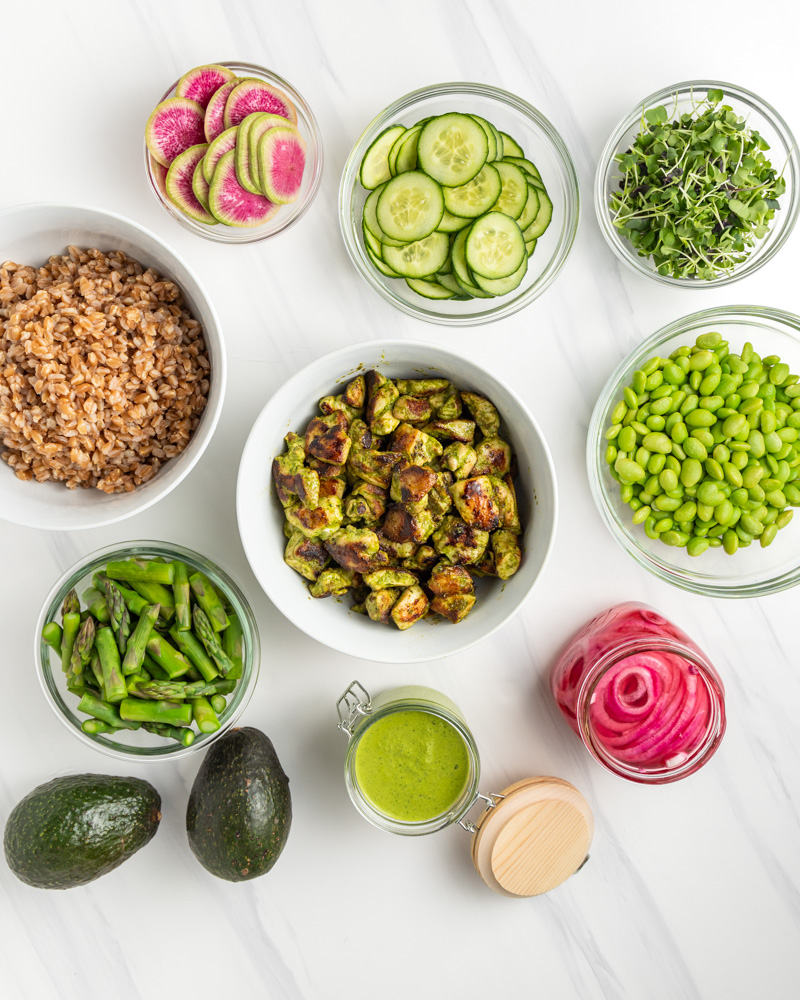 Ingredients and Substitutions
Here's what you'll need to make these Green Goddess Power Bowls at home!
Chicken – I love chicken breast in this recipe to add lots of lean protein. It's marinated in the same green goddess dressing that gets drizzled over top of the bowl for plenty of flavor. I've tried both chicken breasts and chicken thighs in this recipe and while both work just fine, I honestly prefer the chicken breast so I don't have to mess with cleaning fat off the boneless chicken thighs. You can easily make this dish vegetarian/vegan by using tofu instead!
Green Goddess dressing – Okay so this one is not just one ingredient, but it actually encompasses 2 of 3 recipes featured in this post and is where the Vitamix Propel really shines. Trust me, it's worth it! Start out by making the homemade tahini, which really only requires 1 ingredient – sesame seeds – along with your Vitamix and a bit of patience. You can add a bit of olive oil and salt as well. Once the tahini's done, you don't even have to wash the blender pitcher – just add in the rest of the dressing ingredients! You'll need fresh basil, parsley, dill, and cilantro, plus green onions, dijon mustard, honey, garlic, capers, lemon juice, apple cider vinegar, and more salt. Don't skip the honey and capers because it seems weird for a savory dressing – you need them both!
Farro – This ancient grain has a nutty flavor and a great chew – plus it's packed with protein and fiber. Perfect for a power bowl! You could sub it out for rice instead, or skip it altogether if you want a lower carb dish.
Cucumber – Crisp and refreshing cucumber slices are a nice break in the rich flavor of the green goddess dressing. Skip them if you don't enjoy cucumber.
Avocado – Cool and creamy avocado is the perfect complement to the bright and punchy flavors of the dressing and pickled red onions! And who doesn't love avocado? I guess you can skip it if you don't, but…really bro? I kid, I kid…
Edamame – Shelled edamame adds a nice kick of protein and fiber to this recipe, without distracting from the star of the dish. You can find it in the frozen veggies section of the grocery store. I don't recommend skipping or substituting it, but you could opt for another veggie like broccoli or asparagus if you must.
Pickled red onions – If you've never tried pickled red onions before, let this be the recipe you try them on! They are easily one of the highest reward to lowest work ratio of all my recipes. Once you've made your first batch of these, you'll be addicted! They add such an amazing pop of flavor (and color) to tacos, burgers, salads, burrito bowls, etc. Store them in the fridge for up to a month, though they will continue to soften over time. I always like to have some on hand. Get my recipe for pickled red onions here.
Everything bagel seasoning – I love using this seasoning at breakfast, but I love it even more when it can come play for lunch! The sesame seeds in this seasoning complement the tahini in the dressing (even if it's subtle). Skip it if you must, but I really enjoy the added flavor sprinkled on top of the final dish.
Radishes – I love the color and bright little zing that radishes add to a dish, but these are totally optional here.
Microgreens – You'll win style points for using micro greens to top off this gorgeous green bowl! I used a "rainbow mix" of micro greens, which included Bok Choy, Cabbage, Arugula, Kale, Mustard, and Kohlrabi Microgreens. Other types of mixes might be spicier or more flavorful, so choose wisely 😉 This is also a totally optional ingredient!
Shop for this Recipe
Here are some items I used to make this recipe a success. Note: these are Amazon Affiliate links.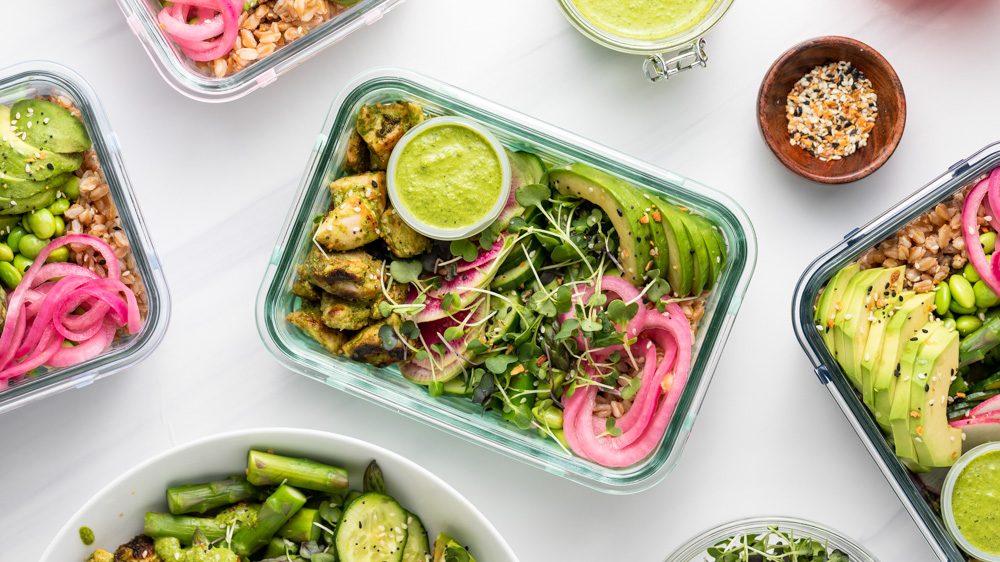 Recipes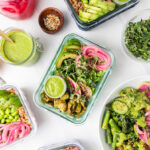 Green Goddess Power Bowl
Prep Time 30 minutes
Cook Time 10 minutes
Total Time 40 minutes
Servings 5 servings
Calories per serving 460 kcal
Ingredients
1.25 lbs chicken breast, chopped into 1" pieces
1 cup Green Goddess Dressing, divided (recipe follows) (8 fl oz)
1 cup dry farro, cooked according to package directions (180 grams)
1 cup English cucumber, sliced or chopped (120 grams)
1 medium Haas avocado, sliced (150 grams)
10 oz edamame (283 grams)
3/4 cup pickled red onions (120 grams)
1/2 cup radishes, sliced (55 grams)
1 tbsp olive oil (0.5 fl oz)
Optional Toppings
1 cup microgreens
1/2 cup green onions, chopped
1 tbsp everything but the bagel seasoning
Instructions
Marinate chicken. Add cubed chicken breast and about 1/3 cup of Green Goddess Dressing to a resealable container. Massage dressing into chicken until evenly coated, then cover and refrigerate at least 2 hours. I prefer to marinate mine overnight.

Cook chicken. In a large shallow pan or skillet, heat 1/2 tbsp olive oil over medium high heat. Once shimmery, add 1/2 of the marinated chicken, being careful of oil that may splatter. Cook for 1-2 minutes on first side, then flip. Continue cooking and flipping chicken until cooked through, about 2-3 more minutes, then remove to a bowl. Repeat with remaining oil and chicken.

Assemble bowls. Add cooked farro, chicken, and remaining toppings to a serving dish or meal prep bowl and top with Green Goddess Dressing. Add any or all of the optional toppings before serving.
Recipe Notes
Click here or scan the barcode below to log this food in My Fitness Pal.
Nutrition Facts
Green Goddess Power Bowl
Amount Per Serving
Calories 460 Calories from Fat 153
% Daily Value*
Fat 17g26%
Cholesterol 67mg22%
Sodium 171mg7%
Potassium 673mg19%
Carbohydrates 41g14%
Fiber 8g33%
Sugar 5g6%
Protein 38g76%
* Percent Daily Values are based on a 2000 calorie diet.


Green Goddess Dressing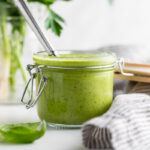 Green Goddess Dressing
Prep Time 5 minutes
Total Time 5 minutes
Servings 12 servings (2 tbsp per serving)
Calories per serving 51 kcal
Ingredients
1 cup fresh parsley, packed (72 grams)
1/2 cup fresh cilantro, packed (36 grams)
1/4 cup fresh basil, packed (18 grams)
1 stalk green onion (greens only) (25 grams)
1 tbsp fresh dill
2 tbsp capers (20 grams)
1 clove garlic (4 grams)
1/2 cup water (4 fl oz)
5 tbsp homemade tahini (78 grams)
2 tbsp apple cider vinegar (1 fl oz)
2 tbsp lemon juice (1 fl oz)
1 tbsp dijon mustard (1/2 fl oz)
1 tbsp honey (1/2 fl oz)
Instructions
Add all ingredients to a Vitamix blender and blend on medium-high until smooth.
Recipe Notes
Yield = 1 1/2 cups
Click here or scan the barcode below to log this food in My Fitness Pal.
Nutrition Facts
Green Goddess Dressing
Amount Per Serving (2 tbsp)
Calories 51 Calories from Fat 36
% Daily Value*
Fat 4g6%
Sodium 112mg5%
Potassium 91mg3%
Carbohydrates 4g1%
Fiber 1g4%
Sugar 2g2%
Protein 1g2%
* Percent Daily Values are based on a 2000 calorie diet.


Homemade Tahini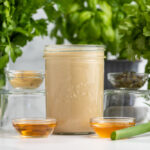 Easy Homemade Tahini
Prep Time 15 minutes
Cook Time 5 minutes
Total Time 20 minutes
Servings 22 servings (2 tbsp per serving)
Calories per serving 185 kcal
Ingredients
4 cups hulled sesame seeds (640 grams)
2 tbsp olive oil (27 grams)
1 tsp salt
Instructions
Heat a large, shallow pan over medium heat and add sesame seeds. Stir the sesame seeds constantly to toast evenly and avoid burning. Once seeds begin to turn golden, remove from hot pan immediately. I like to spread the sesame seeds on a baking sheet to cool slightly.

Once sesame seeds have cooled slightly, add them to the Vitamix blender container. Blend on low for 1-2 minutes, then drizzle in olive oil and salt through the lid plug while the seeds continue to blend.

Increase the blender speed to high, blending for 3-5 minutes using the tamper to push the seeds toward the blender blades. Note: the tahini and blender container will get very hot! I took mine off the blender base a couple times to cool slightly before continuing to blend until it reached the desired consistency.
Recipe Notes
Yield = 2.75 cups
Click here or scan the barcode below to log this food in My Fitness Pal.
Nutrition Facts
Easy Homemade Tahini
Amount Per Serving (31 grams)
Calories 185 Calories from Fat 126
% Daily Value*
Fat 14g22%
Sodium 136mg6%
Potassium 119mg3%
Carbohydrates 7g2%
Fiber 4g17%
Protein 7g14%
* Percent Daily Values are based on a 2000 calorie diet.