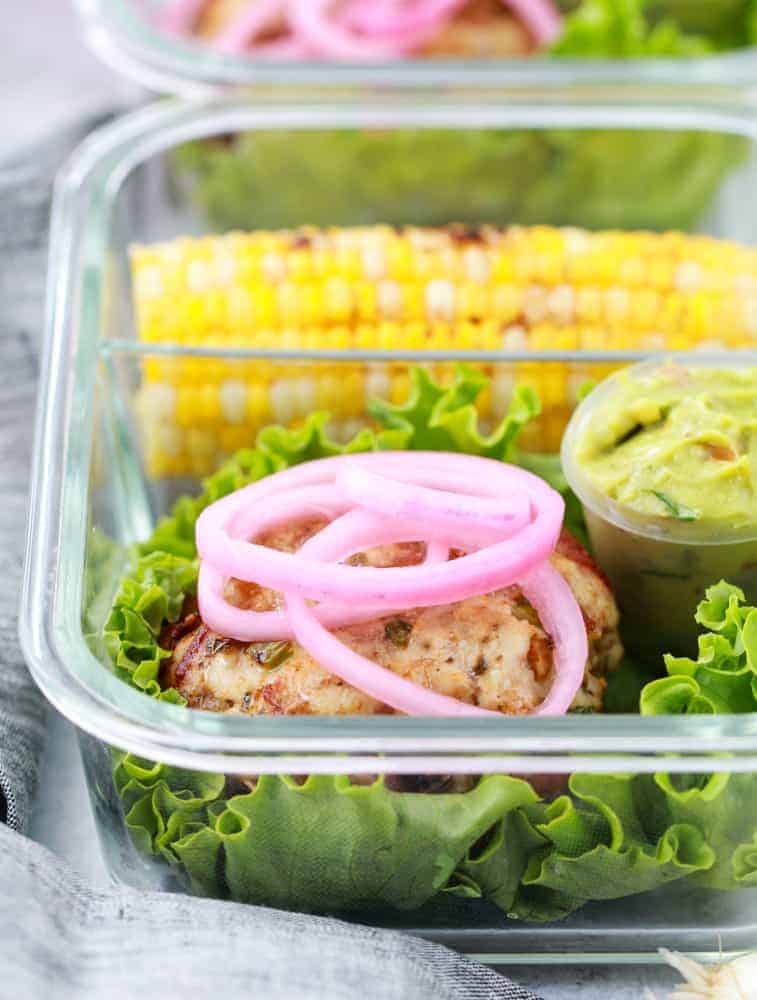 Happy Monday, meal preppers! This week I'm bringing you a fun meal to prep using your air fryer – a juicy Bacon Turkey Burger. I served mine up with plenty of pickled red onions and guac inside a lettuce wrap, plus some corn on the cob on the side. It makes for quite the tasty meal. 10/10 would recommend.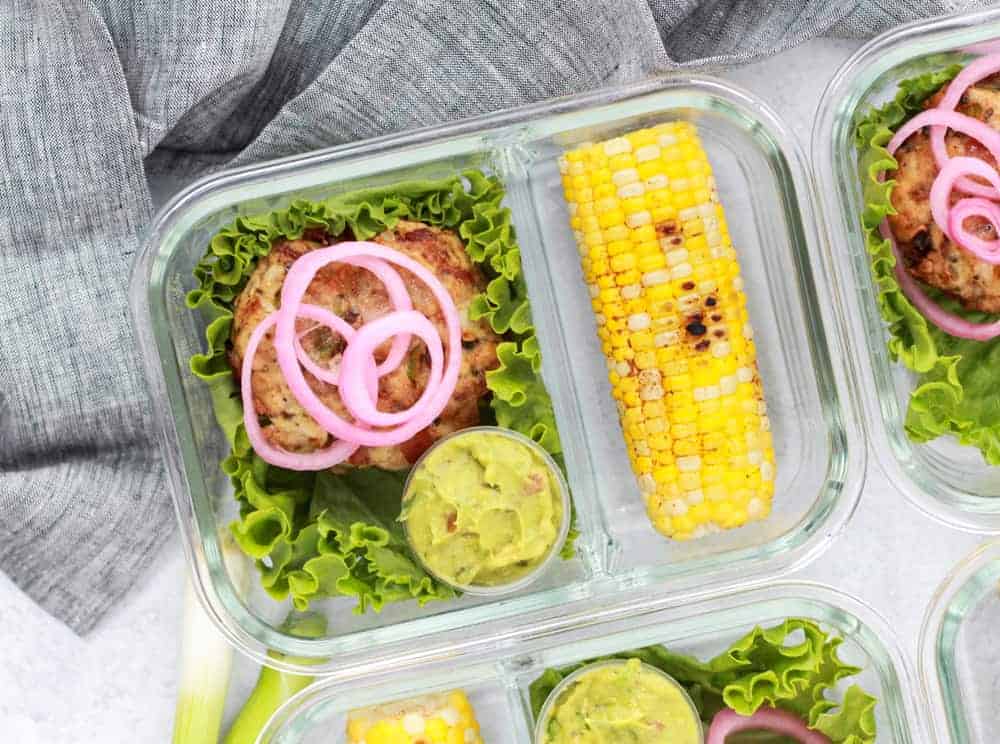 The great thing about adding bacon to a turkey burger is that the burger overall stays pretty lean, but the bacon adds a ton of flavor and adds a certain juiciness that turkey burgers can lack. If you want something even juicier, use 93/7 or 90/10 ground turkey instead of extra lean. Either way, you really can't go wrong! Enjoy!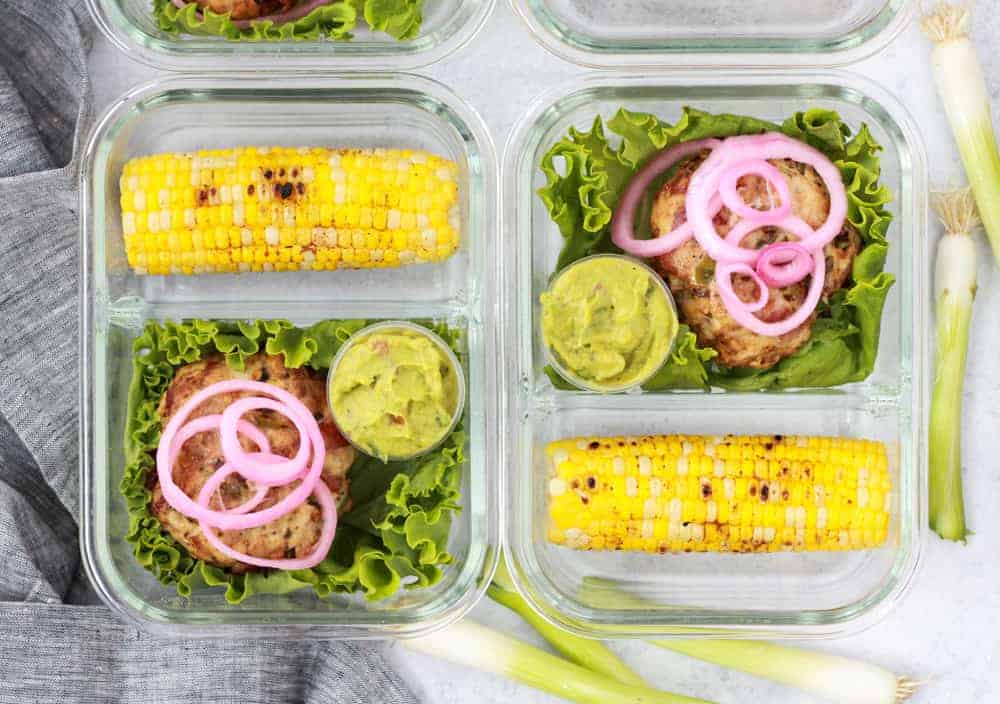 Shop for this Recipe
Here are some items I used to make this recipe a success. Note: these are Amazon Affiliate links.
Burger Recipe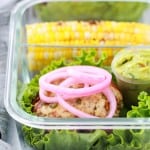 Air Fryer Bacon Turkey Burger
Prep Time 10 minutes
Cook Time 12 minutes
Total Time 42 minutes
Servings 4 servings
Calories per serving 156 kcal
Ingredients
1 lb extra lean ground turkey
4 slices Oscar Meyer Center Cut bacon, chopped (26 grams)
1/4 cup green onions, chopped (25 grams)
4 cloves garlic, minced (16 grams)
1 tsp Mexican oregano
1/2 tsp Oh My Spice! Fajita Seasoning
1/2 tsp salt
Instructions
Add all ingredients to a bowl and mix with hands until just combined. Form 4 equal size burger patties and set aside.

Set air fryer to 360 degrees for 15 minutes and allow to pre-heat.

Once the air fryer is pre-heated, add burger patties and air fry for 12-15 minutes or until cooked through (mine took about 12 minutes), flipping halfway through.

Serve on a lettuce wrap or bun with pickled red onions and guacamole.
Nutrition Facts
Air Fryer Bacon Turkey Burger
Amount Per Serving
Calories 156 Calories from Fat 36
% Daily Value*
Fat 4g6%
Cholesterol 63mg21%
Sodium 195mg8%
Potassium 22mg1%
Carbohydrates 1g0%
Protein 29g58%
* Percent Daily Values are based on a 2000 calorie diet.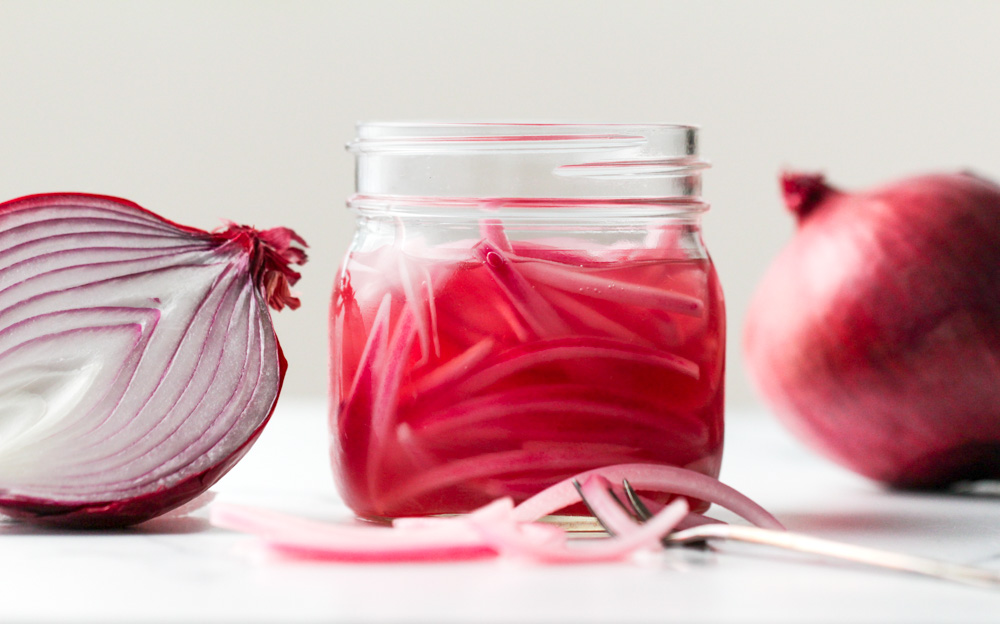 Pickled Red Onion Recipe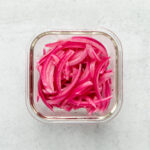 Pickled Red Onion
Prep Time 10 minutes
Total Time 10 minutes
Ingredients
1/2 medium red onion, sliced (100 grams)
1 cup water (8 oz)
1/2 cup apple cider vinegar (4 oz)
2 tbsp sugar (24 grams)
2 tsp salt (10 grams)
Instructions
Microwave water in a microwave safe dish until almost boiling, about 1-2 minutes.

Add sugar and salt to hot water and stir until completely dissolved. Add apple cider vinegar and stir.

Place onion slices in a resealable glass jar and pour pickling liquid over top until onions are covered in liquid.

Refrigerate at least 3 hours or overnight before serving.