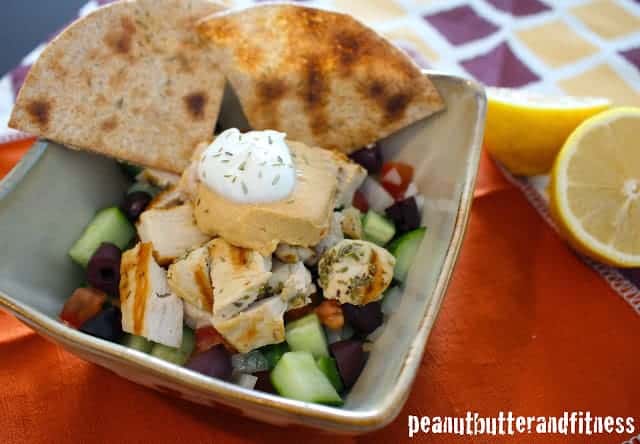 If you've seen my Mediterranean Chicken Pita post, this one probably looks a little familiar.  I plagiarized myself a little bit, but I don't feel bad.  This was still delicious and super refreshing but I cut down on the carbs and upped the portability! I actually just remembered this morning that I forgot to add feta to it…so now it will sit in my refrigerator for who knows how long.  Oh well, these things happen.  Maybe I'll toss some on my meal prepped ones (see below) for dinners at work this weekend.
Look at this grilled awesomeness! Yum.  I really need to break out my George Foreman more often…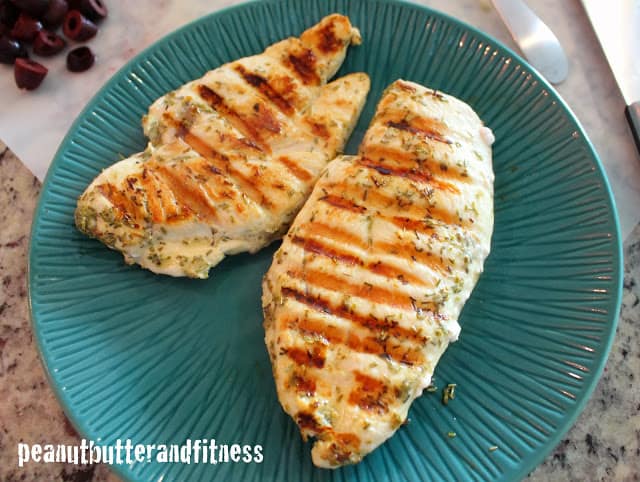 So yesterday I decided to hop in the pool for a swim workout, which I haven't done in a while.  I forgot how awesome swim workouts are! For me, swimming totally clears my mind because all you focus on is counting strokes/laps and breathing.  Plus, I don't even realize that I'm sweating like a pig while doing it.  The downside? Now I have water stuck in my ear and I can NOT get it out.  I jumped up and down, hit myself in the head, did headstands, slept on that side…and nothing.  Crickets.  Now I gotta go find some peroxide at the store and dump some in my ear in hopes that I can hear at work tonight.
But anyways, this was still an awesome meal after swimming.  I couldn't find normal cucumbers at the store when I went shopping (WTF?) so I got some Mexican cucumber that was wrapped up in plastic.  Weird, I know.  It tasted fine though, it didn't have as strong of a cucumber taste and way less seeds.  Not a bad deal if you ask me.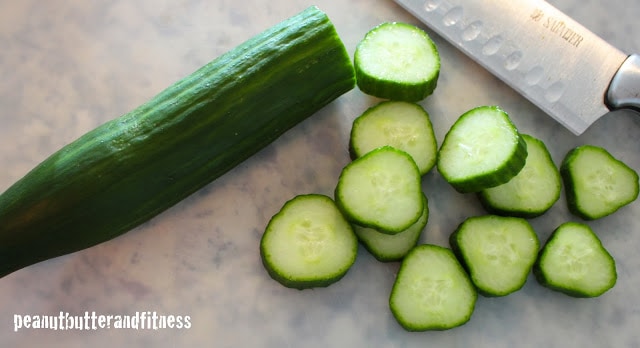 For the kalamata olives, I got some of the canned variety and rinsed and drained them.  But if you have a good olive bar at your grocery store, that's probably the way to go.  I was just too lazy to go back to it once I found them in the condiments isle 🙂
Greek Chicken Bowl
Makes 3 servings
Ingredients:
2 chicken breasts
2 roma tomatoes, diced
1 medium cucumber, diced
1/4 cup onion, diced (I used yellow, red would be good too)
2 tbsp kalamata olives, pitted and rinsed
1/2 tbsp olive oil
1/2 tsp rosemary
1 tsp lemon juice
3 tbsp hummus (I used roasted red pepper variety)
3 tbsp plain non-fat Greek yogurt
Optional: Feta cheese, whole wheat tortillas or pitas
In a Ziploc bag, combine olive oil, rosemary and lemon juice.  Add chicken breasts and toss until coated.
Grill chicken breasts until cooked through (about 5 minutes each on my mini-George Foreman grill).  Dice the chicken into bite-size pieces.
In a bowl, combine tomatoes, cucumber, onion, kalamata olive halves and chicken.
Top with hummus and yogurt.
Optional: Set oven to broil on high.  Cut two whole wheat tortillas or pitas into quarters.  Spread out on cookie sheet and spray with olive oil.  Sprinkle with rosemary and broil on high for 2-3 minutes or until crispy.  Be careful not to burn!  Serve with chicken bowl.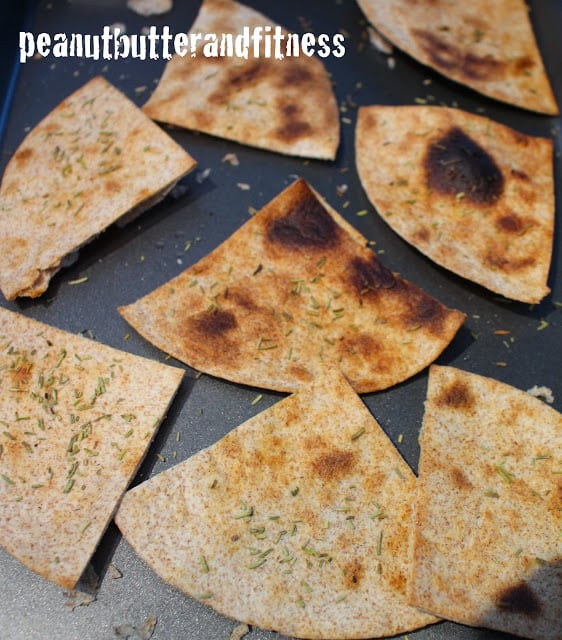 Annnnnnnd…..meals prepped for a couple days! Plus I've got some veggie noodles, ground turkey and marinara sauce ready to go for work too.